Elena Polygeni was born in Patras in 1979. She has published the following poetry collections: Ανάγλυφη [Textured] (Romi, 2021),Τα δευτερόλεπτα των ζωντανών στιγμών [The seconds of living moments] (Gavriilides, 2017), Η χώρα των παράδοξων πραγμάτων [The land of strange things] (To Kentri, 2014), Η θλίψη μου είναι μια γυναίκα [My grief is a woman] (poema, 2012), Γράμματα σε μαυροπίνακα [Letters on a blackboard] (Dodoni, 2009). Her poems have been translated in Greek and foreign literary magazines and poetry collections and have been translated in five languages. He lives and works in Athens.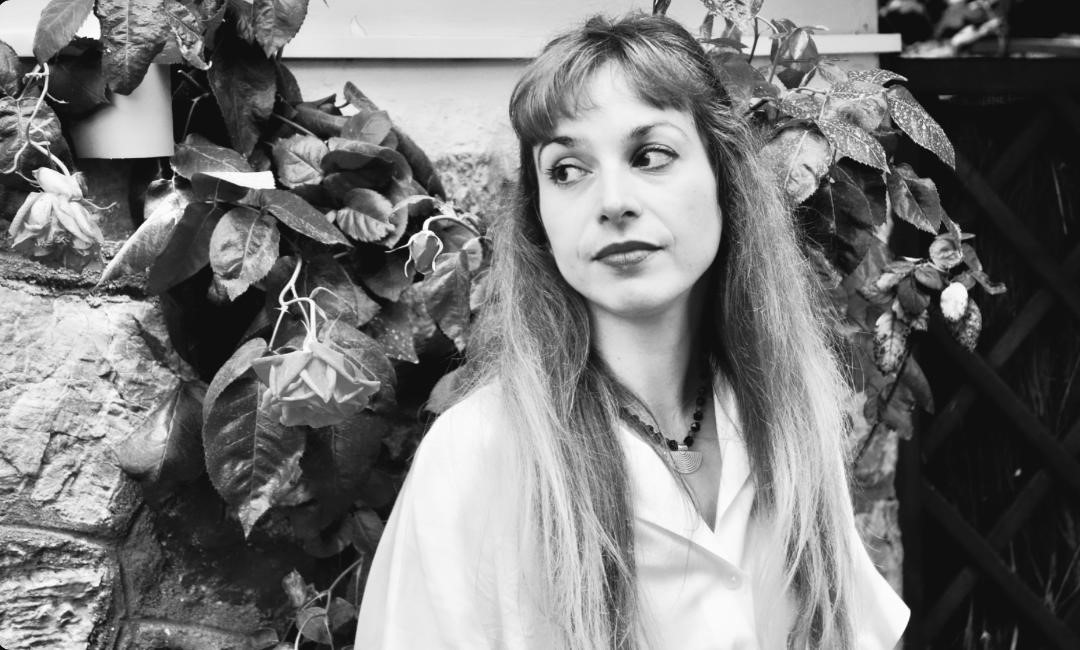 You have published five poetry collections so far. Which are the main themes your poetry touches upon? Are there recurrent points of reference in your books?
My subjects usually have to do with the trauma of an experience. They describe the anguish of a person who feels fragmented; the outside world crushes and shrinks them. This is a recurring pattern, appearing each time within a different framework. In addition, in almost all the books, the axis around which I move is a female figure, each time bearing the burden of a particular condition.
What about language? What role does language play in your writings?
Language constitutes a material of experimentation for me, an unexplored territory before which I stand in awe. The written word is a way to approach language, to understand it, so I each time approach it with as much innocence as I can. Poetry, as I perceive it, is not exclusively about language; it's not yet another way to treat language. It is more related to an aesthetic proposal, bearing an element of magic and unfamiliarity. It is a code of communication outside the usual ineffective and unsatisfactory code. An attempt to understand the world and the self beyond what we consider obvious.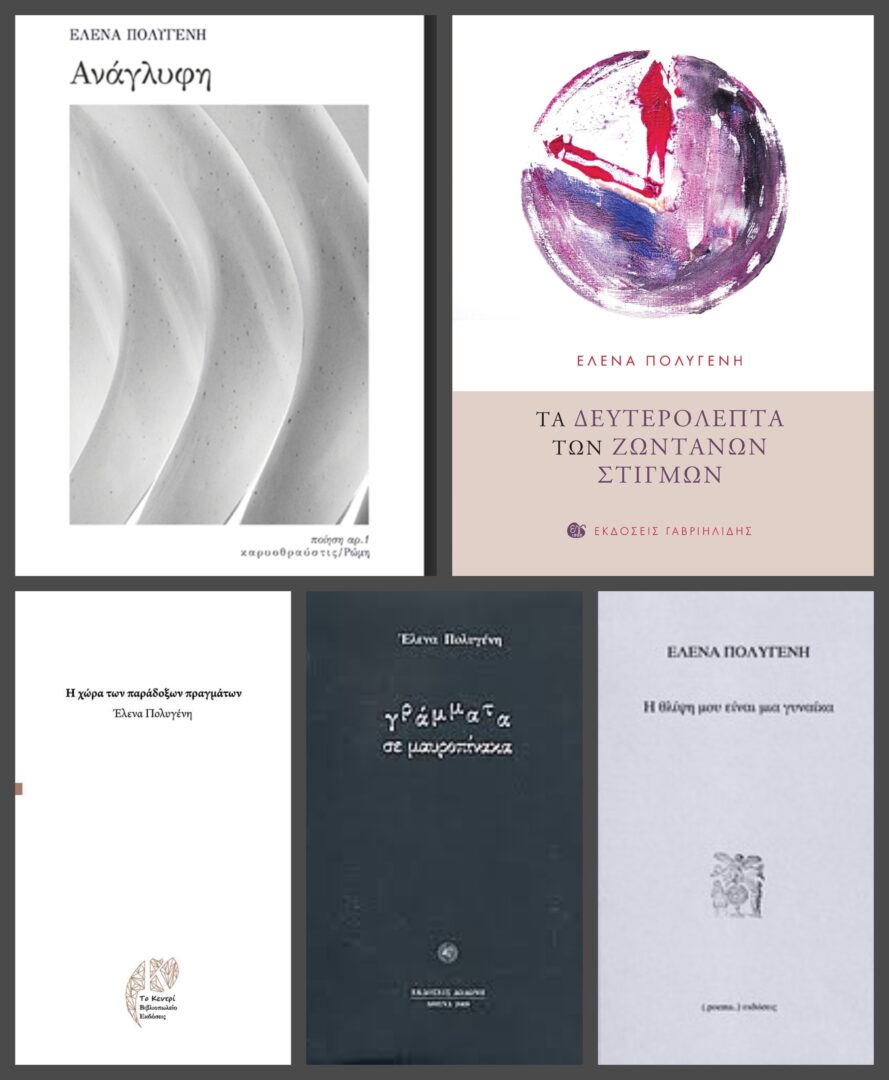 How does your poetry converse with the world it inhabits? Could poetry be used to imagine what could be radically different realities?
Poetry is a different reality in itself. Not so much as a means of escape from the existing world, but as another, more internal, reflection, a reflection that focuses on the hidden and the unsaid. My intention is to talk about what I see and what I perceive. I can't say, however, that I have managed to create an alternative perspective of reality; I admire those poets who have done so. What I seek through poetry is to find a point of contact with the world. It is my deep desire to relate to what seems unfamiliar to me, bringing it closer, even if it hurts sometimes. This is achieved when I construct a reality of my own within the external reality I live. Like a second shell, safer, because it's more mine. Through poetry it's as if I create cracks in the glass wall that separates me from the outside world, allowing a light breeze to come inside.
A poet, an actress, a performer, and recently a bookseller. Where do all these attributes meet?
It would be ideal if they could meet. I don't know if this is the case. A job that requires large reserves of energy for long hours on a daily basis, such as the responsibility of running a bookstore, does not leave much room for artistic ventures. In order to be able to practice all these activities freely and in a way that combines them all, as it could happen, I should not be so concerned with making ends meet. This is also the reason why I stopped the theater – and performance by extension. The only thing that compensates me is that I am surrounded by books. Such an environment automatically makes you feel joy and at the same time a kind of security, as if you are among close friends.
"Rodalina", your bookstore, recently opened its gates in Pangrati. Tell us a few things about this venture of yours?
"Rodalina" has its roots in a family bookstore that was set up six years ago in Patras. The decision to continue this small business in Athens, giving it a different character, more bibliophile and more feminine, was more than risky, since small businesses as a whole have to face many challenges, without any state support, especially following the pandemic. Little bookstores are in an even more precarious position, in my opinion, because they now have to compete with giants. I tried to envision a place in which I would like to work. I gave "Rodalina" something of myself, trying to enrich the piece of literature and especially poetry, with an emphasis on women's voices and create a corner that children will feel their own. It is still early to draw conclusions. I try to be optimistic although we are currently going through very difficult times.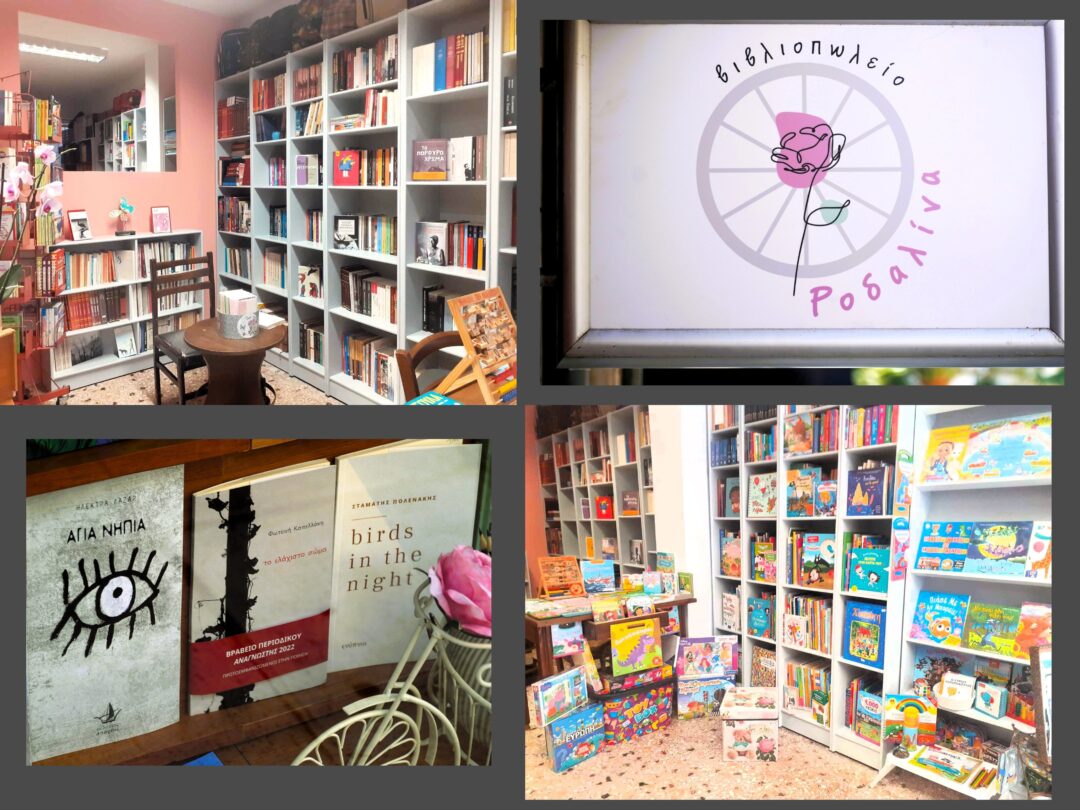 "I intend to enrich the library with feminist literature so that the bookstore acquires a recognizable feminine character […] At a later stage, we will also organize a group of queer readings with works from world literature". Tell us more.
My engagement with women's writing began several years ago, when I realized that women's voices stood, for the most part, in the shadows of literature. I realized that I myself only had male favorite poets, because I hadn't looked for women at all. So, I began a search, systematically seeking out and reading women writers, which proved quite beneficial for me. For this reason, I also chose the specific name of the bookstore; a female heroine from a poem by a female poet. I wanted to make my mark in this way. I am interested in organizing a feminist and inclusive writing department for adults and children. The feminist reading club starting in November will focus on important, yet not widely known, works by women writers. Regarding the queer club, we are gradually trying to form a small community informed about the topic, which will be the basic core for this project that will probably start a little after the Christmas holidays.
How important is the role of little bookstores? Which are the main challenges they are faced with? How do they influence reading preferences?
Little bookstores are places of vital importance since they enable the development of human relationships, which is starting to become more and more difficult these days. They are places of coexistence and exchange of views, created by people who love books and are willing to share their experience and knowledge. This in itself is an invaluable part of our cultural life, but also of everyday life in general. It is of course very difficult for little bookstores to claim their own space of existence and identity, especially in big cities, where the rhythms of everyday life have led to alienation and mechanization, even the automation of services. As big chains become more and more powerful, little bookstores are at risk. Nevertheless, they constitute cores of life, existence, action and connection that cannot be replaced, because within them beats the heart of the readers who are looking for really good literature and, in this way, shape its course.
*Ιnterview by Athina Rossoglou
INTRO IMAGE: Alexios Mainas
TAGS: LITERATURE & BOOKS | READING GREECE