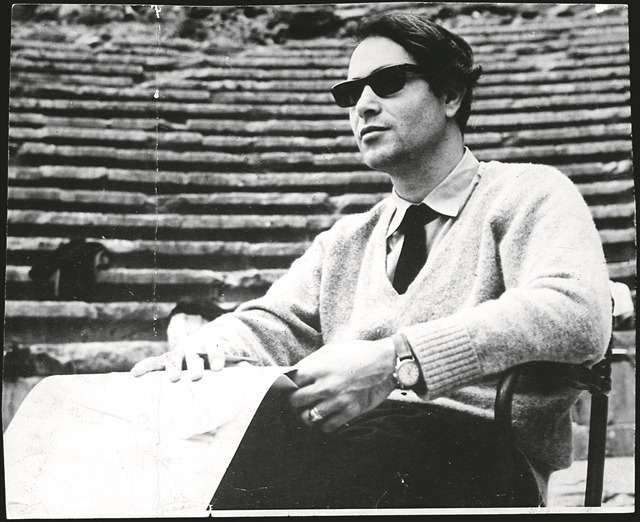 Jani Christou (Greek:Γιάννης Χρήστου, 9 January 1926 – 8 January 1970) was a Greek avant-garde composer and thinker of music; he was among the most exciting and provocative figures of the twentieth century avant-garde, introducing a body of work of rigorous consistency that integrates philosophical notions and music. His contribution to the sonic world goes beyond the strictly musical innovation in terms of techniques and style. Having been educated under philosophers rather than musicians, Christou manifested a unique attitude towards art, ritualizing musical interpretation and interconnecting music, gesture, movement and choreography in his later works. Incorporating philosophical concepts in modern musical composition, he used musical instruments, vocal, tape sounds, visual effects, and body activity of the performers to produce compositions that grappled with timeless questions.
Although he was only 44 when he died, he is regarded as one of the leading composers of his generation. He was controversial, highly talented, and  he is to this day greatly respected in contemporary music circles, both in Greece and abroad. However, current performances of his music are extremely rare and he remains a "great stranger" for the wider public.
As we read in his mini biography by Michael Sterwart, The life and works of Jani Christou: "he was born in Heliopolis, Egypt, to Eleutherios Christou, a Greek industrialist and chocolate manufacturer and Lilika Tavernari, of Cypriot origin and was educated at the English School in Alexandria. He began composing at an early age and the important Greek pianist Gina Bachauer was among his first teachers.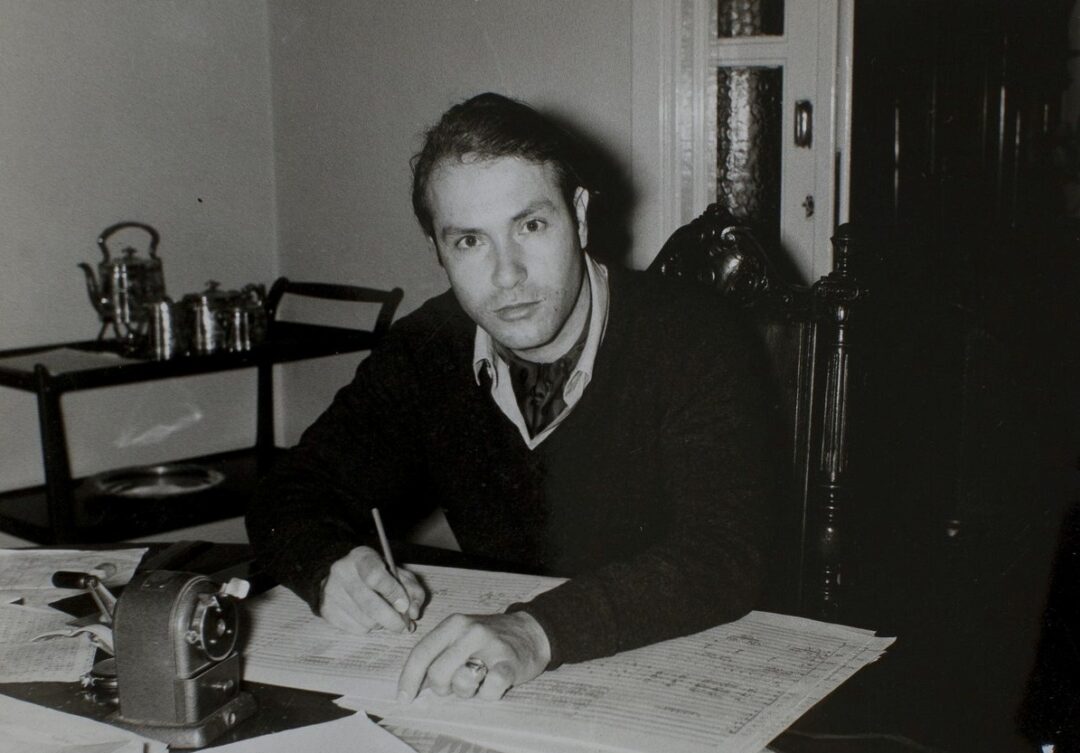 In 1945 he travelled to England to study formal logic and philosophy at King's College, Cambridge, under Ludwig Wittgenstein and Bertrand Russell. He attained an MA in philosophy, while at the same time he studied music privately with Hans Redlich, the distinguished musicologist and pupil of Alban Berg. In 1949 Christou travelled to Rome, to study orchestration with Angelo Francesco Lavagnino.
He also travelled widely in Europe, culminating for a short period in Zurich, where he met and attended lectures in psychology with Carl Jung. Christou's studies in psychology were greatly encouraged by his brother Evanghelos – himself a pupil of Jung – whom Christou considered his spiritual mentor and who exerted a strong influence on his creative thinking. Christou was deeply affected by his brother's death in 1956 as the result of a car accident, and it was Jani who arranged the posthumous publication of Evanghelos's book The Logos of the Soul.
He returned to Alexandria in 1951, and in 1956 he married Theresia Horemi, a remarkable young painter from Chios who supported and assisted Christou in all his artistic and creative aspirations. Christou would compose for long hours at a stretch, and when not actually physically engaged in the act of composing would spend a great deal of time studying in his vast library of books and absorbing subjects from philosophy, anthropology, psychology, theology and comparative religions, history and pre-history through to occultism and art.
Christou was as much a philosopher and metaphysician as he was a composer and it is important to understand that all of his music sprang from his philosophical studies and theories. This is particularly so in the music covering the last ten years of his life, where his compositional techniques are at times transmuted beyond conventional music. In a series of 130 Projects (described by musicologist John Papaioannou as metamusical-ritual works) Christou extends musical syntax to such a degree that the boundaries between music, theatre, choreography and everyday 'life', merge, coexist and sometimes become mutually independent one from the other: Anaparastasis III (The Pianist) for actor and instrumental ensemble and tapes (1968); Anaparastasis I, for baritone and instrumental ensemble (1968) and Enantiodromia are prime examples of this genre of Christou's late music.
Jani Christou died on or the day before his 44th birthday in a car accident a few kilometers outside Athens, Greece; that day the contemporary music world lost one of its most exciting and provocative talents. At the time of his death, his music was being heard at some of the most prestigious international music festivals in the world, and he was also preparing to unveil the most ambitious project of his career – a large scale contemporary opera based on Aeschylus's Oresteia (1967-70).
His untimely death left many projects incomplete, including the Oresteia which would have received its world premiere at the English Bach Festival in London in April 1970, with further performances scheduled for France, Japan, America and Scandinavia. This large scale contemporary opera, a massive stage ritual based on the text by Aeschylus, for actors, singers, dancers, chorus, orchestra, tape and visual effects (in which several of the Anaparastasis of the fifth period would have certainly been incorporated), would have served as a grand summation of Christou's life's work".
The Jani Christou Archive at the Athens Conservatoire
The archive of this great avant-garde composer and thinker of music was transferred to the Athens Conservatoire in 2023 after a donation from his descendants, and is housed at the Athens Conservatoire Centre for Research and Documentation (KETOA).
The Janni Christou Archive will serve an extremely valuable resource for musicologists, researchers, performers, musicians and researchers from a wide field of arts and sciences. It is comprised of:
More than 1500 manuscripts: notes, typescripts, drafts, ideas (the composer's famous "stimulating ideas"), work diaries, handwritten librettos, philosophical thoughts, notes on his unfinished projects and the Oresteia, but also on the process of creating all his well-known projects, from conception to execution.
Over 350 different documents of sheet music: full scores, parts, drafts, corrections, prepress proofs, slides and correspondence consisting of 600 letters.
Approximately 900 press clippings (articles, reviews, interviews, etc.) – most of which were collected and archived by the composer himself – photographs, concert programs from 1950 to the present day, and is supplemented with graduate theses, doctoral theses , academic publications, tributes and publications.
Finally, the Archive contains all the tapes from the composer's personal studio, with material from recordings of performances to electronic sounds, and from theatrical rehearsals and performances to hand-made loops and interviews.
The Jani Christou Archive has already been digitized by Athens Conservatoire Centre for Research and Documentation (KETOA) and will be available to researchers, musicians and anyone interested, with the aim is to showcase and spread knowledge of the work and thought of this rare musical personality.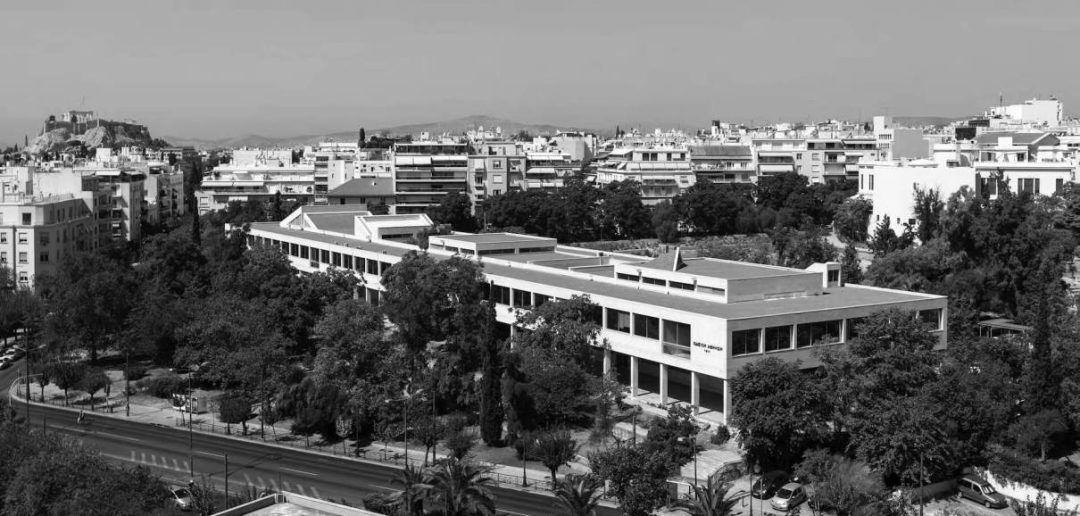 I.L.
TAGS: AVANT-GARDE | GLOBAL GREEKS | MUSIC | PHILOSOPHY