Twenty-four rebetes [rebetiko musicians], fourteen complete songs, verses and stanzas from other thirty-five songs and their stories are featured in the graphic novel "Rebetiko.History and Protagonists" written by Nikos Koufopoulos. The book that has recently been translated to English by Evita Lykoy, tells the real stories of the people of rebetiko music in three hundred pages of comic strips -designed by fourteen colorists and Illustrators. A work that required a lot research, but above all, a labor of love.
"All the stories in the book are true, obviously," says Nikos Koufopoulos, himself a rebete for nearly 40 years, in an interview to Sofia Mandilara for the Athens and Macedonian News Agency. "Some of the stories were already known to me because I play rebetiko. Starting from that, it took me about one and half to two years to research the scirpts, and in total, we were been working on the book as a team for about three and half years. Koufopoulos believes that the book only covers the basics and "if someone wants to get more involved, an ocean will open up in front of them to swim in. We only selected some stories. Graphic novels allow you to tell stories. You can use humor, be a tease, or talk more emotionally. It's like going to the cinema, viewing images frame by frame."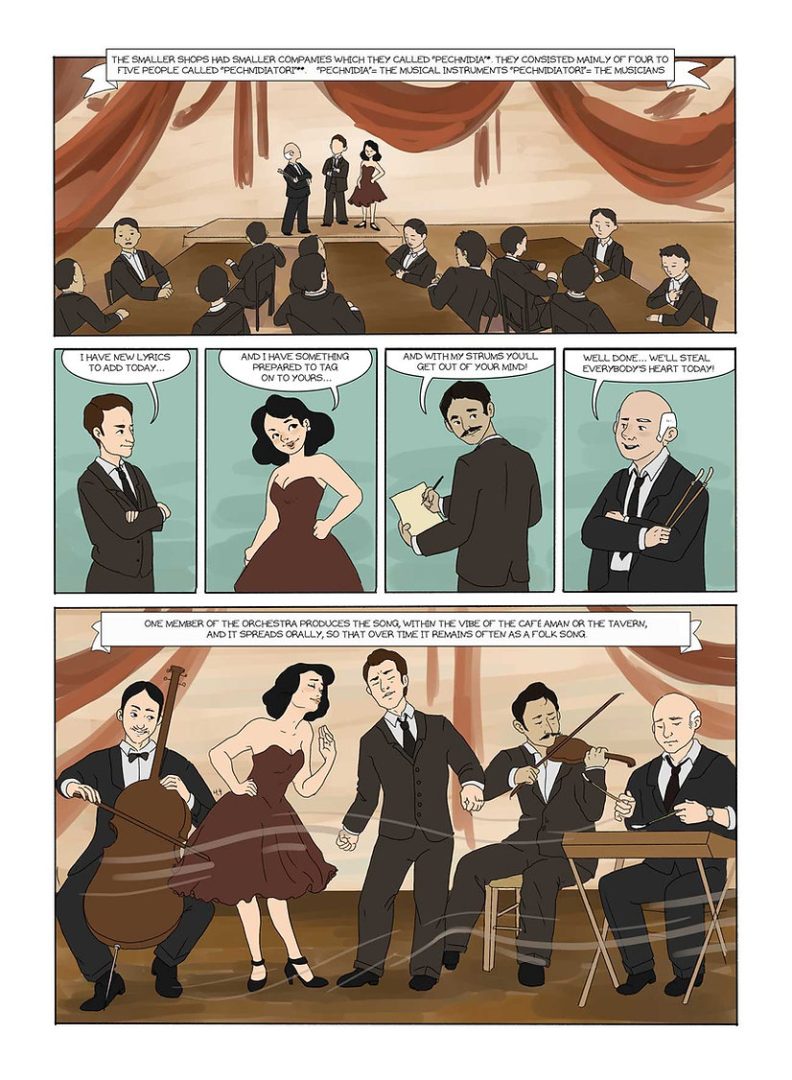 The sources of the book are bibliographic as well as testimonies of musicians, scholars of rebetiko music and also record-collector friends, as Koufopoulos points out: "all those who had worked before me". The graphic novel's illustrators, young people and mostly graduates of the School of Fine Arts, had also to do their share of research in order to accurately depict the era of each story. "I was teaching beginners bouzouki and guitar and of my students, was an illustrator. I call him up and say "Nikola, are you in to make a comic about rebetiko?" He says "how many pages are you talking about?" I tell him "Rebetiko is a big subject, 300 pages". He tells me "I can't do it alone". So one started to bring in others and that's how the team of fourteen illustrators and colorists came into being," explains Koufopoulos.
Among other things, the book was written to answer the question 'why rebetiko?' "How can this music endure for 100 years and still be great and move people, as if it was written yesterday? I play rebetiko because my little soul opens up. Other music does it too, when it's good, when it's honest. This is why I wanted to talk about what has given me joyful and emotinal times for so many years," says Nikos Koufopoulos.
"Rebetiko came from popular and marginalized social strata. Through the prisons he came out, through the hashish dens. From people who were on the fringes of society – and of course poor. They sang to express themselves. They wrote neither for glory nor for money," emphasizes Koufopoulos, who believes that this is why rebetiko and folk songs speak deeply within us. However, he believes that music genres like rock & roll and hip hop can do the same because "something that is great speaks to many different people, in many different ways. He has something to say to everyone."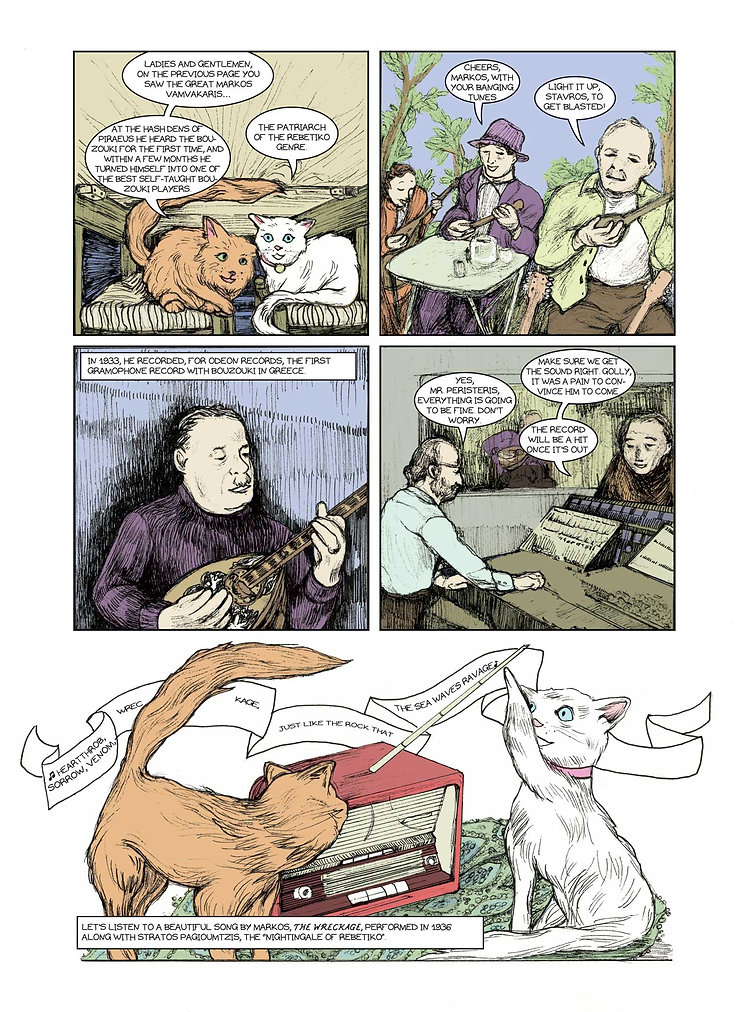 "Rebetiko is still alive" comments Nikos, adding "I see new kids who play beautifully. You're hearing swashbuckling players with a high level of skill and an emotion that means there's something about this song that makes them want to keep playing it." He believes that it does not matter if we have recognized as much as we should the contribution of rebetiko to our cultural identity because "rebetiko does not force you to go to it. It's not loud, nor is it flashy. it doesn't rush and it doesn't provoke. It's just there waiting for you. If you feel the need to sing it or listen to it, it will give you its greatness generously. Either in joy or in sadness. It will speak to your soul as it has done so well for 150 years now. And it continues"."People listen to rebetiko when they go out to the taverns, so we all grew up with it. It exists, like it or not, we heard it, it's in our DNA. Memories are awakening. The time comes when we make the choice and there is the power of rebetiko, always pure." Koufopoulos concludes.
The Rebetiko.History and Protagonists graphic novel takes on a trip the world of rebetiko song and its protagonists. To the Mourmourika songs of the prisons. To the hash dens of Piraeus. To the amanes of Smyrna. To the Cafe Aman. To the zeibekiko songs of Troumpa. To Vourla. To Volos. To Chania. To America. To Istanbul. To Smyrna. To the prohibition on bouzouki and the rebetiko song. To censorship and… Barbara. To the prohibited songs and the rebetika of the Occupation. To the lecture of Manos Hadjidakis on the rebetiko. Listening to the heartfelt sighs of Markos Vamvakaris, Giannis Papaioannou, Vassilis Tsitsanis, lovan Tsaous, Dimitris Gogos (Bayanderas), Stelios Keromytis, Spyros Peristeris, Vangelis Papazoglou, Panagiotis Toundas. To the melodies of Dimitris Stergiou (Bebis) and Manolis Chiotis. To the voices of Roza Eskenazi, Sotiria Bellou, loanna Georgakopoulou, Marika Ninou. To the lyrics of Eftichia Papagiannopoulou. To these and many more creators of the rebetiko song.
The fourteen illustrators and colorists that collaborated with Koufopoulos for the graphic novel are: Nikos Papamihail, Eva Mourtzi, Panagiotis Tsaoussis, Vleseed, Kalli Dolcetti, Giorgos Kollias, Ioanna-Joni Kordoroupa, Thanasis Papantoniou, Kamaris, Christos Pittas, Kostas Pliatsikas, Foivos Pikazis, Spyros vangelos (SEA) Armenis and Anna.
Read more on rebetiko music via Greek News Agenda:
I.L.. Translated from Sofia Mandilara's article for the Athens and Macedonian News Agency, all pictures from Rebetiko.History and Protagonists.
TAGS: GRAPHIC NOVELS | LITERATURE & BOOKS | MODERN GREEK HISTORY | MUSIC | REBETIKO