Visual artist Mato Ioannidou presents her new solo exhibition, entitled Mimesis Prakseos (Representation of an action), at the Athens Conservatory, in collaboration with the Drama School of the Athens Conservatory. The exhibition comprises 51 mixed media works on paper or canvas, inspired by archetypal characters of emblematic ancient Greek tragedies.
In our times, in a globalized world that nullifies the depth of human existence, archetypal figures of ancient tragedies such as Antigone, Oedipus, Orestes, Phaedra, and Medea are particularly relevant.
Focusing on their inner conflicts, actions, passions and desires in a ritualistic way, Ioannidou ultimately succeeds in depicting the essence of fate, redemption, and "catharsis" in an ultimately poetic way and in direct reference to the ancient texts.
Mato Ioannidou lives and works in Athens and has held numerous solo painting exhibitions. She has studied French literature and pursued theatre studies at Sorbonne and painting at the School of Fine Arts in Paris.  In 1997 she founded the Center of Artistic Workshops "Leschi" where she teaches painting and mosaic to adults and children. Since 1999 she has directed outdoor plays for children based on fairy tales.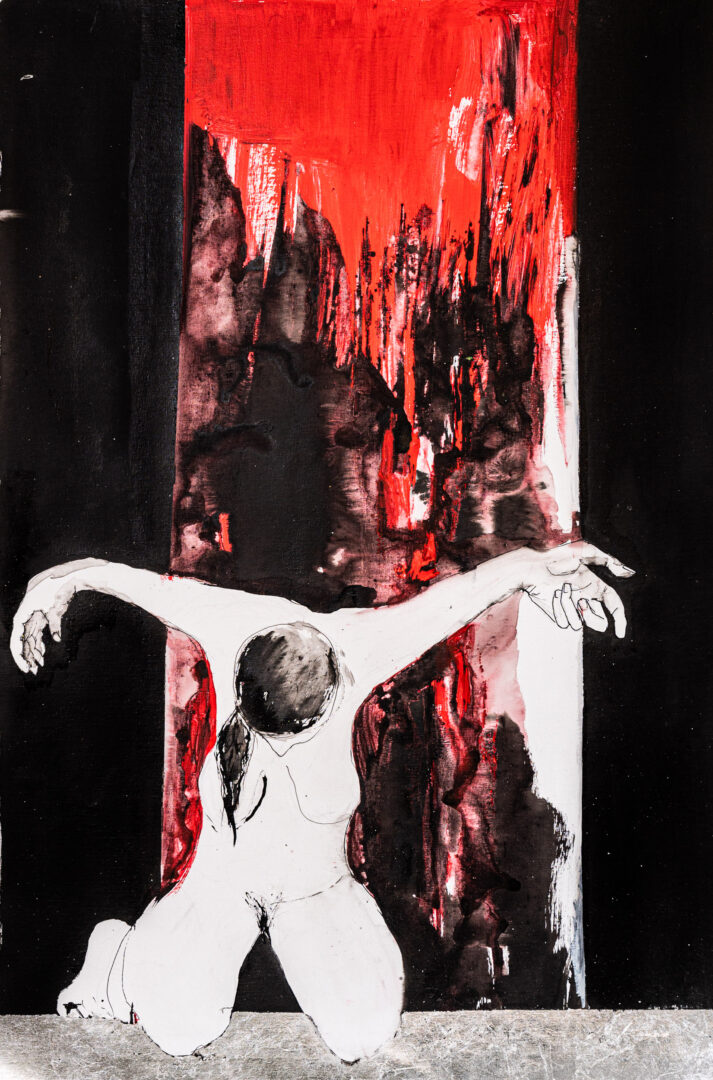 Greek News Agenda spoke* with Mato Ioannidou about her exhibition and the way she perceives art in our times.
The female figures in your work of art appear passionate and impetuous. They are driven to extremes but are not afraid of being crushed. In contrast, the male figures, although equally dramatic, appear rather powerless. Does this allude to the position of women and men in today's society?
According to historical sources, women in Greek antiquity, at the time the tragedies were written, were completely absent in the public sphere, with the exception of prostitutes. The opposite was true in the private sphere (family).
In the texts of the tragic poets, this difference does not apply. Clytemnestra, for example, directly confronts the Chorus of the Argives. Nevertheless, from Aeschylus in Oresteia to Sophocles in Antigone and Euripides in Medea, we observe an evolution in the position of women. The latter glorifies the matricide… and strongly satirizes Jason.
The greater mobility, fragility, and emotional intensity of the female bodies in my works of art is based on the sense that I get from the ancient texts and the words and actions of the characters. I probably identify more deeply as a woman…
Orestes, Creon, and Oedipus, characters that particularly appeal to me, remain more cerebral and introverted in their reactions and thus, I would not say sluggish, but more rigid in their body language. This is probably a timeless phenomenon, but nowadays we tend to eliminate the existence of gender with distinctly defined characteristics while it is certain that in public life society remains male-dominated.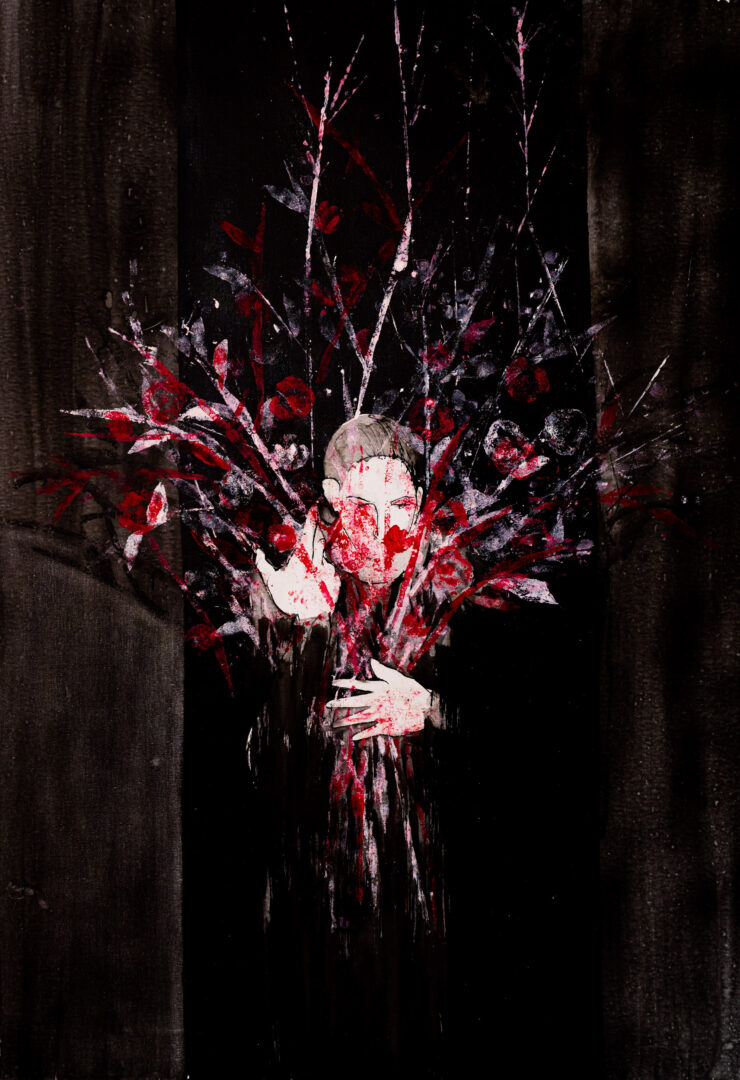 Ancient Greek drama raises timeless and universal issues, which is why it is always relevant. Its focus is on human nature, human passions, and the conscious rebellion of the individual against the divine and social norms. In a world that seems too ambiguous, bewildering, and superficial, is this rebellion possible today, and if so, how? Is there a catharsis or is everything ultimately left in limbo?
With this question, you have covered me perfectly in terms of the choice of the subject of my exhibition. In today's world of artificial intelligence, of a social fabric that has been broken, of information that we do not have time to process either psychically or intellectually, tragedy,  in my opinion, is a 'tool' of rebellion. I am moved by the reaction of the viewers of my exhibition.  They thank me for the psychic vibration they felt. This is a catharsis for me!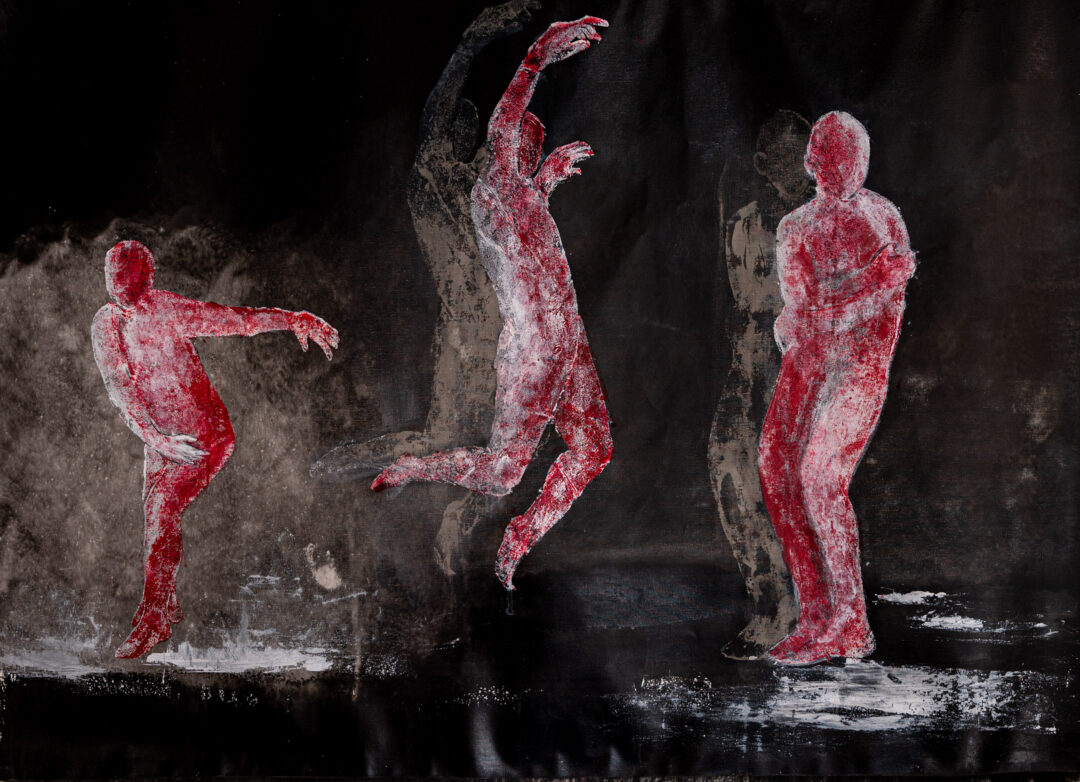 You use a visual language that is clear, structured, dramatic, and at the same time liberating. What techniques have contributed to this direction? What do red, gold, and blue symbolize?
Painting the surface is usually done in a simple manner, with a ruler, the figures with clear outlines are either 'stamps' or drawn with ink and pencil on a white background. When there is a colorful expressionistic background my obsession is that the figures are clearly delineated. They resemble sculptural works or drawings from ancient Greek pottery that in their chromatic austerity acquire an existential dimension.
Red conveys tension, life, and rebellion, gold and silver contribute to the intensity of the image,  further highlighting the figures. Blue conveys a 'Greek' brightness, perhaps a solace in contrast to the violence of the other colors.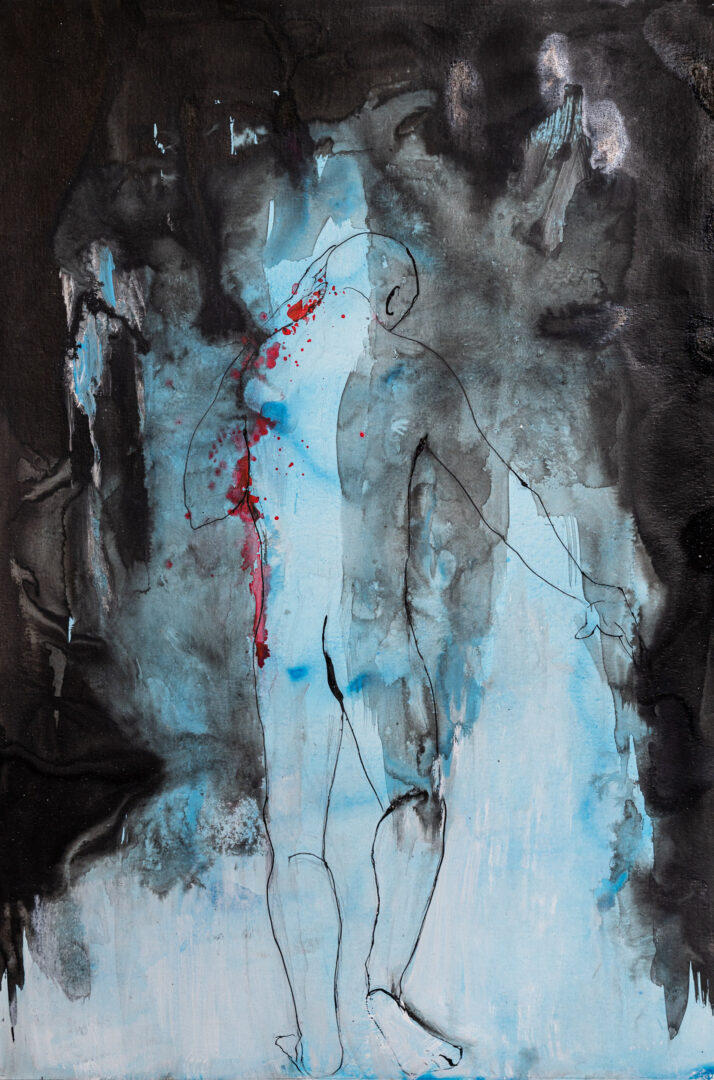 What do you think is the role of the visual artist today?
To be honest, Greece nowadays, in terms of visual arts, does not produce standards. Following the generation of Greekness – not that I support it more than others – it is influenced by international trends. After all, this is unavoidable in a globalized world.
I would say that Bouzianis is a particular case. He went along with the trends of his time while maintaining a profound Greekness. Today, I just see a couple of trends dominating at global level and of course this affects the Greek artistic production. I have a hard time recognizing the personal truth of the creator… Fortunately, there are exceptions!!!
How do the new globalized trends in art affect the Greek reality?
With the powerful art market.
*Interview by Dora Trogadi (Intro photo: Medea, mixed media on paper, 2022)
Read also via Greek News Agenda: Sculpture Exhibition at the Byzantine and Christian Museum; George Rorris: "A painting is the sincere revelation of one's soul"; Kostis Georgiou: "Art's purpose is to provide a zone of unlimited paths"; Painter Dimitris Tzamouranis: "Art's ultimate objective is the pursuit of beauty"
TAGS: ARTS