Andreas Flouris has been included in Time Magazine's #Time100 Next list for 2023, gaining recognition for the global contributions of his work in the fields of physiology, environmental health, and sustainability.
Flouris, an Associate Professor with the Department of Exercise Science at the University of Thessaly, earned his spot on the list for leading the effort to apply hard science to labor policy, helping numerous organizations and governments to develop preventative measures in order to reduce the impact of environmental factors on workers, athletes and the general population, and to establish rest and re-hydration protocols for high-heat conditions.
Time 100 is an annual list of the 100 most influential people in the world, assembled by the American news magazine Time. First published in 1999 as the result of a debate among American academics, politicians, and journalists, the list is now a highly publicized annual event. Flouris, who is the first Greek to be ever included in this list, is also developing a weather app that factors in local conditions to better inform workers, and their employers, on how to stay safe.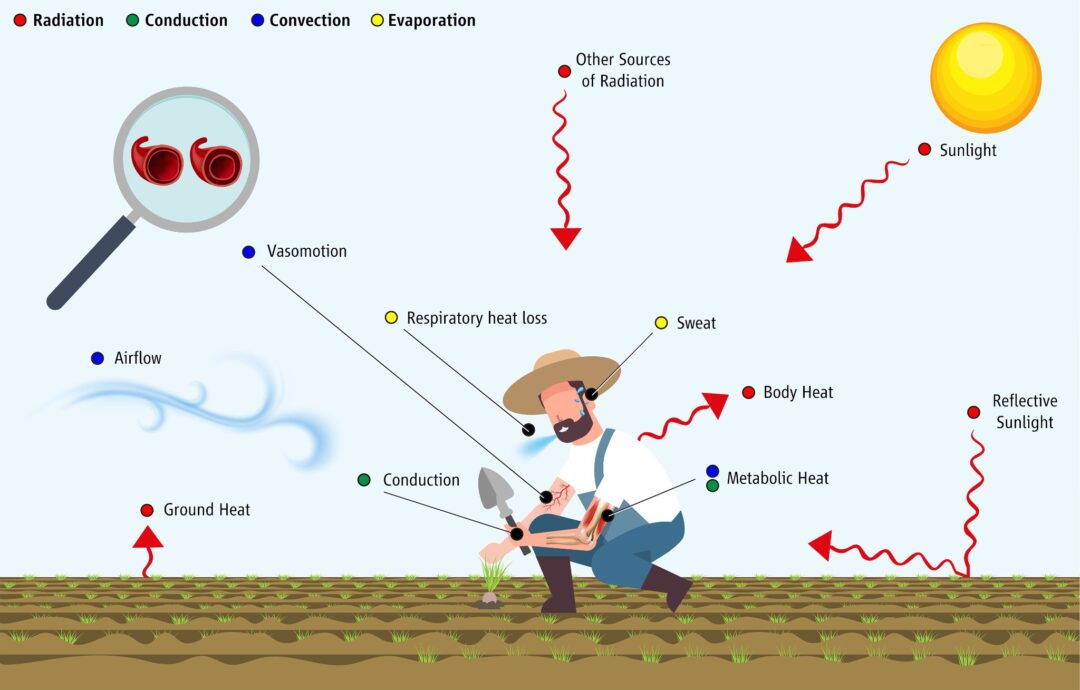 Professor Flouris has spent more than 15 years advising government and international organizations around the world on the health effects of climate change and on environmental sustainability, health impact assessment, and risk communication, including the Cypriot Presidency, the Greek Ministry of Labour, the Qatari Ministry of Labour, the World Health Organization, the International Labour Organization, the European Centre for Disease Prevention and Control, the European Space Agency, and NASA.
As he mentions in his social media profile, he imagines a world in which the vast majority of people understand how the environment impacts their life and plan their activities and goals in harmony with the long-term well-being of humanity. He is a climate action advocate and he is working with national and international institutions to support climate action for a more sustainable world, contributing to these efforts by translating scientific evidence to shape environmental, climate, and health policies for World Health Organization, the International Labour Organization, the Greek Ministry of Labour and Social Affairs, the Qatari Ministry of Administrative Development, Labor and Social Affairs, and other organizations.
He also frequently comments in national and global media, including BBC, CBC, Financial Times, New York Times, HBO and Thomson Reuters Foundation. As he states in an interview for the Athens News Agency "the ability of scientists to communicate complex concepts to the public is vital to raising awareness in society. Taxpayers support research but, unfortunately, it often goes unused and does not progress beyond the level of a scientific article that only a few people read. We have to change that."
The environmental physiologist thanked Time Magazine for his inclusion, as well as the FAME Laboratory team who are conducting this research, and wrote on his social media accounts: "Thank you FAME Laboratory team who keep pushing boundaries! Within the climate breakdown we are experiencing this will strengthen my voice for climate change protection and adaptation. Within the climate breakdown we are experiencing this will strengthen my voice for climate change protection and adaptation."
Research at the FAME Laboratory of the University of Thessaly
The FAME Lab was founded in 2008 to study the Functional Architecture of Mammals in their Environment. They have participated in >20 large-scale projects funded by the EU and other international organizations (>19M euro funding in the last decade), have published >200 papers in scientific journals, and we have presented our work in >300 international conferences.
As  Flouris explains to the Athens News Agency, "our studies span a wide spectrum, from small and large-scale field studies, basic and applied laboratory research, clinical studies, environmental monitoring and modeling, epidemiological research, risk assessment and analysis politics or economy". Continuing, he stresses that "we are very happy that our research has been funded by the Commission with more than 20 million euros since 2010. Our research focuses on Commission priorities, such as the effects of heat stress, air pollution and of extreme weather phenomena on health and quality of life".

In another interview for newspaper 'I Kathimerini' Andreas Flouris  talks about what he believes is so far his biggest scientific achievement: "If I had to pick based on the most influential work to date, I'd say it's about the effects of climate change and heat exposure on worker health and productivity. Previous studies showed that these effects only occur when the ambient temperature exceeds 27 degrees Celsius. So we believed that the problems are concentrated in a few countries, mainly in Southeast Asia.
The data from the FAME Lab research at the University of Thessaly showed that health and productivity problems start to appear at 15 degrees Celsius. For example, for every degree that the temperature rises above 15 degrees Celsius, a worker's productivity decreases by about 2%. This means that the problems are much more widespread than we thought, and that countries that were previously thought not to be greatly affected by climate change are actually experiencing severe effects. That means that there are millions of people around the world who work in conditions that affect their health and productivity, but until recently this went unnoticed."

΅On research excellence in Greece and mentoring students and researchers
On the same Kathimerini interview, Flouris talks about why he chose to conduct his research in a Greek University: "I believe that our country has enormous potential for academic and research excellence, and through the FAME Laboratory  I direct I try to contribute to its development. The role of professor allows me to guide and inspire the next generation of Greek researchers and I find immense satisfaction in seeing their growth and success. Cooperation with international universities allowed me to create international perspectives for my students, enriching their educational experience here in Greece. At the same time, I hope that my work and collaborations contribute positively to our global academic community. In addition, Greece has a rich cultural and historical heritage that provides a unique background for academic research. I am constantly inspired by the opportunity to teach and research in a place with such a deep connection to the sciences and the arts."
The work of Flouris has inspired others to engage in this field of research. As he notes in his Athens News Agency interview, "so far I have been lucky enough to supervise the research of more than 60 excellent postdoctoral and doctoral or postgraduate students. Today, many of these people work in organizations such as the European Commission, major universities and research centers in Europe and North America, or have followed other highly innovative career paths. I am very proud of the work done by the researchers of our group".
He concludes emphasizing that that "the next generation of scientists is our best hope for dealing with the challenges of climate change and environmental degradation. As an academic, I am committed to supporting their work and helping them make a positive impact on society as a whole."
I.L. with information from the Athens News Agency, I Kathimerini newspaper, TIME magazine and the FAME Laboratory website.
All photos from the FAME Laboratory

TAGS: ENVIRONMENT | GLOBAL GREEKS | INNOVATION | RESEARCH