Influenced by the Greek islands' history, landscape and climate, the unique Cycladic architecture is a brilliant mix of cubic houses, blue-domed churches, cobblestone streets and iconic windmills.
It is a distinct architectural style based on clear lines and simple materials. Its timeless style harmoniously blends with the Aegean Sea and the impeccable Greek sunshine.
Worldwide famous Cycladic architecture has been the subject of scholarly study both in Greek universities as well as architectural departments around the world. Many world-class museums feature elements of Aegean architecture while many of its aspects are present in modern architectural trends.
Reflecting respect for the islands' rich history and natural environment, shaped by the weather conditions of the Aegean, this glorious, yet minimalistic architectural style combines past and present, aesthetics and practicality, while creating relaxation and serenity.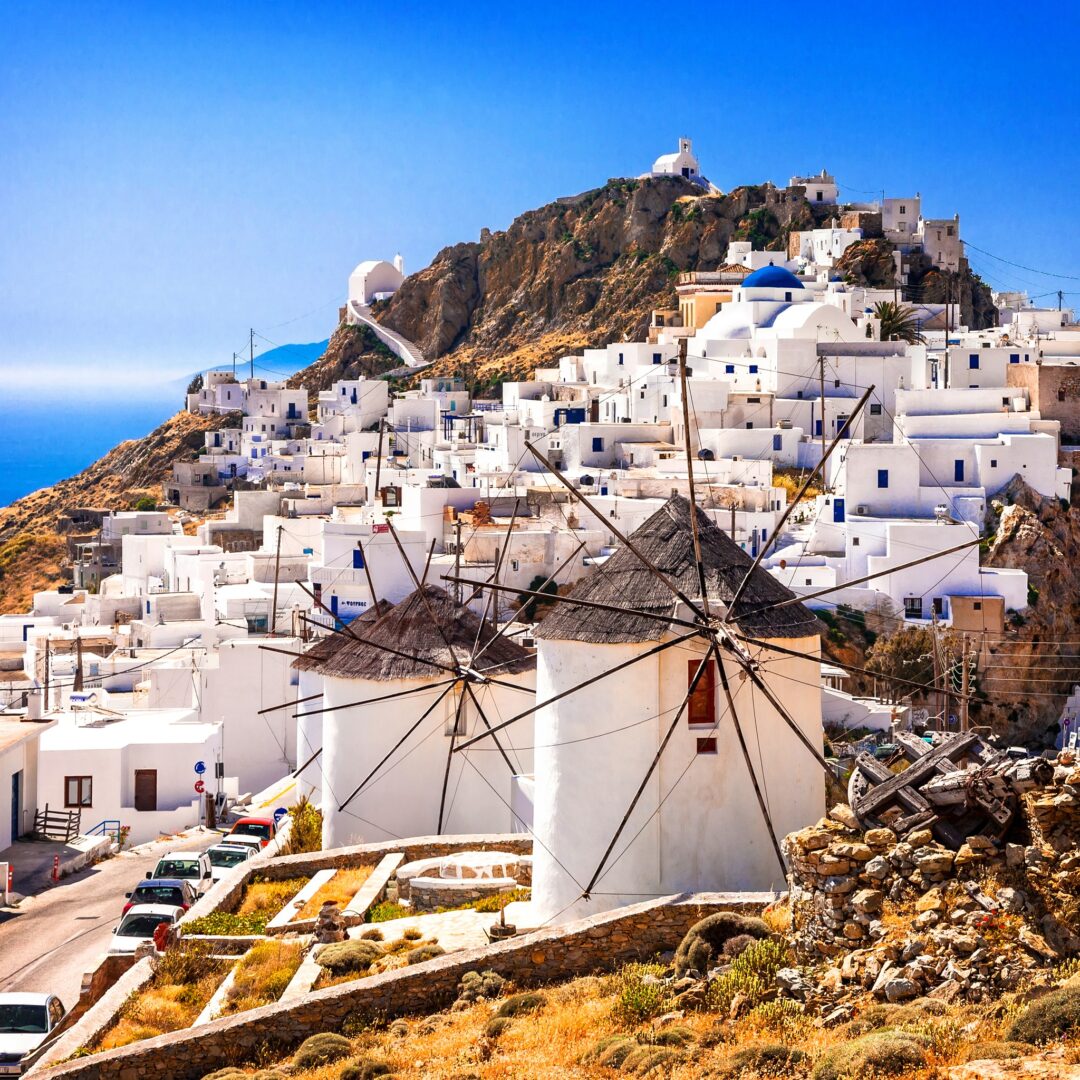 The name Cyclades was given to this world famous cluster of islands due to their circular layout around the sacred island of Delos, birthplace of the goddess Artemis and the god Apollo. The name Cyclades derives from the word kyklos which in Greek means "cycle".
The Cyclades were detached from mainland Greece 2 million years ago due to seismic and volcanic activity and continued to evolve geologically, taking their present form about 10,000 years ago, comprising about 35 large islands and dozens of small islets in the central and southern part of the Aegean Sea.
Amorgos, Anafi, Andros, Ios, Kea, Kimolos, Delos, Milos, Mykonos, Naxos, Paros, Santorini, Serifos, Sikinos, Sifnos and Tinos are just some of the most famous Cyclades.
The strict geometry of buildings is a feature of Cycladic traditional architecture, while each island has its own distinct architectural style. The social stratification of each island also played a decisive role in shaping various architectural styles.
Each island features unique architectural constructions such as cave houses, tower houses, tile-roofed villages, castle-shaped settlements or neoclassical palaces. Traditional Cycladic buildings are in perfect harmony with the natural environment, built in recesses, in rocks, and using cavities for tanks and storage areas.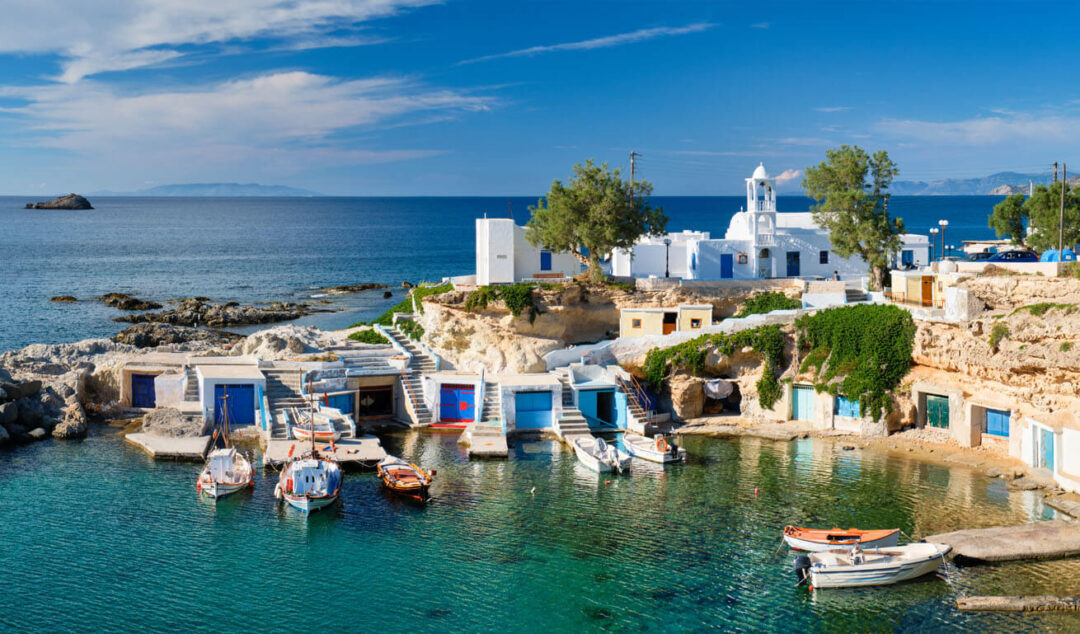 Let's explore some fascinating elements of the world famous Cycladic architecture.
Santorini has developed villages on the edge of the caldera in a way that the interior of the houses is protected from direct sunlight.
Naxos and Andros boast many impressive tower houses due to their Venetian conquest in the Middle Ages. The long marble tradition of Tinos has contributed to the beautifully decorated houses and courtyards. Kythnos and Kea have red tile roofs while the town of Ermoupolis on Syros has elegant neoclassical buildings.
Milos features "syrmata", colorful spots dug into the volcanic rocks where small boats are kept, while Serifos has industrial buildings because of heavy mining in the late 19th century.
Cycladic architecture blends beautifully with each island's local history and culture.
The basic typology of the Cycladic houses consists of a rectangular one room with a flat roof as a shelter from strong winds and a courtyard. The interior is simple, sometimes the sleeping area has a height difference, while recesses in the walls serve as storage compartments. These houses are always made of stone with few openings, as bright light, strong winds and scarcity of lumber do not allow for the construction of large frames.
Whitewashed walls serve the purpose of cleanness and disinfection (lime is a strong disinfectant) and protect from the heat, as the white color reduces the interior temperature of houses during summer months.
Cycladic houses externally feature rigid geometric shapes as protection from strong winds, alongside decorative elements such as arches, carved pilasters and lintels over front doors. Such structures fulfilled not only aesthetic but also functional purposes. The white wall color also served a practical need, as it reduces solar absorption during hot summer months.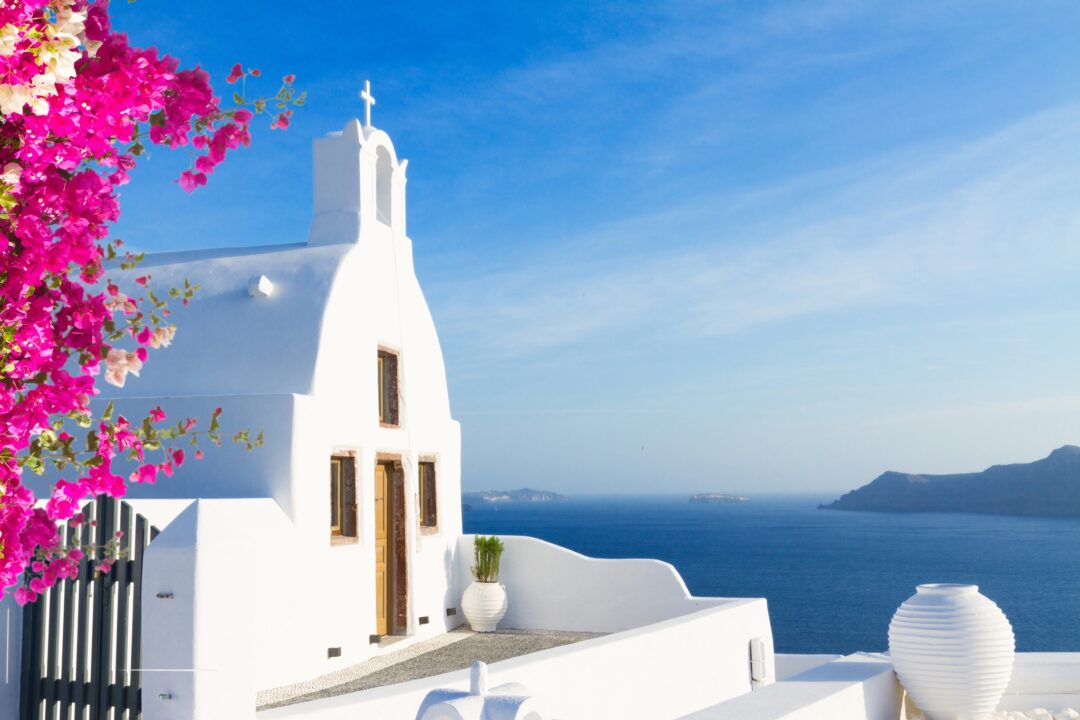 Piracy, a serious threat for the Aegean islands in medieval times, also defined Cycladic architecture. Houses were surrounded by mighty castle walls, villages were built high up, away from the sea, so as to detect pirate raids. Initially, houses were left with the color of the materials from which they were built, without plaster or whitewash to acquire a natural variation that would protect them from pirates. The houses in many settlements were arranged in concentric zones, and the street layout was maze-like and complicated for the unfamiliar.
Greek Prime Minister Ioannis Metaxas decided in 1936 that the Cyclades islands should be painted in white and blue to symbolize the white foam of the Aegean waves and the blue of the Greek sky.
Countless are Cycladic churches with white walls and blue or white domes; they have a special place in local architecture and culture. Their architecture is always based, one way or another, on the post-Byzantine ecclesiastical building typology.
Externally, the strict geometric expression and the simple configuration prevail. At the same time, various decorative and Western elements, such as arches, are also present.
Traditional windmills are also a very typical feature of the Cycladic architecture. In the past, every village used to have its own windmill, used to grind grain. Today they serve as a reminder of the rural life of yore.
Read also via Greek News Agenda: Cycladic Identity: keeping alive the heart of the Cyclades; Delos, the Sacred Island; Photography: W. Mark Wilman on "Discovering the Beauty of the Cyclades"
D.T. (Based on the original article in Punto Grecia ; Photos ©Visit Greece