"The crowd is the veil through which the familiar city beckons to the flâneur as phantasmagoria -now a landscape, now a room."
Walter Benjamin, "The Arcades Project"
Arcades as an urban space are a paradise for flâneurs: sheltered from the caprices of the weather under an all-protecting vault, wanderers are free to pursue their art of Idling, window-shopping and observing. Like all modern metropolises, Athens is teaming with arcades: more than 40 arcades of about 65,000 square meter surface can be found within the contours of Athens's commercial center. These arcades or "stoas" in Greek are the most hidden aspect of modern Athens, a back-stage labyrinth full of histories and endless layers, a city within a city.
"Into Stoas" is a walking tour and project by graphic designer Natassa Pappa, connecting the stoas' exits by following the old exit signs and taking you on a trip through the most interesting passageways in the heart of Athens. "I wanted to come up with a fresh narrative for the city," she says. Pappa does not treat the arcades as an architectural legacy to be mourned; rather, what she sees in that particular building type is a model to build on. "We should make use of the arcades' unique character: shop owners are here in close proximity; it is inevitable that they will exchange ideas and get feedback," she adds.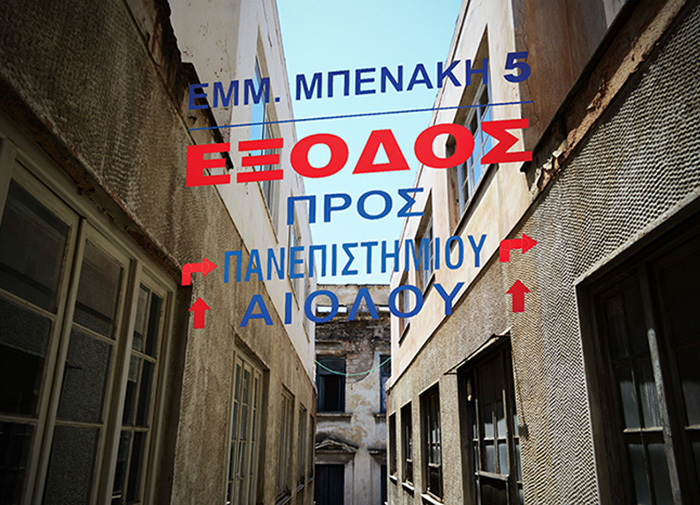 Pappa has witnessed this pro-synergy environment at play at her downtown Athens workspace at Romantso, a former printing house-turned-incubator to help get arty individuals and start-ups off the ground. In a similar vein, last year two architects teamed up with the City of Athens and the Merchants' Fund to bring business back to a the "Stoa ton Emboron" (Merchant's Arcade) through an initiative called Traces of Commerce. For six months, abandoned shops were transformed to experimental workshop spaces and creativity hubs, while also used as showrooms for exhibiting products/projects.
See more: Architectural walks of Athens, Architectural maps of Athens, Discovering contemporary Architecture in Athens