Greeks celebrated yesterday (6.1) the Holy Epiphany ('Theofania' or 'Fota'), one of the Orthodox Church's most important feasts that commemorates the baptism of Jesus Christ in the River Jordan and closes the festive season of Christmas and New Year.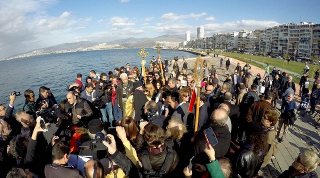 This year's celebrations were highlighted by a historic service in Smyrna ('Izmir') Turkey, where, after 94 years, the Turkish authorities granted permission to the Greek Orthodox community to perform the Diving of the Holy Cross ceremony on the local pier. Pilgrims from Athens, Mytilene and Chios had travelled to the Turkish city to attend the Holy Liturgy and participate at an official celebration that took place for the first time since the Asia Minor Catastrophe in 1922. The sanctification of the waters was officiated by the Greek Orthodox priest of the Church of Agia Fotini of Izmir, Fr. Cyril of Sykis, at the historic waterfront Ke (Quai) of Smyrna opposite the old Greek consulate building.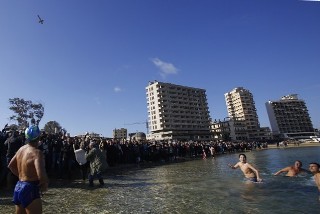 The ritual of the water consecrations was also performed for the first time after 42 years in occupied Famagusta in the northern part of Cyprus. Under the presence of 1200 Cypriots with origin from the town of Famagusta, 20 winter swimmers dived in the sea to draw the Holy Cross, while people expressed a hope for 2016 to be a year of a solution to the Cyprus problem.
In Athens celebrations, Greek President Prokopis Pavlopoulos called for "the light of Christianity to smash the darkness of crisis" as he attended the Epiphany ceremony along with Prime Minister Alexis Tsipras, Athens Mayor George Kaminis and other political leaders. In Piraeus, sailors from the Greek navy dived into the sea, following the ceremony of the Great Blessing of waters, in order to retrieve the wooden crucifix.
See also: Epiphany: Customs and Celebrations around Greece
TAGS: FOREIGN AFFAIRS | RELIGION