POEM ON A TAPERECORDER
Joy of night, oh sonorous lights,
marvelous evening
the colored noise of the city
divided up my loneliness, sometimes yellow,
orange, blue, and now red
dyeing my gait pure green.
Love had white marks.
Stop. Rewind.
The turmoil bore the white marks of the world.
The clouds invisible.
No.
The angel radiates like marble
in the deserts of the moon, in the honeysuckle white
death is duped and the night
is amused with shooting stars.
No, no.
Time approaches visions
on tiptoe.
Greed!
I should have further submerged
the grief within my soul.
No.
The cricket ornaments expanses.
The night comes down the stairway of darkness
sits on the passion of Mary.
All alone the busts breathe in the gardens.
Stop. Everything is erased.
I want to escape from words.
I'm sick of it.
Better it would be to listen to what on the next balcony
two perennial old ladies are saying;
sitting there by the hour.
[Translated by Philip Ramp, @Mary Meimaraki-Karouzou, Collected Poems, Icaros Publishing Company, Athens, 1993]
Although very few things exist in English on Nikos Karouzos, despite the excellent translation of his work by Philip Ramp (Shoestring Press, 2004), his poems are amongst the finest in modern Greek literary tradition and constitute some of the most significant experimentations with grammar, versification and meaning in post-war Greek poetry. His poetic idiom is quite distinct, embodying a strange mythography of death, nihilism, faith, doubt, rebellion, fatalism and love for life, all fused in one and all turned against each other.
Karouzos's poetry is conceptually dense, following ideas across history and culture as they collide and interweave, always boiling down to one word. Surveying the deadends of existential desolation, it is at the world-shaping order of art that Karouzos consistently pauses, meditating on its staying power. His poems, many offering themselves as 'music' or 'triptychs', gravitate towards a host of figures (Plotinus, Bach, Modigliani, Rimbaud, Marx) as they bear witness to the transubstantiations of life and person into art. "Every word, taken as an alphanumeric, becomes the visual representation of the software of the reader in the poet's memory", in Dimitsis Kalokyris' words.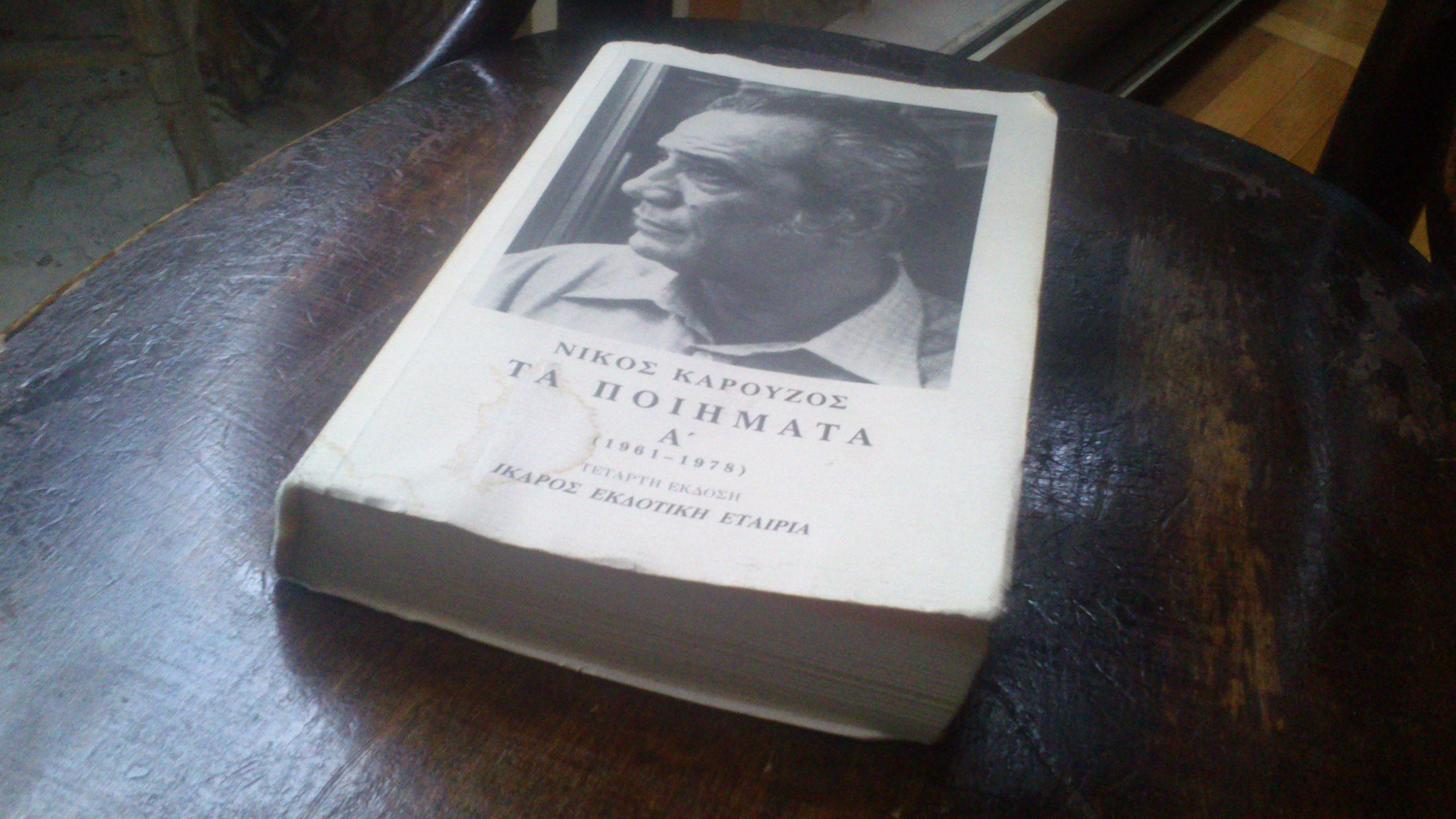 Examining the philosophical ideas behind Karouzos' s poetry, Tassos Goudelis finds that the concept of 'existence' lies at the bottom of them all. "This elemental word, shattered or rather proteanly transformable in Karouzos' s verses, offers magical flights, diverse hues and an unfathomable depth that simply astounds". For Karouzos, the world, things in general, are creations of language and time: these two concepts fuse with their creations and may become 'apparent' like lightning exclusively through the medium of great poetry.
The Poet
Nikos Karouzos was born in Nafplion in 1926 and died in Athens in 1990. He is considered one of the foremost Greek poets of the twentieth century. Karouzos took part in the Resistance and studied Law at Athens University. His first poems appeared in 1949, and between 1954 and 1990 he published more than twenty poetry collections. His final volume appeared, posthumously, in 1991.
Karouzos also wrote literary criticism and essays on the theatre and art. He received the State Poetry Prize twice, in 1972 and 1988. His collected works were published between 1993 and 2002 by Ikaros in Athens: Poems I in 1993; Poems II in 1994; his Selected Prose in 1998; and Interviews with Nikos Karouzos in 2002. In 1993, a major Symposium on Nikos Karouzos was held at Athens University, the proceedings of which were published by Ikaros in 1996. In 2000, on the occasion of the tenth anniversary of his death, a second Symposium, again organized by Ikaros, was held there.
A.R.