Award-winning Greek-French writer Vassilis Alexakis passed away at the age of 77 on January 11, 2021. "Literature lost a great creator, and independent, loved and special voice", and "a writer who has won the esteem of his colleagues and the love of readers in the two countries between which he has shared his life, Greece and France", in the words of Greek Minister of Culture.
Vassilis Alexakis was born in Athens in 1943 and spent his childhood on the island of Santorini. In 1961 he received a scholarship to study abroad and went to France. He enrolled in the journalism school in Lille with the intent of somehow making his living as a writer. In 1964, he returned to Greece to do his military service. Three years later, the coup d'etat and the installation of the military regime forced him into exile. He returned to France, this time to Paris.
His first novel, Le sandwich, was written in French and published in 1974. In 1982 he wrote his first novel in Greek, Talgo, and translated it himself into French. His novel La langue maternelle was awarded the prestigious Medicis Prize; his collection of short stories, Papa, was awarded the Academie francaise Prize for Best Short Story Collection, and his novel Avant was awarded the Albert Camus Prize.Alexakis received the 2007 Grand Prix from the Academie francaise for his novel Ap. J.-C. Foreign Words was selected as a 2006 Book of the Year Award by ForeWord Magazine, was nominated for the International IMPAC Dublin Literary Prize for 2007, and in 2014 was named one of the 25 books that inspired the world, but World Literature Today.
Being Alexakis's first novel published in English, Foreign Words is an invitation to a journey, a book that takes us through time and space. Crossing countries and continents, the narrative follows a son lost for words over the death of his father. Unable to write the phrase "My father is dead" in either his native Greek or his adopted French, he heads for Africa to undertake the learning of Sango. Traveling across both borders and time, he examines his past, his family history, and the colonial and political ties of his homelands.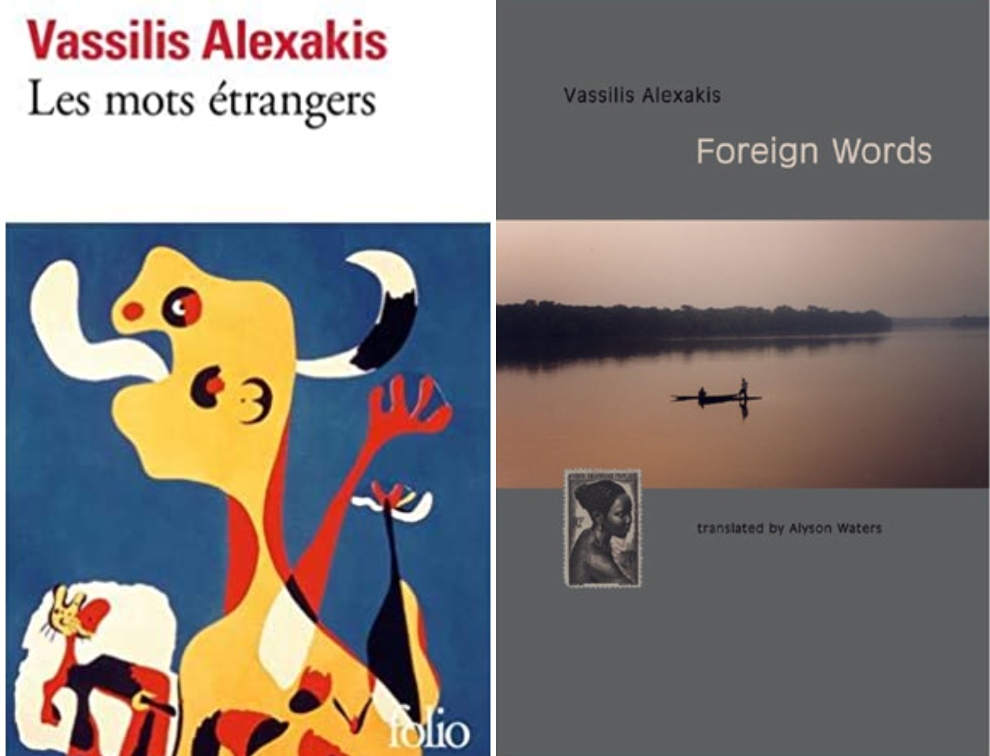 While at first he does not know why learning a new and uncommon language has become vital to him, he comes to discover that the new language enables him to easily write of his father's passing. But as he truly experiences Sango—meets its speakers, travels where it emerged and has struggled to survive—his intimacy with it grows, and he is once again unable to utter the telling phrase.
The book is a profound meditation on language and loss, on the language of loss, and on the power and magic of words — their power to change the way we see ourselves, their magic to renew our lives after hardship. The story is simultaneously filled with delicate suspense and emotional honesty, while the narration is full of humor, tender self-deprecation, and subtle irony.
As Professor of English and Comparative Literature at Butler University Ania Spyra commented in her review of the book, Nicolaides does not shy away from the political dimensions of language learning and instruction. He comments on the reasons for languages to penetrate into each other and claims that soon "current events" will force us to understand African words, just as it has been the case with the Arabic ones, for example jihad and ayatollah.
But Foreign Words is not merely a narrativized treatise on language and migration; it abounds in lyrical insights, couched in beautiful language. As Alexakis's narrator says, "Languages return the interest you show in them. They tell you stories only to encourage you to tell your own…. Foreign words are compassionate. They are moved by the least little sentence you write in their language, and it doesn't matter if it's filled with mistakes."
TAGS: LITERATURE & BOOKS | READING GREECE