A large Innovation Center will be constructed in Athens, an emblematic initiative taken by the Ministry of Development and Investment aiming to gather under one roof Research Centers, startups but also R&D departments of big industries, so as to enhance synergies within the national research and innovation ecosystem. The Center that will be named "Politeia" (from the Greek word "polis" meaning city as an organized community of people) will be developed through Public-Private Partnership (PPP) with a total budget of 60 million euros covering the phases of study, financing, construction, operation and exploitation of the whole project for 30 years.
When finished, the Center, expected to create 2,500 jobs, will provide the necessary amenities and co-working spaces to startups and spin offs, will host big companies' R&D departments as well as startups incubators and accelerators. The Center will also enhance cooperation between universities and companies reinforcing the development of applied Research and Innovation. "Politeia" aims to become a point of reference for startup businesses nurturing the startup and entrepreneurial community, organizing a variety of community events and offering recreational, food & catering services following thus the example of renowned Centers abroad, such as the Station F in Paris et al.
Innovation and startups in Greece
The aim of the project is to improve the national economy's competitiveness reinforcing the transformation of research results to innovative products and services. Innovation in Greece, contrary to what is mainly believed, has made significant progress in the recent years and according to the European Innovation Scoreboard, Greece has the second-best performance in the EU in improving innovation for the period 2011-2018, increasing by 20.2% while the European average improvement amounted to 8.8%. Greece remained though one of the member states with a moderate performance in innovation, in the same category with countries such as Italy, Spain, Portugal and Cyprus. According to the data, collected by the National Documentation Center (EKT) that is providing the official statistics on innovation in Greek businesses and R&D activities, Greece is above the European average in 'Innovators' and 'Linkages' and performed particularly well on indicators for SMEs with innovative products and processes, SMEs with marketing and organisational innovation, SMEs that innovate in-house and SMEs collaborating with others. The country also performed particularly well on the indicator 'Population with tertiary education', exceeding the EU average.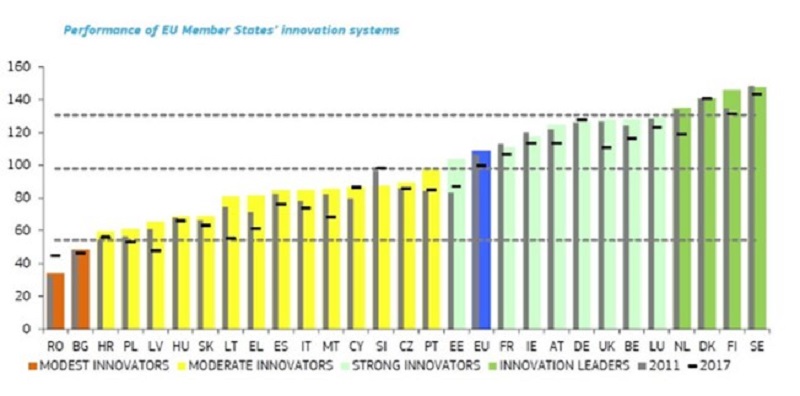 Source: National Documentation Center (EKT) www.ekt.gr
According to the EKT data, in 2018, total R&D expenditure in Greece increased for all sectors reaching 2,174.67 million euros, an increase of 6.7% compared to 2017 representing the 1.18% of GDP (1.13% in 2017). An important rise in R&D expenditures was observed in the private non-profit sector that reached 21.64 million euros (0.01% of GDP) showing an increase of 32%, while Government sector expenditures were 484.95 million euros (0.26% of GDP) showing a 7.5% rise.
At the same time, a dynamic startup ecosystem is starting to emerge in the country as an increasing number of startups related to digital technologies such as microelectronics, gaming, mobile applications, but also shipping and biotechnology, have made their appearance. Since 2012, over 500 startups have been established attracting more than 270 million euros investments.
The old chemical factory to be transformed into Innovation Center
"Politeia" will be located in an emblematic industrial building of an old chemical factory in Piraeus Avenue, a big historical road connecting the center of Athens with the port of Piraeus, dating from the ancient times. The chemical factory "Chropei" (ΧΡΩΠΕΙ in Greek from ΧΡΩματουργεία ΠΕΙραιώς, Piraeus Dye Works) was the first to start operating in Piraeus Avenue in 1883, just in the beginning of Greece's industrialization, becoming a leading chemical company. During its multiannual operation Chropei manufactured a variety of products from synthetic dyes and other chemical products to pharmaceuticals and animal foodstuffs. The owners, the Economidis family, had studied chemistry in Germany and Switzerland and soon became the pioneers of Greek industry adapting their products and strategy according to the emerging research and market trends. A library containing over 3,500 science books and magazines was included in the factory premises marking the innovative spirit of Chropei owners. After over 100 years of operation the factory closed in the early 1990's, following the de-industrialisation flow in Greece, remaining so far deserted and abandoned.

The old "Chropei" factory in Piraeus Avenue, where the "Politeia Innovation Center" will be constructed
The "Politeia" project intends to preserve the architectural character of the 35,700 sq.m. factory premises located in a 18,000 sq.m. plot contributing to the overall urban, environmental and cultural development of the wider area of the city of Piraeus. Previous attempts to regenerate Piraeus Avenue, this historical axe that mainly housed industrial and manufacturing places that have gradually closed down, have already led to the re-use of existing industrial buildings to new cultural and educational uses. Along this lengthy road one can currently find museums, cultural centers and university facilities such as the Technopolis (Gazi) an industrial museum and major cultural venue, an annex of the Benaki Museum, the Michael Cacoyannis Foundation, the National School of Public Administration, the School of Fine Arts, the Cultural Centre "Hellenic Cosmos" etc, although these are mainly separate attempts and not the result of an integrated strategy covering Piraeus Avenue as a totality.
Read also via GNA: European Innovation Scoreboard: SMEs lead the way for innovation in Greece; Increase in 2016 R&D expenditures in Greece; R&D spending in Greece reached a record high in 2017; Rethinking Greece: Christina Agriantoni on Greece's industrial development and its future prospects
I.E.
TAGS: BUSINESS & TRADE | ECONOMY & DEVELOPMENT | INNOVATION | SCIENCE & TECHNOLOGY