Irena Karafilly was born in the Urals but has lived in five countries, most recently in Greece, where some of her plots are set. Her work has won several literary prizes, including the National Magazine Award and the CBC Literary Award. She is the author of six books: The House on Selkirk Avenue (Guernica Editions, 2017), The Captive Sun (Psichogios Editions 2010, under the title Η ασυμβίβαστη Μούσα and Picador Australia, 2012), The Stranger in the Plumed Hat (Penguin Canada, 2000), Ashes and Miracles: A Polish Journey (Malcolm Lester Books, 1998), Night Cries (Oberon, 1990) and Οι δρόμοι της μοίρας (Psichogios Editions, 2010). Her short stories have been broadcast, anthologized, and published in both commercial and literary magazines, in Canada and abroad. She has also written book reviews and other articles, published in numerous newspapers, including the New York Times and the International Herald Tribune. She currently divides her time between Canada and Greece.
Irena Karafilly spoke to Reading Greece* about her novel, The Captive Sun, which takes place in a small village on the island of Lesbos, noting that she set out to "depict one woman's lifelong struggle against social and political tyranny while simultaneously chronicling her nation's historic hardships".
The Captive Sun takes place in Molyvos, a small village on the island of Lesbos, Greece. Tell us a few things about the book.
I was living in Molyvos when I first heard about Stella Ioannidou, a recently deceased village woman whose life – to echo George Sand – resembled a novel more than most novels resemble real life. As a young widow, she had an affair with Stratis Myrivilis, who later fictionalized their relationship in his Greek classic, The Schoolmistress with the Golden Eyes.
I wrote a short story inspired by the anecdotes I'd heard but, eventually, the story evolved into an ambitious novel about a strong-willed Greek iconoclast; a young village schoolmistress who is recruited by the Germans during the Occupation to act as their liaison officer.
My fictional schoolmistress is a member of the local Resistance Movement but, against all odds, an intense friendship develops between her and the German commander in charge of the village. Their complex relationship survives the Occupation and continues through several tumultuous decades as Greece is ravaged by civil war, oppressed by military dictatorship, and finally liberated in the mid 1970s. Talking to non-Greeks, I had discovered that most people knew very little about modern Greek history, so I set out to depict one woman's lifelong struggle against social and political tyranny while simultaneously chronicling her nation's historic hardships.
One of the things that is interesting about Calliope is that she does things that most of us would agree are wrong, yet somehow you make us like and admire her. How do you explain this?
A saintly character does not make for a very interesting plot. Calliope is a complex woman and, like the rest of us, she is very flawed. We admire her because of her strength of character and, of course, I'm very pleased that readers have found her likeable. I think that to like a character we have to understand him or her, and I believe that readers understand my Calliope. I also think that we like her because she is so open about her own shortcomings. She never whitewashes her own mistakes, and she suffers a lot for them. I think readers naturally sympathize with a character who suffers so much loss and deprivation.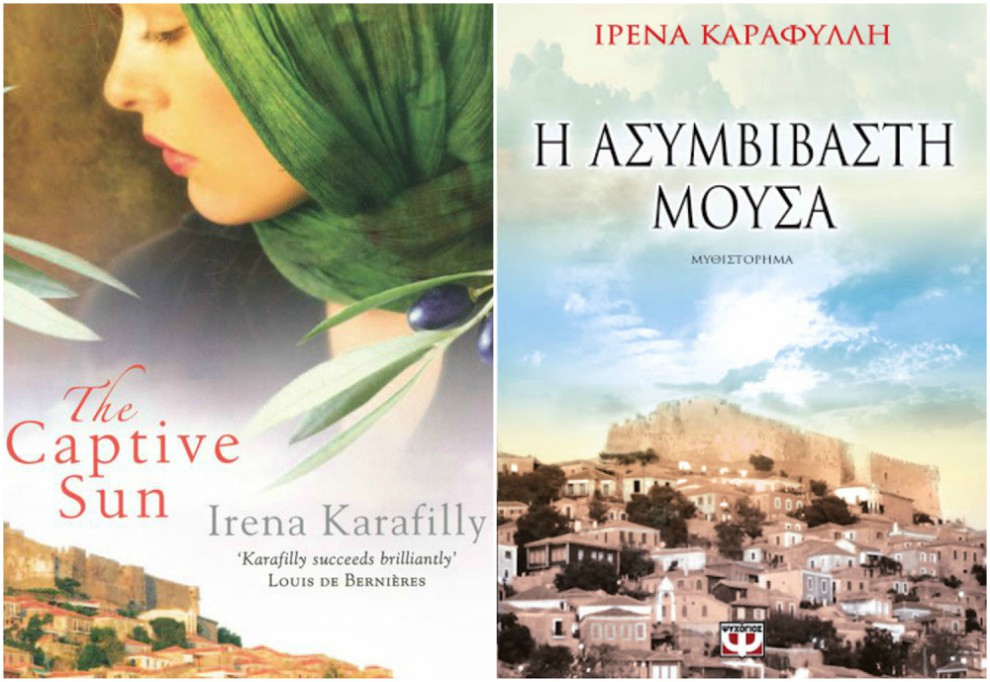 What makes Calliope's struggle relevant today?
Social realities have, of course, changed considerably since Calliope's time, but women's struggle for social justice continues. Calliope starts out as a schoolmistress but eventually becomes a celebrated champion of Greek women's rights, devoting much of her life to promoting village girls' education and founding shelters for women fleeing domestic abuse.
The book is a canvas encompassing much of Greece's twentieth century history, which unfolds before the reader, in all of its painful and tortuous vitality. How demanding was it to write a novel that covers an immense breadth of time and event? Where does history meet fiction in your writings?
It was a huge challenge, one that I probably would have never undertaken had I known the book would take me seven years to research and write (while teaching part-time at university). I had not lived through any of the political events described in the book, so everything depended on books and interviews. The historic events have all been widely documented, but Calliope Adham's personal story is the product of my own imagination, even if inspired by an equally feistyvillage woman.
The challenge was to seamlessly weave Calliope's personal story with historic events, condensing several eventful decades into an accurate and marketable narrative. BTW, the woman who had inspired the story had immolated herself on learning, in old age, of plans to move her to an old folks' home. Until the very end, I had planned to have my protagonist, too, immolate herself, if only in protest against the Junta's arrest of her beloved godchild. Calliope Adham, however, defied me – her creator! – as fiercely as she had all authority, and so the novel has a completely different ending.

You have chosen Greece as a setting for both your short stories and your novel. Why?
I spent the better part of a decade living in a Greek village, and quickly realized it was a sort of microcosm, offering me as a writer invaluable insights into familial and social realities. My first book was a collection of Greek short stories and I hope to publish another one soon because a village – any village – offers so many compelling stories about the struggles of ordinary people. I love writing about Greece, especially when I am away from it! Foreigners who have visited Greece told me that reading my evocative novel was the next best thing to going back to the islands.
Having lived in five countries and most recently dividing your time between Canada and Greece, what does Home constitute for you?
By now, I am reasonably at home both in Greece and in Canada, but as for a true sense of Home, I am still looking for it and usually find it only between the pages of a book.
What are the main themes your novels touch upon? Are there recurrent points of reference in your work?
Not all my books are novels, but in my fiction, I seem to be particularly interested in outsiders of one sort or another. They may be expatriates trying to fit into an alien society, or seemingly ordinary folk whose inner lives are challenged by external pressures. I am always interested in, and deeply moved by, the vagaries of fate and the way ordinary people deal with unforeseeable circumstances and the forces of history.
*Interview by Athina Rossoglou
TAGS: LITERATURE & BOOKS | READING GREECE