The Athens News Agency reports on a gastronomic tour of Northen Evia; this three-day farm trip was a part of a "Meet your Makers" initiative, supported by the association "DIAZOMA" and sponsored by the SPEL [Association of Fertilizer Producers & Traders] with the aim to introduce and promote 28 local products from Northern Evia, a region that has been greatly affected by last year's fires.
Travelling the route from Chalkida to Agia Anna, Limni, Rovies and Edipsos, the green mountain that once dominated the area is no longer there, however, 10 months after the devastating fires, nature has begun to heal, as small green leaves and twigs have begun to sprout and bloom. This region produces excellent mushrooms, meats, figs, oil, honey, cheese, pasta, salted fish and legumes; after last year's destruction, local producers are trying get back on their feet and the whole region is undergoing a reconstruction effort.
Exporting mushrooms to Israel
Almost 100 kilometers from the center of Athens, at Kathenous, one comes across the mushroom packing plant of farmers Lefteris Lahouvaris and Thanasis Mastrogiannis. Their company started its activities in March 2004, with the installation of a mushroom substrate production unit and the creation of the first satellite mushroom cultivation system in Greece, while in 2006 they started producing Pleurotous and Lentinoula mushrooms. As Lahouvaris pointed out during the tour, with the substrate they produce for growing mushrooms, they supply the largest mushroom units in Israel. Special chambers located in their facilities host both the production of substrates, as well the cultivation of various varieties of mushrooms, such as Shiitake and "Lion's mane" (Hericium erinaceus).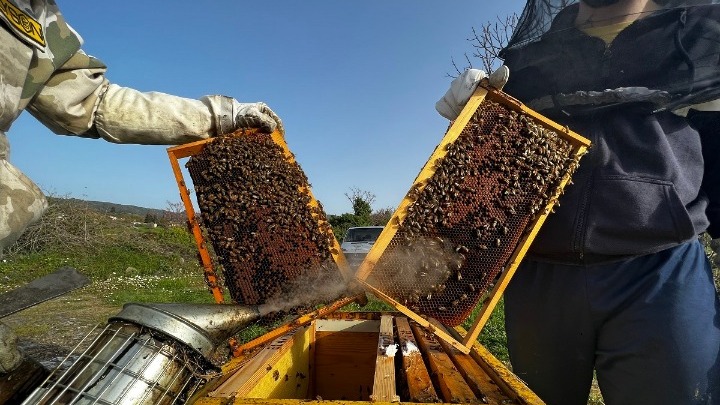 Honey from pines
Next stop on the tasting tour, honey. Famous for its apiaries, the area was hit hard by the devastating August fires. Christos Kentris from Strofilia is a retired teacher and fourth generation beekeeper. Of his 600 beehives, 200 had been completely destroyed, and another 200 left without bees. As he pointed out, of the 1.5 million beehives that exist in Greece, about 900,000 – 1,000,000 are in Northen Evia. "Evia is the main producer of pine honey and stands out for its August pine which is different due to the microclimate", explains Kendris. In the August fires, 10,000-15,000 beehives were completely destroyed. "Our goal is to regenerate what was burned. The bees offer us so much. Beekeepers learn from the bees to become better people, more ecological. Our main concern now is whether the rest the forest will survive", he notes.
Animal Farm
Leaving Strofilia behind, we arrive at Kirinthos, where businessman Minas Halaris is located, an economist and private sector executive who had a vision to start an animal farm. Today he is the owner of a certified organic meat breeding and distribution farm in Northern Evia. "We produce organic meat. We have developed a network of partner producers not only in Northen Evia but also in other parts of Greece", explains Halaris. The fires in August caused great material damage to his business, but they managed to save their animals and their homes. "It would have cost me a lot psychologically to lose my animals. For this reason, because we saved the animals, we did not stop operations. Hopefully the damage by the fire will create an opportunity for something new." "We want to attract other producers to the region who embrace the same principles as us. Our reasoning is to create conditions for co-development", Halaris emphasizes.
The gastronomic journey continues with tasting stops for cheese and dairy products, honeys, juices, pasta, legumes, satled fish and local ice creams from producers from Agia Anna, Limni, Istiaia, Mantoudi, Oreous.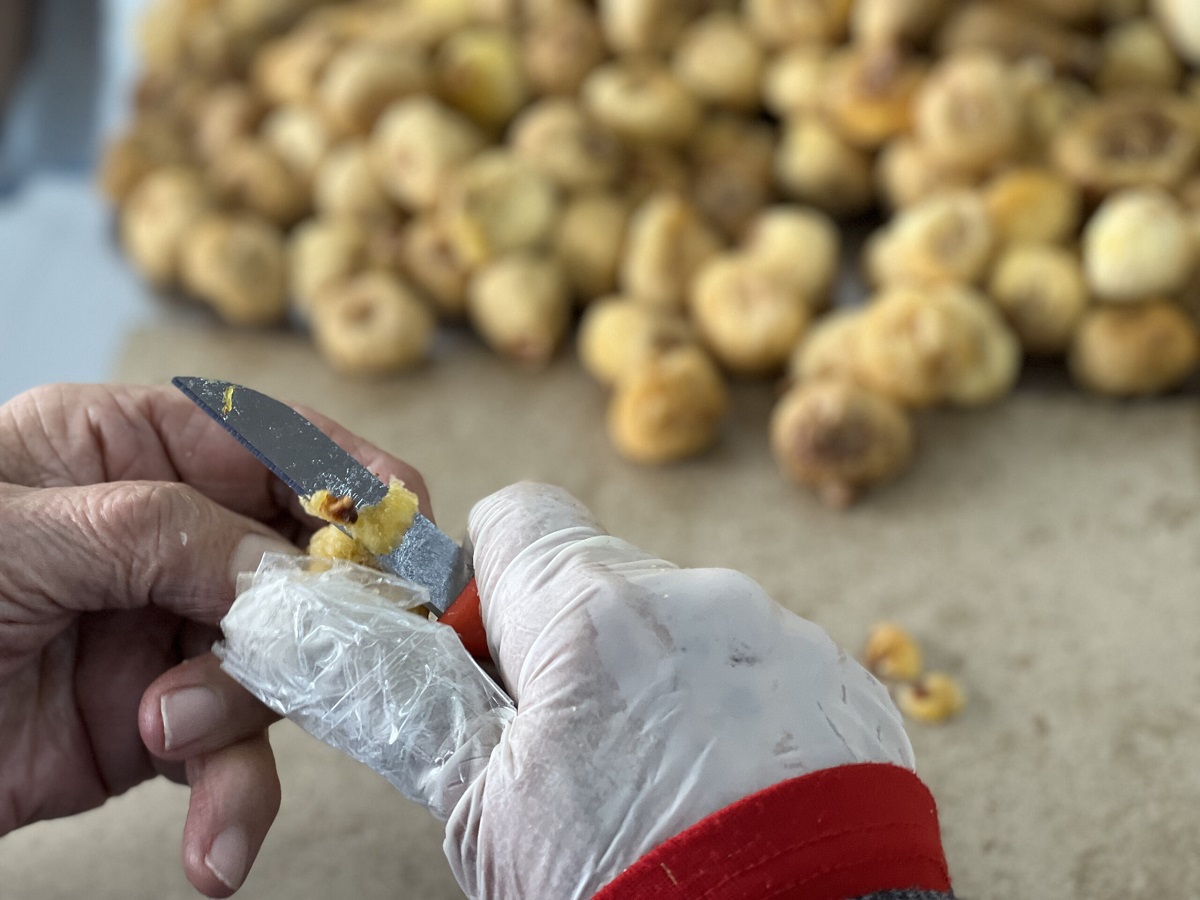 Figs from Smyrna
At Taxiarchis, the history of fig production can be traced back to Smyrna and from the Asia Minor catastrophe. This village of less than 1000 inhabitants produces its own "Smyrna variety", a legacy that has been preserved for about a century. In North Evia, more than 3000 tons of figs are produced every year and this variety is the unique in the world. The fires did not leave them unaffected, as Dimitris Stolidis, president of the Taxiarchi Fig Producers Cooperative reported, 45% of the production was lost. "It was a though the figs had suffered a heart attack," he emphasized.
Northern Evia also produces its own oil, its own wines and spirits, organic juices, and many dairy products. During the farm trip the participants tasted honey from four beekeepers, cheese pies, butter and dairy from three farms, pasta and meat, legumes, salted fish, olives and oil from four producers, mushrooms accompanied by Evia beers, cooked and dried figs from three producers and local wines and tsipouro. At all meals the small producers were present to talk about their products and the stories behind them.
Photographer and chocolatier Giorgos Zaronis is the mind behind the "Meet your Makers" initiative, and with some encouragement from the "DIAZOMA" association, he deiced to organize the second "Meet your Makers" farm tour in Northern Evia. As the program coordinator of the "DIAZOMA" union, Evdokimos Fregoglou, pointed out to Athens News Agency: «It was an initiative for supporting local business, mainly the agri-food sector of the Northen Evia region, sponsored by SPEL, as part of a bigger plan 'EVOIA META' to help with the reconstruction of region in general". He added that initiatives such as "Meet your Makers", through which people get to know local producers with distinctive stories and unique products, contribute to the reconstruction of the region and to the strengthening of businesses that have been greatly affected, while at the same time boosting the self-confidence of the producers." "Evia continues to produce, it is alive and strong despite, all the hardships it has endured," concludes Fregoglou.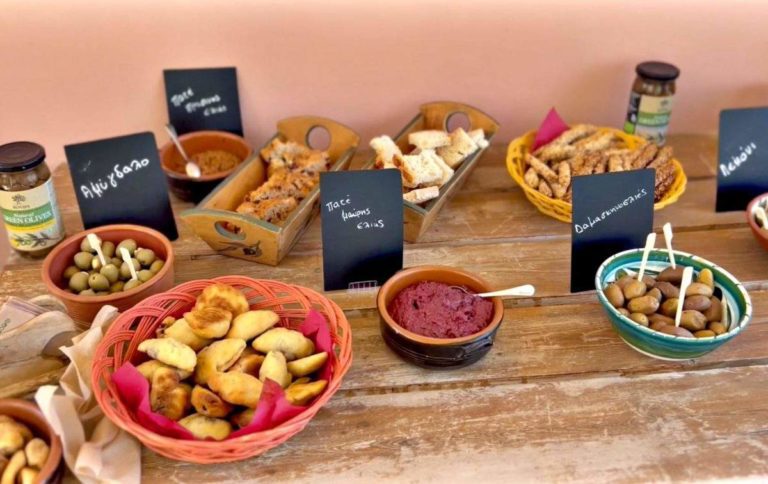 "Meet your Makers" wants to "discover" small producers
After many trips to Greece and abroad, photographer and chocolatier Giorgos Zarzonis decided to create 'Meet your Makers', a series of gastronomic tours focused not so much on the product, but on the producer: "'Meet your Makers' is an initiative that essentially aims to "reveal" to the world small producers from all over Greece. The idea is that at some point we have to find out who makes what we eat. We no longer focus on the product alone, but on the person, because behind the person there is a story. Most of the people who are micro-producers have gone though through various job cycles to get to agro-production. Through «Μeet your makers» I discover people who love what they do, and I find there is something sacred in that nowdays. It is sacred to find people who love what they do. For the fram trip to Northen Evia I worked for months, I met the people, I learned about their stories before and after the fire. It is time to help Northen Evia, there people of the region need it greatly", Zarzonis points out to Athens News Agency.
Photos and text: Ioanna Kardara, Athens News Agency
Translation: Ioulia Livaditi, Edited by: Magda Hatzopoulou