The island of Santorini is one of top holiday destinations around the world famous for its majestic sunsets, high quality products and unique morphology. But did you know that there's also a hidden gem on the island? If you are an aspiring artist, songwriter, musician, record producer or manager and you feel the need to change your environment to unleash your creative side, Black Rock Studios may offer you the ideal recording facilities.
Built in a style that combines modern and traditional Cycladic architecture, Black Rock is a combination luxury villa and world class recording studio. The Villa is built on a cliff-top area of 6,700 square meters near the lighthouse of Santorini and is spread across three large floors, with the outdoor area being equally magnificent.
The studio opened its doors in June 2009, the same year it was nominated and won an award by Audio Pro International for 'Best New Studio in the World'. Its owner, Kostas Kalimeris, is considered a 'music royalty' in Greece. His credits include Head of A&R for Universal Music Group International, A&R Director for Heaven Music Group Greece, while he has worked in the best studios in New York and London, producing 200 gold and platinum records. Asked about the many reasons why an artist would be attracted to record at Black Rock Studios, Kalimeris notes that "it's about leaving a daily routine and problems behind, going to a place and focusing on a project […] It's about experiencing a different lifestyle that fits perfectly with the production of an album".
The studio's first project was with legendary producer Kevin Shirley wanting to record American blues rock guitarist Joe Bonamassa, who decided to name his album 'Black Rock' after the studio. Iron Maiden's Steve Harris, American pop rock band One Republic, as well as American superstar Justin Bieber and singer-songwriter Angelika Dusk are among those who have recorded in the Black Rock Studios. Recently the prestigious Black Rock Songwriting Camp and SOCAN – the Canadian Society of Composers, Authors and Music Publishers – have partnered to collaborate on producing future music creation camps on the Greek island of Santorini, held twice annually.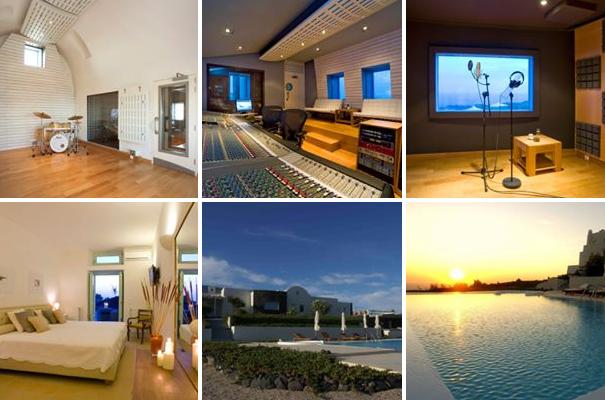 Designed by Roger D'Arcy of Recording Architecture, Black Rock studio offers a pristine SSL room with 9000J-series Ultimation/Total Recall console and Genelec monitoring. ProTools and a good selection of microphones (pair of Neumann U87s, KM184s, EV RE20s, etc) and outboard gear (Neve 1081s, Manleys, etc) are available. The main studio offers two recording booths for drums (below) and/or vocals. Interior designer, Voula Gogorosi added her touch to the Villa and the studio area, selecting colour schemes for the acoustic ceiling panels.
Through a unique combination of accommodation, surroundings and a high quality studio, Black Rock embodies everything a recording artists desire, providing clients with a creative experience like no other. Take a break from the real world and escape to its paradise…