Catherine Kernan is a printmaker, painter and author who lives and worksin Boston, US. She is co-founder and partner of Mixit Print Studio, a professional open rental printmaking studio in Somerville, Massachusetts, and co-author of Singular & Serial: Contemporary Monotype and Monoprint. She has degrees from Cooper Union in New York City and the University of Wisconsin (Madison) and she has been awarded residencies at the Scuola Internazionale di Grafica in Venice, the Ballinglen Arts Foundation in Ireland, the MacDowell artist's residency program and the Virginia Center for the Creative Arts. Her work is regularly exhibited in private galleries across the US and UK and at international juried exhibitions and invitational shows. She has collaborated with the Greek Institute in Boston under the guidance of the late Director, the well-known educator and translator Athan H. Anagnostopoulos, who dedicated many years to "The Treasure of the Greek Language" project.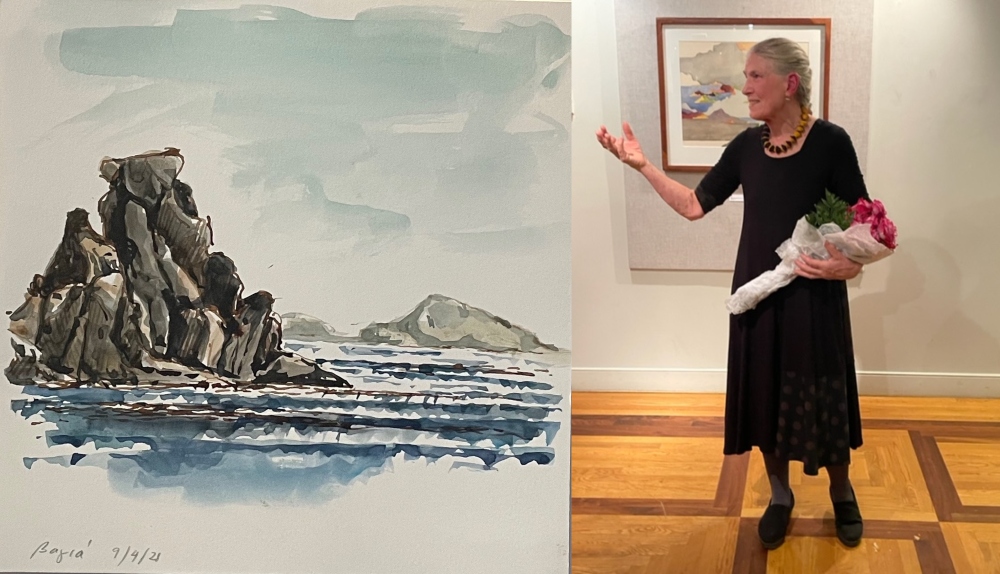 Left: Vayia, Patmos 9/4/ 2021, watercolor, 10" x 10"; right: Catherine Kernan
In 1973, while in her early 20s, she backpacked through Europe sketching continuously and eventually landing on Patmos in the Dodecanese. She stayed there for nine months, painting daily until she ran out of watercolor paper. This time on the island allowed her to build the self-discipline and drive to pursue art as a profession: to become an artist. By recording her impressions in brushwork or pen and ink, she developed her own visual language to identify and celebrate a place that transformed her. Profound and seminal, the experience inspired her to return to the United States to complete her undergraduate and graduate degrees in art, and to continue studying the Greek language.
Although unable to return every year, she made some eight more trips of varying lengths to Greece in 1976, 1983, 1985, 1992, 1998, 2017, 2019, and 2021. On shorter trips, usually weeks, she filled sketchbook after sketchbook with paintings and drawings, finding herself often drawn to the same rock formations, land patterns, vegetative configurations, luminous light and sea surfaces that originally enchanted her.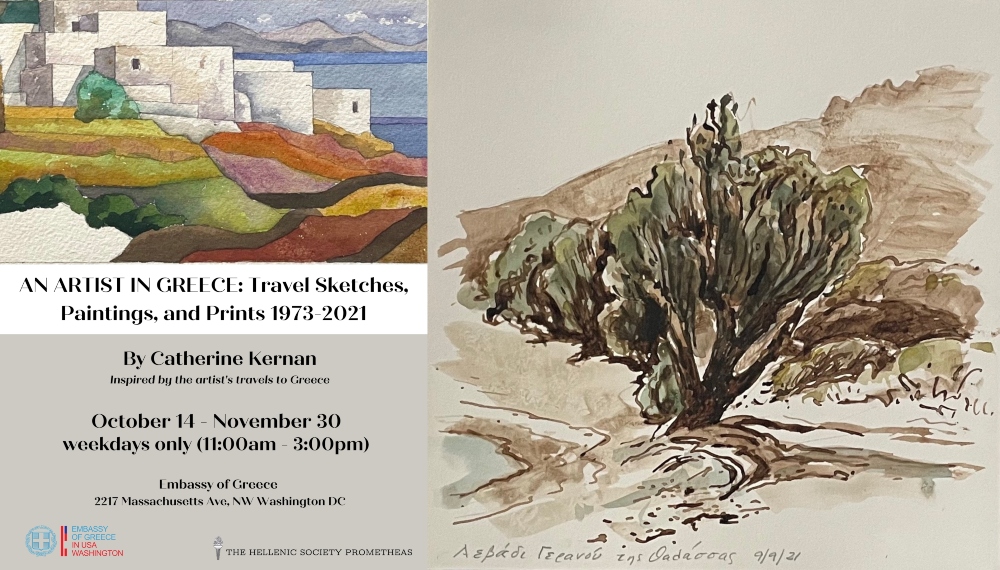 Left: Poster for the Exhibition AN ARTIST IN GREECE: Travel Sketches, Paintings, and Prints 1973-2021; right: Levadi Geranou, Patmos 9/5/2021, watercolor, 10" x 10"
This visual diary of her trips to Greece chronicle the emerging specificity of her experience andis currently exhibited at the premises of the Embassy of Greece in Washington DC until December 6, titled AN ARTIST IN GREECE: Travel Sketches, Paintings, and Prints 1973-2021. Greek News Agenda spoke with Catherine Kernan regarding her relationship with Greece, her exhibition and her plans for the future.
As the artist stated at the opening ceremony: "Looking through my sketchbooks, I recall the heat of the stone walls and rocks where I sat, the coolness of the trees that sheltered me, the pungent smells of rosemary, basil, and oregano, the events of the particular day, the rocky paths I climbed, and the people I met along the way".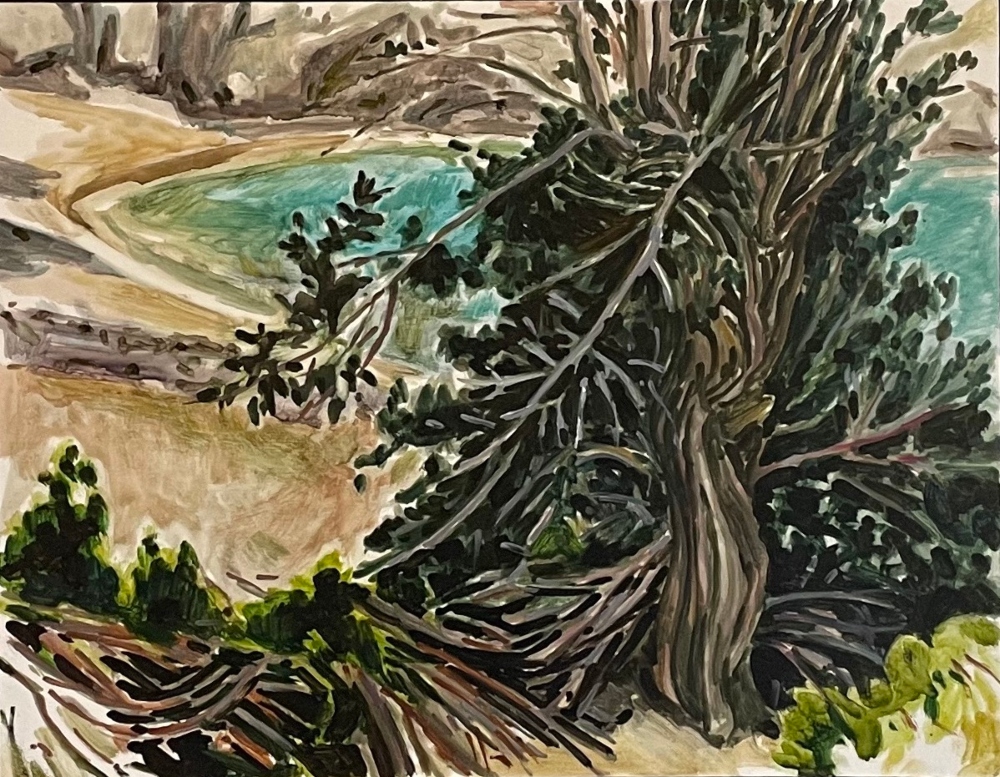 Survival, 1998; oil painting on board, 10" x 13"; survival by accommodation, trees take shape from the ceaseless wind.
The Embassy of Greece to the USA, in Washington DC, is hosting the exhibition An Artist in Greece. Tell us about this work.
This show brings together a selection of artwork done during and inspired by my visits to Greece over a span of 48 years. In my professional career I exhibit frequently. My work is sold through many galleries and art consultants. This exhibit is different and very personal in that none of the pieces are for sale; they will be returned to my sketchbooks to preserve the record of my connection to Greece.
It was a fortunate confluence of circumstances that made this exhibit possible, all traced back to friends from 1973 in Greece whose diplomat son introduced me to Eleni Petroula. She was subsequently posted to Washington and made the arrangements for this exhibit.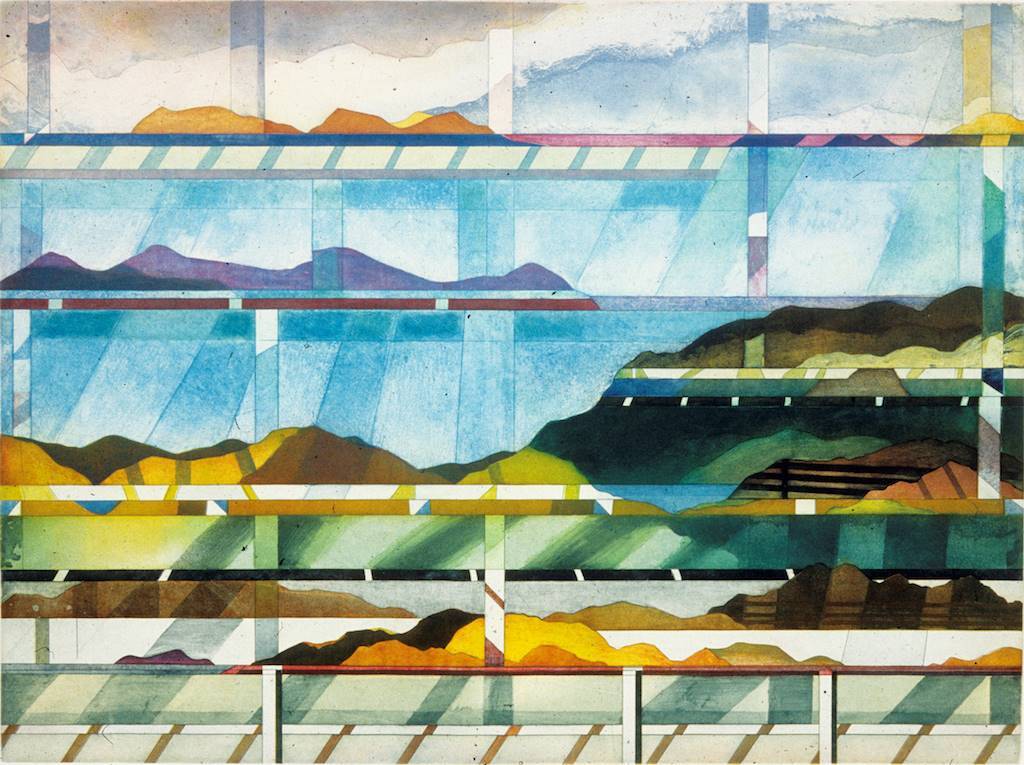 Cutaway III, 1992, multi-plate intaglio etching, 23" x 30.5"; from a suite of five intaglio etchings based on memories of Patmos with the interplay of land forms and horizon.
How did your relationship with Greece start? What does Greece mean to you?
I first went to Greece in 1973 to visit a cousin who was living on Patmos, and I stayed for nine months. That sojourn led to lasting friendships, a commitment to making art, and to an abiding interest in the Greek language.
You have collaborated with the Greek Institute in Boston. Tell us about this collaboration
My involvement with the Greek Institute in Cambridge, MA goes back many years. I started by taking some classes, and while Athan Anagnostopoulos (d.2020) was the irector I was active in a translating group with him. Ancillary to the language studies, I did various art related projects for the Greek Institute to accompany translations and just for fun.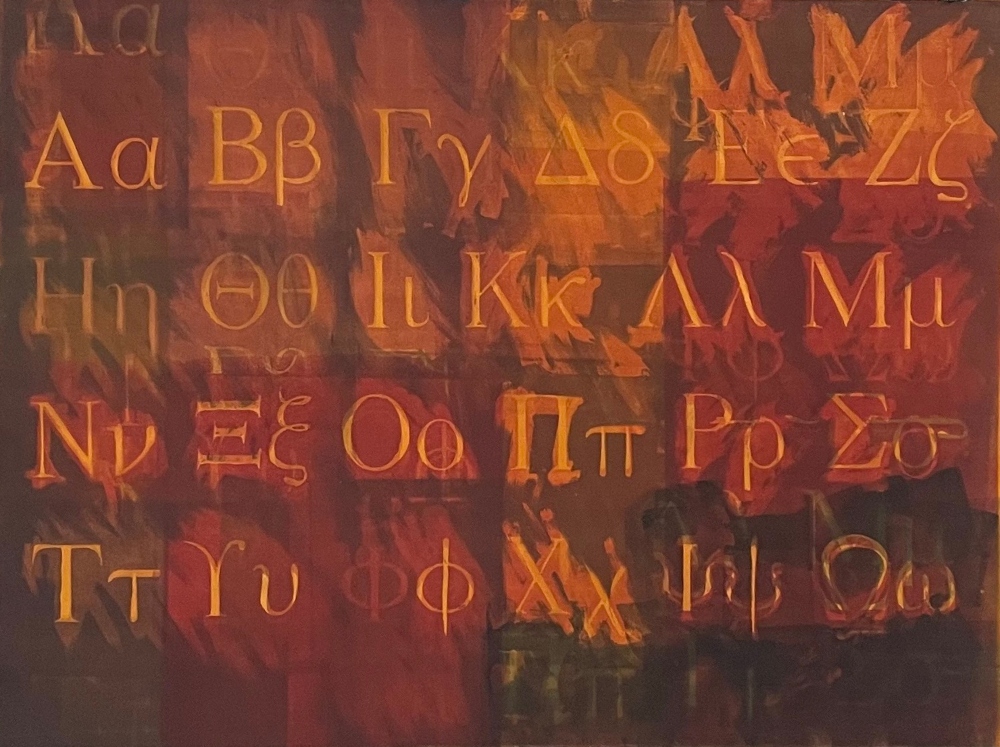 Greek Alphabet Monotype, 2008, 22.5" x 30"; a project for The Greek Institute in Cambridge, Massachusetts.
Apart from being an artist you are also a fine arts printer. How are these two combined?
Fine arts printers are artists, just as sculptors or painters or photographers are artists. Printmaking is an art medium that can be very spontaneous, or very controlled. In my practice as an artist I draw and paint and make prints, (etchings, woodcuts, monoprint) and most of my images are based on drawings and paintings done while traveling.
Any plans for the future?
I hope to continue visiting Greece as often as possible, and I would like to visit more places. My intention is to continue the record of my visits through continuing to draw on every trip.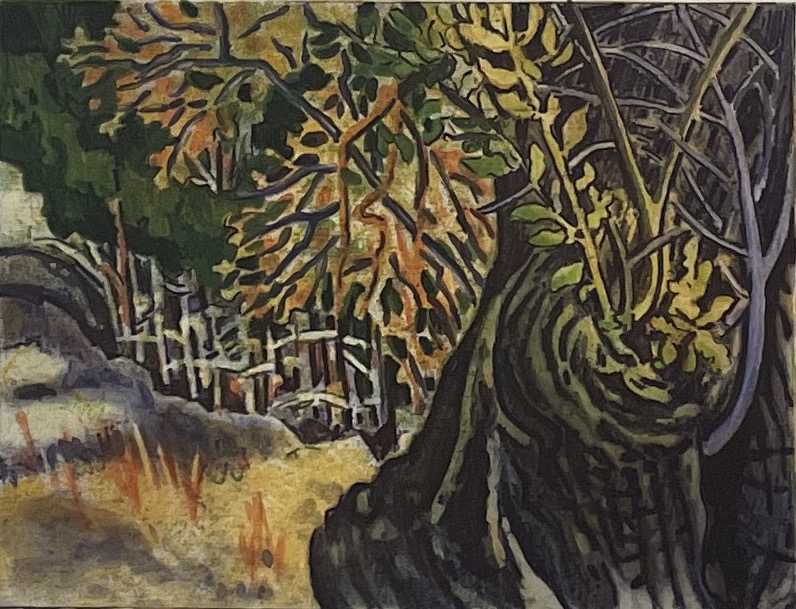 Olive in the Valley of the Monks, 1999; intaglio etching, 7"x 9.5", An ancient olive tree that has survived many ravages of time and weather
Co-presented with the Hellenic Society Prometheas, the exhibition AN ARTIST IN GREECE: Travel Sketches, Paintings, and Prints 1973-2021 will be on view at the Embassy's premises on weekdays from October 14 to December 6, 2022 (11:00am to 3:00pm). For more info, visit the webpage of the Embassy of Greece in Washington DC.
Read also via Greek News Agenda: Creative Greece | George Petrides: "There is beauty not in spite of but because of imperfections"; Creative Greece│Greece in USA's founder, Sozita Goudouna, on the Internationalization of Contemporary Greek Culture in the US
Artwork appears courtesy of the artist; intro image: Cutaway II, 1992, multi-plate intaglio etching, 23" x 30.5"