The construction and use of bouzouki constitute a representation of the paths that tradition unfolds in the neighborhoods of the present. In such a path lies the beginning of a workshop specialized in the construction of traditional musical instruments. Driven by his passion for music and craftsmanship, Alexis Rotskos opened the first workshop, which became a kind of school, fostering continuous training and experimentation. Six years later, the talented craftsman, already an accomplished musical instrument maker, met Yiannis Tsiligiris, a young pianist, who, attracted by the smell of inspiration, decided to use his musical instinct and his European experience at the service of making traditional musical instruments. That's how Xiloihos was born.
Xiloihos has been in operation for more than twenty years now. It remains focused on the ritual of selecting materials and acquiring the most advanced machinery, which is coupled with that deferential human touch that gives them meaning, attesting to the unique quality and innovative character of its work.
Xιloihos has been operating for more than twenty years in the market of hand-made musical instruments. What's the story behind this venture of yours?
I am Alexios Rotskos and I have been professionally involved in the construction of stringed musical instruments since 1997. This art fascinated me from the first moment and I have always felt like an explorer. My goal is to create instruments of high quality both in sound and aesthetics, with quality materials and durability. Since the early 2000 I have been cooperating with Yiannis Tsiligiris, who is my student and partner, and has since become a very good craftsman.
Making traditional musical instruments is an art that requires many skills such as good hearing, accurate measurements, concentration, detail, observation, instinct, but above all passion and commitment. In our workshop we create traditional handmade instruments, while at the same time we also have some modern tools to ensure precision in our constructions.
Since 2005, your workshop holds the patent for quite an innovative musical instrument: the so-called 'silent' bouzouki. Tell us a few things about this instrument and its advantages over an acoustic instrument.
Looking for a way to be able to play without disturbing people around me during the quiet hours, I created the first silent bouzouki in 2004. It was originally created as a study instrument, but the demands of professional musicians made us evolve it into a new kind of instrument, offering numerous advantages. It is an instrument, whose characteristic is the absence of a bowl, compared to an acoustic bouzouki.
The absence of a resonator results in producing a much lower sound volume. Imagine that especially the PRO I model, which has holes in its body and thus a smaller body size, sounds lower than an electric guitar (when not connected to an amplifier).There is also the possibility to connect headphones directly to the preamp on the instrument and thus enjoy a 'personal' electric sound. These are about studying in places and times where quiet is required. Nevertheless, there are many professional musicians who have chosen to use such an instrument in their work as well. And the reasons are specific.
Its electric sound is produced by a pickup-preamplifier system, which is specially made for the silent bouzouki. It is clean and clear and due to the nature of the instrument it does not suffer from feedbacks or "howls"and thus is ideal for spaces that require for the bands to perform in higher volumes. The built-in preamp has volume and tone controls, so it gives musicians some autonomy in producing their personal sound. The instrument itself is more weather resistant and clearly easier to transport.
The silent bouzouki was not made to replace the acoustic instrument, that is not the point. Yet,it is an excellent tool in the hands of those who want to study it unobstructed and facilitate their work.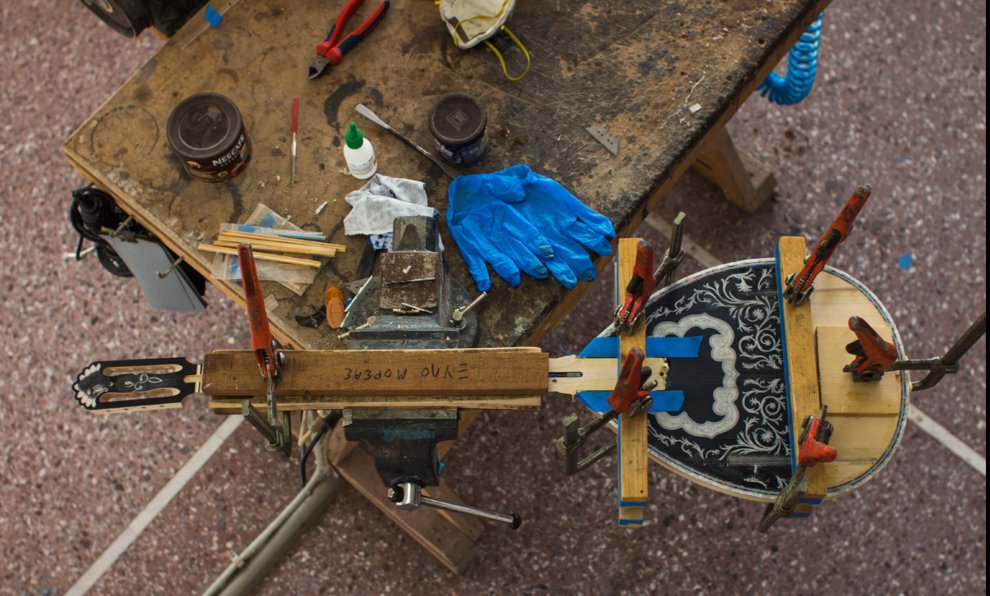 © Dimitris Avramidis
Which are the instruments your workshop specializes in?
Αt Xiloihos we specialize in the construction of the family of panduris, which includes the bouzouki, the tzouras, the baglamas, and the tamboura. Upon order, we make all kinds of strings of the Greek tradition.
Traditional musical instruments such as bouzouki, tzouras, baglamas etc. constitute in essence a representation of the paths that tradition unfolds in the neighborhoods of the present. What is the appeal of such traditional instruments nowadays both inside and outside national borders? What about young people's interest in them?
Αll the abovementioned instruments have deep roots in our country, through self-taught musicians, music families and instrument makers. In recent yearS, music schools and universities have become a breeding ground for your people, with theoretical and practical knowledge, and thus constitute the present and the bright future of music.
Pioneering musicians such as Nikos Papazoglou have contributed to the bridging of folk music with the western one, which for a long time dominated the interest of young people. A new musical culture was formed over the years, which is not afraid of using traditional instruments and musical idioms alongside modern ways of expression. In addition, for some time now, there has been a resurgence of interest in authentic old folk songs and 'rebetika', which didn't exist in the past. It is now common to see groups of young people having fun by singing songs of an era that once seemed to have been replaced for good.
Ιt's also quite moving to see the impact folk music has on people abroad. We don't so much refer to the Greek of the diaspora, which retain an enviable nostalgic passion for Greek music, but to people for whom it would be difficult to imagine that there could be any connection to the genre, people with no 'organic' reference. For instance, in Holland there is a quite active community of 'rebetes',while in Japan we watch videos of Japanese people sitting around a table with bouzouki and baglamas, singing all together! Israel on its part traditionally shows its love for Greek artists, both contemporary and older ones. We have customers from numerous countries: Canada, USA, Brazil, even Kazakhstan! There are bands like the Japanese Pyramidos, who remix Greek folk songs in their own way, Abney Park, a "steampunk" band from Seattle, or Les Fradkin, an American guitarist, songwriter, composer and producer, who incorporated the bouzouki in some of their experimentations, as well as many more established, emerging or amateur artists from abroad, who flirt with the sound of our tradition.
In other words, the potential is there both for the continuation and the renewal of the richness of our folk tradition in the hands of our young musicians, as well as for the promotion of our traditional instruments into 'ethnic' instruments, sources of inspiration and expression for other musics of the world. It's worth mentioning here that the silent bouzouki could help towards this direction as it perhaps offers a more compatible proposal for all genres, especially its visual, aesthetic part.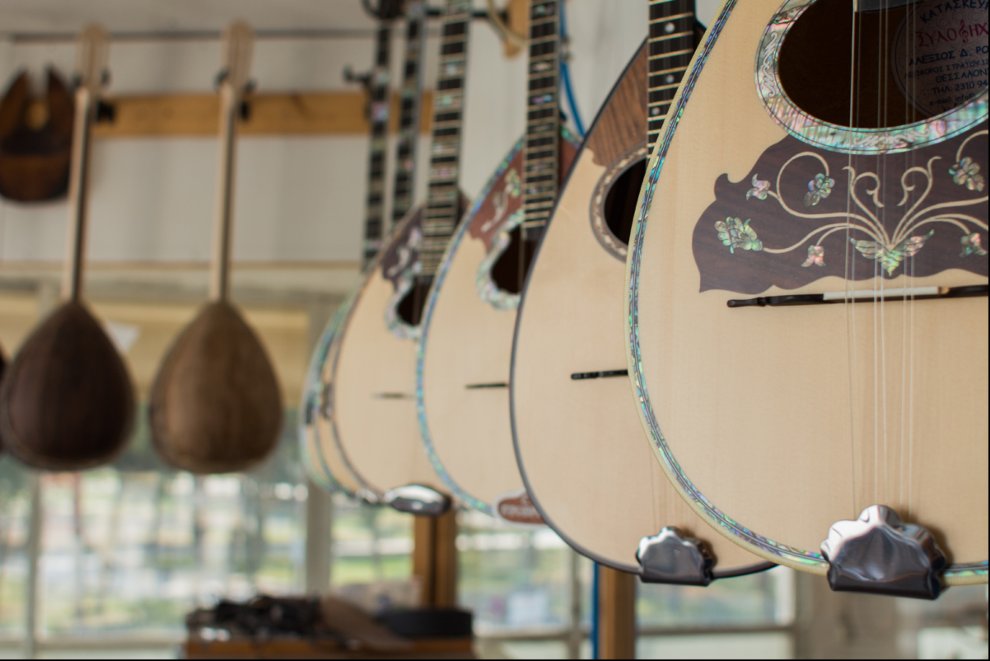 © Dimitris Avramidis
Which are the major challenges you have been faced with all these years in your professional involvement in hand made musical instruments craftsmanship?
Τhe construction of traditional Greek instruments is a kind of experience-based technical profession, without a specific, in-depth bibliography; thus everything is learned through practice, experimentation and study on older instruments. I worked, at the ageof 23, with Mr. Christodoulos Halaris at the museum of ancient and byzantine instruments. I did a partial repair on the well-known bouzouki with the butterfly of Vassilis Tsitsanis, made by Josef Terzivasian. I reconstructed the first bouzouki of the well-known musical family of Milanos from Volos. Many restorations and maintenances on various kinds of instruments, which were several times regenerated and brought back to life. We have delivered many custom-made orders of special instruments, such as kemane of Cappadocia, custom electric instruments, flat back bouzouki, 10 string bouzouki and many more during these 25 years.
Patents in manufacturing and the creation of tools are required almost on a daily basis in our work, because as we mentioned above there are no special tools for everything. The construction of instruments is a constant challenge and this rekindles the love and interest for this work every time.
What is the future ahead for handmade musical instruments?
Nowadays that technology is becoming more and more dominant in our lives, handmade arts tend to gradually decline. Especially in Greece, the overall financial situation makes the natural course of things even more precarious. Unfortunately, learning music from an early age has become a kind of luxury for most people, while music education offered in public schools is not taken as seriously as it should. The additional cost of buying a handmade instrument cannot easily be supported by households which are under constant economic pressure.
Α solution would be cheaper, mass produced instruments. There are numerous such companies abroad, yet musicians who are searching for their unique sound, usually turn to small workshops. And this is because the human factor is irreplaceable in many aspects of the creative procedure, given that passion and imagination cannot be "simulated" by any machine. The relationships that instrument makers develop with musicians and vice versa are personal, friendly, humane and mutually respectful, and the common goal is to serve in the best possible way the need we all feel to express, in one way or another, our inner world.
We reckon that a handmade musical instrument will always be a necessity for those looking for something special, the original, the unique, something that bears the personal stamp of a maker, while at the same time giving space for the co-configuration of an ideal for the personal style of each instrument.
*Ιnterview by Athina Rossoglou