An electronic platform unifying all public sector digital services was recently launched in Greece due to the coronavirus pandemic. The digital transformation of the public administration is an on-going project, it had though to be accelerated so as to facilitate citizen's access to public services, especially after the imposition of movement restrictions in the country.
The portal Gov.gr was activated by the Ministry of Digital Governance in an attempt to gather all the available digital services of the Greek public sector into a unified electronic platform avoiding unnecessary red-tape, bureaucratic delays etc. Citizens will only have to register using their "Taxisnet" tax system credentials in order to identify themselves with safety and will be able to carry out official transactions with public administration through digital signing service. Documents and procedures followed through Gov.gr will be accepted and recognized by all public administration departments.
Offering over 500 digital services already provided by 14 ministries, 32 organizations and 3 independent authorities Gov.gr aims to become, in the near future, the central point for all public sector digital services, as new ones are being added. The existing services that are available through Gov.gr concern the following domains:
– Agriculture and livestock (procedures, subsidies and allowances for agricultural, livestock or fishing activity)
– Justice (judicial services, issue of documents)
– Education (Procedures for enrollment and attendance at all levels of education)
– Entrepreneurial activity (services to start and grow a business)
– Work and insurance (tools and services for your job search, insurance and retirement)
– Family (procedures and issue of documents about life events)
– Property and taxation (instructions and services about property and taxation management)
– Citizens' everyday life (services concerning solemn declarations, authorizations, fees payments as well as services addressed to third-country nationals)
– Culture, sport and tourism (e-libraries, scientific databases etc)
– Military service (conscription issues, military academies etc)
– Health and welfare (Public health and food safety procedures, e-prescription and hospital services)
Gov.gr also provides useful information concerning psychological support or instructions related to the coronavirus pandemic addressed to the public, to families with young children or teenagers at home, to travelers and businesses such as hotels, to healthcare practitioners, to patients and pregnant women etc. The platform also aims to include teleconsultation services for citizens with coronavirus symptoms so as to be monitored by a certified doctor of the Ministry of Health.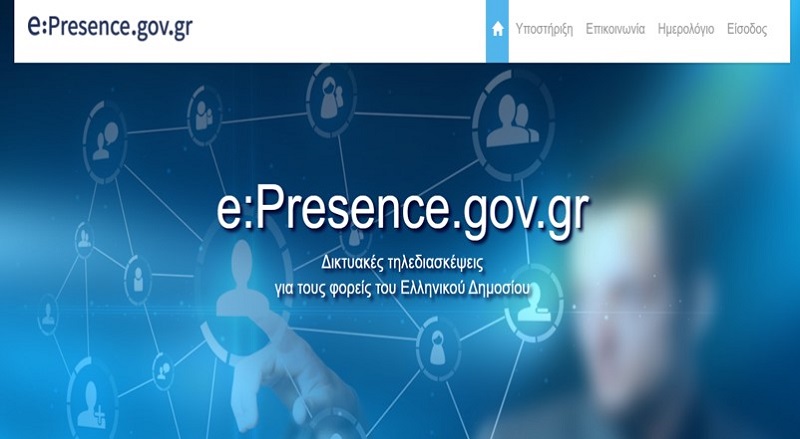 Public administration's digitalization also concerns the possibility of teleconferences, a significant tool for teleworking in the coronavirus Era. The Ministry of Digital Governance has the supervision of a teleconference infrastructure, the "e-Presence.gov.gr", provided by the GRNET- National Infrastructures for Research and Technology, the advanced network, cloud and IT e-Infrastructure and services provider for the Greek Educational, Academic and Research community. The service enables Greek government agencies to organize and conduct web conferencing characterized by high security, quality, and interaction, while a cabinet meeting concerning the coronavirus was held via this teleconference system in March. Since the launch of the service in March 16 over 3,200 teleconferences with the participation of more than 5,100 users have been conducted.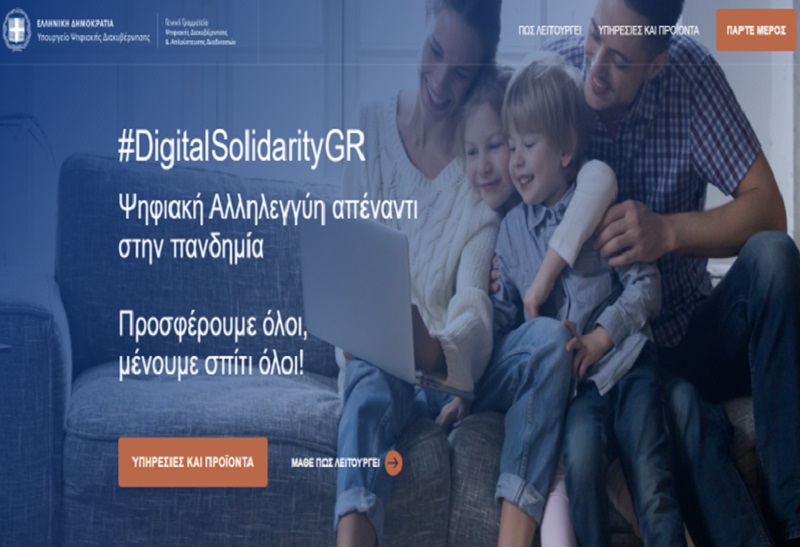 DigitalSolidarityGR
DigitalSolidarityGR is another initiative of the Ministry of Digital Governance launched as a result of the coronavirus, aiming to help citizens find access to the necessary digital tools provided for free or at low cost from private or public institutions, concerning distance learning, teleworking and entertainment. The goal of this initiative is for all citizens to be able to work remotely through the free use of advanced and smart teleworking platforms, to read newspapers, magazines and books for free on their tablet or mobile phone or to attend school / university classes through e-learning platforms. Until now over 130 services are provided to the citizens through DigitalSolidarityGR.
I.E.
TAGS: BUSINESS & TRADE | CRISIS | ECONOMY & DEVELOPMENT | INNOVATION | SCIENCE & TECHNOLOGY