Widely known to the Greek public for his successful films and TV series, director and writer Manoussos Manoussakis was born in Athens and studied at the London Film School. He has directed five feature films, "Bartholomew" (special mention San Remo film festival 1972), "The Enchantress" (best script, music and editing at the Thessaloniki festival, best cinematography at the Chicago children film festival, official selection at the Berlin Children's film Festival, European Parliament award at the Giffoni Film Festival, Italy), "Power" and "Red Dragon". He has directed eleven theater plays, ten TV films and twenty TV series. Three of his series got best series award, best directors award and all twenty are included at the top ten of the rating lists with one of them having ratings of 73%, a record unsurpased till today.
His latest film, "Cloudy Sunday" (Ouzeri Tsitsanis), concerns the forbidden love story between a Sephardic Jewish girl and a Christian boy in Nazi occupied Thessaloniki. The subject matter of this film, as many of his works, is concerned with the denunciation of intolerance.The film's theme, the extinction of the 500 year old Jewish community of Thessaloniki by the Nazis during World War II has as background the music and character of Vassilis Tsitsanis, one of the greatest composers of rebetica music. The film has been awarded best director and cinematography awards at Slemani International Film Festival 2016 in Iraq, best feature film awardat San Francisco Greek Film Festival 2016 and Atlanta – New York Greek Film Festival and has also won three distinctions from the Hellenic Film Academy in 2016.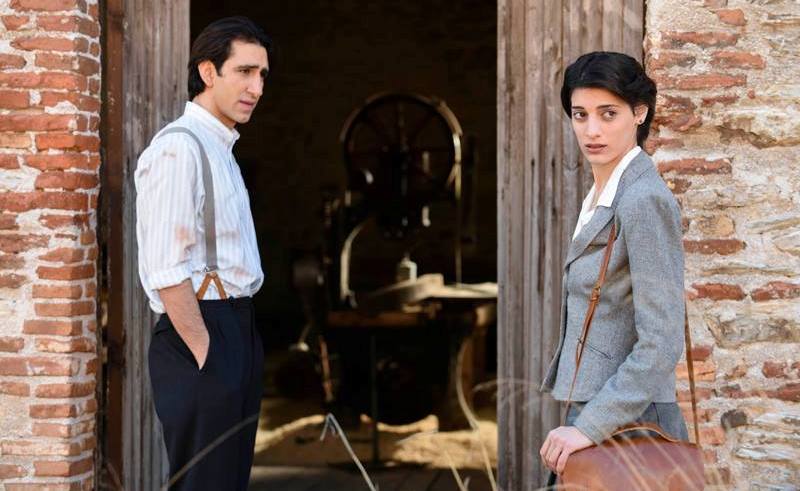 Manoussakis talks to Greek News Agenda* about "Cloudy Sunday", stressing that the theme of his film is always contemporary and that through this he wishes to remind people what Nazism is. As a veteran director he offers an insight into the impact of the economic crisis on TV production that caused a large inflow of imported TV products and wonders why Greece has not developed an international market for its series. Further on, he underlines that there is no actual divide between Film and TV directors, as the case of many TV directors who thrived in cinema and cinema directors who thrived in the small screen proves.
"Cloudy Sunday" was an expensive production (a period drama with 2500 supporting actors). What were the difficulties in the funding and realization of this film?
Funding the film was a very challenging venture. The realization of the film was an adventurous journey to a historical period full of surprises; doors opened for us by our historical advisor Jacky Benmayor, by people who had lived through it and survived, children who had heard stories from grandparents, university students who helped out for weeks on end. People from all over the city of Thessaloniki, all ages, all religions were there. It was a grand journey that helped us live that period for about five years, learning, but mostly feeling the aura of the era.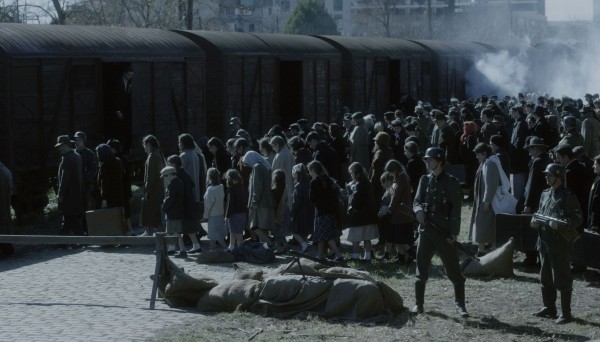 What made you choose Giorgos Skabardonis' novel on which the film was based? Was there a shift of focus in its adaptation?
Scabardonis novel, "Ouzeri Tsitsanis" is a kaleidoscope of small gold pieces of events, characters and mainly the scent of Greece which prevails throughout the novel. Reading the book I realized that I could narrate a very little known historical period of Greece through the eyes of an ingenuous composer and a young couple in love.
Bringing to life this gloomy period of the German occupation of Greece and of most of Europe and the annihilation of the Sephardic community of Thessaloniki, I had the chance to tellthose whodo not know and to remind the ones that chose to forget, what Nazism really is and to denounce intolerance. This is very much a contemporary issue, as we watch neo Nazi formations gaining momentum around Europe and endangering the foundations of European thought and values. At the same time, racism is lethally embracing the minds of people who cannot resist hate speech, due to the deterioration of educational levels.
When I talk about education I do not mean mechanical memorizing of information without critical thought, but an education which promotes analytical thought, experimentation, humanism, observation, the right to question as part of an ongoing process that should never stop. No establishment desires such an education because it produces free, critically minded citizens. In Europe, we harvest the seeds that we have sown by creating herds of uneducated citizens, even within the ranks of university graduates.The only way to fight fascism is through true education (to paraphrase remarks by Manos Hadjidakis in an opinion pieceof his on neo-nazism published February 1993).
The film was recently screened at the Hellas Filmbox Berlin. What were the reactions of German audience?
The film has also been screened at the Greek Film days of Nuremberg and the reaction of the German audience was especially moving. This particular story was not known to many, but World War II is a huge part of their history. The audience had their own heart-rending stories to tell, and I brought back the emotion and their beautiful words with me. Especially important to me were the comments of a fifteen-year-old boy, who remarked that he would have preferred that Estrea had chosen not to leave going to her death, as survival is more important than love for her family. In Austria, where a special screening for High School students took place, the same deep reflection on survival and duty was their main focus. People were deeply moved, some in tears, feeling the cruelty of the era and realizing the contemporary significance of "Cloudy Sunday".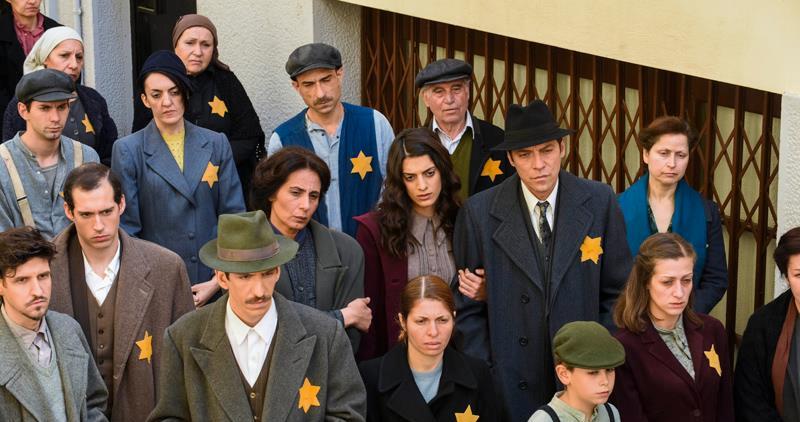 "Cloudy Sunday" has participated in many film festivals abroad. What attracts foreign audiences to this film?
The film has been screened at 30 festivals around the world, starting from China, Iraq, Austria, at three festivals in England, Australia, Israel, Argentina, India and many festivals in the US. The reaction of all audiences was the same: deeply moved even if they had no experience in their countries of the Holocaust. In Shanghai, the audience referred to their experience during World War II and the genocide they suffered from the Japanese. In Slemani (Kurdish Iraq) they referred to the genocide by chemical weapons they suffered from Saddam…. And also, Greek rebetika music is loved worldwide. In Jerusalem, a crowd of people got up in the cinema and danced during a concert that was given before the screening of the film.
One of the main characters in the plot is Vassilis Tsitsanis, an emblematic figure of rebetika music, which serves as a background in the plot. How did you use the element of his music in the film?
Tsitsanis' music prevails throughout the film: it is not only heard in the small club (Ouzeri Tsitsanis) but his melodies were used for the entire musical score of the film. The backbone of the development of the film is the inspiration and the creation of Cloudy Sunday, an emblematic song which might be considered "the other National anthem" of Greece.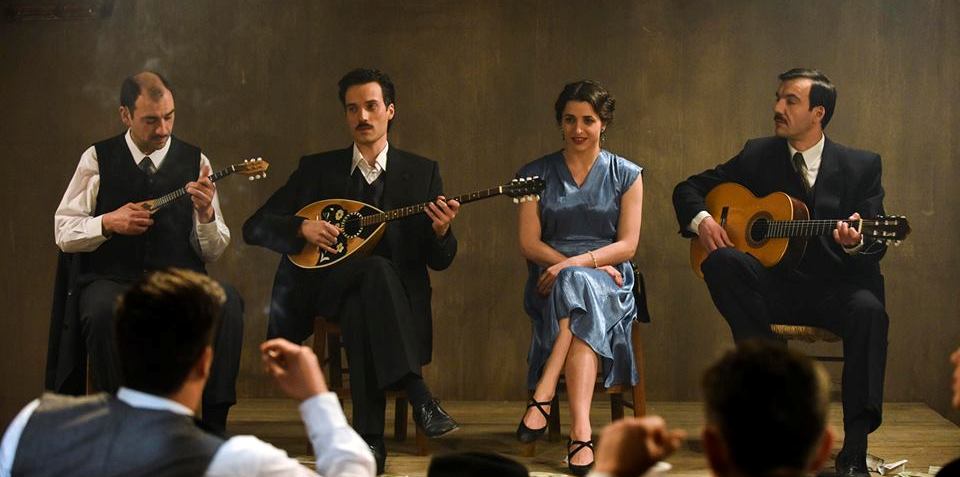 What was the impact of the economic crisis on TV production?
It is obvious that TV stations had to survive the crisis so they had to cut down on running expenses, as all enterprise did. This in turn had a radical effect on the quality of the product, namely television series,an area I am well acquainted with. The production of Greek series declined as a side effect of the budget cuts. For a long time, there were almost no Greek series produced and we were bombarded with imported products, mainly from Turkey but also from the UK, the United States, Latin America, Italy and Denmark. Despite the fact that they did not offer something different or better than that of the "Golden period" ofGreek productions, they had developed an international network for exporting their products. It is thus natural for the following question to arise: Why didn't Greek TV stations develop an international market while other countries did, including Turkey?This question needs to be addressed to station managers, as they are better placed to answer it.
After a few years of almost no production, gradually low budget Greek productions are beginning to make an appearance. Budget deterioration is not necessarily followed by quality deterioration, but as the economic crisis is the outcome of a deep cultural crisis, this reflects on the quality of new series. It is not the budget cuts that are responsible for the context of the "new era" TV productions. It is the deep cultural crisis – all over the world – which caused the economic crisis – that reflects on these products. There can be masterpieces created with small budgets. Nevertheless, there are very smart comedies made with small budgets. The problem arises from the fact that a TV station has to cover a 24 hour programme at very little cost. There are talk shows, cooking shows and singing contests "educating" and influencing a whole new generation with the prospect of easy success and profit with no toil. A new conscience of reality is being developed which has no relation to actual reality.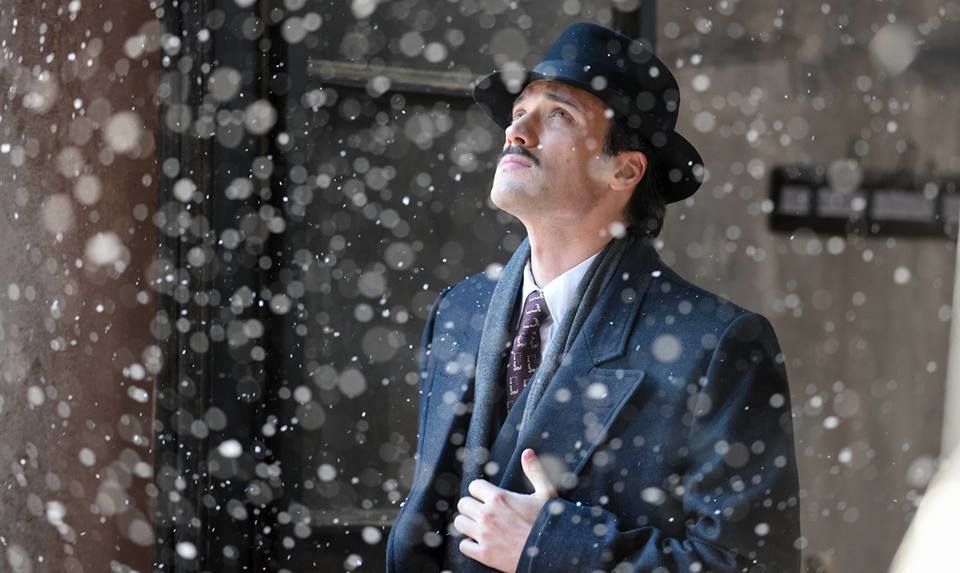 Is there a dividebetween television series and film directors in Greece?
There is not such a division in reality. Most of the directors that moved to what we all call the small screen began their careers as film directors (including myself). When commercial television networks began broadcasting, we were very lucky because we were given the freedom to work with the subject matter that we proposed. Suddenly we didn't have to wait for years to look for financing so as to direct and produce a film, but we could practice our art, experiment and have immediate feedback from the viewers on a weekly basis. Many new directors began their careers directing television series, and when the time was right for them, they made very successful films. It works both ways.
There is a pseudo division created by a small group of film critics. For them, directors who had worked in commercials or TV were not supposed to make films. Fortunately they did, and the films were good. Times have changed. These petty prejudices have vanished globally. Scorsese produced a 6 part documentary about the "GRATEFUL DEAD" (American band) for Amazon Prime Video, actors direct plays, photographer Luie Psihoyos decided to direct a film, "The Cove", and won an Academy award for best documentary feature. Freedom of expression in any means is an asset of our times. Yes, there is a small group of film critics that like to divide. They are stuck in the past. It's their problem. My colleagues and I will go on directing films, television series, plays, documentaries and whatever can be presented to audiences.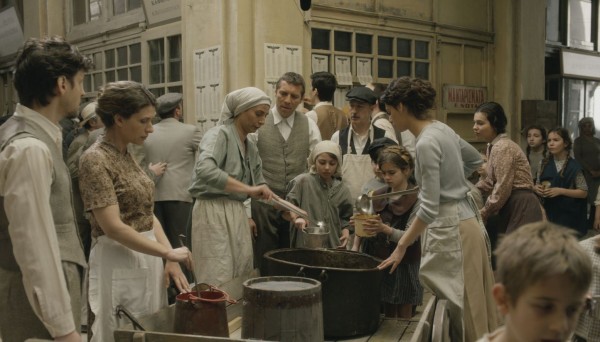 What are your future plans?
We have several projects in development. We have a TV series taking place in Messolonghi during the 50's and 60's. It is based on a novel vividly describing the social and political situation in Greece in the post civil war period. What makes the novel great is that the main characters are young adolescents who try to live their lives against a hostile environment suppressing free thought.
There is a comedy based on a book by Giorgos Scabardonis that is rich in hilarious, imaginative situations when the mafia takes over the political scene. There is also a feature film which aims to expose the true nature of leaders, their pettiness, schemes, compromises and deals to gain public approval and power, the way they manipulate and are manipulated by the crowd. Trying to find the right vehicle to express this idea, we came across "Hecuba" by Euripides, which describes exactly what we want to put in to the film. We decided to place the action in a contemporary war zone. And finally, a play by an Argentinian scholar inspired by Socrates that deals with truth and duty.
* Interview by Florentia Kiortsi