Summer in Greece naturally connects with dozens of cultural events that are spread throughout the country during summertime. Amongst all of them though, the one that holds most importance is the Athens & Epidaurus Festival (AEF), which is centred in the capital of the country and has a history that spans more than sixty years. This ageless Festival, throughout time, has come to be a focal point of the cultural heritage of Athens and Athenians. In recent years, it is noted that there is a subtle turn towards a younger audience in an effort to shake off its previously strict classical profile. As Vangelis Theodoropoulos, the artistic director of the Festival, stated at the annual Press conference that was held at the Athens Conservatoire: "The theme of this season is dedicated to 'diversity'". He characteristically said that: "the organisation's target is to enforce the social character of the Festival as a carrier of education and culture". He went on to define the word "diversity", saying that: "the right to be who you are and who you want to be should be unquestionable. This is why we chose the picture of a hermaphrodite, which is open to different interpretations".
The AEF is considered to be the biggest public cultural institution in Greece and one of the oldest festivals in Europe, having been launched in 1955. The Festival traditionally hosts performances by acclaimed local and foreign artists from the world of theatre, music and dance, attracting that way, enormous crowds with audiences from all over the world.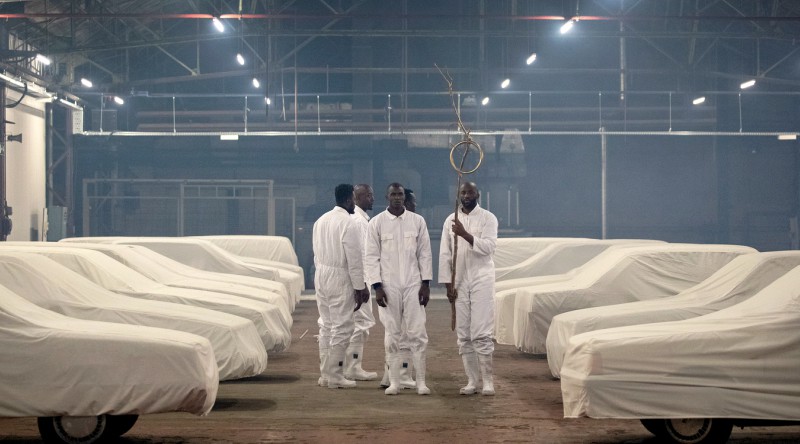 Romeo Castellucci, La Vita Nuova (photo by Stephan Glagla)
Athens Festival
Those who decide to attend are in for a ride, especially if it is their first time. Get ready for a trip starting from the ancient times, with Euripides' The Suppliants, directed by Stathis Livathinos (5 & 6 July, National Theatre of Greece) and the exhibition: "Picasso and Antiquity. Line and Clay" (part of the exhibition series "Divine Dialogues" organised by the Museum of Cycladic Art, 20/06 until 20/10/2019) to reach our days, with Candice Breitz's Love Story installation, which interrogates the mechanisms of identification and empathy and addresses the refugee crisis, with interviews of six refugees juxtaposed with performances by two Hollywood stars, Julianne Moore and Alec Baldwin (Peiraios 260 (A) 30/05 until 17/07/2019) and from there to the internationally acclaimed Italian director and one of the all-time favourites of Athens Festival, Romeo Castellucci, with La Vita Nuova, a work that is inspired by Ernst Bloch's philosophical treatise The Spirit of Utopia. Five men, portrayed by amateur actors of African descent, meet in a large, dusty parking lot. They are brothers. They intend to embark together on a new, better life (Peiraios 260 (A2) two performances on 7, 8 and 9 July).
Dance also plays a massive role in the AEF. Some of the biggest names in the world of dance have performed at the festival, from George Balanchine to Pina Bausch, and from Nureyev and Margot Fonteyn to Sylvie Guillem. One of the performances that is expected to stand out this year is Growing!: a National School of Dance (KSOT) and Athens & Epidaurus Festival collaboration, involving internationally acclaimed Greek choreographers and young dancers, dance students and graduates of KSOT (Peiraios 260 (D) 04/07 until 06/07/2019).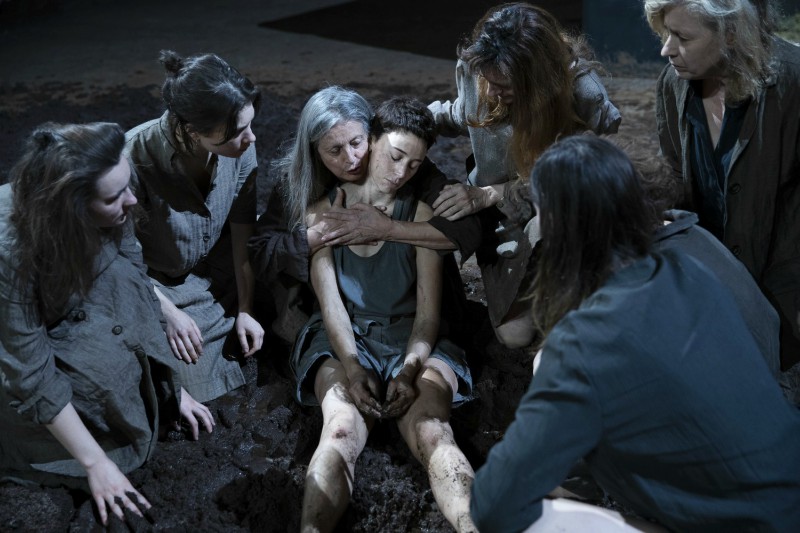 Ivo van Hove, Electra / Orestes (photo from Ivo van Hove' site)
Epidaurus Festival
Since its inauguration in 1955 with Euripide's Hecuba, the Epidaurus Festival, the foremost public cultural institution in Greece, has hosted numerous major Greek and world-famous performing artists. Beyond that, it essentially draws from a tradition of more than two thousand years ago, when Greek drama was performed at the same site, the Ancient Theatre of Epidaurus – something that makes this theatrical experience truly unique for the audience. Performances are also staged at the Little Theatre of Ancient Epidaurus and the Ancient Stadium of Epidaurus.
This season the programme features fifteen productions, including both ancient tragedies and plays inspired by classic drama. Among them are Sophocles' Oedipus Rex, directed by Konstantinos Markoulakis (12 & 13 July), Euripides' Iphigenia in Aulis, a National Theatre of Northern Greece production, directed by Yannis Kalavrianos (19 & 20 July), Electra / Orestes, a Comédie-Française production directed by Ivo van Hove (26 & 27 July) and Aristophanes' The Clouds, directed by Dimitris Karantzas (2 & 3 August). All shows have Greek and English surtitles.
Read also Via Greek News Agenda: Exhibition: "Picasso and Antiquity"; Athens & Epidaurus Festival 2018: A magical curtain rising
M.C. (Intro image: Left: Dimitris Karantzas, The Clouds, photo from Karantzas' site. Right: Konstantinos Markoulakis, Oedipus Rex, photo by Patroklos Skafidas.)