"Pause" by Tonia Mishiali is a film about Elpida, a Greek woman living in Cyprus. Elpida is transitioning to middle age. While her body experiences all the symptoms of this transition, her soul laments being trapped in a loveless marriage with an older and oppressive husband. Elpida tends to escape more and more into fantasy, the only place where her unquenched desires are met, until fantasy and reality blur. Following her protagonist with the camera, Mishiali creates a meticulous portrayal of female loneliness and patriarchal oppression and poses questions on female representation. Through her stylistic choices Mishiali offers an anatomy of on an original female character as well as what lies behind an unhappy marriage.
Tonia Mishiali is a Cypriot filmmaker and producer whose work is focused on social and women's issues. She is a member of the European Film Academy and the European Women's Audiovisual Network and one of the artistic directors of Cyprus Film Days International Festival. Her short films "Dead End" (2013) and "Lullaby of the Butterfly" (2014) competed in more than 60 International Film Festivals winning several awards for Best Director and Best Film. Her debut feature "Pause" (2018), a Cyprus/Greece co-production, had its world premiere at the 53rd Karlovy Vary International Festival and was officially selected by many international film festivals including Cairo, Leeds, Stockholm, Thessaloniki, Cleveland, Off camera, winning 3 awards including the FIPRESCI award for Best film. Mishiali is now developing her second and third feature films "Nala" and "Moonstruck".
Interviewed by Greek News Agenda* about "Pause", Mishiali explains that although "Pause" consciously poses questions on female representation by portraying Cypriot patriarchal society, it constitutes a universal story that touches a wider audience.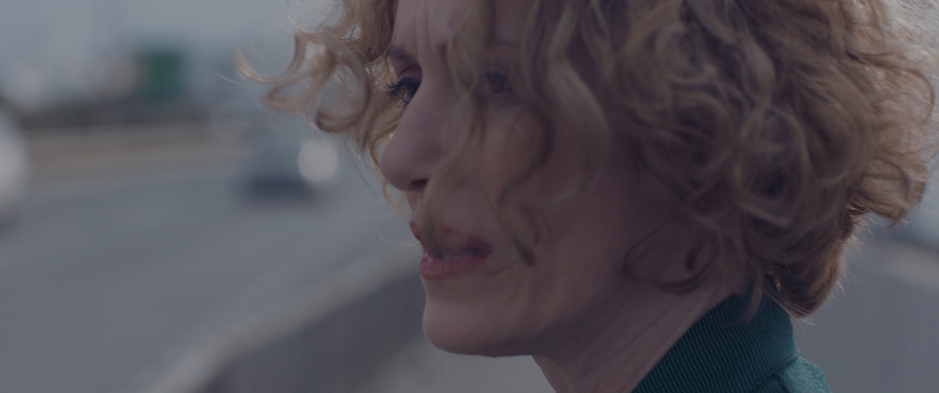 Stela Fyrogeni, "Pause" (2018)
The lack of financial means of the protagonist adds to her feeling of suffocation and helplessness. Is this a reference to the impact of the economic crisis in Cyprus on people's lives?
Of course it is. The economic crisis has affected many lives in Cyprus, as in Greece and many other countries, and suffocation and helplessness are the most common results of this impact. However, at the same time, the protagonist's feeling of helplessness reflects that of women who are dependent on their husbands in patriarchal societies.
Through the confessions of Elpida and her friend, you describe patriarchy and oppression. Did you specifically intend to refer to Cypriot patriarchal society in your film or is it a story that could take place anywhere?
I was of course clearly referring to Cypriot patriarchal society, but at the same time it is a universal story that could take place in many other countries where patriarchy is a common phenomenon.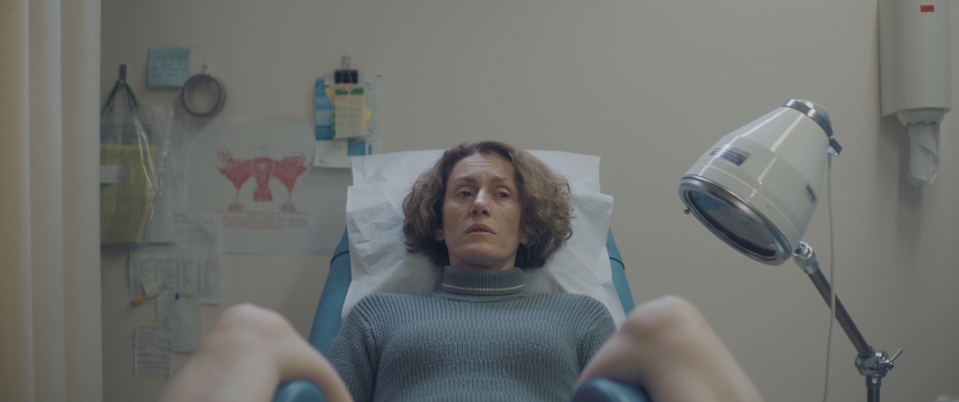 Stela Fyrogeni, "Pause"
You manage to give an anatomy of women's loneliness. Loneliness and escape from reality are not solely female characteristics. Is "Pause" a women's film only or could it also be a film about alienation in general? Could a man identify with issues the film deals with?
Pause was intended for a female audience because it specifically speaks about an oppressed woman. However, after many screenings of the film I realized that the film speaks to everyone on many different levels and that was something I was particularly happy about.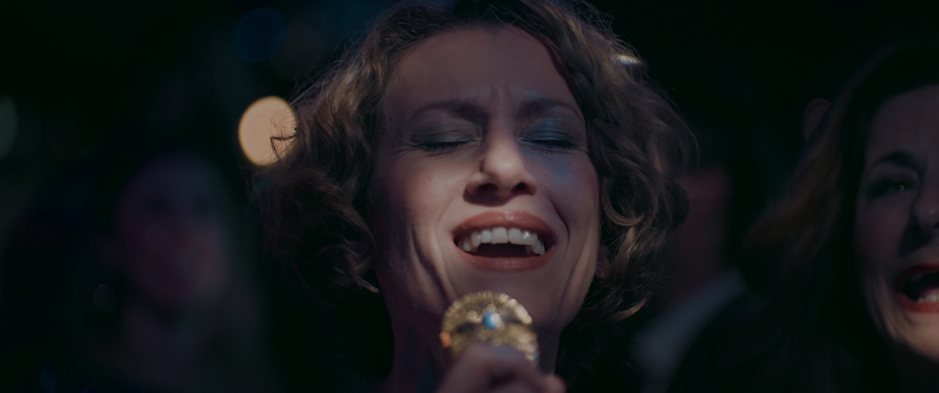 Stela Fyrogeni, "Pause"
Your protagonist is an original cinematic persona. She is passive and submissive, but still carries within her hope and freedom. How and why did you create this female character?
This female character was created from my need to show the position of many women in our society and how they deal with patriarchy. Their passivity and compliance bother me so much that I wanted to show the reality of their everyday lives, and enter their true inner worlds. Elpida was inspired by women I have been watching as I was growing up in my family, in my neighborhood, around me. She is my grandmother, my aunt, my mother, my cousin, my neighbour, my friend…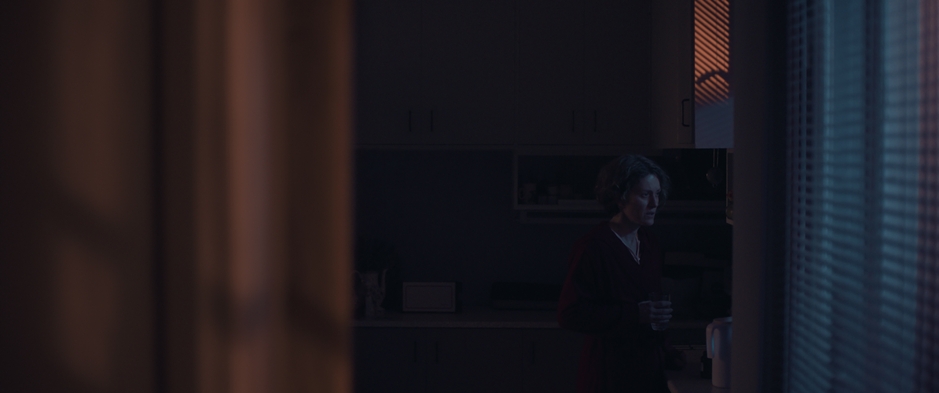 Stela Fyrogeni, "Pause"
You have mentioned that "'Pause' is a cautionary tale about a woman at the end of her tether but without the courage to save herself. This is so true today. Thousands of women around the world still live in situations similar to Elpida's, unable to find their own voice and fight for their rights". What holds women down?
I believe, unfortunately, that women have not been raised to have much courage, inner strength and power to talk about how they feel and what they really want. They have been raised and taught to please their families, be caretakers of the household and their children, leaving the man to be the head of the family and make all the important decisions. And this model has been going on for generations. Some countries have evolved but some have not evolved at all.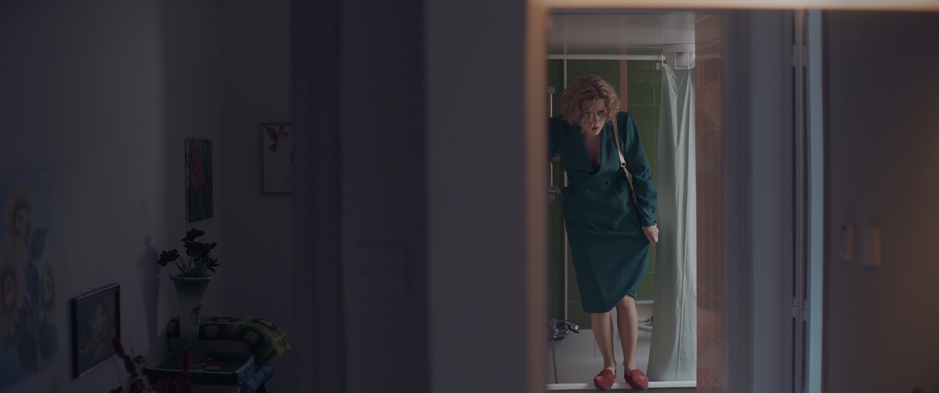 Stela Fyrogeni, "Pause"
The film setting participates actively in the narrative as a mirror to the protagonist's psychology. Would you elaborate on your stylistic choices in shooting "Pause"?
It was a very conscious decision to use a handheld camera so that the camera would move as an extension of the main character. The camera wouldn't move unless the protagonist moved and "dragged" the camera behind her, or move with her. The audience would only see what she sees. There was no shot without Elpida around. This way I wanted to immerse the audience into her inner world and really put them in her shoes as much as possible. The colours were also specifically chosen to create a dull setting in the house and Elpida to blend in as if she got stuck in this dull environment.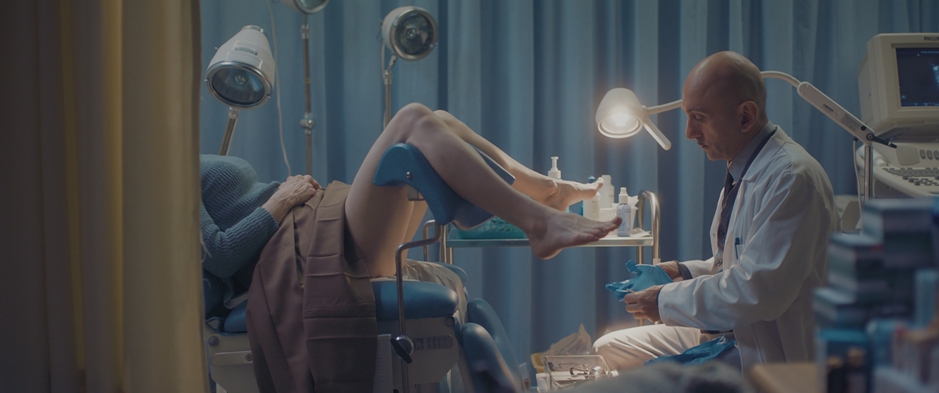 Marios Ioannou, "Pause"
You are also artistic director of Cyprus Film Days International Festival. Would you like to tell a few things about it?
Cyprus Film Days International Festival is the official competition feature fiction film festival of Cyprus. It is co-organised by the Ministry of Education & Culture and the Rialto Theatre. It consists of two main programmes: the International Competition section -Glocal Images- and the non-competitive section -Viewfinder-, which comprises films that have been screened and awarded at major festivals over the past year. The Festival also includes a National Competition Section, exclusively showcasing Cypriot productions. Special tributes, parallel screenings, master classes, workshops and musical events, complete the program of the Festival. I am one of three Artistic Directors and we are responsible for the selection of films in the programme, all Cyprus premieres, while a Jury made up of five internationally acclaimed professionals, awards films accordingly. Our 17th edition of the Festival will take place at the Rialto Theatre, in Limassol and Zena Palace Cinema, in Nicosia, from the 12th to 20th April, 2019.
* Interview by Florentia Kiortsi
** The film was projected in the 59th Thessaloniki International Film Festival and was available in the international film viewing professional platform Festival Scope, a TIFF initiative for the promotion of Greek cinema abroad.
Read also: Mishiali's interview with Cineuropa, Hollywood Reporter review