The Greek language, whether ancient, biblical or modern, can be ideally studied in a Greek- speaking environment. Distinguished French classical scholarJacqueline de Romilly once said that "[…] everyone has to learn Greek, because it is through Greek that one can understand one's own language". In Greece there has lately been a significant rise in the number of learners of Greek as a second/foreign language.
Academic Courses and Seminars
The Greek language can be studied through courses offered in Greek universities and other state-run institutions, summer schools, private schools and online programs, contributing to the promotion of Greek language within and outside Greece, providing at the same time an invaluable insight to Greek culture.
The Modern Greek Language Teaching Centre of the National and Kapodistrian University of Athens is the largest of its kind in the world. Many of its graduates are today teachers of Modern Greek and Philology at Universities throughout the world, members of the diplomatic corps in their own countries, church leaders, renowned scientists, company managers, respected artists and business professionals. The aims of the Modern Greek Teaching Centre are as follows: the teaching of Modern Greek as a second/foreign language; the certification of the level of knowledge of Modern Greek as second/foreign language; the exposure of foreigners to various facets and themes of Greek culture; hands-on practical training of students of the Master's Degree Programme for the Teaching of Modern Greek as a second/foreign language.
The School of Modern Greek Language at the Aristotle University of Thessalonikioffers courses in Greek language and culture to foreign students as well as to students of Greek heritage. The School's role is not limited to teaching Greek. It also emphasises on various activities and cultural functions and hosts hundreds of students from all over the world, creating a multicultural environment. In addition, it offers tailor-made courses for specific purposes and seminars for teachers of Greek, while it participates in research and educational programmes, in collaboration with domestic and foreign institutions.
The Center for the Study of the Hellenic Language and Culture (HeLaS) at the University of Ioannina was established in the early 1990s. Since then, HeLaS has undertaken a range of educational and research activities which aim at building an international admiration for the Greek language and culture, as well as at encouraging the intercultural and multicultural contact and interaction of young people from all over the world, with the vision of promoting peace and friendship between nations.
The Center of Intercultural & Migration Studies at the University of Crete in Rethymno, runs the Educating the Greeks of Diaspora project. It aims to develop and promote Greek language and culture with primary and secondary students of Greek origin who live and study abroad, as well as non-Greek speaking students who wish to learn Greek and participate in Greek culture.
The Greek Language School of the Intercultural Education Centre (KEDEK) of the Department of Primary Education at the University of Patras offers since 1992 courses of Modern Greek for students, teachers and individuals, repatriates, Greeks living abroad and foreigners from the EU and around the world.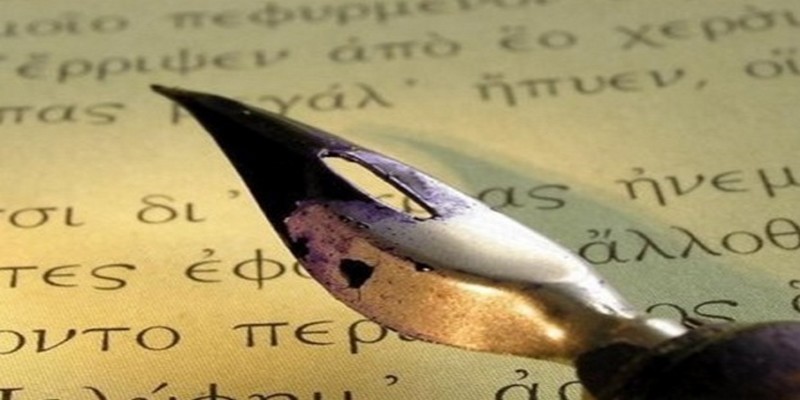 Each year, the State Scholarships Foundation (IKY) grants scholarships for postgraduate or postdoctoral studies in Greece to foreigners as well as scholarships for the attendance of lessons and seminars on Modern Greek Language and Culture.
Centre for the Greek language: Certificate of Attainment in Greek
A persisting request of all learners of Greek in Greece and abroad has been the establishment of an officially recognized state Certificate of Attainment in Greek. The Certificate was legally established in November 1998 (Presidential Decree 363/15.10.1998). Candidates are tested on four levels of linguistic proficiency and are assessed in four skills, namely, production and comprehension of written language, production and comprehension of spoken language. Examinations at all levels are held once annually, in mid-May. Registration takes place from the beginning of February until mid-March.
The Centre for Greek Language (CGL) is the exclusive official authority responsible for the administration of Certificates of Attainment in Greek, with the assistance of local authorities (exam centres). Supervised by the Greek Ministry of Education, CGL aims to support and promote the Greek language both in Greece and abroad, organize Greek courses for foreign learners, support teachers of Greek in Greece and abroad, and produce all the relevant material that may contribute to the promotion and reach of the Greek language.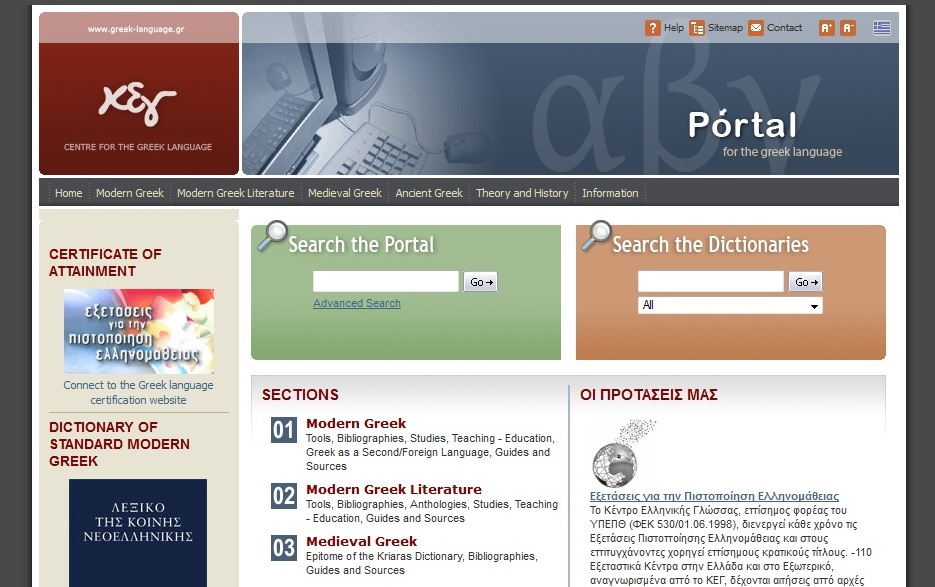 The Centre is also authorized to conduct examinations for the "Certificate of Attainment in Greek for Professional Purposes". These examinations are intended for professionals on the European Union who wish to work in Greece and, therefore, have to prove their proficiency in Greek. The examinations are conducted three times a year: January, May and November.
CGL has designed and implemented the Portal for the Greek language to support the study and teaching of Greek. It is addressed to researchers, university students, teachers and everyone interested in the Greek language, both in Greece and abroad. The aim of the Portal is to constitute a useful, reliable, and effective environment for: the support and dissemination of the Greek language in the digital age; the teaching of Greek as a native and second/foreign language; the support of research; the productive use of Information and Communication Technologies in the teaching of the Greek language.
Online Greek Language Courses
Online distance learning is rapidly expanding in all disciplines, promoted by numerous universities. As regards language learning, e-learning is offered by various institutions for all the widely spoken languages, such as English or German.
In this context, Aristotle University of Thessaloniki has designed and produced the Online Greek Course, which aims to provide students, professionals and people living outside Thessaloniki or Greece with a stimulating learning experience. There are two levels of language proficiency: A1 OGC is designed for absolute beginners and A2 OGC is offered to those with a very basic knowledge of Greek wishing to further develop their language skills.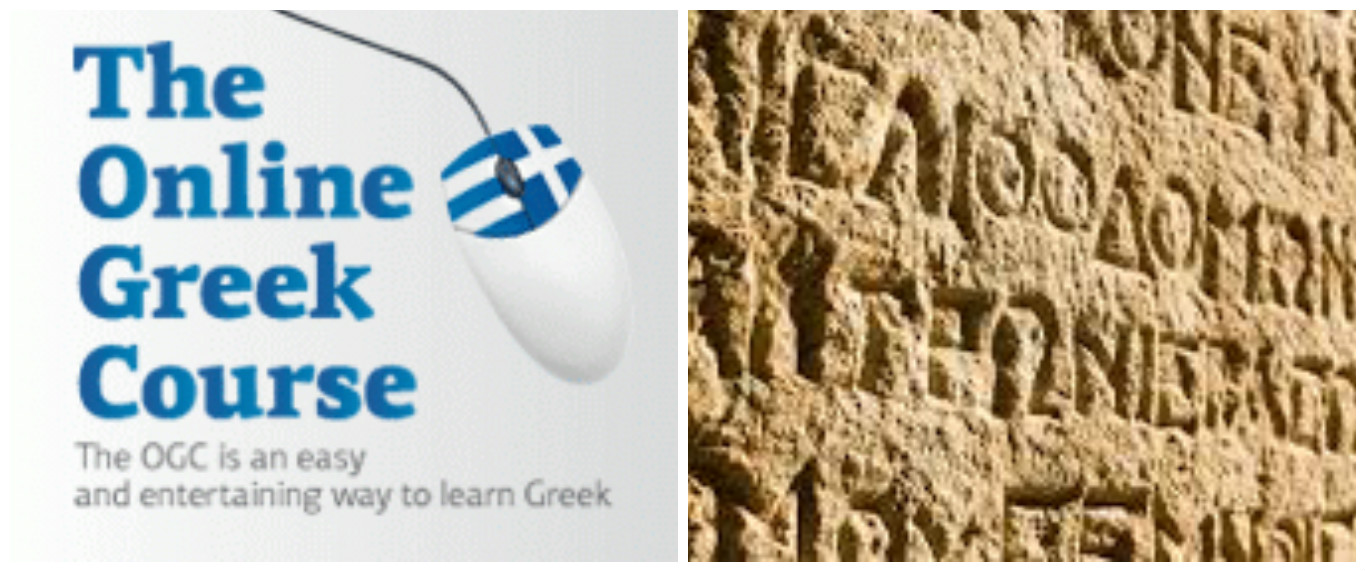 "SpeakGreek" is an online speech tool, which provides training on the perception and production of sounds, stress, intonation and rhythm of Greek. It is the first free online biofeedback speech training tool for Greek, which is anticipated to benefit different social groups, e.g. growing number of people learning Greek as a foreign/second language in Greece and abroad, children with speech or hearing disorders in mainstream and special schools.
Filoglossia+ is a digital series of four educational multimedia CD-ROMs available online, for learning Greek as a foreign language, addressed to beginners. The program is mainly based on the communicative approach and focuses on the production and comprehension of both oral and written speech.
TAGS: EDUCATION | GREEK LANGUAGE