The Biennale di Venezia, established in 1895, has for over a century been one of the most prestigious cultural institutions in the world, and its architecture section, the Biennale of Architecture was established in 1980, providing an opportunity for architects and designers from around the world to showcase new projects. This year's 15th International Architecture Exhibition, themed REPORTING FROM THE FRONT, will take place in the Giardini, the Arsenale and in various other venues in Venice, from May 28th to November 27th 2016.
Greece will be represented in the event through a collective project entitled "Challenging Architecture on site of crisis" by the Greek Architects Association (SADAS-PEA) that will allow them to be showcased in one body. The aim of this project is to highlight the collective and participatory character of architecture in two ways: Firstly, through the organization and curation by the Greek Architects Association, and secondly, through the elaboration of a theme, which directly reflects the high concern of Greek architects focusing on the actual discipline of architecture in the context of the current crisis. Thus, within the context of 'Reports from the Front' and in direct association with Greece's actual geographical front, the 'News from Greece' addresses the wider international architectural community and its concerns about real spatial relationships and borders. The question is how Greece, a country in crisis as well as an international path/crossroad of population flows, should record and redefine architectural practice in relation to the new social and political conditions that arise nowadays.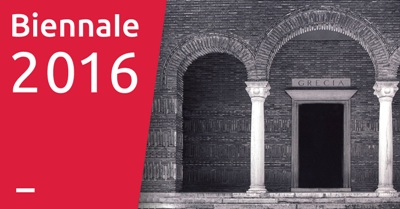 So, the Greek Pavilion, through the collective work and cooperation of the its groups of architects, is gearing up to 'Report from the Front' its 'News from Greece', in the framework of the social orientation of the 2016 Architectural Biennale theme, while delivering its message to a broader audience, through discussions, shows and installations, within a context that asks for creativity and ways to improve the quality of life. Or, as this year's curator of the Exhibition, Alejandro Aravena noted while presenting his concept for this year's theme, "what does it take to be on the cutting edge trying to conquer new fields" while working on the margins under tough circumstances and facing pressing challenges.

TAGS: DESIGN | FESTIVALS | INNOVATION