Lisa Badum is a German politician and climate policy spokeswoman for the Bündnis 90/Die Grünen party at the Bundestag. This summer, along with vice-president of Bundenstag and ex Green Party leader Claudia Roth, she launched an initiative of solidarity for people affected by the devastating fires in Attica. Since October 2016 she is the district chairwoman of Die Grünen in Upper Franconia and in September 2017 she was elected to the 19th German Bundestag with Bündnis 90/Die Grünen. Her work focuses on gender equality and energy policy, in particular the promotion of renewable energy. She is a member of the Environment Committee and of the Greek-German parliamentary group in Bundestag. Badum has also studied in Thessaloniki and is fluent in Greek.
Lisa Badum spoke with Greek News Agenda* on the environmental impact of climate change, what can be done on a EU and regional/local level, the initiative she started to help those affected by the fires in Attica, how Germans view Greece, and finally, on her own relationship with Greece.
In the aftermath of the fires in Greece, Sweden and Portugal, climate change is the forefront of public debate in Europe, as evidenced by covers in major publications as Der Spiegel and The Economist. Would you care to comment on that?
Obviously, this year we deal with the hottest spring/early summer (April to July) ever recorded in human history. But also during the last years we are seeing that extremely hot and dry weather is not an exceptional occurrence any more, even in Central Europe. Climate change means that extreme weather phenomena are becoming more and more probable. That concerns not just heat, but extreme rainfalls also. Some people believe that heavy rains help with the heat; it is a paradox, but actually they don't: as rainfalls occur more and more and in times of the year when the soil is not prepared to absorb the rain, we have more floods. So Climate Change means we have more often hot and dry weather and at the same time more heavy rains, all with unpredictable consequences.
So yes, obviously and sadly climate change is here and it is having a huge impact on our lives. That's why we have to act now.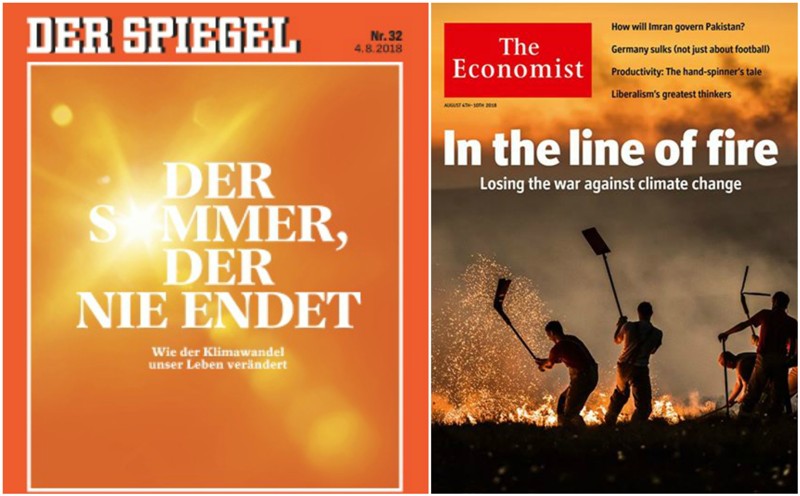 You are an MP in Bundestag with the Green Party. What does your party believe can be done to tackle the issue of climate change at the EU level?
The German Green Party actively contributes to policy-making on climate change at the European level through its membership in the fraction of the Greens/European Free Alliance in the European Parliament. We believe the EU should be a strong driver for ambitious climate policies in the member states. At the same time, enhanced cooperation on climate and energy issues has the potential to restore citizens' faith in the European project and revitalize European integration.
In terms of concrete climate legislation at the EU level, I would like to focuse on three legislative proposals that I believe are particularly important to tackle the issue of climate change at the EU level:
The "Clean Energy for all Europeans" package: It is the EU's core policy to reach its target for 40% reduction in greenhouse gas emissions by 2030. As a part of the Clean Energy for all Europeans new package of measures presented European Commission, European institutions agreed this June on a target of 32% for Renewable Energy and 32.5% for Energy Efficiency by 2030, as well as on the Regulation on the Governance of the Energy Union. While the Greens would have liked the targets to be more ambitious, this is the compromise we have to work with. Now it is crucial to proceed with the implementation of these goals and to make them work in practice in the member states. In addition, it is important for the EU institutions to adopt the remaining legislative proposals under the Clean Energy Package, namely the regulations on Electricity Market Design and the rules for the operation of ACER, the EU Agency for the Cooperation of Energy Regulators.
Emission standards for the transport sector: The European Commission has made a proposal for the CO2 emissions of light-duty vehicles (mainly cars and vans) to be reduced by 15% by 2025 and 30% by 2030, compared to 2021. The German Green Party believes this target needs to be quite more ambitious – we want a reduction of 70% by 2030. Unfortunately, the German government has been blocking the ongoing negotiations. We strongly urge our government and the other member states to agree on an ambitious target which would benefit both the climate and the development of green technologies in Europe. However, besides ambitious targets for CO2 emissions, it is also important to provide more incentives for a modal shift from road to rail in the European transport market.
Long-term climate strategy 2050: The European Commission has set out to develop a strategy for long-term greenhouse gas emissions reduction and to present it to the United Nations Framework Convention on Climate Change (UNFCCC) at the upcoming 24th session of the Conference of the Parties (COP 24) in Katowice, Poland. The Commission has recently launched a public consultation will serve as a basis for developing the final strategy. In my view, for the consultation to be transparent and fair, contributions from industry, civil society, and citizens have to be equally considered. The final strategy should set an ambitious target for emission reductions in the EU – zero emissions by 2050 at the latest – as well as defined targets for each sector separately. This way the EU has the potential to be a climate leader, strengthen its economy, and engage its citizens at the same time.

What at about on the regional or local level? A standard ecology slogan is "think globally, act locally".
Yes, of course. Apart from these concrete legislative proposals, which are fundamental for implementing strong EU climate policies, I would like to emphasize that a regional approach to climate and energy policy is also key for the success of the EU's efforts. The EU and its member states must recognize that, despite resistance from the big polluting energy companies, many important citizen-led clean energy initiatives are mushrooming across Europe. In many cities and regions, people are meeting in their neighborhoods to search for new ways of producing and consuming energy, but also of cooperating. Instead of focusing on national authorities, the Commission and the EU member states should look at the great potential that exists at a smaller level and realize that citizens' involvement is a key ingredient for Europe's transition to renewable energy. Citizens matter not only as consumers; they can also participate in supporting and financing new infrastructure and technologies. Local governments – who are currently undertaking a lot of initiatives to fight against climate change and make their regions nicer places for their populations to live in – have a lot to offer in this regard; they can really put the European idea into practice at the local level, engaging the citizens in public life and enhancing the added value of Europe.
Can you tell us about the initiative of solidarity with people affected by the fires in Attica you launched with vice-president of Bundenstag and ex Green Party leader Claudia Roth?
I was really shocked by the pictures and the suffering of the people in Attica. It's unbearable that nowadays 90+ people die in a fire. So I asked for Claudia's cooperation and support to realize a solidarity initiative and send out help for the victims. The next step could be to ask ourselves question such as: How can we prevent such a catastrophe from happening again? Is there a way German government or firefighters can provide support?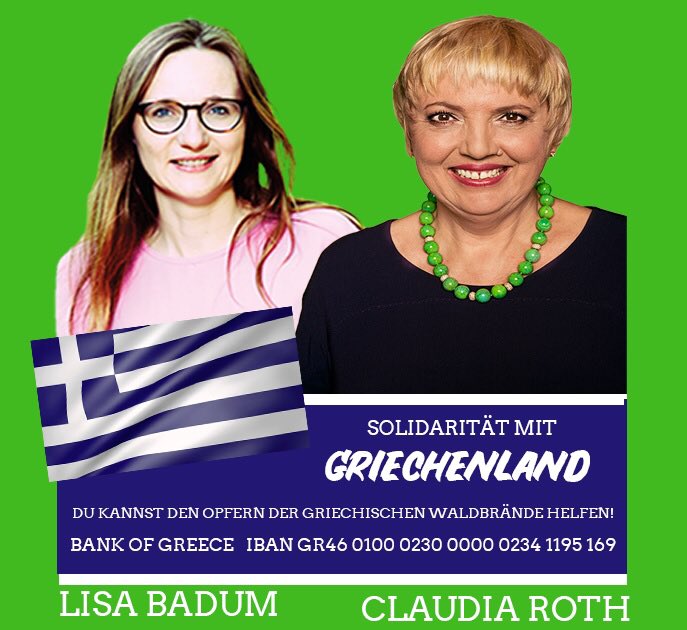 The University of Athens has published a report with scientific data and preliminary conclusions regarding the fires in Attica. How was the news of the fire deliberated about in Germany?
The report shows that suffering and damage could have been less severe for various factors: Firstly the warning system didn't work. There could have been sirens, some alarming system so people would have had time to respond to the catastrophe. Secondly, there was no real evacuation route, so people couldn't get to the sea. This could have been prevented with a better area development planning. Thirdly: the buildings made of concrete and more stable material were less damaged. The right kind of housing and city planning could protect the inhabitants. So in the end, a lot can be done to prevent a disaster like this from happening again.
What would you say is the public image of Greece in Germany now 10 years after the financial crisis broke out?
When the financial crisis in Greece was at its peak, reporting on Greek issues in Germany was full of clichés and prejudices. We made a progress since then. German media is now also interested in presenting "the other side" so, for example Yannis Varoufakis had the possibility to speak on different topics and present his opinion on the financial crisis, the Eurozone and so on. Just today I read a sophisticated article about Prime Minister Tsipras, which showed him as a complex character: his merits but also his failures were described.
Greece has for a long time, and is becoming more and more an attractive destination for German tourists. So they have their own real life experience with the country which they come love for its beauty and filoxenia. But in the end, Greece is still linked in people's minds with financial problems, bankruptcy and chaos. So there is still a lot to do.
Can you tell us more about the Greek-German Parliamentary Committee in which you are a member?
The Greek-German parliamentary group is headed by Gregor Gysi from the Die Linke. We are all parliamentarians who want to strengthen Greek-German relationships. We already met with the Greek Ambassador in Germany to discuss the political situation in Greece and we will make at least one journey in Greece to meet with the government and parliament.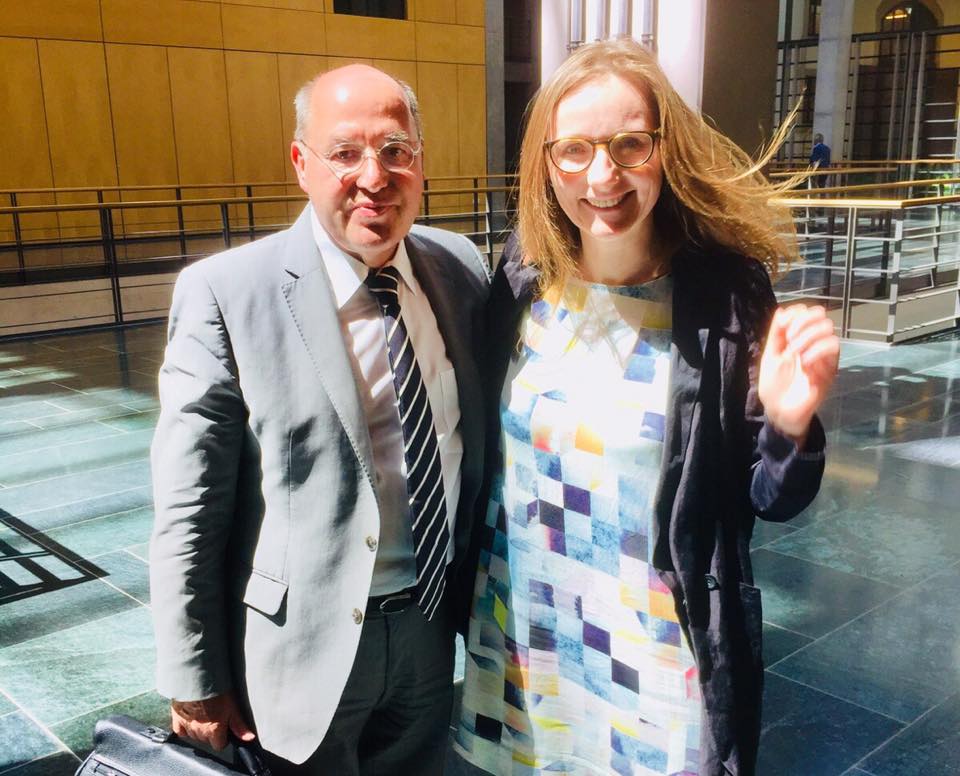 Lisa Badum with president of th Greek-German parliamentary group Gregor Gysi
You have studied in Thessaloniki, you speak Greek fluently and have Greek friends. What drew you to Greece in the first place? How would you describe you experience of living in Greece and visiting the country throughout the years?
It was a decision from the heart to come to Greece. I was fascinated not only by its history but also its modern vivid culture with elements from the wider Mediterranean and Balkan culture, but also the Ottoman Empire. And Thessaloniki is the best mirror of all these influences. I wanted to learn Greek because Greek language is exceptional in Europe, as it has a history of more than 2,500 years. Besides: Greece is a really beautiful country!
What I didn't know before I came to Greece was the Greek mentality. So I was really overwhelmed by the filoxenia I experienced. This is not something you would always expect considering the fact I am from Germany. Sometimes the Greek way might be very direct but you can always tell generosity comes right from the heart.
Throughout the years I had so many great experiences and visited lots of different places, mostly islands. I met all kinds of people: intellectuals but also farmers or mechanics; I always had meaningful discussions with everyone on topics like for instance, Greek and German politics. Of course I enjoy cultural staples, like the food and the celebrations of panagyria. Finally, I really appreciate the rich and unexpected history of the islands like Ikaria and Anafi, which seem really pure and untouched, but were used as places of exile and imprisonment for leftist political dissidents in the past.
* Interview by: Ioulia Livaditi and Nikolas Nenedakis