Manos Hadjidakis (1925-1994) has left his mark on contemporary music, in Greece and abroad. Bringing together different styles -from classical to folk and rock- he is remembered as an unprecedented talent with his own unique, idiosyncratic sound. In 2018, the Greek National Opera launched a "Manos Hadjidakis Cycle", giving the audience the opportunity to revisit some of his famous compositions, as well as some obscure gems from his rich body of work.
As part of the Hadjidakis tribute, on 6 & 7 December 2018, the Opera's Alternative Stage presents a daring production: a Baroque adaptation of one of the composer's most famous works, Magnus Eroticus, with the lyrics sung in English for the first time. In February 2019, three emblematic, yet largely unknown, song cycles will also be performed at the Alternative Stage: Common life / Children at Colonus / The songs of sin. Also, on 1 & 2 March 2019, the main hall of the National Opera will host a performance of two suites by Hadjidakis used in films: The Martlet's tale & Sweet Movie. On this occasion, we present a short biography* highlighting the milestones in his illustrious career.
Unquestionably one of the most prominent figures in Greek culture of the 20th century, Manos Hadjidakis revolutionised Greek music with his unparalleled melodic style. Constantly inspired by poetry, he transferred the world of words into the world of sounds by creating a magical universe that has influenced many composers both in Greece and abroad (Nicola Piovani, René Aubry, Yann Tiersen, to name but few).
A key figure for his life and work was his mother, who raised him alone after the death of his father in a plane crash in 1938. In his own words: "From my mother, I inherited each riddle that I tried to solve throughout my life. Without her riddles I wouldn't have been a poet".
His intellectual identity was forged through his acquaintance with some of the most celebrated personalities of the Greek arts and letters of the Interwar period, such as the poets George Seferis, Odysseas Elytis, Angelos Sikelianos, and Nikos Gatsos as well as the painters Yannis Tsarouchis and Yannis Moralis. A restless spirit, Hadjidakis became a regular at the "literary cafés" of the capital, seeking collaborations with the most open-minded and innovative artists of his time.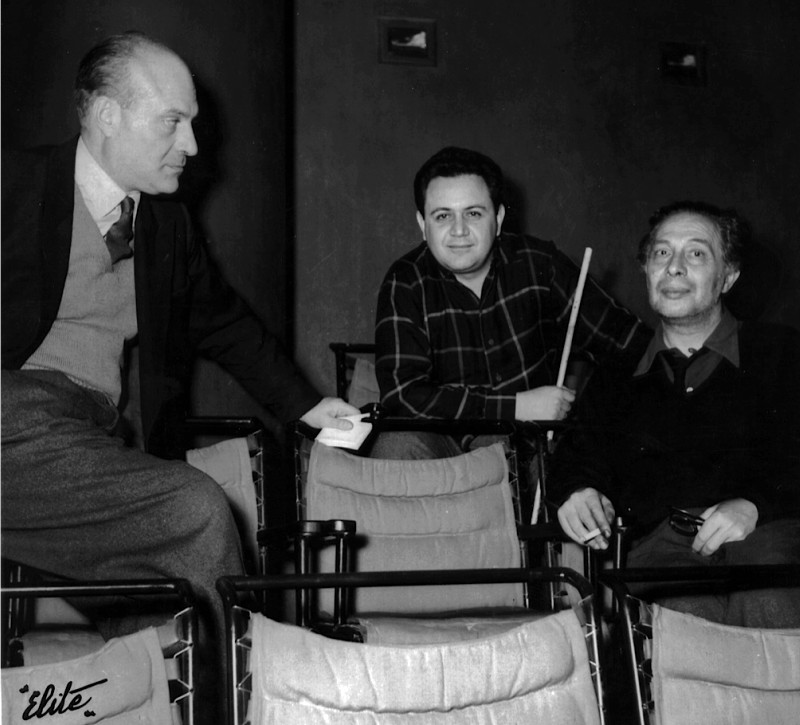 Odysseas Elytis, Manos Hadjidakis and Karolos Koun at the Art Theatre (1957)
At the age of 18, Manos Hadjidakis composed the musical score for the Art Theater's production of Alexis Solomos' play The Last White Crow, under the direction of renowned Greek stage director Karolos Koun. This was followed by a 15-year long artistic collaboration between the composer and the Art Theater.
He notably wrote music for productions of Tennessee Williams' The Glass Menagerie, A Streetcar Named Desire and The Rose Tattoo, Jean Anouilh's Antigone, Federico Garcia Lorca's Blood Wedding and Arthur Miller's Death of a Salesman. Special mention must be made to the music he wrote for the production of Aristophanes' comedy The Birds (1959), directed by Karolos Koun, which has since become a classic.
In 1946, Hadjidakis was, for the first time, commissioned to compose a movie soundtrack, for the film Unsubdued Slaves by Marios Ploritis. This was the first one in a long series of such collaborations, since he would go on to compose music for more than 70 films throughout its life; among those was Jules Dassin's Never on Sunday, featuring the song "Ta Pediá tou Pireá" ("Never on Sunday") which won the Oscar for Best Original Song in 1961 (a first for a foreign-language picture) becoming an international success and an all-time-classic.
But Hadjidakis was also an avant-garde intellectual who influenced the public sphere through his interventions. In 1948 he caused uproar by giving a lecture on rebetiko music. He wanted this urban, popular and -until then- despised type of music, typically linked with the vagrants and the underworld, to gain a place in the Greek music scene; to this end, he introduced the bouzouki, a typical instrument of rebetiko, in his own compositions.
He established a long collaboration with innovative French choreographer Maurice Béjart, working with him for various productions, such the aforementioned Birds in 1965 or the choreography for The Ballads of Athinas Street in 1993. Hadjidakis also wrote music for Béjart's 1985 ballet production Dionysos Suite.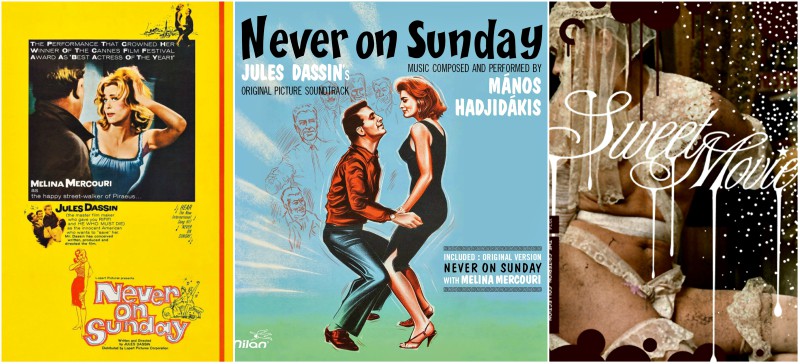 From 1966 to 1972, Hadjidakis lived in the United States and after the fall of the Greek military junta, he eagerly engaged in Greek cultural life. From 1975 to 1981, he served as artistic director of the Athens State Orchestra and director of the "Third Programme" radio station of the Hellenic Broadcasting Corporation (ERT). He turned the station into an innovative and cutting-edge cultural institution. In 1979, he launched a festival in Crete, open to various artistic activities and welcomed many international artists such as Astor Piazzolla, who was also his personal friend.
In 1989, Hadjidakis founded the Orchestra of Colours in Athens, a small symphony orchestra that performed his own works as well as music by various Greek and foreign composers, both classic and contemporary, especially pieces rarely performed by conventional symphony orchestras. It was with this orchestra, and under the direction of Hadjidakis himself, that Astor Piazzolla gave his last concert in 1990.
Even after his death in 1994, Ηadjidakis' memory is ever-present, and he is sorely missed both for his works, as well as for his profound and pertinent public interventions.
* Originally written for our sister publication GrèceHebdo by K.M & M.V. Adapted into English by N.M.
Read also via Greek News Agenda: Iannis Xenakis: Science as art; Nikos Skalkottas: an overlooked musical genius; Rebetiko music: From the margins to the mainstream; A House of Culture in Memory of Manos Hadjidakis; Composer Dimitris Marangopoulos: "The crisis has stimulated a rediscovery of the arts"; Yannis Moralis retrospective at the Benaki Museum