On August 20, Greece exited the economic adjustment program, its third since the beginning of the economic crisis in 2009, marking the end of almost a decade of strict fiscal surveillance. From now on, the country´s policy agenda is no longer driven by external demands. This means that Greece and its European partners will need to develop a sustainable and inclusive growth strategy in order to pave the way for a sound recovery – all this against the backdrop of an unstable international environment.
The Athens office of the Friedrich-Ebert Institute and the European Academy Berlin invited twelve experts to share their thoughts on the following question: "What is to be done and by whom to secure a sustainable future in Greece, and how will developments on the European level impact the country?" The contributors were Jens Bastian, Ullrich Brückner, Zefi Dimadama, Angelos Efstratoglou, Vassilis Gavalas, Nikos Konstandaras, Despina Lazaridou, Dimitris Rapidis, Dimitri A. Sotiropoulos, Antonios Souris, Anna Visvizi, and Panagiotis Vlachos. Their contributions are now available in the report "The future of Greece revisited" which assembles a plurality of different points of view and thus, rather than providing a consistent but potentially monolithic approach to the question at hand, it presents a variety of perspectives and recommendations. The key recommendations of the report, organised by theme are:
On Greek politics and the political system:
The Greek government and parliament could provide better opportunities for civic participation, i.e. for a multifaceted dialogue between state and society that is strictly problem-oriented, and geared towards sustainable consensuses. In Greece, political trust is low and the decision-making processes within the Greek political system is perceived as lacking transparency, so this proposition aims at increasing the level of trust in the political system and thus the effectiveness and the quality of present and future reforms.
Also, it seems desirable for all political parties represented in the Greek parliament today to engage in a more problem-oriented as well as consensus-oriented dialogue. Democratic deliberation in Greece, however, especially between government and opposition, is often influenced by specific interest groups and geared towards satisfying particularistic concerns rather than addressing the needs of the entire society.
On Greek and European economy
An EU strategy to respond to and, ideally, prevent future economic crises could include new institutional arrangements in order to achieve a higher degree of fiscal solidarity among all EU member countries. Moreover, as the next Multiannual Financial Framework is presently debated, such a strategy might go hand in hand with bolstering the EU's social cohesion programs.
A more sustainable and inclusive economic growth is needed in Greece, which means policies that entail both a greater degree of economic freedom for new enterprises and economic ventures in the country as well as necessary regulations, which ensure that all parts of the Greek society benefit from a thriving economy.
In Greece, the growth potential of new technologies (IT, software development, renewable energies and other areas) has not been fully realized yet. Enterprises, developers, scientific institutions, including universities, as well as the relevant decision-making bodies in Greece have to work togehter to create synergies. Positive economic perspectives in this field might also prevent further "brain drain", while attracting those young Greeks being educated and living and working abroad to return to Greece.
On international politics
Greece has not yet realized its full potential to establish itself as a crucial partner and mediator in Southeast Europe (and beyond). Greece, in close cooperation with the relevant states and the EU, might shape the EU accession process of the Western Balkans. Greece might better establish itself as liaison between Brussels and Ankara, if it can solve remaining disputes with Turkey. In view of economic relations, Greece, in close cooperation with the Western Balkans and, ideally, with several Eastern European states, might significantly help shape relations between the EU and China, as the latter already has significant impact on Greece's as well as Europe's economies.
In a public debate on "Greece: End of the Crisis?! / Perspectives & Challenges after the End of the Third Rescue Plan" that took place at the Friedrich Ebert Stiftung Foundation in Berlin (10/09), Dr. Samuel F. Müller, Director of the European Academy of Berlin, highlighted the six key points of the report:
1. Without public debt relief for Greece, there will be no recovery, and the risk of instability remains.
2. Reform measures are absolutely necessary.
3. There is an EU deficit in preventing crises, especially when there are winners, such as Germany in the case of the Greek crisis.
4. Greece has enormous growth potential, especially in areas like technology, which are still untapped.
5. The country has the potential to claim a leading role in its region.
6. Public debate among the political forces as well as between political forces and citizens in Greece is not consensus-oriented.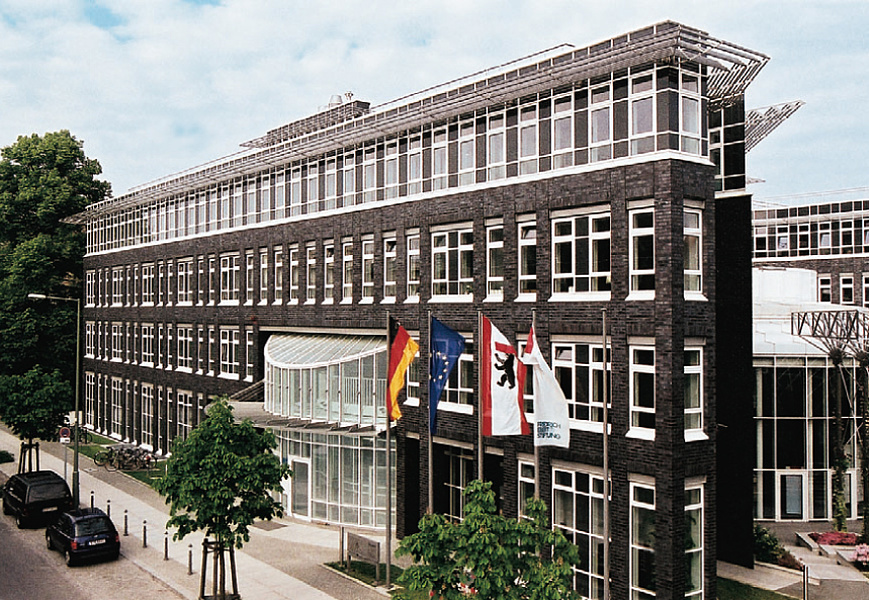 The Friedrich Ebert Foundation at Berlin
I.L.