111 Places in Athens That You Shouldn't Miss, recently published by Emons Editions (Cologne, Germany), is a rather unconventional travel guide for the Greek capital. It forms part of the "111 Places Insider Guides" series of "guidebooks for locals & experienced travellers": instead of the most famous attractions and touristy spots, the guide suggests interesting and unusual places not found in traditional travel guides, capturing the city's true essence and offering an insight into the everyday lives of Athens-dwellers, all through the eyes of its three writers: Alexia Amvrazi, Diana Farr Louis and Diane Shugart.
Alexia Amvrazi is a full time & freelance writer and blogger; a regular contributor to the Wall Street Journal Europe and Greecetravel.com, she has been writing about Greece for global media for over 20 years. Diana Farr Louis, who has been living in Athens for over 40 years, is a writer of guidebooks, cookbooks and articles on Greek cuisine and travels for multiple Greek and international publications. Diane Shugart is an editor, translator and writer on Greek politics and culture; she is the former editor of Odyssey, a US-based magazine about Greece. The book is also fully illustrated with 111 full-page colour pictures by Greek photographer Yannis Varouhakis, who has collaborated with various magazines and newspapers.
The guide has already drawn a lot of interest, and is now also set to appear in German. We spoke* with the writers about the value of discovering the stories behind the places one visits, their writing approach and criteria for choosing the sites they would include in the book, the lesser-known aspects of Athens, as well as the challenges and merits of being a traveller.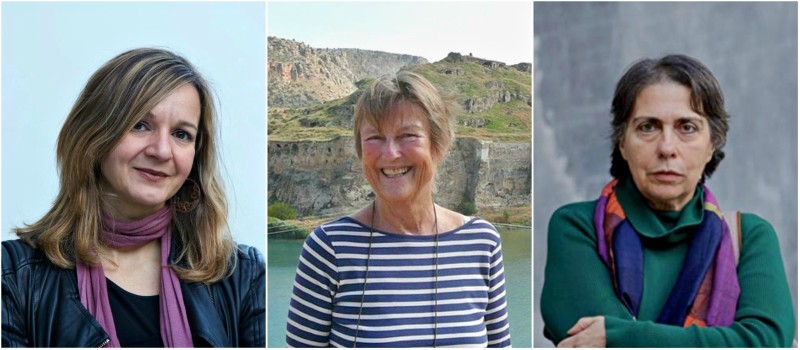 Left to right: Alexia Amvrazi, Diana Farr Louis, Diane Shugart
Your guide reads like a condensed history of the modern city of Athens, providing details regarding lesser known historical landmarks but also shops and parlours in non-touristy spots. How did your team find out about those places, a few of which are little known even to the average Athenian?
Alexia Amvrazi: There were places that I passed every day and was intrigued by, or others that I'd heard had an interesting story to them, so writing this book was the perfect way of diving into a deeper discovery of those. Meanwhile, while one is on a path of seeking one thing, many other new discoveries appear along the way!
Diana Farr Louis: Living here for over 40 years, I have my favourite spots and walking around almost always reveals something new and intriguing. But I also asked friends who live in the centre for some tips and following their leads turned up places even they hadn't thought of. Athens can be compared to a family's basement. It's full of memorabilia from every era; not all of it is precious but most of it is fascinating. You just might need to dig a little.
Diane Shugart: That was one of the things that made working with Diana and Alexia fun: we each 'know' the city in our own way, from our own interests, so I think these complemented each other well.
What were your main criteria, when choosing which of all the places you discovered would make it to the "111" list?
Diana Farr Louis: Our publishers told us they were more interested in the story behind a place than its aesthetics. That synched completely with our own approach, but we were also careful not to put too many places in any one category, whether parks or bars, shops, eateries or monuments.
Diane Shugart: For me, one thing was whether I would want to see this if I was a visitor.
Alexia Amvrazi: For me it was the challenge of discovering, exploring and sharing places that were not commonly -or ever- found in an ordinary guidebook. It's very refreshing for a visitor to be pointed to a new direction – even if it's just a locked doorway, yet its history leads to a deeper understanding of the city it's in.
By listing your suggestions in an alphabetical order, do you choose to avoid any classification imposed by status or importance?
Alexia Amvrazi: Yes, that's a policy used by Emons in all their 111 Places books, and we agree with it.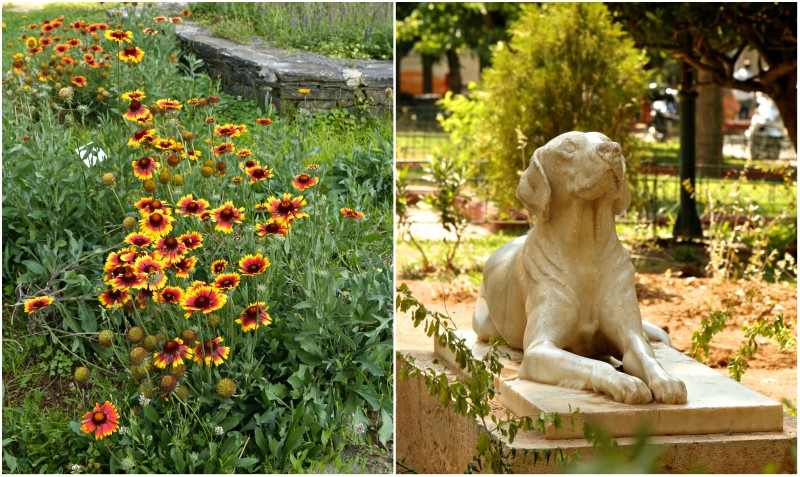 Left: Diomedes Botanical Garden, right: Kypseli ©Yannis Varouhakis
You write about many important but relatively obscure places, like the Piraeus Archaeological Museum, while some of the most famous ones -such as the Acropolis Museum, the National Archaeological Museum of Athens or the Museum of Cycladic Art– are not included in the 111 places. Would you say that your book functions as a supplementary guide, for people who already have access to the basic, easy-to-reach info about the city, but also wish to really get to know its day-to-day life and vibes? Or do you think one can also get by without visiting the so-called "greatest attractions"?
Diane Shugart: I think most people who visit Athens have a fair idea of the city's 'greatest attractions'—after all, the Acropolis is probably the main reason people come. So I wouldn't think of 111 Places as a supplementary guide, but more as a complementary guide, a guide that adds a bit more texture and a broader context to the "top sights".
Alexia Amvrazi: Certainly it could function as both. How one chooses to travel and see a city is a very subjective matter. Personally I feel that if one were to travel to Athens using only our book as a guide they would be seeing many of the "greatest attractions" along the way, without us having to set them on their to-do-list.
Diana Farr Louis: I agree with Alexia. But if someone is interested only in the Greece they learned about in school, they'd do well to have a Blue Guide with them too. I think our guide is envisaged for people who already know a bit about Athens and want to dig deeper. But it's not just for foreigners. Locals, even Athenians born and brought up here, can have fun exploring just as we did.
Even when including Athens' most iconic landmark, the Acropolis, the book focuses on a lesser-known, human detail: a real-life story of star-crossed lovers and suicide. Are you intrigued by the ways in which a timeless, emblematic site can play a role in a person's fleeting existence?
Diane Shugart: A city is also about people's stories, and I think that is what we each tried to bring out in the places we wrote about.
Alexia Amvrazi: Definitely. Indeed, who knows how many millions of fleeting souls have been deeply touched by the Acropolis itself in some way or other. As Diane says, our greatest mission was to reveal the human stories related to each place above all. And Greece, the land of evocative ancient mythology, still has so many incredible stories to tell in its modern day.
Diana Farr Louis: What is a city without people? Just a collection of buildings and old stones. Stories give meaning to life, they connect us with each other. I was so surprised that in this city, which in many ways is so new, there were so many shops whose owners were third and fourth generation, with stories going back one hundred years. Or even more. They provide continuity and a glimpse of Athens's more recent history.
The captivating pictures play an important part in illustrating your impressions of Athens. Did the photographer receive specific directions regarding your vision or did he personally choose the angles and the details he wanted to highlight?
Yannis Varouhakis: The authors provided me with their texts and some pointers on some occasions, from there it was a matter of visiting and revisiting locations, exploring and figuring out how to best show what each place is about. It was an amazing experience, trying to see familiar parts of Athens through the author's eyes and in the process discovering a myriad of new ones.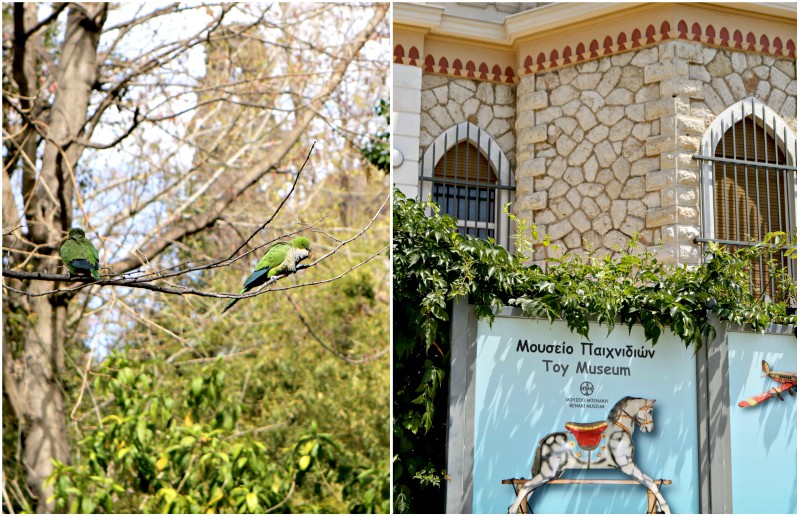 Left: The Parrot Colony, right: Benaki Toy Museum ©Yannis Varouhakis
Is there something that particularly surprised or touched you, among the "secrets" you discovered?
Diana Farr Louis: Apart from the family histories I uncovered, I was also moved by the love stories: Vasso Mahaira whose shop To Kompoloi tou Psyrri is a memorial to her late husband's passion for worry beads as a cultural phenomenon; the owner of the last chair repair shop on Odos Tournavitou, who told me the story of how the tiny street's residents banded together to paint the facades of their houses different colors; Sophia Peloponnisou, who fell in love with Angelos and Leto Katakouzenos and their own love for Athens and has kept their literary salon in their period apartment off Syntagma alive and thriving.
Alexia Amvrazi: I was deeply touched by a great deal of the stories I uncovered behind the places I wrote about. The story of Loukanikos the dog, and how he was so loved that a memorial was created in his memory; the barber shop where the owner was inspired by his own childhood years in Egypt where his father took him to the barbers… And so many more.
Diane Shugart: Yes—that there's still a lot of places that I don't know. When we started this project, we thought we'd have a problem coming up with 111 places people didn't know about; after all, this is Athens, one of the most photographed and written-about cities. But now, I can think of a dozen more. At least!
The whole guide series seems to be addressed to those aspiring, as the saying goes, to be "travellers, not tourists". Given the limited amount of time (and resources) most people can dedicate to really knowing a place, plus the increasing number of overtly tourist businesses, how easy is it to be a traveller nowadays?
Diane Shugart: As I mentioned earlier, I live here and am constantly surprised by what Athens reveals. But I think if you set out to 'know' a place, you can do that -to a degree- even if you just have a day. You need to be curious. And you need to put aside your expectations or preconceived ideas about a place and open yourself up to it. Walk. Eat the food. Talk to people.
Alexia Amvrazi: Being a traveller requires more time, less planning, more adventurousness and even courage to get lost, or visit areas that people don't commonly recommend, all with an open-minded and curious spirit. Don't follow the crowds; sit where you see more locals than tourists; observe features beyond the obvious, like sky-line, and while you're at it look up at buildings right to the top rather than what just stands around you. As important and useful as they are, resources (such as money) don't need to be the deciding factor – like the spirit of our book itself, a little out-of-the-box thinking can get one a long way.
Diana Farr Louis: I would encourage visitors to follow their own interests and not be stuck with what their app or Trip Advisor gives 5 stars to. Use this book for inspiration, find a spot you like and then follow your noses, your intuition, your spirit of adventure and discover something that may not be in anyone's book. And don't be afraid to talk. Athenians are apt to be friendly and most have at least a smattering of English.
*Interview by Nefeli Mosaidi (Intro photo: Gryllis Water Lilies ©Yannis Varouhakis)
Read also via Greek News Agenda: Athens: European Capital of Innovation 2018; Reading Greece | Athens – World Book Capital City of 2018; Lexikopoleio: one of the best independent international bookstores in Athens
Watch the video of the book presentation which took place on 13 November at Lexikopoleio ​international bookstore: