An exhibition for theatre lovers is hosted by "STOArt", in the very heart of Athens. Visitors to the «75 years of Art Theatre Karolos Koun-75 exhibits» show will be able to follow the evolution of artistic expression in Greece through the treasures of Art Theatre-Karolos Koun. From the 1940s to the present day, and from Tsarouhis and Moralis to Zarifis and Fotopoulos, 75 objects selected from the archives of Art Theatre Karolos Koun (Theatro Technis) "tell" part of the story of modern Greek civilization.
It is estimated that objects in the Theatre's possession number somewhere between 120,000 and 150,000! The figure 75 is symbolic and coincides with the 75 years since the theatre's foundation in 1942 by director Karolos Koun. The main objective of the exhibition is to put the spotlight on the Theatre's archives – which include thousands of costumes, accessories, documents, posters, photographs, programmes and newspaper clippings – and the need for their proper restoration. All 75 exhibits carry an undisputable artistic and emotional value: Costumes, accessories and decorative elements that have been used in iconic theatrical performances, such as the "Birds" and "The Persians", are some of the objects on show for the first time.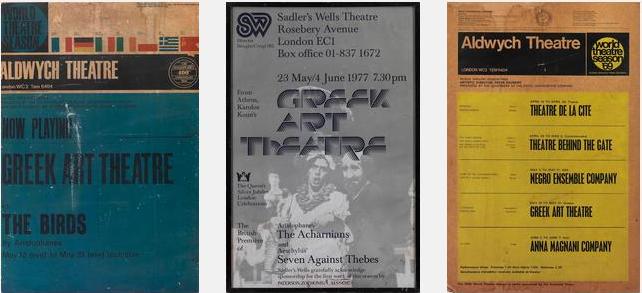 Art Theatre was founded in 1942 during the Nazi occupation, by Karolos Koun, a Greek theater director whose lively staging of ancient Greek plays won him acclaim in Europe. Koun aimed to promote new Greek playwrights, the foundation of a Drama School with its own highly individual style, the familiarization of the Greek public with major foreign playwrights, both classical and modern and the staging of Ancient Drama. Its principal characteristics were, and remain, collective work, theatrical training and common artistic aims. There have also been extensive and triumphant tours and participations in international festivals worldwide.
In the eight decades of its existence, Art Theatre has remained true to its initial goals and aesthetic orientation, convinced that this is the essence of its cultural contribution and what may be called its ideology.
Info: StoART, Korai Street 4.
Duration of exhibition until 27 July 2017. Entrance is free to the public.
The exhibition is co-organized by Art Theatre and "Ethniki Asfalistiki" insurance company.

e
eE.A.