On March 15, 2016, Chrysostomos "Chris" Alahouzos won a resounding victory in the race to become the new mayor of Tarpon Springs, with almost 58% of the vote. Alahouzos immigrated to the United States from the Greek island of Kalymnos, with his family, when he was 14 years old. His father was a sponge diver— the profession that brought thousands to this idyllic Florida town over the past century from Greece's Dodecanese islands.
Alahouzos has spent decades in public service, including years of cultural volunteer work connecting Tarpon Springs with Kalymnos and other Greek islands, through a sister-city program. He established the Plato Academy, a highly regarded charter school in Pinellas County, Florida, while he also served as President of the city's Kalymnian Society and numerous other educational and cultural endeavors.
Tucked in a quieter corner of the bustling Tampa Bay metro region, Tarpon Springs has the highest percentage of Greek Americans of any city in the United States: according to census figures, over 10% of the city's residents claim Greek ancestry, while some 7% report they speak Greek at home. Most claim ancestry from Kalymnos, and others from Halki, Nisyros and other Dodecanese islands, known for their own sponge industries.

In her book Greeks in Tarpon Springs, Tina Bucuvalas explains how, beginning in 1905, John Cocoris introduced the technique of sponge diving to Tarpon Springs and recruited divers and crews from Greece. The first divers came from the Saronic Gulf islands of Aegina and Hydra, but they were soon outnumbered by those from the Dodecanese islands of Kalymnos, Symi and Halki. Over the years, Greek immigrants built the city's industry, turning a remote village into what is called "the sponge capital of the world", generating millions of dollars every year.
The Greek community continues to have a strong ethnic and maritime presence in Tarpon Springs. The city is home to the largest Epiphany celebration in The USA, hosted by the St. Nicholas Greek Orthodox Church, with tens of thousands of people visiting to attend the ceremony of the Blessing of the waters and the Casting of the Cross in the city's Spring Bayou. In 2006, Ecumenical Patriarch Bartholomew presided over the city's 100th Epiphany celebrations in one of his few visits to the States.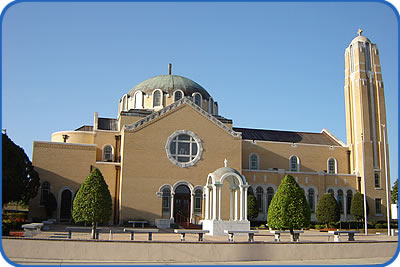 Today over 100 of the original Greek families remain, now in their third and fourth Tarpon Springs generations. "We have 125 businesses, 25 restaurants, three or four boat rides, and I don't know how many bakeries," says George Billiris, whose family came to Tarpon Springs in 1904. Dodecanese Avenue in the Greektown Historic District of Tarpon Springs is thriving as both a traditional community and a tourist destination. With over 1 million tourists each year, 47 recorded documentaries from 17 countries and 5 full-length movies about the city and its Greek heritage, the Greeks in Tarpon Springs will last for generations to come.
TAGS: FESTIVALS | GLOBAL GREEKS | HERITAGE