Panagiotis Zafeiriadis has set out on a bike ride around the world; since he is usually camping in the wild, securing energy self-sufficiency in a sustainable way is of great importance – and an ideal way to do that is to use third-generation photovoltaics. These have been furnished by a Greek company with innovative products.
A bike ride around the world
Panagiotis Zafeiriadis embarked on his journey following a life-changing experience that made him reevaluate his life, leave his job as a computer programmer and try to discover the world –natural landscapes, communities, people, traditions, adventures– and, in the process, himself.
In 2022, he set out on a trip around Europe on his bike, also using sailing boats. Panagiotis is currently on a trip around Greece, starting with a tour of Northern Greece (Epirus, Macedonia and Thrace) using mainly country roads and trails. He later plans to continue his long bike ride in Asia. He shares his stories and new experiences on his personal blog Just a Trip.
In this trip, where Panagiotis usually has to camp in the wild, often away from any power source, so finding ways to charge his electronic devices, which he uses to plan and record his trip as well as communicate, can be very challenging. As a nature lover, it is also important to achieve this in a sustainable, nature-friendly way. Solar cells (electronic devices converting the energy of light directly into electricity by the photovoltaic effect) are a great way to do this, but their traditional forms obviously make them impossible to carry around on a bike. But the new technologies in photovoltaics are a game-changer.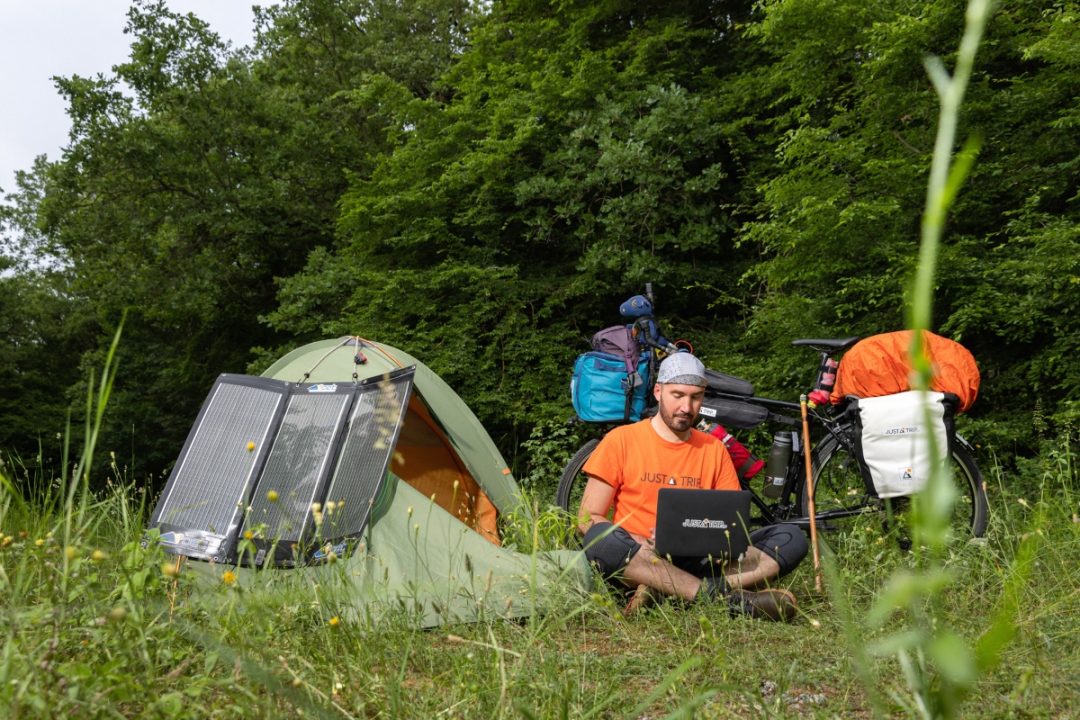 Flex2Energy project
Third-generation photovoltaics are low-cost, flexible, and lightweight systems, that still manage to achieve high power-conversion efficiency. Hence, they can be placed on any surface and are easy to carry around even on a bike, while at the same time providing the necessary energy to power multiple electronic devices.
The Greek company Organic Electronic Technologies (OET) has a long experience in the sector of photovoltaic cells, and has developed innovative third-generation photovoltaic applications that weigh less than 400 grams per square meter and can be installed on any surface.
OET presented its pioneering project Flex2Energy at the 87th Thessaloniki International Fair TIF Helexpo (Pavilion 10, Stand 28). Flex2Energy is a 48-month project with an ambitious goal to manufacture reliable Integrated Photovoltaics (IPVs) by developing an Automated R2R (Roll-to-Roll) Manufacturing Line for Organic PVs (OPVs). On September 15-16, Panagiotis was at OET's stand, where third-generation photovoltaics were installed on his bike.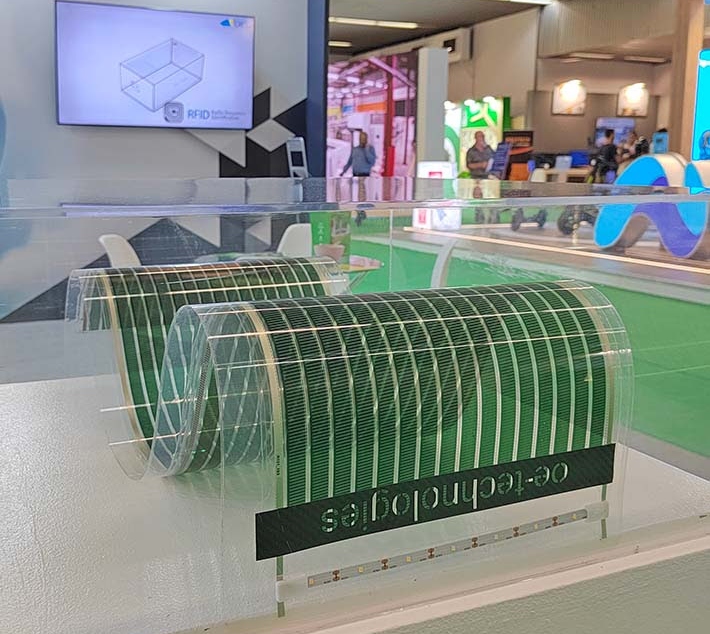 The Flex2Energy project is a collaboration with the Hellenic Organic Printed Electronics Association (Hope-A), and the Lab for Thin Films – Nanobiomaterials – Nanosystems & Nanometrology (LTFN) of the Aristotle University of Thessaloniki. Flex2Energy project has received funding from the European Union's HORIZON Europe research and innovation program.
The project also places Thessaloniki at the heart of international green technological developments as the first automated 3rd generation Photovoltaic production line in the world with a production of 1,000,000 m2 of panels per year is being established in the area. The manufacturing line consists of the R2R Printing & Automated Assembly Machines, with robust and adaptive in-line metrologies for quality control and Artificial Intelligence (AI) analysis implementing industry 4.0 concepts.
Also presented at Helexpo: COPE-Nano, a flagship Horizon Europe Project aims to become a leader of European and international research and innovation at the rapidly evolving fields of Organic Electronics, Nanomedicine and Nanotechnology; the first EU funded Center of Excellence in Greece and the first in Europe that is focused in Nanotechnologies and Organic Electronics.
Read also via Greek News Agenda: The fascinating world of Nanotechnology & the LTFN Lab of the Aristotle University of Thessaloniki; 'COPE-Nano' launched in Thessaloniki: a 30 million Organic Electronics & Nanotechnologies Centre of Excellence; Greece's renewable energy landscape; Green energy in Greece | The sustainable answer to climate and energy crisis
TAGS: ENVIRONMENT | SCIENCE & TECHNOLOGY