If you are a Greece and a music lover, then Pelion might be the ideal tourist destination for you this summer. Pelion consists of 24 villages and many settlements, spectacular nature, a rich culinary tradition, cultural affluence, and a distinctive architecture. Moreover, the mountain has an important history that one should know before visiting: traditions, captivating myths and historical battles took place in the region while legendary creatures (such as the centaurs), warriors and mythical heroes walked or lived there.
Forming a natural borderline between the Aegean Sea and the district of Magnesia (with its capital Volos known as the "jewel of the Pagasetic Gulf"), Pelion is an all year round destination, whether it's in mid-winter when everything is covered in snow, or in spring when colourful wild flowers cover its slopes, which are full of fir, chestnut, oak and beech trees. It is also a perfect destination for summer holidays, with numerous crystal clear water beaches that can be reached on both sides of the peninsula – open sea or calm gulf. No wonder that Pelion, according to mythology, was chosen by the Gods of the Olympus as their summer residence.
Of special interest to those who wish to advance their musical knowledge and skills is that during the months of July, August and September two important music festivals take place in the region. Specifically:
The 32nd Horton Cultural Festival takes place from July 23 to August 28, 2016 in the beautiful seaside village of Horto. It is an artistic, educational and cultural summer festival organized by the non-profit Foundation Angelinis – Hadjinikou, established in 1984 with the mission to bring world class performers to Greece so as to familiarize people with the finest cultural experiences. This year's programme consists of various seminars, including dance improvisation, jazz, chamber music and vocal masterclasses, as well as conducting and flute workshops. The Festival's programme has a twofold aim: it is equally addressed to professionals as well as local inhabitants and visitors of Horto in such a way as to create a sensitized public. This two-way communication benefits both parties, as on the one hand, the public partakes in the cultural values offered and gains a certain experience, and on the other hand, the artist is re-invigorated from his immersion in the flow of human contact and personal relationship with the receiver.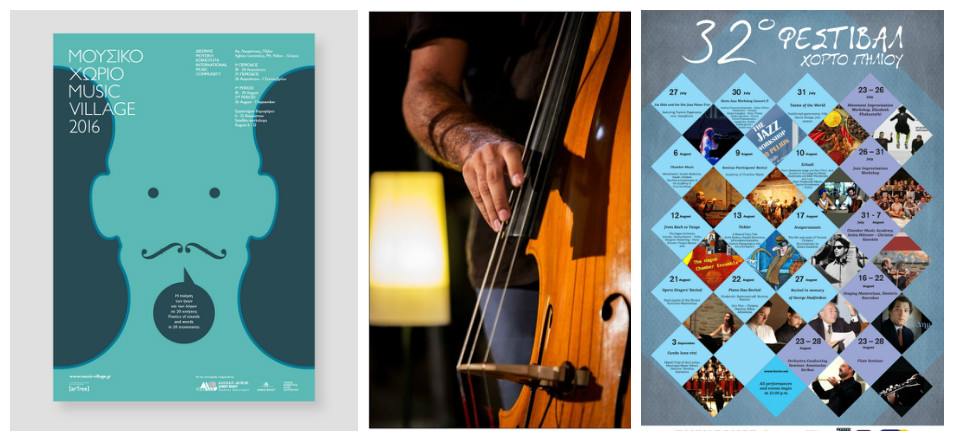 Another important Festival in the area is the Music Village which takes place in the village of Agios Lavrentios (August 18- September 1, 2016). Music Village has been well known for11 years already as one of the most open artistic communities in Europe, bringing together artists from around the world in a cultural cross-breeding. The festival is organized by arTree (a society for musical expression) in collaboration with the Municipality of Volos. This year's activities consist of 20 workshops grouped in several directions and coordinated by 34 artists of international acclaim. Moreover, many others will collaborate in workshops related to theatre, dance and special education among other topics.During their sojourn, the "temporary" residents of "Music Village", as well as acquiring the desirable knowledge, also have the opportunity to participate actively or passively in numerous music performances that take place in houses and courtyards of the village and in piazzas and forest clearings. The coordinators of the event invite everyone to take part, actively or as visitors. Rather than falling into the typical traditions of a closed circle festival or a touristic fete, the aim is to establish a creative symbiosis among artists, music lovers, locals and the natural environment and hope to create an institution that will reinforce both creativity and human relations.
TAGS: ARTS | FESTIVALS | HERITAGE | HISTORY | MUSIC | TOURISM