Athens Music Week (AMW) was launched for the first time in 2019, as a weeklong music marathon aiming to "celebrate cultural and creative diversity", turning Athens into a showcase for the contemporary Greek music scene; in 2020, it took a "phygital" form, combining physical events with a high-quality digital experience. Still in keeping with the current restrictions, AMW 2021 presents its Hybrid edition (22-26 June), allowing anyone interested to register and attend the events via livestreaming, free of charge.
AMW functions as a Boutique showcase festival & conference, with the main goal to foster connections among music and art professionals from international markets, allow them to promote their work on an international level, exchange knowledge and practices, discuss issues faced by the music industry and discover new artists and ideas, with an emphasis on the productions of Greece and the Balkans.
This year, AMW features 67 speakers, including music industry professionals, company CEOs, managers, producers, curators, journalists, musicians etc. in 10 panel discussions, 4 talks, 5 webinars and 5 workshops; it also features 9 original project pitches as well as 19 showcases by young solo artists and bands from Greece and other countries. The event will culminate with a live show on the main stage of Technopolis – City of Athens on 26 June, featuring Greek artists "who made an impact, climbed to the top of the charts, became viral sensations, and ruled the social media this last year".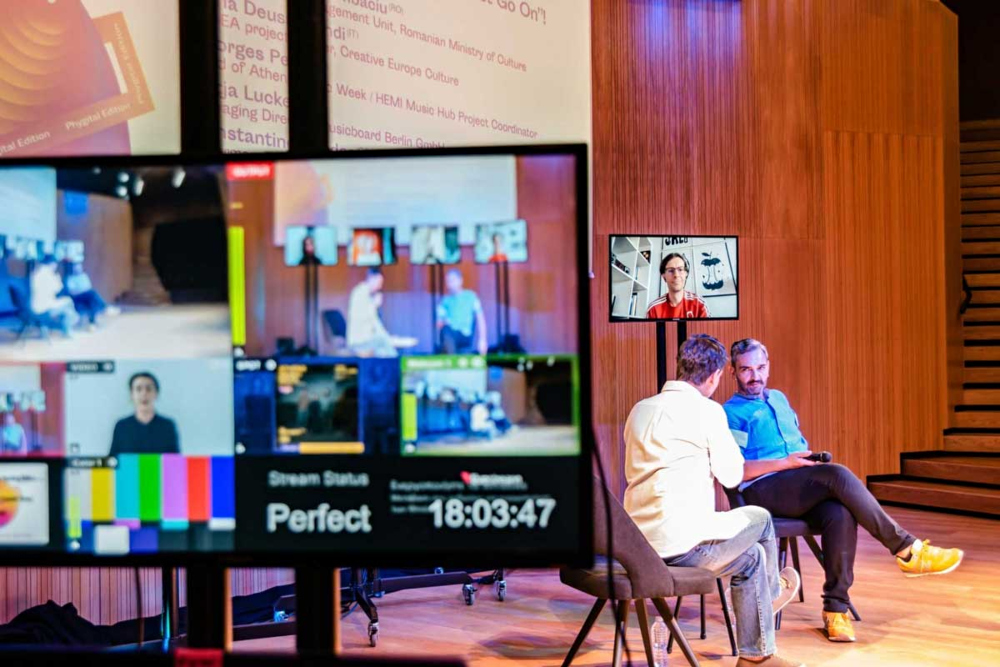 the events will take place in front of live audiences but will also be broadcast for online audiences, who will even be able to participate in Q&A sessions. Discussions and lectures will predominantly focus on the issues faced by the music industry in light of the latest worldwide developments.
AMW is organized by Technopolis – City of Athens and the non-profit organisation MESO Music Events, whose team is responsible for the national coordination of the European Music Day organisers' network in Greece; it is also supported by the European networks Jump – European Music Market Accelerator and Hub for The Exchange of Music Innovation (HEMI), both co-financed by the EU's "Creative Europe" Programme.
The panels, talks and workshops of the conference will touch on a number of different subjects, including the evolution of AR-VR music festivals & gaming, the way blockchain technology and NFTs shape the future of music, the position of women in the music industry & the cultural sector, the future of music distribution and the opportunities within the EU, Digital Strategy for online success, the tools for a successful crowd-funding campaign and, of course, the way that Covid-19 continues to affect the music industry, especially concerts and live gigs.

Good Job Nicky, Atomic Love and Solmeister will perform live at Technopolis
Among AMW 2021's speakers you will find some of the most distinguished industry professionals, popular artists, and representatives of international networks and organisations, such as Shabaka Hutchings (members of the bands The Comet is Coming, Sons of Kemet and Shabaka & the Ancestors), Melanie Parejo (Head of Music for Southern Europe at Spotify), Chris Cooke (Co-Founder and MD of Complete Music Update), Marie Fol (Project Manager for Keychange), Claudia Schwarz (Co-Founder & VP MusicTech Germany) and Υvan Boudillet (TheLynk).
As an event dedicated to music, AMW features a number of showcases by young, up-and-coming artists from Greece and Europe, who will give a taste of the latest trends and innovations in music production, from hip hop, rock and punk to electronic, jazz and Balkan funk. On the last day of the events, Saturday 26 June, AMW will culminate in a live show by up-and-coming Greek performers.
See the full programme here.
Read also via Greek News Agenda: Athens Music Week – Phygital edition; 20th Athens Technopolis Jazz Festival *hybrid edition; Radio Producer Makis Milatos: "There's a Vivid New Greek Music Scene Out There"; Giannis Petridis: "We live in an era that ultimately favors commercial music"
N.M.
TAGS: ATHENS | CONFERENCES | MUSIC