The Australian Ambassador to Greece, His Excellency, Arthur Spyrou, was interviewed by Greek News Agenda* regarding his experiences as a diplomat in Greece, and the steps being taken towards strengthening the already good relations between Greece and Australia. He also spoke about the rising investor interest in Greece, and the close bonds between the two countries thanks to Australia's vibrant Greek Diaspora, which he himself is part of.
Ambassador Spyrou is a senior career officer with the Department of Foreign Affairs and Trade and was most recently Ambassador to the United Arab Emirates. He has previously served overseas as Chargé d'Affaires, Australian High Commission, Nauru; Counsellor, Australian High Commission, Kuala Lumpur; Olympics Attaché for the 2004 Athens Games; and Second Secretary and Deputy Permanent Delegate to UNESCO, Australian Embassy Paris. In Canberra he has served with DFAT as Director, Management and Corporate Strategy Section; Director, Vietnam, Laos and Myanmar Section; and Director, United Nations and Commonwealth Section.
Ambassador Spyrou holds a Master of Arts (Foreign Affairs and Trade) from Monash University; Bachelor of Laws, Sydney University/Utrecht University; and a Bachelor of Arts (Honours), Sydney University. In December 2019, he was appointed as the Australian Ambassador to Greece, also accredited to Bulgaria and Romania.
Firstly, I would like to thank you for your time and the honour you're doing us with this interview. You are an experienced diplomat who has served at various posts across the world. What are your impressions of your service as the Australian Ambassador to Greece which is also your second homeland?
As an Australian citizen and public servant, I represent Australia's interests in Greece. At a professional level, I can draw on the special connection to Greece that the Greek diaspora feels, including through sharing the migrant experience, and being a part of Australia's incredible multicultural story – a story I would like more people to know. It goes to the heart of what makes Australia so special. Nevertheless, the true measure of my term will be the extent to which I can bring tangible benefits to both countries – because bilateral relationships are built through people and countries prospering together.
What is important is that when Greeks think of Australia, they should not only think about the diaspora, but also about the fact that with a population of under 26 million people, Australia is the 13th largest economy in the world and a G20 country. It has a GDP of almost USD 1.5 trillion (2019). Its pension funds represent almost USD 2 trillion looking for investments worldwide. It took COVID19 to stop Australia's world record run of 28+ years of economic growth. Australia is an economic powerhouse. Its success offers untapped opportunities for greater economic collaboration with Greece. We need to be very ambitious on this front. This will be at the core of my mission here.
At a personal level, serving in Greece is a truly unique experience. I feel extremely privileged to be serving Australia in the country of my birth. My parents were posted to Australia when I was four years old – 45 years ago! My father was appointed as Greece's first Director of the Greek National Tourist Organisation in Sydney. My mother worked in the Greek Press and Information Office. As early as I can recall my family represented Greece in Australia, which has given me unique insights for my current job. I have four generations of Greek public servants behind me – I guess you could say the Greek system runs in my blood! And my ancestry is Greek as far back as there are records. So I am very fortunate to have this opportunity to take a deep dive into our family origins – from Thrace to Boeotia, from Attica to Arcadia, from the islands of Crete, Santorini, Andros and Evia, to Asia Minor!
Australia is home to one of the largest communities of diaspora Greeks which maintains strong ties with Greece. In which sectors and in what ways do you believe that these links can be further strengthened?
Australia is proud to be home to the world's second largest Greek diaspora in the world, after the US, and to the "capital city" of the Greek diaspora– Melbourne is the city with the largest Greek population outside Greece. 450,000 Australians claim Greek heritage. We represent a unique and dynamic community that knows, loves and understands Greece, and is ideally placed to leverage trade and investment opportunities, especially in complementary sectors like hospitality, infrastructure, maritime industries, renewable energy, logistics, mining and agribusiness. With negotiations on an Australia-EU Free Trade Agreement well underway, the agreement has the potential to be a game-changer in bilateral relations, and to help both countries in their recovery from the economic ravages of the pandemic.
Cultural relations are another key sector. Our community links make it possible to bring to our two countries certain unique projects which are not conceivable elsewhere. For example, we are working in partnership with the Hellenic Museum to bring the Benaki Museum's first ever international branch to Melbourne. When it opens it will be a spectacular beacon of Greek culture in Australia and a great source of pride for both countries as well as the diaspora. And it will represent a permanent cultural bridge between Australia and Greece. As a big fan of the Benaki Museum, I'm really excited.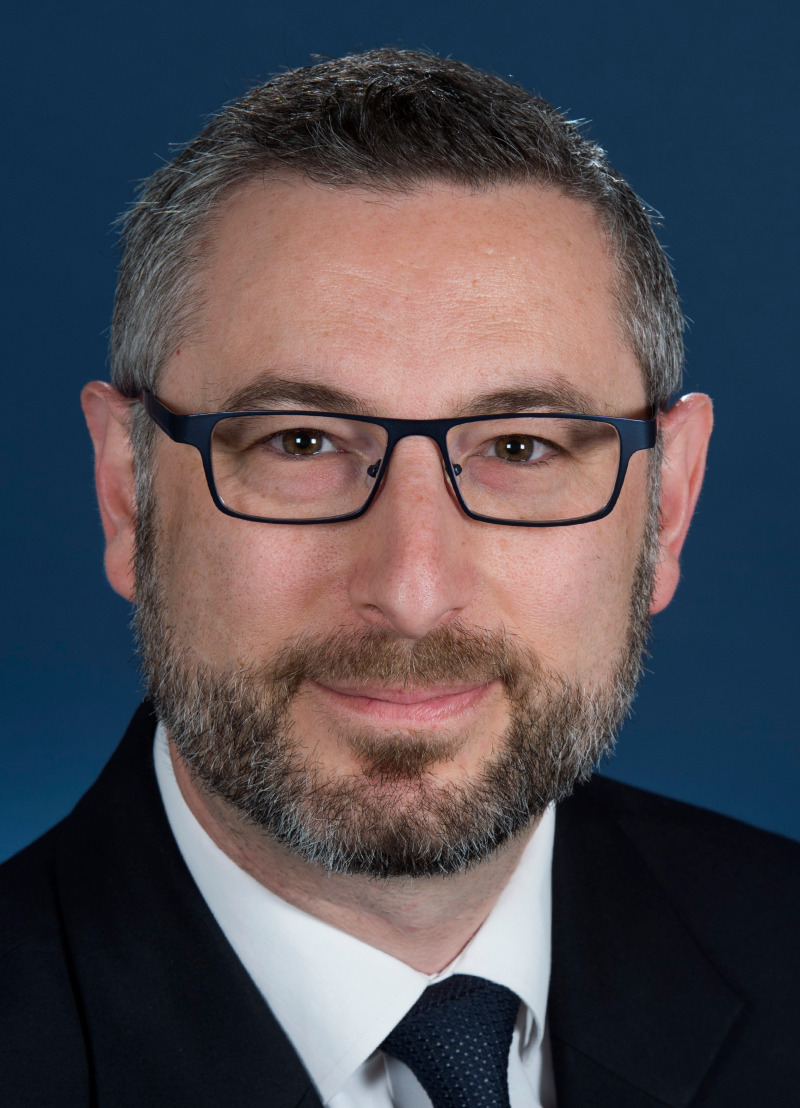 Ambassador Arthur Spyrou (from the official site of the Department of Foreign Affairs and Trade of the Australian Government)
This year we celebrate 200 years from the start of the 1821 Revolution. Is Hellenism in Australia willing to participate in the celebrations?
Of course. Greek-Australian communities across Australia are joining the celebrations, organising their own events,with a significant number already included in the official Greece 2021 program. The Greek Orthodox Archdiocese of Australia alone is organising a program of more than 200 events. And many of us have stories that amplify and add to the story of Greece's independence and make it personal to us. We count amongst my own family, for example, several 'orphans of the revolution' who were recognised by the nascent Greek nation for their family's sacrifice. And there are wonderful organisations like The Hellenic Initiative, which we are proud to collaborate with closely, and which also have their own programs of celebrations.
And there is another, very important aspect to the significance of the Bicentennial for the Greek Australian community. In parallel to celebrating 200 years from the Greek War of Independence, Australians of Greek heritage are also celebrating almost 200 years of Greek presence in Australia. You may not know that the first Greeks on record arrived in Australia in 1829, during the final year of the Greek War of Independence. They were seven sailors who had been convicted of piracy by the British Empire in 1827 and were sent to the colonies. The sailors themselves claimed to be freedom fighters who had attacked a British merchant ship to stop it from supplying the Ottoman side in the War. Two years after their arrival they were pardoned and two of them, Antonis Manolis and Gkikas Voulgaris, decided to settle in Australia as free migrants. They are considered to be the originators of the Greek-Australian community. And it all began in the context of the Greek War of Independence.
Does your Embassy plan any activities to mark this anniversary?
We have a number of great projects underway. For example, we have already launched a social media series on prominent Greek-Australians to celebrate their achievements and contributions to Australia's social fabric and our unique multicultural society. This aligns with the priority of the Greece 2021 Committee to showcase the profiles of Greeks who left their mark on the world in the last 200 years. Another project we are planning is to make a series of videos by prominent Greek-Australians articulating what the 200th anniversary of the Greek War of Independence means to them.
This year also marks the 80thanniversary of the Battle of Crete. The commemorations will be a central element of the Embassy's contribution to the celebrations for the Bicentenary, as the Battle of Crete saw Australians and Greeks fight side by side in defence of freedom. And the bonds forged during that period through the sacrifice of the Australian soldiers so far from home, and the friendship and protection extended by the Cretan people to the Australian soldiers, not only endure to this day, but are now the foundation stone of the bilateral relationship and the warm bonds of friendship we now enjoy.
To what extent do you believe that the COVID-19 pandemic has influenced the relations of Australia's Greek community with Greece?
It would take much more than a pandemic to affect the Greek-Australian community's links to Greece! If anything, the pandemic has reminded us of the importance of these links, despite 'the tyranny of distance'. Both the Australian and the Greek governments have made the safety and welfare of their citizens the paramount consideration in their responses to the pandemic. In that context, Australians of Greek heritage who regularly travel to Greece, were unable to do so over the last several months. These circumstances are frustrating, but they will not last forever, and we know that they are in place to protect those we love and our fellow citizens. When they are lifted, the Aussies will be back! This was a message I passed to the locals when I visited Kastellorizo last summer. I told them that as the Australians had not come in 2020, I was there on their behalf to extend our love to one of Australia's favourite places in the world!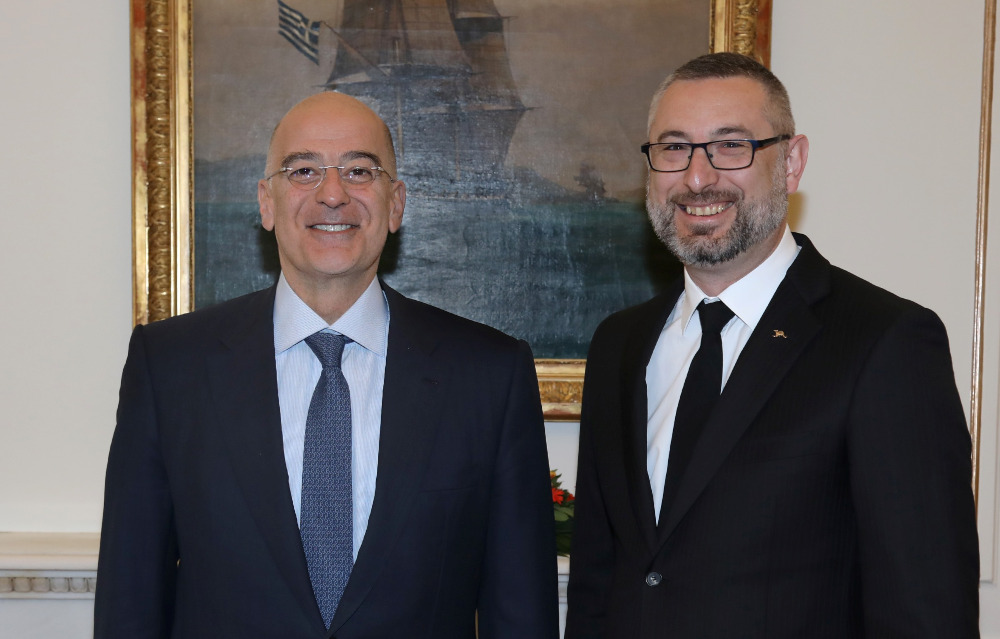 Greek Minister of Foreign Affairs Nikos Dendias with Ambassador Arthur Spyrou (from the official Twitter account of the Greek Ministry of Foreign Affairs)
How are bilateral relations between Greece and Australia at the moment?
Excellent and getting even better. Greece is a like-minded, democratic country with shared values, a common history and indelible community bonds. It sees the world in similar terms to Australia. Our Prime Ministers meet regularly as part of the First Movers group of countries that were quick and effective in responding to COVID-19, which ensures our leaders meet often and at the highest level.
There is strong political will on both sides to enhance the trade and investment relationship, which will be critical if we are to take the relationship to a new level. Thiswill be a major focus for me. Despite the distance, our trade ties will only continue to grow, as investments increase and the Australia-EU FTA provides new opportunities for mutual prosperity.
As I mentioned, our joint cultural collaboration is excellent, and the passage of the new legislation allowing Greek artefacts to travel abroad for 25+25 years will underpin many unique cultural exchanges in the future. This was an excellent initiative. I am very ambitious about expanding the bilateral relationship, including to non-traditional sectors. For example, I noticed with pride that Greece qualified for the 2021 Rugby League World Cup. This is a big deal! I was also glad to see that the Australian influence in the team is strong. For example, the coach, Steve Georgallis is a Greek-Australian and a legend of the game back home.
In your opinion, is there Australian interest in investing in Greece?
Definitely. Over the past few years, Greece has taken significant action to improve its attractiveness to international investors and to let the world know it is open for business. Australia has taken note. I am aware of Australian companies bidding in the Eleftherios Venizelos airport 30 per cent minority stake privatisation, as well as the DEPA and DEDDIE privatisations – these are some of Greece's most significant projects. I am also aware of an Australian interest in building a five-star eco resort on one of the islands, demonstrating faith in the resilience of the Greek tourist sector.
Greece's strategy to become an energy hub, including as it relates to LNG, and the allocation of the EU Recovery Funds to the renewable energy sector, is another area of great interest. I should also note that Australia has now received some significant investments from Greece as well, with a focus on the construction and renewables sectors. And as I mentioned above, negotiation of the Australia-EU FTA, is very significant because it will set the tone for our future economic ties. The tenth negotiating round will be held virtually from 9-19 March, and I know both sides are working hard to conclude it as soon as possible.
And one last question: To what extent do you believe that Greece's image in Australia has improved over recent years?
Greece has always enjoyed an excellent image in Australia thanks to the nation-building contributions of the Greek-Australian diaspora, the enduring bonds of mateship forged through our war history and our shared values. People in Australia also think of Greece's excellent tourism offerings, its cuisine and culture and the warmth of its people. This will not change. And we are investing further in our unique community links, through bilateral projects like the recent Work And Holiday Agreement, which was agreed in October 2019, and will ensure new generations of Australians and Greeks can travel and work in each other's country, making longer stays of young people possible, to ensure those bonds are always renewed.
After the economic challenges of 'the great recession', Greece has recast itself as an economically ambitious country that is open for business. And its success to date in dealing with the pandemic, including its leadership and innovation in managing the tourist sector in the COVID19 context, have also enhanced Greece's perception internationally, not just in Australia.
*Interview by Marianna Varvarrigou (Intro photo: Ambassador Arthur Spyrou [from the official Facebook page of the Australian Embassy in Athens])
Read also via Greek News Agenda: History of the Greek Diaspora in Australia; UK Ambassador to Greece John Kittmer's farewell; Migration Routes: First Greek Australian Archive Underway; On-line Conference on Reinforcing bridges between Greek Universities and the Greek Diaspora; The Awards of the 5th "BEYOND BORDERS" Kastellorizo International Documentary Festival
TAGS: FOREIGN AFFAIRS