Historically, the small rocky island of Hydra has been closely associated with the Greek War of Independence, in which it played an important role, being a prosperous shipping centre at the time; the sea captains' mansions that ring the island's harbour are a testament to its heritage. In more recent decades, however, Hydra has come to be known primarily as an artistic hub, its heyday being in the 1950's and 60's, when numerous writers, musicians and painters were drawn to its rugged charm.
Ghika & friends
Hydra's appeal to artists can probably be traced back to Nikos Hadjikyriakos-Ghika, the most famous Greek cubist artist and key figure in the Greek modernist movement known as the "Generation of the '30s". Ghika was a native, coming from an old and prominent Hydriot family, which had in the past contributed many naval officers and captains in the Greek Revolution. In the 1950s'and 60's, exhibitions of his work across the globe won him international acclaim; he befriended other artists and intellectuals, and would host them in his Hydra home for extended periods of time.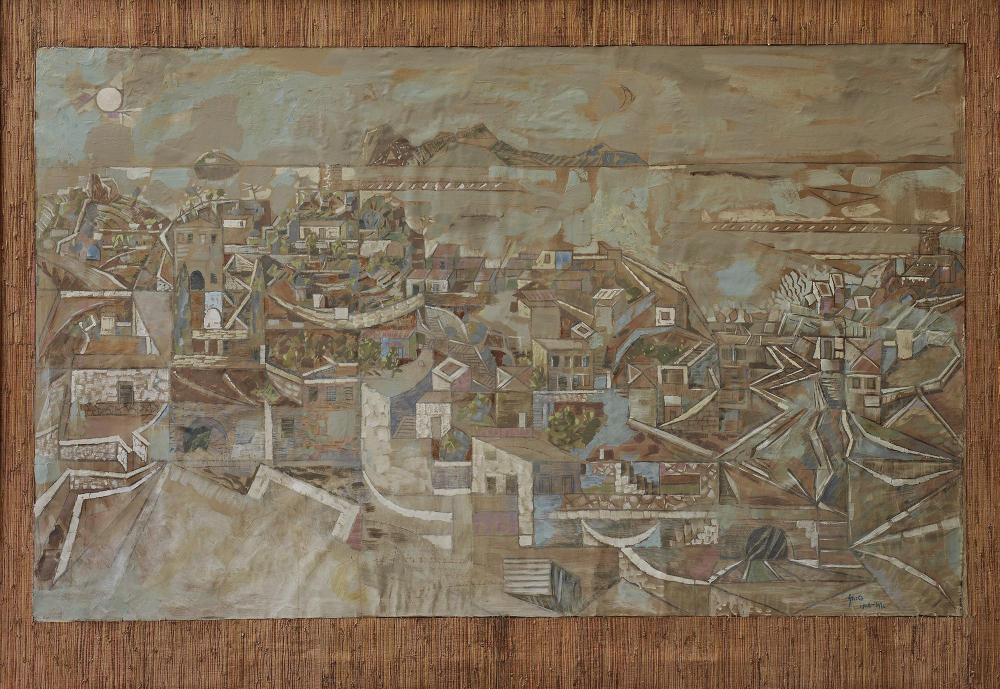 Hatzikyriakos-Ghika Nikos (1906 – 1994), Memories of Hydra, 1948-1976 Mixed media on paper mounted on canvas (The National Gallery – Alexandros Soutsos Museum)
His 18th century 40-room mansion, perched on a steep hillside, housed such names as Henry Miller, Patrick Leigh Fermor, Lawrence Durrell, Norman Mailer, Edmund "Mike" Keeley, Giorgos Seferis, Henri Cartier-Bresson, Le Corbusier, John Craxton, Rex Warner and Cyril Connolly. Painters, such as Craxton and Ghika himself, were greatly inspired by the island's unique scenery, as evidenced in their work. Leigh Fermor, spent two years there, writing a large part of his book Mani: Travels in the Southern Peloponnese and translating the Greek Resistance memoir The Cretan Runner.
In his celebrated travelogue The Colossus of Maroussi, Henry Miller, who was hosted by Ghika in 1939, lauded Hydra's "naked perfection" describing it as a "rock which rises out of the sea like a huge loaf of petrified bread. It is the bread turned to stone which the artist receives as reward for his labour when he fist catches sight of the promised land". In 1961, the Ghika mansion was destroyed by fire, prompting the owner to leave Hydra and never return. By that time, however, a colony of expatriate artists and writers had already been established on the island.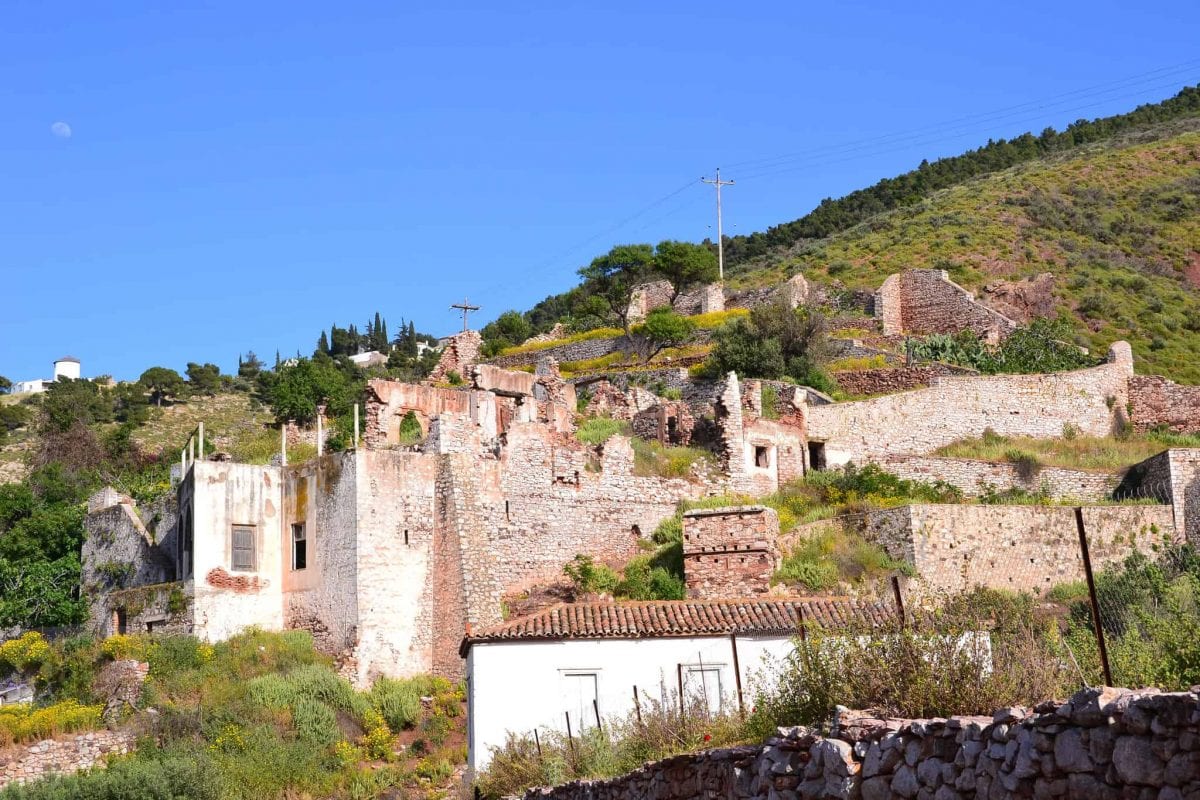 The Ghikas mansion ruins in High Kamini, Hydra
Australian bohemians
Inspired by Miller's journey, an international bohemian community of artists and writers had begun to form on Hydra; central figures to this circle were Charmian Clift and George Johnston, a married couple of writers from Australia who moved there in 1956, after some time living on the more remote island of Kalymnos. Their Hydra house soon became a destination for several others looking for a primitive landscape and an unconventional lifestyle.
During their years on the island, they both wrote some of their most important works: Johnston's My Brother Jack, a classic of Australian literature, and Clift's Peel Me a Lotus, where she describes her family's life on Hydra. My Brother Jack's sequel, Clean Straw for Nothing, was written after Johnston had left Greece, but drew heavily on his experiences on Hydra.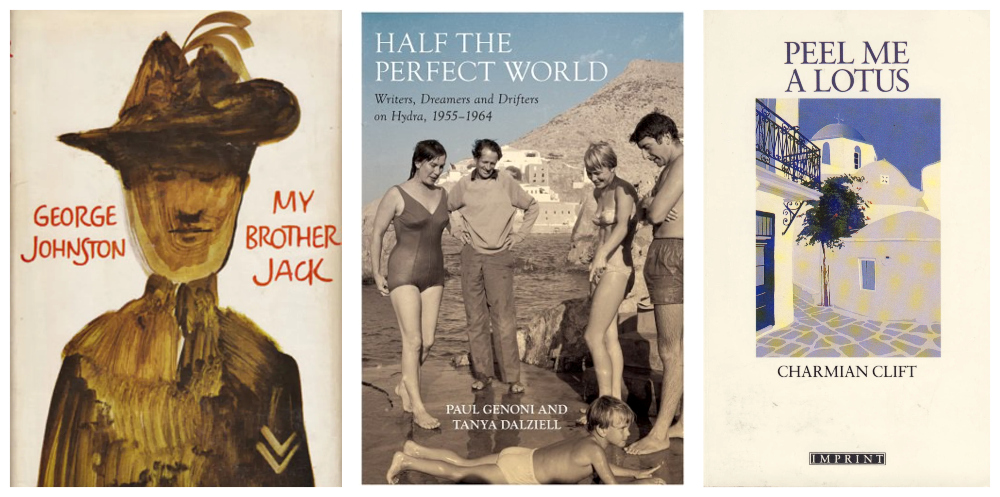 Their dramatic lives, marked by creative fever, substance abuse, tempestuous lovers' quarrels and eventually tragedy (with Charmian committing suicide) has inspired several authors, who have put special focus on the couple's years on the island. In her play, Hydra, Australian writer Sue Smith recounts "the passion and intensity of the near mythical 'King and Queen of Hydra'"; the couple also has a central role in the book Half the Perfect World: Writers, Dreams and Drifters on Hydra, 1955-1964, which details the lives Hydra's expat community, as well as in Polly Samson's novel A Theatre for Dreamers, which captures the "hazy, sun-drenched days" of that same group of people. In both these books there is, of course, another central character: a young Canadian troubadour and aspiring writer who has arguably come to be linked with the island of Hydra more than anyone else.
Cohen's retreat
Leonard Cohen arrived on Hydra in 1960, at the age of 26; he met Clift and Johnston, who in fact offered to host him at the beginning of his stay. Soon, Cohen would buy a house on the island for $1500, using a bequest from his recently deceased grandmother. He liked it although it was run down and had no running water. In a letter to his mother, he wrote "I live on a hill and life has been going on here exactly the same for hundreds of years. All through the day you hear the calls of the street vendors and they are really rather musical"; he also noted that the Aegean Sea was 10 minutes from his door.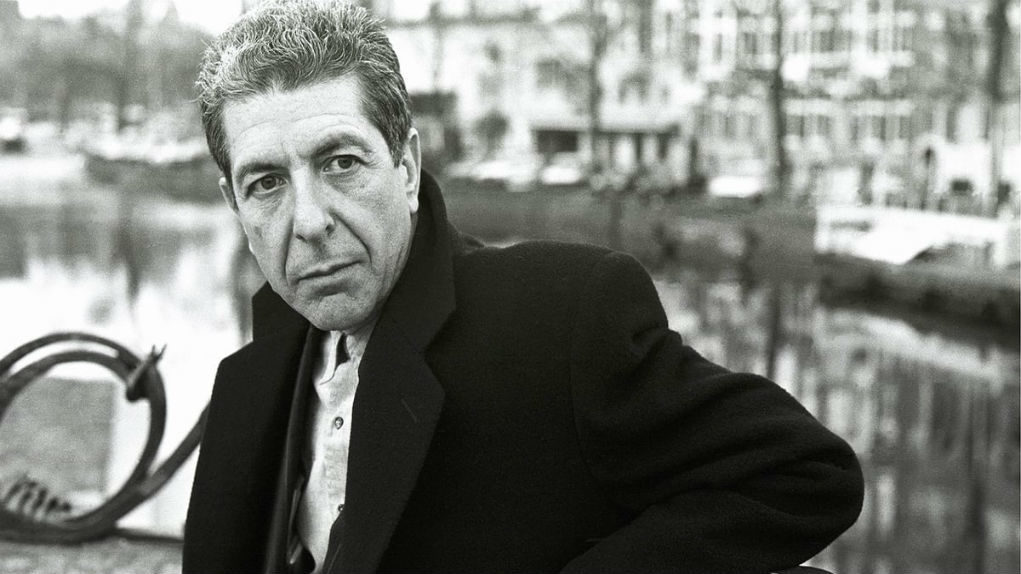 On Hydra, Cohen met Marianne Ihlen, who soon became his first great love as well as his muse. Ihlen had arrived on the island in 1958 with her then-husband, Norwegian writer Axel Jensen. Soon after the birth of their son, Axel Jr., Jensen left her and the island, and not long after Ihlen moved in with Cohen, along with her baby. Cohen lived with Marianne throughtout the 60's, and for the first seven years he would commute between New York, Montreal, and Hydra.
At the time, his ambition was to become an established writer. While on Hydra, he would wake up every day around 7 a.m. and work on his writings until noon; in the evenings, he would meet with his friends –including Clift and Johnston, Redmond and Robyn Wallis and many others- in local bars and taverns, such as the Katsikas Bar, where he would give his first live performances, years ahead of his debut. During his time on Hydra, Cohen published the novels The Favourite Game (1963) and Beautiful Losers (1966), and the poetry collection Flowers for Hitler (1964).
His works were met with mixed reactions and only sold few copies, and he gradually shifted his focus towards songwriting, eventually leaving for the USA in 1967 to pursue a career in music. At the end of that same year he released his first album, Songs of Leonard Cohen, which features one of his most iconic songs, "So Long, Marianne", written for Ihlen.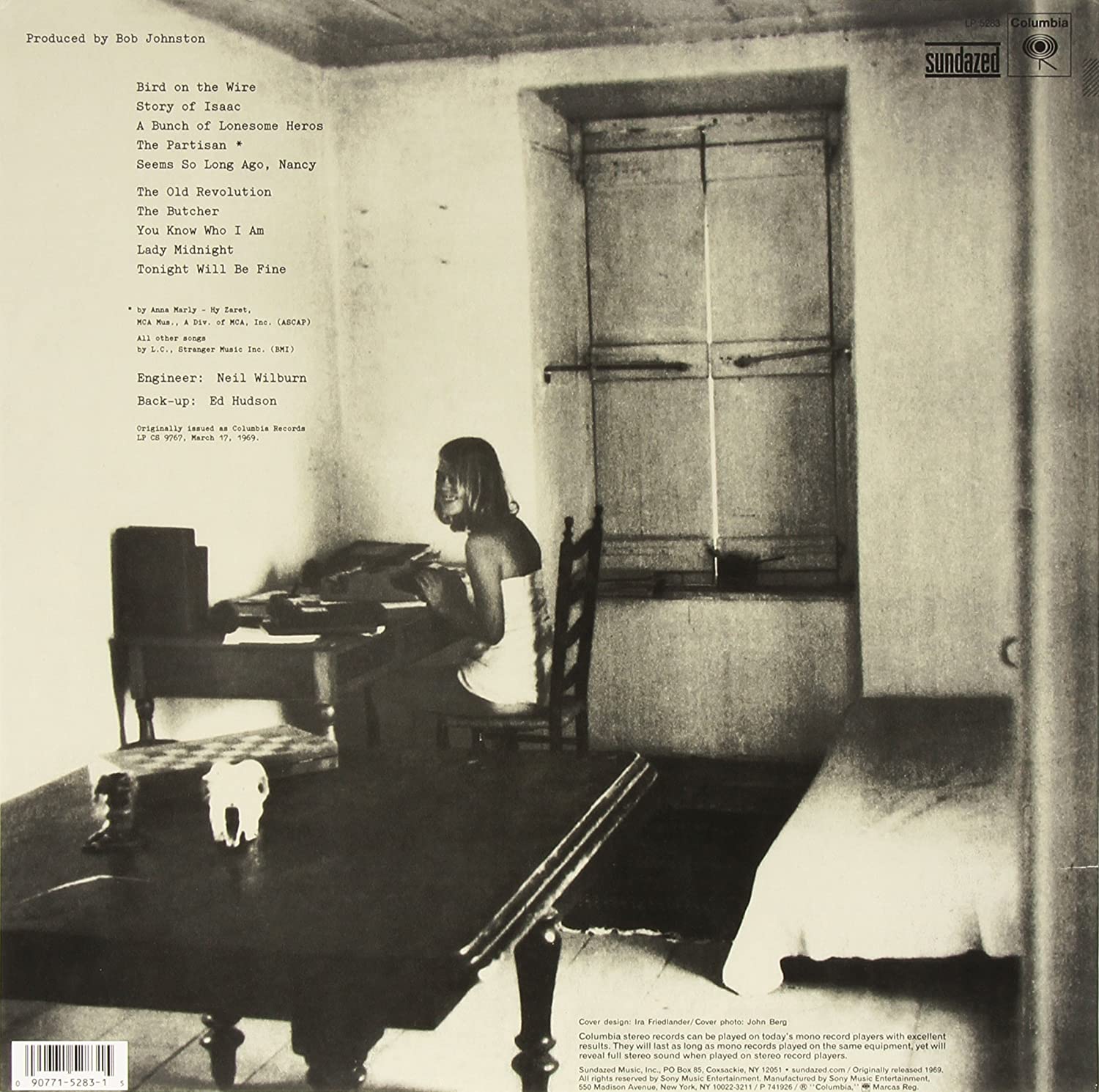 Marianne in Cohen's home in Hydra, on the back cover of the album Songs from a Room, which features "Bird on the Wire"
Another one of Cohen's signature songs, "Bird on the Wire", featured in his second album Songs from a Room, was inspired by his life on the island. When he first arrived in Hydra, there were no telephones and no regular electricity; once the government eventually installed the necessary infrastructure, the wires stretched across his windows, which depressed him, making him think that he wouldn't be able to escape modern civilisation and live "this eleventh-century life" he thought he had found for himself. As Marianne Ihlen recounted, they then observed the birds "landing on the wire like notes on a music sheet"; she brought Cohen his guitar and he began to compose the song, which he later finished in a Hollywood motel.
Even after he stopped living on Hydra, the island kept a special place in Cohen' heart, and he would often visit it in the following years. He was also remembered fondly by the locals. In his poem "Days of Kindness", published in his 1993 collection Stranger Music: Selected Poems and Songs, Cohen looks back on his life in Greece and his former relationship with Marianne. He opens the poem with the lines:
Greece is a good place
To look at the moon, isn't it
You can read by the moonlight
You can read on the terrace
You can see a face
As you saw it when you were young
There was good light then
Oil lamps and candles
And those little flames
That floated on a cork in olive oil […]
Books & Films
As with Clift and Johnston, Cohen and Ihlen's ill-fated romance has inspired writers of both non-fiction and fiction books, like Kari Hesthamar in So Long, Marianne: A Love Story and Tamar Hodes in The Water and the Wine, one more novel set in the bohemian expat community of Hydra.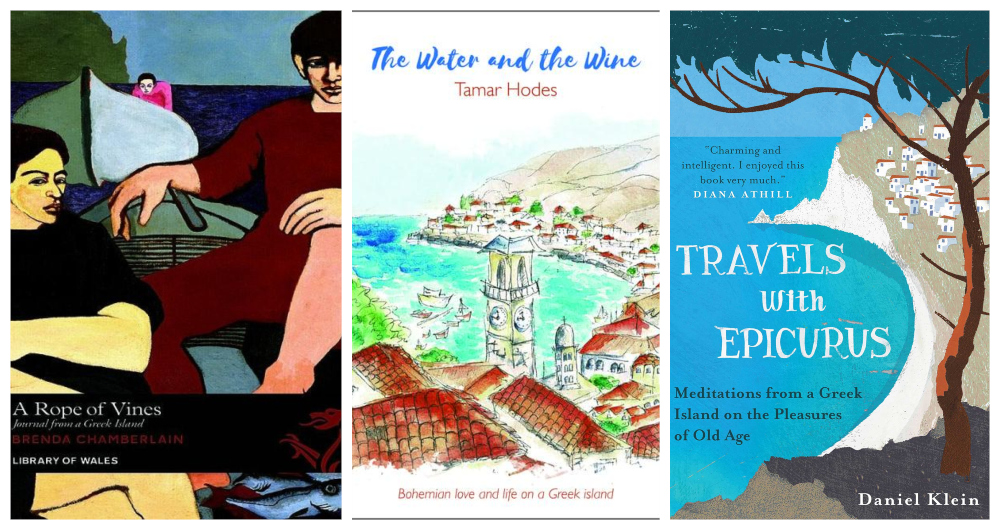 As the island has been a refuge for many more who sought a quiet paradise or a new approach to life, it features heavily in several other biographical books and personal memoirs, like Brenda Chamberlain's A Rope of Vines – Journal from a Greek Island, an account of the artist's life on 1960s' Hydra, poet Roger Green's Hydra and the Bananas of Leonard Cohen, where he relates his life in a Hydra house overlooking Cohen's garden, and Daniel Klein's Travels with Epicurus: Meditations from a Greek Island on the Pleasures of Old Age, where he records his journey to Hydra to "discover the secrets of aging happily".
The island has also provided the backdrop for a number of novels, from Lawrence Osborne's thriller mystery Beautiful Animals and Ruth Larrea's Fragments of a Dream, to parts of the novels The Sea Change by Elizabeth Jane Howard and Fugitive Pieces by Anne Michaels – the latter of which was also made into a motion picture that used Hydra among its filming locations.
Blessed with distinctive landscapes which have been an inspiration to painters for decades, and located only two hours away from the port of Pireus, it's not surprising that Hydra has in fact served as a setting for several films. It started with The girl in black (1956), a drama by acclaimed Greek director Michael Cacoyannis, which was awarded the Golden Globe for Best Foreign-Language Film. The following year sees the release of Jean Negulesco's Boy on a Dolphin, where bombshell Sophia Loren stars as a poor Hydriot sponge diver who discovers an ancient Greek statue. Jules Dassin used Hydra as one of the main locations where he shot Phaedra (1962), a drama -based on Euripides' eponymous play- starring his muse, Melina Mercouri. More recently, Michael Winterbottom's The trip to Greece (2020), the latest installment in his comedic travelogue series, featured extensive shooting on Hydra, and referenced its expat community, especially Cohen.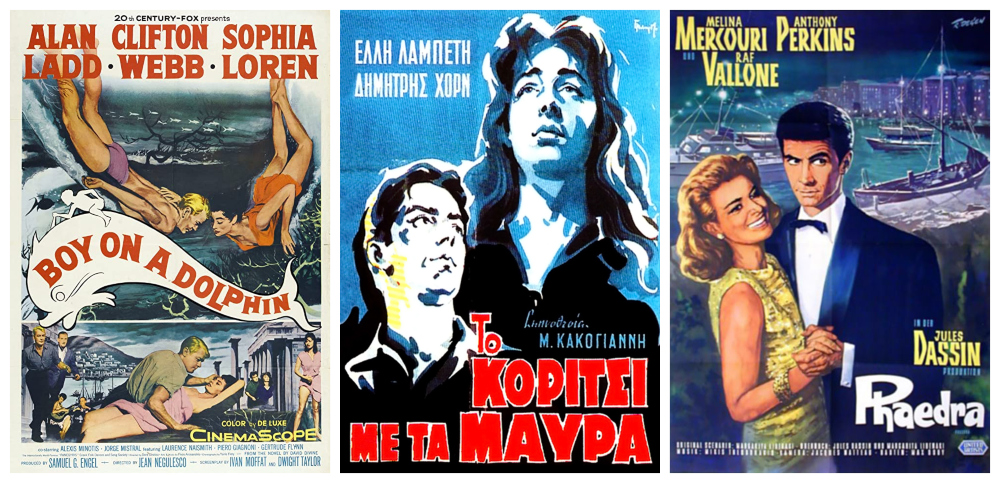 To this date, and despite its tourist development, Hydra retains its quaint charm and character. Its rugged hillsides, distinctive architecture and car-free streets continue to inspire and attract artists from around the world. Many have houses there, such as the American painters Brice Marden and Michael Lawrence, or musician David Gilmour of the Pink Floyd fame, whose wife Polly Samson wrote the novel A Theatre for Dreamers; many more arrive each year for the annual summer exhibition at Deste foundation. Even in our less romantic times, Hydra keeps its status as an artistic destination. In the words of American poet Kenneth Koch, "once you've lived on Hydra you can't live anywhere, including Hydra".
Nefeli Mosaidi (Intro image: Hydra by Ioannis Houvardas via Wikimedia Commons)
Read also via Greek News Agenda: Ghika – Craxton – Leigh Fermor: Charmed lives in Greece; Between peasants & intellectuals: Patrick Leigh Fermor's Greek friends; Henry Miller: On friendship, light and a paradise lost in Greece; A digital journey into the world of Hadjikyriakos-Ghikas; Film of the Month: "The Girl in Black" by Michael Cacoyannis
TAGS: ARTS | LITERATURE & BOOKS | TOURISM