In the exhibition "Light. Stephen Antonakos and the Russian avant-garde" (extended until October 18, 2020), the Alex Mylona Museum pays tribute to the pioneering Greek-American artist Stephen Antonakos (1926-2013). Curated by John Bolis, the show features 67 prints that had been donated to the Metropolitan Organization of Museums (MOMus) by Antonakos; they are showcased alongside Russian avant-garde artworks from the Costakis Collection of the MOMus-Museum of Modern Art, as well as two of the artist's neon compositions from the Alpha Bank Collection.
PHOTOS | (Left) Stephen Antonakos in the studio, 2011. Photographer: George Kokkinos, New York | © Stephen Antonakos Studio LLC
(Right): Light. Stephen Antonakos and the Russian avant-garde, Installation view. Photographer: Spyros Katopodis | © Metropolitan Organization of Museums (MOMus), Greece
"There are great roads that can be explored and bear fruit from the study of the relationship between the works of Russian pioneers and the specific and abstract geometry that I use in a variety of media, in my own works," wrote Stephen Antonakos himself in one of the explanatory letters he had sent, in 2012, explaining his donation.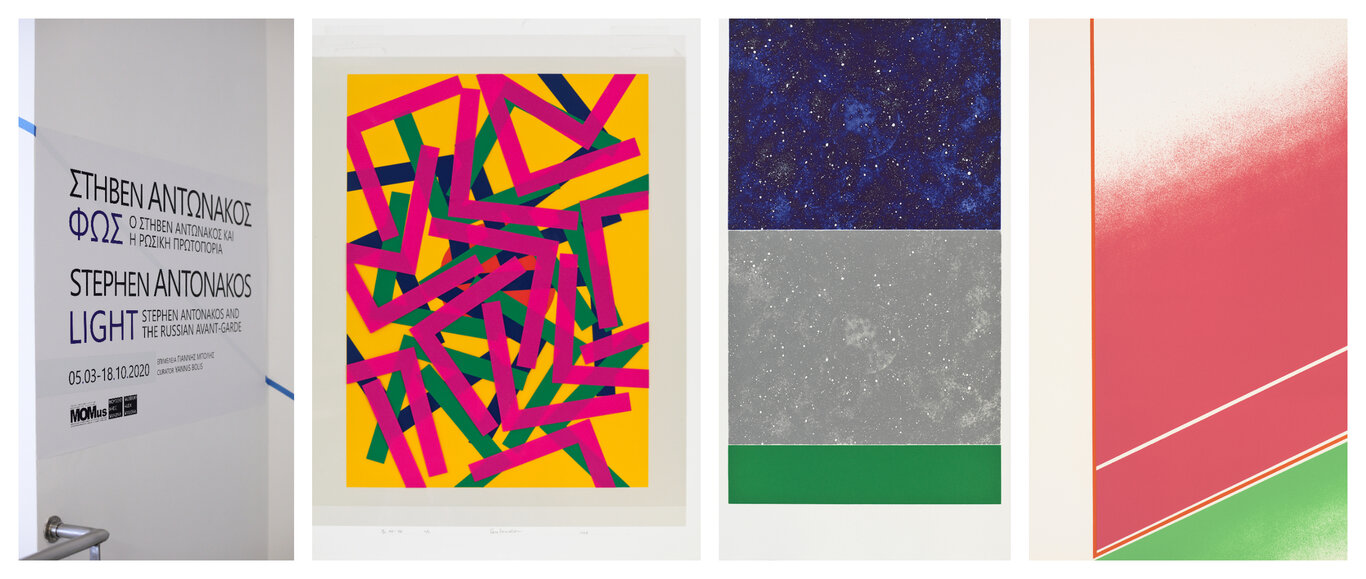 From the exhibition "Light. Stephen Antonakos and the Russian avant-garde" (Stephen Antonakos' artworks from left to right): I.
Untitled, 74 x 53 cm, silkscreens (magenda, green, blue, red-orange) on white rag paper, 1988, II.
Sky of Mani, 75,9 x 56,5 cm., zinc plate, aquatint on white BFK River's paper (10/17), 1987, III.
Orange Line (Greensboro Suite), 51 x 40,6 cm., stone lithography on white rag paper, (12/35), 1970 | All images, copyright © MOMus-Museum of Contemporary Art-Macedonian Museum of Contemporary Art and State Museum of Contemporary Art Collections
Stephen Antonakos was born in the small village of Agios Nikolaos (Laconia, Greece) in 1926 and moved to New York, US with his family in 1930. He attended the New York State Institute of Applied Arts and Sciences in Brooklyn and began his career as a commercial illustrator. For as long as he could remember, he was an artistically-inclined child:
"I drew. I remember that is all I've ever done and I thought of doing nothing but to draw. I had no other interests" said Antonakos in an interview with the Detroit Institute of Arts -Archives of American Art (1975).
However, around 1960, it became clear that neon would become the artist's main medium, which he would use as a painter uses paint. More specifically, Antonakos called neon a "controlled paradise"; this phrase indicates both the innate rigor of his vision and his readiness to discover new possibilities. It all started with an early-1960s series of pillows that married cloth, text, and metal among other objects. The last pillow in the series incorporated the word "DREAM" in neon, and with that, Antonakos found his calling. Thereafter neon became his primary medium. In his early work, he used it to emphasize the physical mass of neon tubes, and in later sculptures, he employed it to highlight its calming glow. In the 1970s he began to focus on large-scale public art installations in the US, Europe, and Japan, each designed specifically for the environment in which it was placed.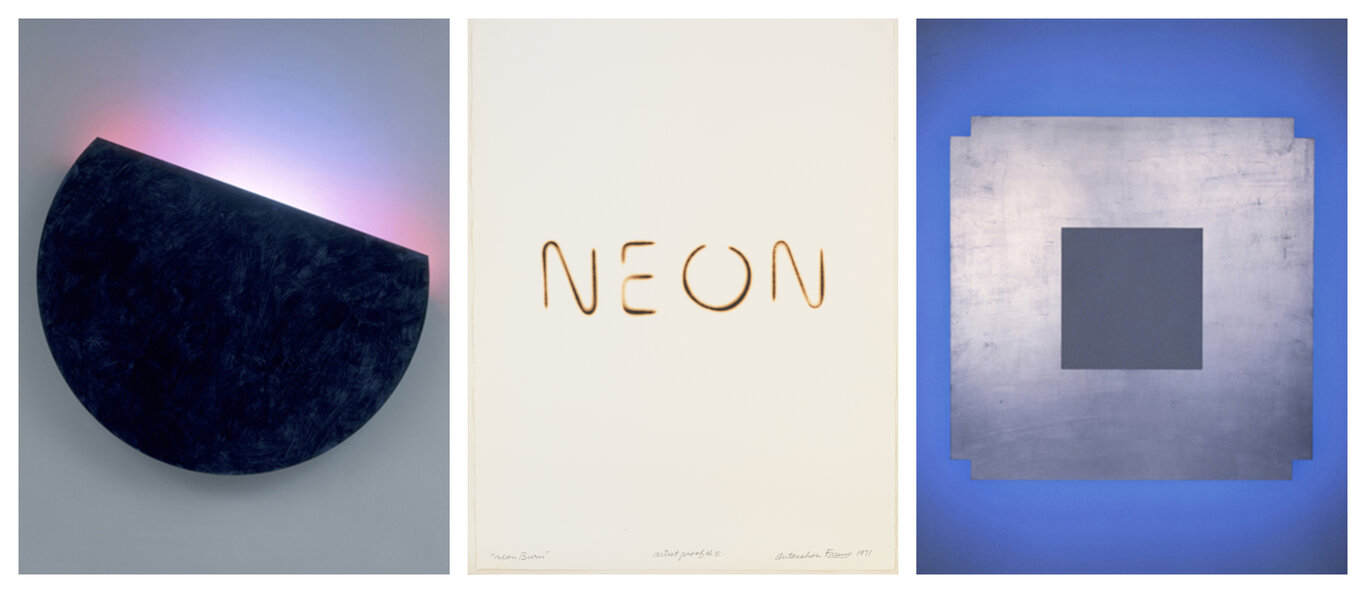 Stephen Antonakos | NEON artworks (from Left to Right): I.
"Lift Up" 2005, 3′ diameter, II.
"Neon Burn" 1971, Burn on white Arches paper, 30 1/4" x 22 1/4", Made by the artist at the University of California, Fresno /7, 6 Artist's proofs | Signed, titled, numbered, and dated at the bottom front | Photo by Jeffrey Sturges, NY, III.
Untitled (for my mother Evangelia) 1987, 3′ x 3′ | All images copyright © Stephen Antonakos Studio LLC
Antonakos' art is based on light, scale, proportions, and the relations between geometric forms and their overall relation to their site. It has nothing to do with neon's previous uses, only with its new capabilities as purely abstract linear and spatial color. Antonakos turned away from illusions, allusions, representations, metaphor, and symbol: he defined his art as "real things in real spaces, here and now." He felt that each viewer's direct experience in the space defined by the art was the completion of what the artist started. Through this engagement, partly mental, partly kinetic, he hoped always to reach the inner person — with the large-scale Public Works no less than the Panels, the Chapels, the work on paper.
In fact, Antonakos' work with neon since 1960 has lent the medium new perceptual and formal meanings in hundreds of gallery and museum exhibitions first in the US (Metropolitan Museum of Art, the Museum of Modern Art, the Guggenheim Museum, and the Whitney Museum of American Art in Manhattan; the Brooklyn Museum; the Philadelphia Museum of Art) and then internationally. In total, there have been over 100 solo and 250 group shows including a 50-year retrospective exhibition in Greece and the United States. As for his large-scale Public Works, Antonakos ultimately created more than 50 outdoor and indoor neon installations including Rooms, entire buildings, and Walls. Thus, his art has appeared in spaces as diverse as airports in Atlanta, Milwaukee, and Bari, Italy; a power station in Tel Aviv; a police station in Chicago; and metro stations in Boston, Baltimore, Detroit, and Athens.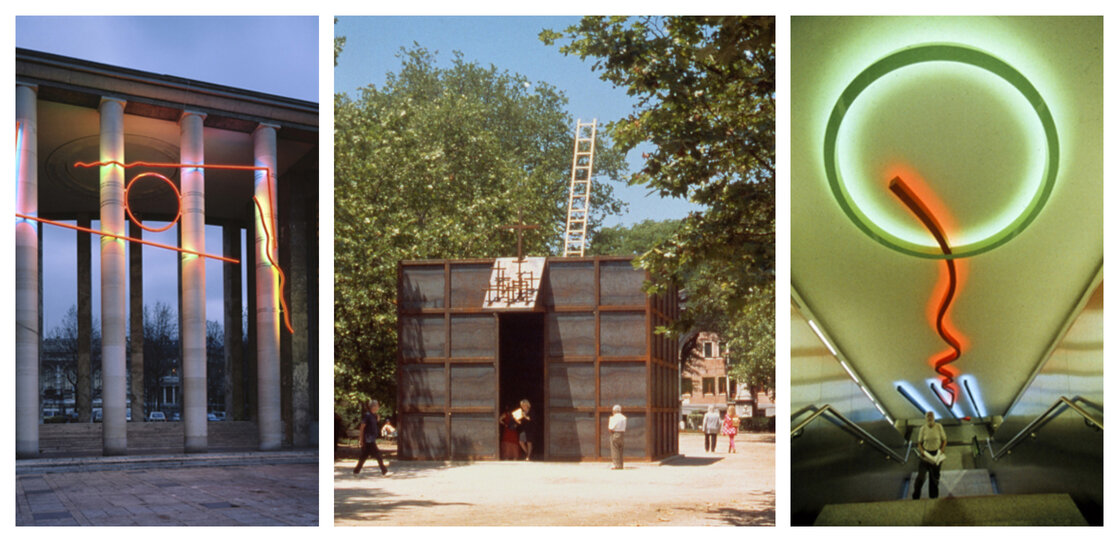 Stephen Antonakos | Public Works (from Left to Right): I.
"Neon for Paris" 1983, 28′ x 39′ x 6″, Exhibition "Electra", Musee d'Art Moderne de la Cite de Paris, II.
"The Chapel of the Heavenly Ladder" 1997, Iron, neon, painted steel, Walls: 18'6" x 23′ x 23', Ladder: 40' x 18", Location: XLVII Biennale di (Venezia, Italy) June 15 – November 9, 1997, III.
"Procession" (detail) 2000, Ambelokipi Station, Attiki Metro, Athens, Greece | All images copyright © Stephen Antonakos Studio LLC
As for his home country, Antonakos began exhibiting in Greece in the late 1970s with Galerie Jean and Karen Bernier (with the participation of Alexandre Iolas), the Ileana Tounta Contemporary Art Center, Kalfayan Galleries, and Citronne Galerie. Major works are held by the National Museum of Contemporary Art, Athens; the State Museum of Contemporary Art, Thessaloniki; and the Macedonian Museum of Contemporary Art, Thessaloniki. Special mention should also be made to Antonakos' contribution to the Greek pavilion in the 1997 Venice Biennial, with his artwork titled "The Chapel of the Heavenly Ladder", inspired by reproductions of John Klimax's "Icon".
"It seemed natural to exhibit work with these qualities, and that was rooted in Byzantine art, in response to the invitation to represent Greece at the Biennale" explained Antonakos in an interview (1998, Sculpture Magazine).

Stephen Antonakos Book "Alphavitos: Etchings, cuts, collage, etc., 76 pages, 19 1/2″ x 15 1/2″ x 2 5/8″ | Copyright © Stephen Antonakos Studio LLC
In 2011 an important silver Relief was added to the collection of the Byzantine and Christian Museum, Athens, in homage to Dimitris Konstantios (Museum's Director, 1999-2010). He was the first to recognize the Byzantine echoes, or roots, in Antonakos's work. Later that year, the artist found great inspiration in Elefsina, where he located 34 site-specific indoor and outdoor neon installations throughout the old Elaiourgio. He called it "THE SEARCH".
"I do think that there is a real echo of Greek culture in me and in my work which living and working in New York has never erased…And I think this is true for other strong Greek artists who live and show outside of Greece […] In Greece, the basic themes in my work are fed and taken in naturally…" | Stephen Antonakos in his own words: 8 Readings (by Allentown Art Museum).
More info & Special Thanks to: MOMus and Stephen Antonakos Studio LLC
E.S.
TAGS: ARTS | ATHENS | FESTIVALS | GLOBAL GREEKS | HERITAGE