The Greek Dances Theater "Dora Stratou" in Athens is a unique institution of its kind with various activities all centered around Greek folk dances. It is actually a "sui generis" theater that includes a highly original dance troupe continually engaged in training and research activities that make this center a true living museum of Greek dances. It is subsidized by the Ministry of Culture and the National Tourist Board under the auspices of the Municipality of Athens. It collaborates with The International Dance Council of UNESCO and organizes major festivals annually.
Dora Stratou
Dora Stratou was born in 1903 to an upper-class family in Athens. She took piano, singing and foreign languages lessons, and had a passion for music and theater. After the death of her father, she lived abroad for many years and returned to Greece in her thirties, when she became engaged in the intellectual circles of the time. After witnessing a performance by a Yugoslavian dance ensemble on tour, she had the idea for a national folk dance ensemble that would perform frequently (something Greece lacked at the time) and managed to secure public and private funding for her society.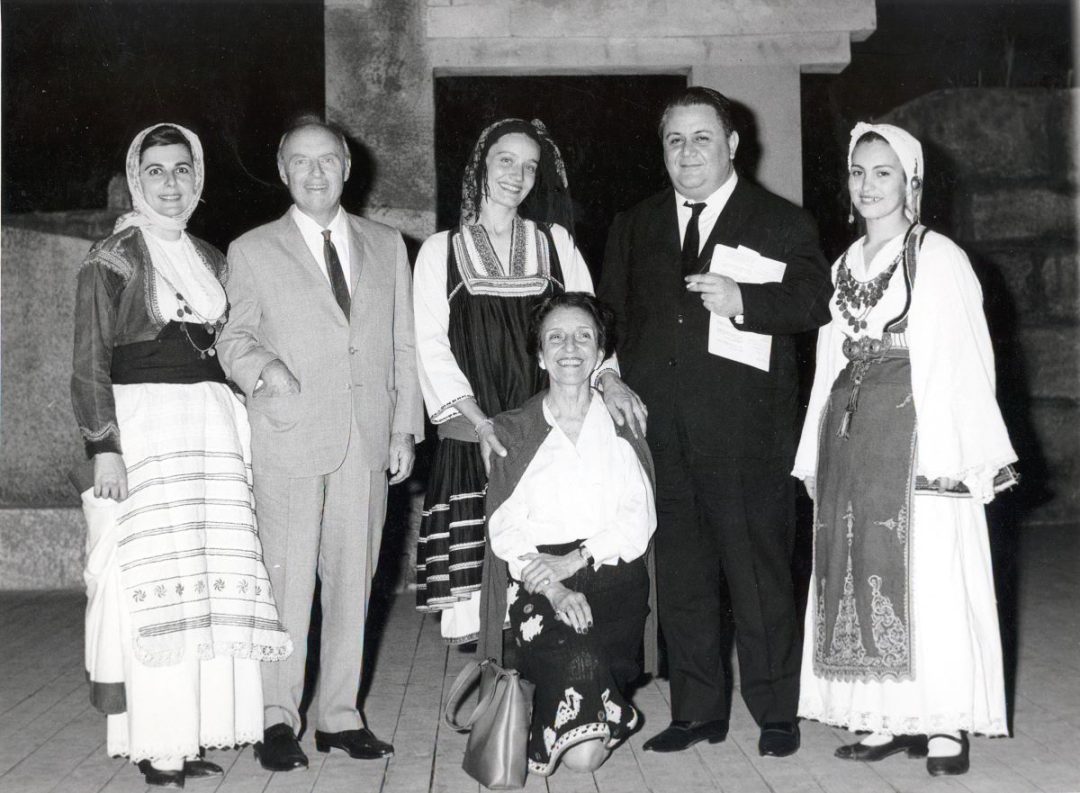 The Greek Dances-Dora Stratou Society
The Greek Dances-Dora Stratou Society was founded in 1953 by Dora Stratou, who was also its president until 1983. Through her efforts she succeeded in engaging several public and private institutions, which contributed to the realization of her project of "a living museum for Greek dances." The Association consists of around 100 people from various professional and scientific fields, including Greek and foreign researchers and academics from various disciplines.
Since 1987 position of the president is held by Prof. Alkis Raftis. Prof. Raftis is president of the Executive Committee of the International Dance Council CID-UNESCO and a board member of the International Organization for Folk Art IOV and other organizations. He is a specialist in the field of dance sociology, has taught in four universities and has published numerous books and articles on Greek dances in several languages.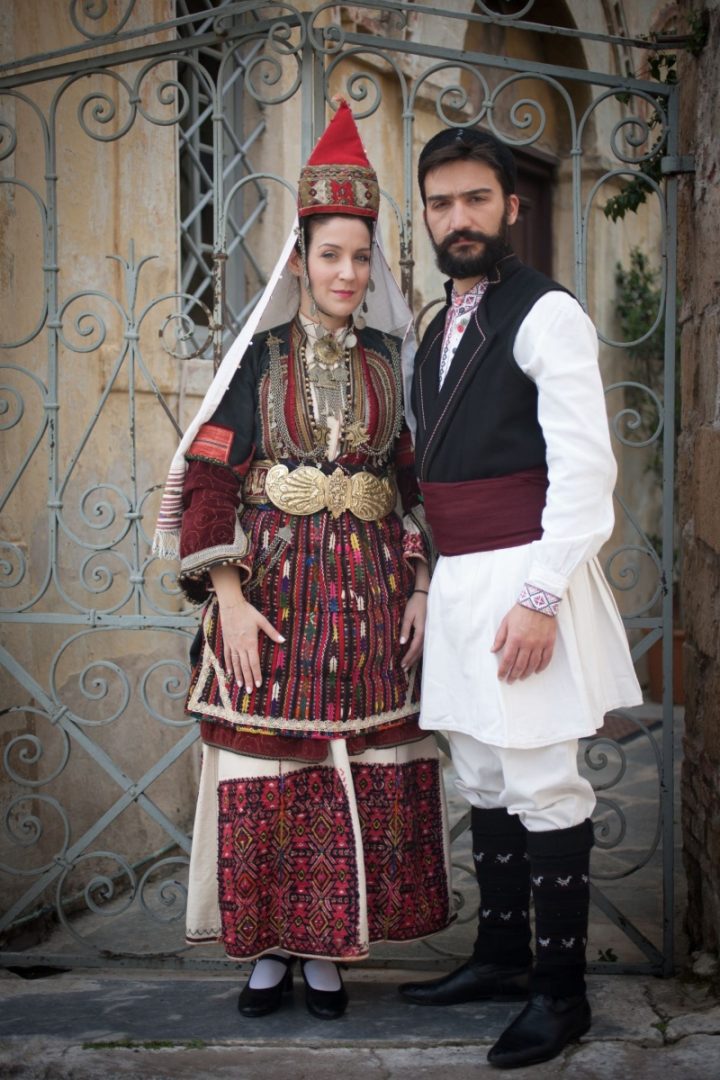 Folk costume collection
The Theater's folk costume collection is the largest and most valuable of its kind, featuring around 2,000 costumes, with their accompanying jewelry and accessories, the fruit of many years of on-site research by Dora Stratou in various villages around the country. Each costume (either for a man or a woman) consists of several pieces of clothing, while the collections also includes folk jewelry and other accessories such as footwear, kerchiefs, masks, swords, etc.
The collection also serves as the theater's wardrobe for dance performances, with about 1,000 costumes being worn over each season. Specialized staff is in charge of the clothes' proper storage, cleaning and maintenance; they also teach the dancers the correct ways to put on the costumes and help them handle the items properly so as to avoid any damage to the fabrics.
The collection features 98 types of traditional costumes (from various Greek villages) for females and 44 different types for males, with ten or more duplicates for each type. Some of these are extremely valuable, including clothes with goldwork embroidery. Every item (approximately 12,000 in total) is registered in a database, and the photographs of the costumes and jewels comprise the first an extensive digital collection of folk costumes in Greece.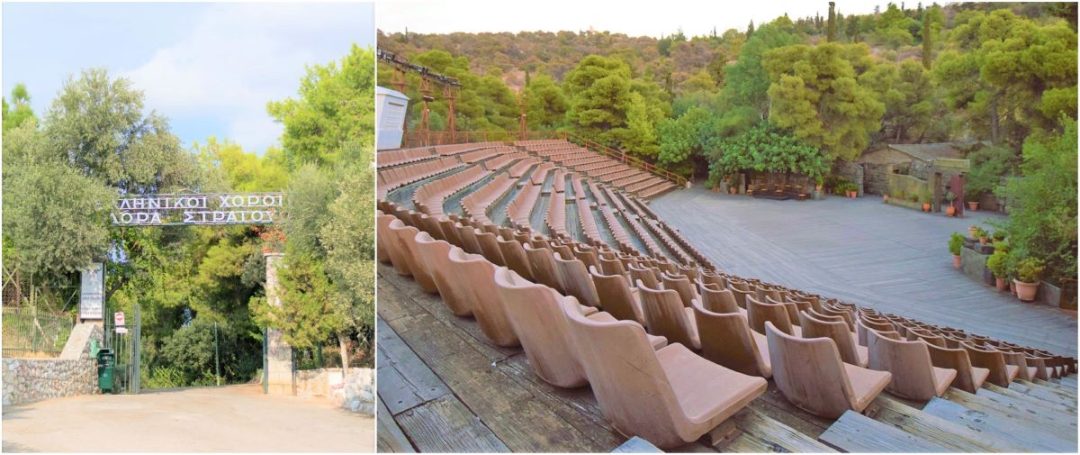 Dances and music
Learning how to correctly perform the various local styles of traditional Greek dances takes years of practice alongside experienced dancers. The leader of the dance group plays an important role in setting the right tone for the other dancers and also the musicians. Instead of hiring dance teachers and choreographers, Dora Stratou Theater invites dance companies from various villages to share their expertise. The group consists of 50 dancers, 25 men and 25 women. It also includes dancers from regions with particular dance styles, such as Crete and Pontus, and dancers from other areas on special occasions. The group of musicians consists of 15 instrumentalists and 2 singers.
The theater
An 860-seat open-air theater was built on Philopappou Hill for the "Dora Stratou" society, with a stage created by the famous Greek painter Spiros Vassiliou. The theater is located opposite the Acropolis, amidst a pine forest. The stage is large enough to allow dances to be performed in a circle, as is usually the case during festivals in village squares. An enclosed hall has been built next to the theater for rehearsals and classes.
There are several performances each week, from the end of May to the end of September. The program changes every 2 weeks so that different regions and dance styles can be presented. The winter period is devoted to touring in Greece and abroad, and so far about 6,000 performances have been given in 22 countries, attended by about 3,000,000 spectators.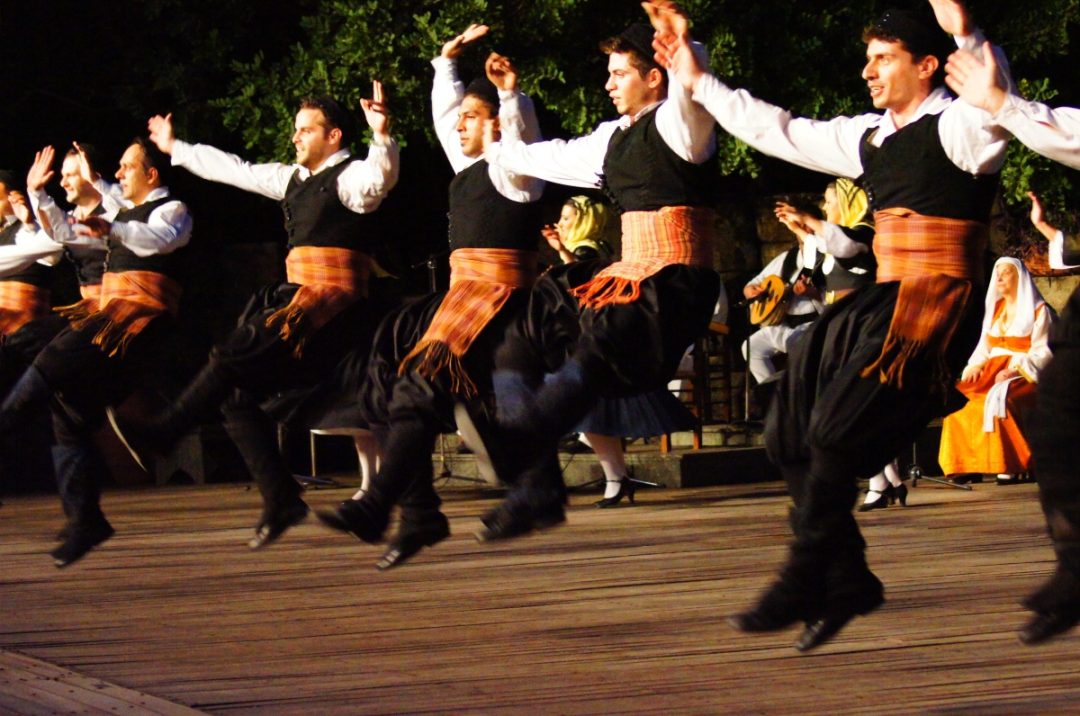 Cultural and educational initiatives
Cultural events and educational programs are also held by society; there is a program of classes for beginners during the winter period, while in the summer seminars are held, in English or French, for foreign students interested in Greek folk dances. In addition, the company's principal dancers are often invited abroad to hold classes and workshops with foreign companies. Meetings on topics related to music and dance are held weekly during the winter period. 250 such meetings have been held with the participation of university professors, researchers and artists.
Archive
Through the systematic recording of local groups that have performed at the theater, but also through on-site research in various villages, an extensive and valuable archive has been formed, which helps the dancers with the faithful representation of dances in their performances. The archive is complemented by a library of 10,000 books and articles on dance, ethnography and other related topics. An equally rich archive exists for traditional music. From studio recordings, the largest existing series in the discography of folk music has been published: 50 discs with songs and dance tunes from all regions of Greece.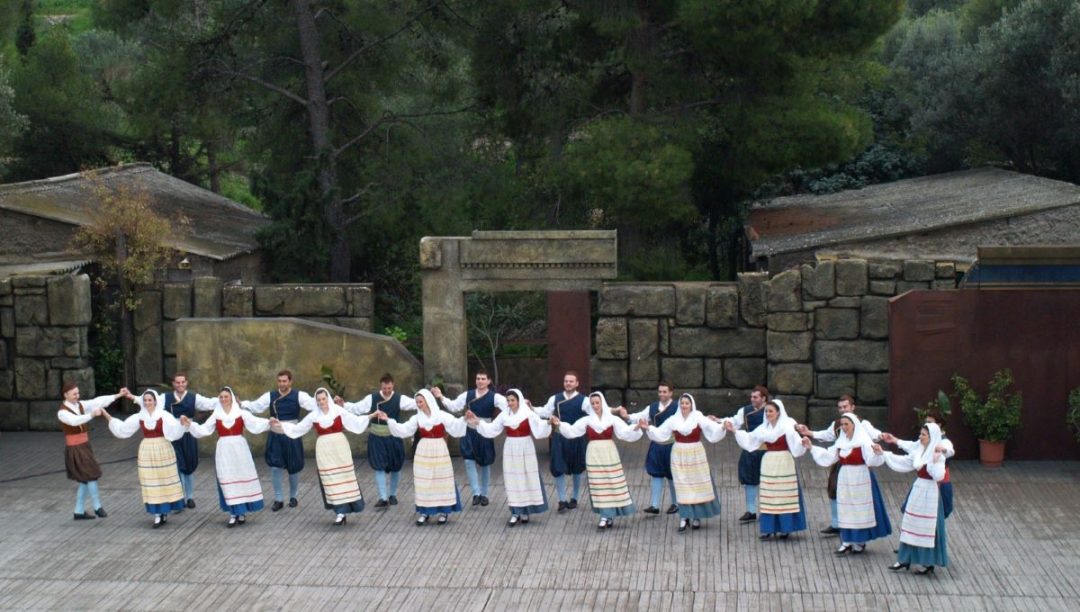 More than 50 books in various languages, programs, cards and videotapes have also been published, along with CD-ROMs on the art of dance and on traditional costumes. The society also manages www.dance-pandect.gr, a huge database on Greek dances, thanks to funding from the European Union and the Greek Ministry of Culture and Sports. The offices, wardrobe, and archives are housed in a five-story historic building in Plaka, along with the exhibition, lecture hall, and costume conservation laboratory. The building was the residence of the British historian of the Greek Revolution, George Finley.
Read also via Greek News Agenda: The Museum of Greek Folk Musical Instruments "Fivos Anoyanakis"; Karaghiozis: the tradition of Greek shadow play
N.M. (Based on the original article which appeared on Punto Grecia, with information from the official site of the Greek Dances Theater "Dora Stratou"; all photos appear courtesy of Dora Stratou Dance Theater.