Endy Zemenides is the Executive Director of the Hellenic American Leadership Council (HALC), a national Greek American advocacy and public education organization. In his capacity as Executive Director, Endy oversees staff and non-resident fellows in Chicago, New York, Washington D.C., and Athens, and a national advocacy network – with members in every single state in the U.S. Prior to joining HALC, Endy practiced law in Chicago for over a decade, specializing in municipal law and government relations. He represented Fortune 500 companies, entrepreneurs, and municipal bodies like the City of Des Plaines and the Illinois Sports Facilities Authority. He also provided pro-bono representation to a variety of civic institutions like the Chicago-Athens Sister Cities Committee, the National Hellenic Museum, and the National Museum of Mexican Art. From 2006-2010 he served as Senior Advisor for Illinois State Treasurer and Democratic candidate for U.S. Senate Alexi Giannoulias. Endy is in the Leadership Circles of the Chicago Council on Global Affairs, where he has also been an in Emerging Leaders fellow. Endy's policy experience also includes participation in the Aspen Institute's Socrates Program, service on the editorial board and board of advisors of the National Strategy Forum and lecturing in international relations and American foreign policy in DePaul University's political science department. Endy presently serves on the Board of Directors and as Audit Committee Chairman for New York's Spring Bank and on the University of Chicago Booth School of Business' Civic Scholars Program Advisory Committee. Endy attended DePaul University where he graduated with a B.A. in Political Science with highest honors in 1995. He capped his years at DePaul with a semester at College Year in Athens the winter and spring of 1995. He then received an M.A. in the Theory and Practice of Human Rights from the University of Essex (U.K.) with highest distinction. After spending one year as a research associate at the National Strategy Forum in Chicago, Endy attended Georgetown University Law Center, graduating magna cum laude in 2000. While at Georgetown, Endy was a fellow at the Harrison Public Policy Institute and editor of the Georgetown Journal of International Law.
Zemenides talked to Greek News Agenda* about HALC' s achievements, stressing that they have built a solid base of tens of thousands of supporters/Hellenes, as well as constructed aliances with other communities,such as the Jewish-American and Armenian-American ones. Zemenides elaborates on HALC' s Leadership 2030 program, which aims to create an entire generation of Greek-American leaders. Asked about positive features as regards Greece's image in the US, Zemenides refers to the legacy of ancient Greece and tourist attractions, while highlighting the role of the Greek community with its achievements and contribution to American society. He concludes that HALC's goal is to keep these Greek American high achievers connected to the larger Hellenic identity and community.
Εndy Zemenides: "we have built an infrastructure of tens of thousands of Hellenes"
What's the mission of HALC?
HALC's mission statement provides that we have been established to chart a new course for the Greek-American community: to ensure the continuity of a distinct and distinguished Greek-American community; to promote a renewed commitment to civic involvement, human rights and democratic values in the United States and around the world; and to enhance the historic relationship between the United States and Hellenism.
I could go on and on as to what all of this entails, but we were formed in order to preserve overseas Hellenism by promoting not only Hellenic issues and culture – which we do through our engagement with policy makers, thought leaders and academic and civic institutions – but through promoting Hellenes themselves. If we help the most dedicated members of our community reach the top of American corporate, academic, professional, civic and political life, Greece, Cyprus, our community, our church, our heritage will all be better off.
What would be HALC's major achievements?
We have had several policy achievements, but there are two achievements that I am particularly proud of. First of all, we have built an infrastructure of tens of thousands of Hellenes who are promoting our agenda. We have hundreds of core members who are consistently present in a variety of forums, who meet with their members of Congress in D.C. and back at home, and who dedicate time to learn more about policy issues, about history, about the challenges we all face as Hellenes. Add to these core members the people who participate virtually – people who have posted or tweeted, the people who have sent nearly one million communications to the White House, State Department, Congress, the United Nations and others, the people who call their representatives – and you have an army of committed Hellenes who have shown the willingness and ability to act as a community in a consistent manner.
The second major achievement is the alliances we have built. The Greek-American community has always had somewhat friendly relationships with the Jewish American and Armenian American communities, but we've taken that cooperation to another level. With the American Jewish Committee (AJC) we helped form the Congressional Hellenic Israel Alliance caucus in the U.S. Congress; we've established the #FromAthenstoJerusalem mission for younger leaders in both communities; we've carried out joint advocacy and public education activities in multiple cities around the U.S. We've established a similar relationship with the Armenian National Committee of America (ANCA). Recently, we've expanded our formal partnerships to include Assyrian Americans (A Demand for Action), Middle Eastern Christian Americans (In Defense of Christians), and Serbian Americans.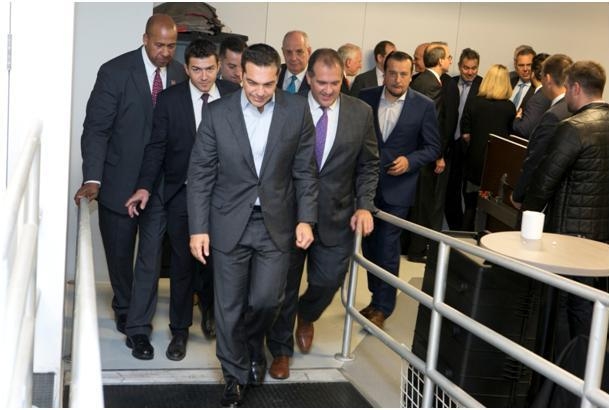 Photo from the visit of PM Alexis Tsipras to Chicago in October 2017. Endy Zemenides: "HALC has helped Greece and Cyprus project relevance outside of Washington/New York/Boston"
Can you distinguish some special milestone in HALC's actions?
On the policy front, establishing the Congressional Hellenic-Israel Alliance caucus has been noteworthy. It gives us a forum through which to consistently brief members and staffers, and more importantly it elevates our issues from what were once considered (incorrectly, by the way) narrow issues of concern to broader regional issues. To have the oldest Jewish organization advocating for our issues in such a forum is extremely important.
I would also like to note how HALC has helped Greece and Cyprus project relevance outside of Washington/New York/Boston. In our first year, we took advantage of the NATO Summit being hosted in Chicago and hosted the delegation from the then transitional government for successful events on the sidelines of the NATO Summit. We followed a few months later with the first official visit to the U.S. by then Foreign Minister Avramopoulos. Since then, multiple Ambassadors of both Greece and Cyprus, Minister Kikilias, Cypriot Foreign Minister Kasoulides, President Anastasiades of Cyprus, and Prime Minister Tsipras (accompanied by Minister Pappas, Kammenos, and Papadimitriou) have all come to Chicago. Along with these visits there have been three major addresses at the Chicago Council on Global Affairs, meetings with the Governor of Illinois and Mayor of Chicago, meetings with the Congressional delegation from Illinois, and meetings with the corporate and civic leaders of Chicago. By opening up our group's "rolodex" to visiting officials and allowing them to build substantial relationships in the U.S., we help Greece and Cyprus build alliances.
I would like to make special note of the fact that despite three of the great Greek-American leaders of all time – Andy Athens, Chris Tomaras and Ted Spyropoulos – being based in Chicago for decades, Prime Minister Tsipras' visit to Chicago was the first ever visit of a sitting Greek Prime Minister to the city. This was a reflection of the success of the previous visits that HALC had organized, and we look forward to continuing this trend of Chicago becoming one of the most pro-Hellenic cities in the world.
How do you plan to expand the network of Greek American leaders?
We are constantly identifying Hellenes who have distinguished themselves and those who are doing interesting work. There are unfortunately a large number of such individuals who fall into these categories who haven't been engaged by our community and fall outside of the community's organizations. While it is a laborious process, we approach these people individually and get them engaged at whatever level they are ready to be engaged at. And we have seen that the more we engage (and not merely make requests of) these individuals, the more they give back.
But our major goal is to create an entire generation of Greek-American leaders. We are identifying potential leaders who are at a particularly formative stage (30 and under, but have completed at least undergraduate studies at university) and putting them through a specially designed program. This program – Leadership 2030 – gives these young potential leaders a common point of reference, a common knowledge base, mentors from at least two generations ahead of them, and more importantly, it gives them each other. By the year 2030, a few hundred Hellenes (50% men, 50% women) will have passed through this program and we will have a well prepared base of leaders around the United States for the diaspora in the U.S.
How is it to have two identities, the Greek and the American one?
Having these two identities (or this hyphenated identity) is actually awe-inspiring. Everyone in the world is part of something bigger. To be part of these two legacies is a privilege. It is also a great responsibility – it means my heritage includes the vanguards of Western civilization, two of the greatest soft powers in history, two peoples that will always be known for their marks on the world. I find that the more "Greek" I am, the better "American." The motto of the United States, e pluribus unum (out of many, one), can only be brought to life if each of "the many" can bring the fullness of their heritage to the table. And the better "American" I am, the better "Greek" I am as well. If I can help Hellenism have a full seat at the table of American society, that promotes the eternal values of Hellenism, Hellenic history and culture, and can help Greece.
Could you point out certain positive features in Greece's image in the US?
Ancient Greece is wildly popular in the United States. Historically, you've seen this in the Great Books curriculum, popular culture (especially film, literature and sports), and even in the national security realm (one of the most debated theories in American foreign policy right now is the "Thucydides trap"; the Naval Academy teaches about the Battle of Salamina and the Army Academy teaches about the Spartans). Greek cuisine is a great advantage in terms of "soft power" for Greece. Greece itself – especially as a tourist destination – is considered paradise for many Americans, and as tourism from the U.S. increases it will give Greece an even better image in the U.S. (and it will leave Greece richer since American tourists spend more than most other tourists). One of the most underutilized positive features for Greece is its Diaspora. It is amazing how many Americans will tell you that their favorite restaurant is Greek; their doctor/attorney/accountant is Greek; how much they love their Greek neighbor or classmate.
Could you identify what are the major contributions of the Greek and Cypriot Diaspora in the American society?
That would require several volumes. But to think that a diaspora group that has only been in the U.S. for little more than a century has affected American society to such a degree is amazing. Pick ANY part of American society. Politics? There has been a Greek-American Vice President, a Democratic nominee for President, and another major candidate for the presidency. National Security? Greek Americans have served as CIA Director, Director of National Intelligence, and Supreme Commander of NATO. Film and TV? Paramount Pictures, Netflix, HBO Mini-Series, Cinespace Studios are all run by Greek-Americans. As the Washington Capitals celebrate their crown as National Hockey League Champions, it is worth noting that they are owned by a Greek-American, as are the Washington Wizards, the Baltimore Orioles, the Carolina Hurricanes, the San Diego Chargers. Medicine? Ever hear of the Pap smear?
I could give examples in law, media, academia, high tech, pharmaceuticals and elsewhere. The point is that this group that makes up less than 1% of the American population has left an imprint that makes them worthy of Hellenism. It is HALC's goal – and hopefully the goal of Greece – to keep these individuals connected to the larger Hellenic identity and community.
* Interview by Efthymis Aravantinos, Head of Press and Communications Office, Embassy of Greece in Washington DC.
F.K.
TAGS: INTERNATIONAL RELATIONS