Speaking in the official luncheon by the President of the Federal Republic of Germany Joachim Gauck on Monday (18.9) during a two-day visit to Germany that started yesterday, President of the Hellenic Republic Prokopis Pavlopoulos pledged that "the Greek people will meet their commitments in order to remain in the European family" and stressed the importance of Greece's creditors to ease the "unprecedented crisis" that the Greek people are facing, by proceeding with the necessary corrections "especially as regards the sustainability of the public debt and the austerity policy".
Referring to the large number of refugees and undocumented migrants from the Middle East, Pavlopoulos said that Greece does its best, with full respect to the importance of human life and to safeguard its borders, which are the EU borders, noting however that "the migration problem may be tackled only if it is seen as a common, of prime importance, problem of all Member States of the European Union". The Greek President also raised the issue of WWII war reparations from Germany saying that some of Greece's claims from that period continued to be legally active and pursuable through the courts.
German President Joachim Gauck assured that Greece can depend on European solidarity, insisting on Germany's commitment to seeing Greece remain in the European Union and that Athens' reform programme has become one of Germany's main policies. Gauck described the refugee issue as critical and acknowledged that Greece is faced with an even greater burden as a result of the migration flows, in addition to the challenges of economic reform and that there is room for improving European solidarity on the issue, since it is in the common interest of Europeans not to leave Greece struggle securing its borders unaided.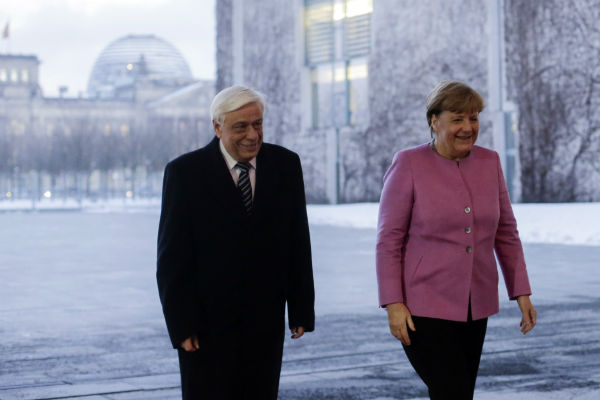 The above issues were also discussed during Pavlopoulos' meeting with German Chancellor Angela Merkel. Pavlopoulos reiterated that Greece will respect its commitments concerning the country's economic adjustment program and the refugee crisis, but Greece's partners must also keep their promise and discuss debt relief as soon as possible after the economic program review, in order to avoid a problem with the seemingly positive growth prospects of the Greek economy.
Calling everyone to work to end the war in Syria, the Greek President described the refugee crisis as an "existential matter" of Europe. Pavlopoulos recognized the need for Greece's collaboration with EU countries and Frontex concerning the guarding of EU's external borders – ruling out joint Greek and Turkish patrols – and pointed to Turkey to live up to its commitment to control the flow of refugees and especially economic migrants who leave from the Turkish coasts, "often with the cooperation of the Turkish authorities".
TAGS: FOREIGN AFFAIRS | GOVERNMENT & POLITICS