Nikos Kazantzakis is arguably the most famous Greek novelist, and among the most translated writers from Greece. A nine-time nominee for the Nobel Prize in Literature, he is especially known abroad as the author of Zorba the Greek and The Last Temptation of Christ, which both garnered additional fame through their respective film adaptations.
His novel O Kapetan Michalis ("Captain Michalis", 1950), known in English as either Freedom or Death or Freedom and Death, is set in his native island of Crete, during the ill-fated Cretan rebellion of 1889. Its central character, the eponymous Cretan fighter, whose sole purpose in life is the liberation of his home island, feels shaken by his love for Emine, wife of Nurey Bey, his Muslim blood brother.
Historical Background
The island of Crete, home to the oldest civilisation in Europe, had first been conquered by Rome in 69 BC, and later formed part of the Byzantine Empire. In 1212, it came under Venetian rule, until it was conquered by the Ottomans in 1669. A number of revolts would break out against the Ottoman Empire throughout the 19th century, starting with their participation in the Greek War of Independence (1821-1830); other notable uprisings took place in 1841, 1866-69, 1878, 1885, 1889 and 1897-98 – with the last one leading to the establishment of the autonomous Cretan State, which was eventually annexed to the Kingdom of Greece in 1913.
In 1878, on the aftermath of their defeat in the Russo-Turkish War of 1877–1878 and of the Cretan revolt of 1878, the Ottomans were forced to sign the Pact of Halepa, recognising Crete as an autonomous state within the Ottoman Empire. In 1889, the unilateral declaration of Crete's unification with Greece by members of the Cretan parliamentary assembly led to the declaration of martial law and the pact's abrogation, with the Ottomans wreaking havoc among the Christian population.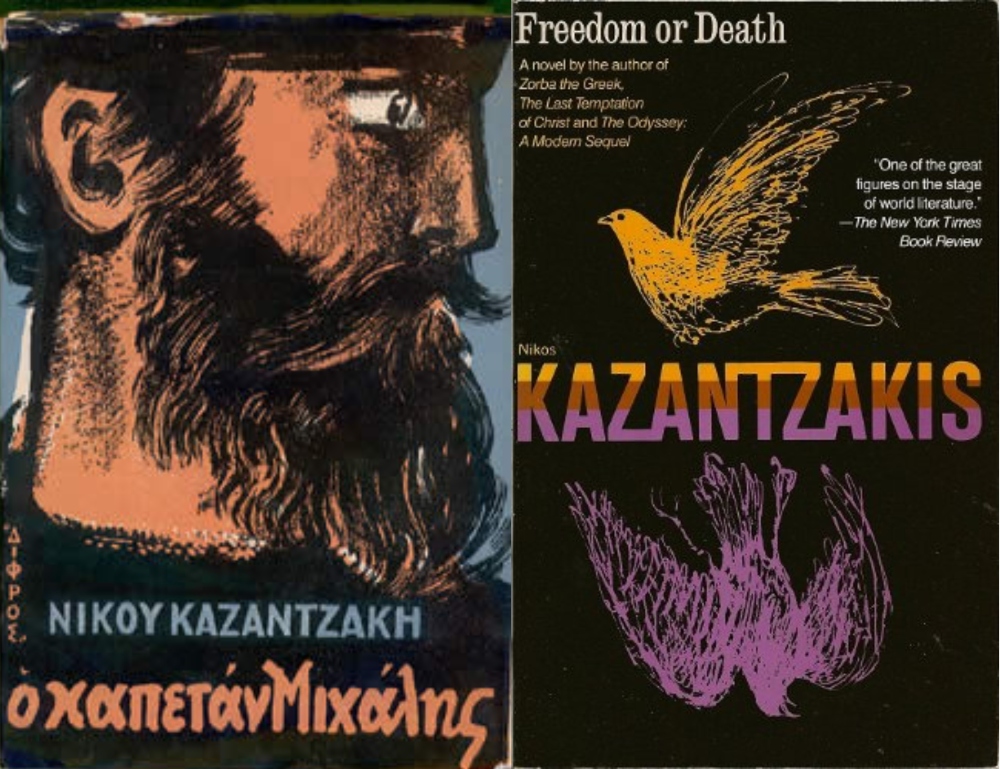 Captain Michalis – Freedom and Death
The book is set in Heraklion, then referred to as Megalo Kastro ("Big Fortress"), and its nearby villages. Its protagonist, Michalis, is the "captain" (leader) of local rebels who fight against the Ottoman rule, whose love for the beautiful Emine will make him temporarily stray from his principles. Presented as a stern man, fully dedicated to the Cretan cause, his character is believed to have been partly inspired by Kazantzakis's own father, who was also named Michalis. The book also features a multitude of characters whose portrayals and intertwining stories paint a lively canvas of the island and of the Cretan psyche.
Michalis's quest for freedom goes beyond the struggle for national emancipation, and marks a metaphysical longing for true liberty from all the shackles and conventions of society. Just like the author's most famous character, Alexis Zorbas, and Odysseus from his epic poem The Odyssey: A Modern Sequel, Captain Michalis exemplifies Kazantzakis's ideal of a truly free person: one who has let go of all fear and all hope, does not cower before death. This life stance was clearly expressed in his iconic philosophical work Ascesis: The Saviors of God, and later crystalised in the motto "I hope for nothing. I fear nothing. I am free." which he chose as an epitaph for his grave.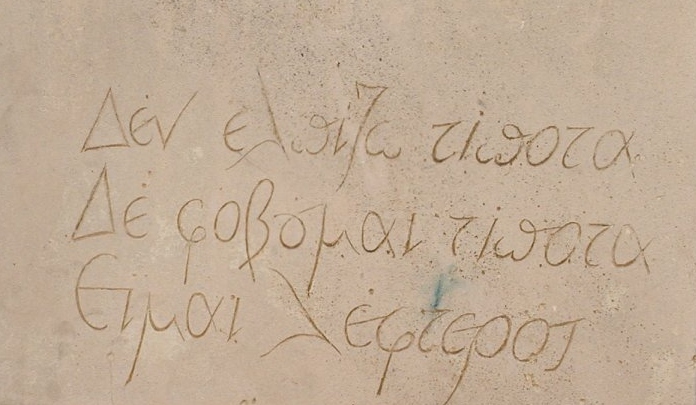 The epitaph on the grave of Nikos Kazantzakis
This novel is arguably Kazantzakis's most obvious tribute to his Cretan heritage. Besides the historical backdrop of the island's long-lasting fight against the Ottoman occupation, and the liberal use of the Cretan idiom, it is also obvious that he drew inspiration from the rich Cretan folk tradition, lacing his prose with lines and imagery from folk songs, Cretan mantinades or from Vitsentzos Kornaros's romance Erotokritos. As famous writer Lawrence Durrell had written in his praising review of the book, the Cretan dialect "is a peculiarly rich and rugged one and its skilful and selective use gives the novel a rough surface and an authenticity of line without in any way making it a costume-piece".
The novel has been translated into over 20 languages, including German, French, Italian, Spanish, Portuguese, Swedish, Hebrew, Russian and also Turkish. It has been translated into English by Jonathan Griffin, and was published first in the USA under the title Freedom or Death, a novel (1955), and then in the UK as Freedom and Death, a novel (1956).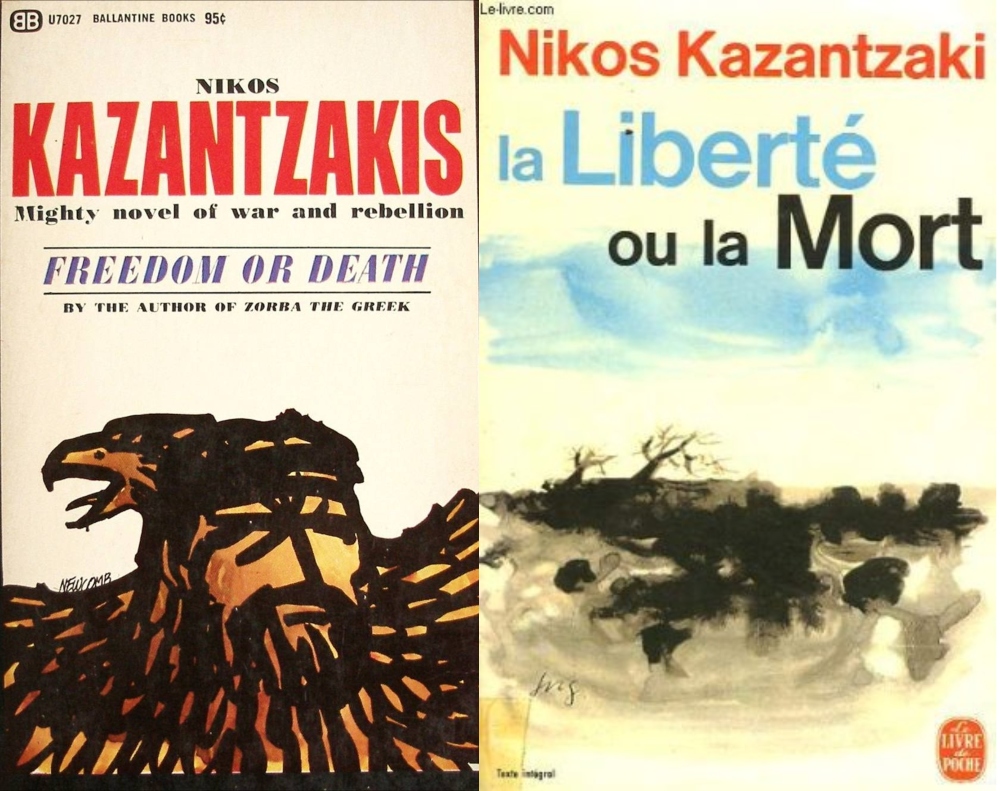 Nikos Kazantzakis
Kazantzakis was born in Heraklion, Crete, on 18 February 1883 (O.S., 2 March N.S.), when the island still under Ottoman rule. He studied Law at the University of Athens (1902-6) and in 1907 he left for Paris to study philosophy at postgraduate level at the Sorbonne, where he was greatly influenced by Henri Bergson and further developed his already strong interest in Nietzsche.
He often worked as a freelance journalist, and he spent a large part of his life travelling extensively, often residing abroad for months or years on end, and using these experiences in his multifaceted writings. He was married twice, with no offspring. Suffering from leukemia, Kazantzakis would die in Freiburg, Germany, on 26 October 1957.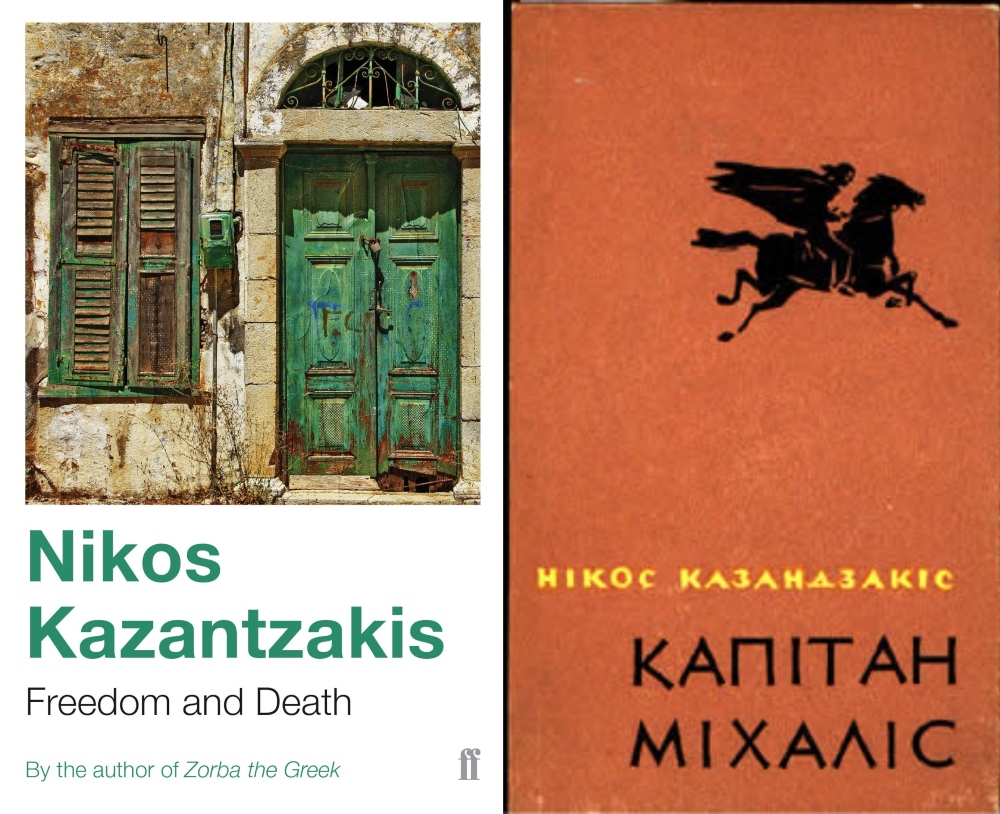 He published his first novel in 1906 under a pseudonym. Following his return from France he would also publish philosophical essays and translations of philosophical works. Some of his other famous novels include Zorba the Greek (1946), The Greek Passion (1948), The Last Temptation (1951), Saint Francis (1953), The Fratricides (1955) and Report to Greco (1957).
He also published a number of theatrical plays, and was famous for his travel books, where he recounted his experiences from his prolonged visits in several places around the world (including Spain, England Japan, and Russia). In 1955 he also published his famous adaptation of the Iliad into Modern Greek.
Reads also via Greek News Agenda: Nikos Kazantzakis, the Eternal World-roamer; Director Iannis Smaragdis on his Film "Kazantzakis" and on Being "Chosen" by the Subject
N.M. (Intro image via ErtNews)