Greek News Agenda pays tribute to Greek physician and researcher Georgios Papanicolaou (May 13, 1883- February 19, 1962) to mark the 60th anniversary of his death. A pioneer in cytopathology and early cancer detection, Papanicolaou invented the famous "Pap smear" test that came to play a leading role in preventing uterine cancer, thus saving the lives of millions of women around the world.
A life devoted to humanity
Georgios Papanicolaou worked as a researcher in the United States for nearly 50 years. Many of Papanicolaou's colleagues in the US, such as Dr. Charles Cameron, described his life as "a life devoted to mankind". Actions spoke louder than words in Papanicolaou's case, as he dedicated his life to science completely and through his revolutionary work succeeded in changing women's health forever.
Background: studies and early career
Born in the coastal town of Kymi, Euboea, Georgios was one of the four children of Nikolaos Papanicolaou, a physician popular enough to be elected mayor and Member of Parliament. Showing a particular inclination towards medicine from an early age, Georgios succeeded in gaining entry at the School of Medicine of the National and Kapodistrian University of Athens in 1898 at the age of 15! After his graduation, he returned to his hometown, but was reluctant to practice medicine; instead, he decided to study philosophy and biology, being influenced, among others, by the theories of Kant, Nietzsche, Schopenhauer, and Goethe.
Following his father's will, he continued his studies in Biology and Zoology in Germany, where he acquired his Ph.D. in 1910; it was during this "German period" of his life that Papanicolaou decided that research and biology would be the twofold purpose of his life. As he wrote in a letter to his family, "I quit being a dreamer. Science snatched me up from Nietzsche's arms. I stand on solid ground".
From Greece to the US: The road to Papanicolaou's medical breakthrough
Following his return to Greece in 1910, Papanicolaou got married to the educated and open-minded Andromache Mavrogeni, a descendant of the legendary Mavrogenous family which played a pivotal role in the Greek War of Independence. Realizing that the ground in his home country was not, at the time, fertile for his scientific research, Papanicolaou and his wife immigrated to the United States in 1913. It is well worth noting that Andromache would serve as Papanicolaou´s research subject, especially in the initial phase of his work. As she had stated, "There was no other option for me but to follow him inside the lab, making his way of life mine." In fact, she was so devoted to him that she decided not to have children in order to always be by his side, which she never regretted.
Papanicolaou's career in the US developed rapidly. After overcoming initial hurdles, he landed a part-time research role in the department of pathology at the former New York Hospital and soon moved to a full-time research position at Cornell University Medical College in New York. There, he commenced his studies on cervical cancer, which, in the early 1900s was the leading cause of cancer deaths in women. In 1928, he introduced the world to a technique used to diagnose cervical cancer that he called "the Pap smear".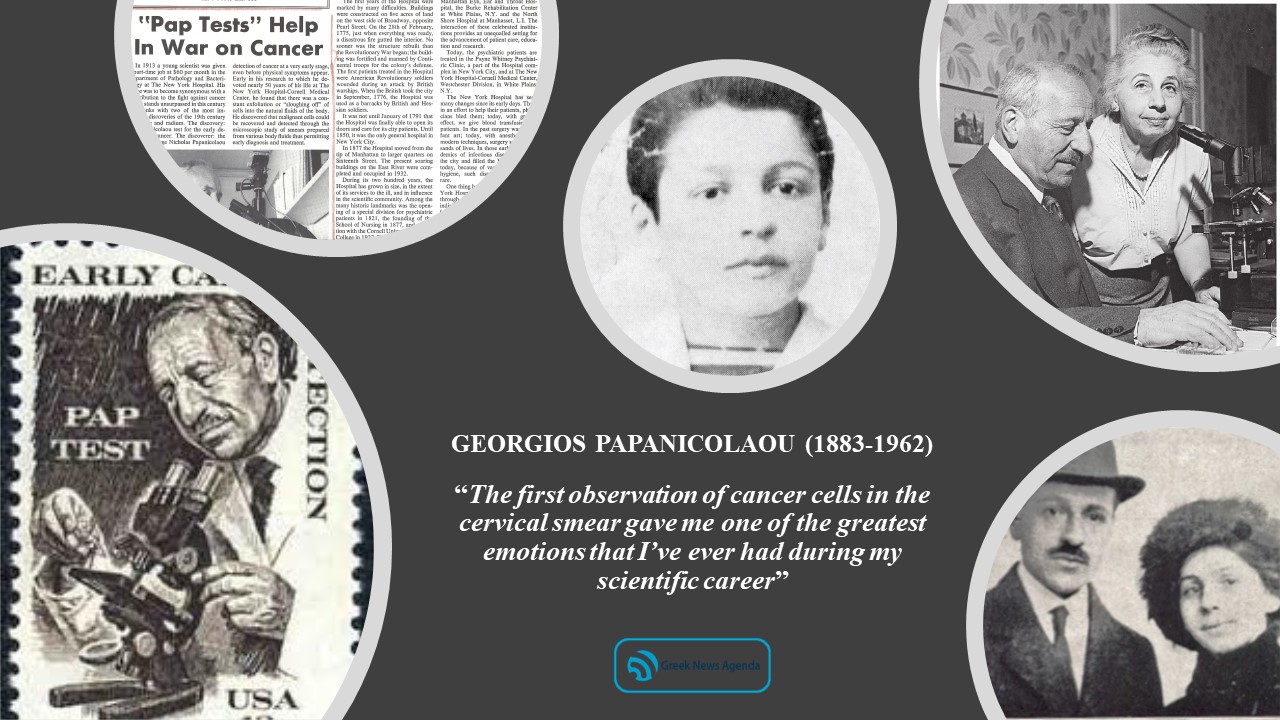 However, it took around two decades for the medical community to accept his work. In 1952, he convinced the National Cancer Institute (NCI) to conduct a massive trial using his Pap smear technique. The NCI trials continued and eventually led to the Pap test, which saved countless women's lives.
The diachronic value of Papanicolaou's legacy
Papanicolaou's bibliography consists of 158 articles and five scientific books, the most prominent being the famous Atlas of Exfoliative Cytology. The book is a milestone not only in the science of cytology but also in the medical bibliography of the 20th century as a whole. He was nominated twice for a Nobel Prize in Medicine but didn't receive it as the committee would give the award to doctors who had discovered therapies and not to researchers who were engaged in the prevention of disease.
However, he was awarded many medical prizes, both in his lifetime and posthumously, the most notable being the Albert Lasker Award for Clinical Medical Research, bestowed by the American Public Health Association in 1950, and the Medal of Honor, given to him by the American Cancer Society in 1952. Additionally, he was conferred honorary membership to the Obstetrical and Gynecological Society of Athens and the New York Academy of Sciences. Moreover, the Cancer Research Institute in Miami, where Papanicolaou was a manager for a few months prior to his death, was renamed after him in recognition of his pioneering work. Last but not least, the National Kapodistrian University of Athens created, in his honor, a "Papanicolaou Museum" at the Laboratory of Descriptive Anatomy of its Medical faculty.
Papanicolaou's contribution to medical research was game-changing. As Dr. Rema Rao (Assistant Professor of Pathology and Laboratory Medicine at the Weill Cornell Medical College, also working at the NewYork-Presbyterian Hospital) acknowledged in an interview: "The Pap test is one of the most important inventions in humankind because it was extremely challenging to prevent cervical cancer and the severity of it. The only answer was the Pap test."To date, even after the introduction of HPV vaccination into clinical practice, Papanicolaou's method remains an essential component of the prevention strategy against cancer and has resulted in a 70% decrease in cervical cancer mortality in the USA over the last 70 years.
Watch video: "George Papanicolaou — A Pioneer in Medical Research"
(

©

Hellenic Foundation for Culture)
More info & photos: Visit Dr Pap website | Read George N. Papanicolaou, M.D., Life and Career: The way to the Pap Test book, published by the Hellenic Medical Society of New York.
E.S.
TAGS: GLOBAL GREEKS | HEALTH | HERITAGE | HISTORY | INNOVATION | RESEARCH | SCIENCE | SCIENCE & TECHNOLOGY