Cornelius Castoriadis (1922 –1997) was a Greek-French philosopher, social critic, economist, and psychoanalyst, described as one of the foremost thinkers in Europe in his time. He is above all famous as the author of The Imaginary Institution of Society, and co-founder of the Socialisme ou Barbarie group.
Castoriadis was influenced by his understanding and criticism of traditional philosophical figures such as the Ancient Greeks, German Idealists, Marx, and Heidegger. He authored over twenty major works and numerous articles spanning many traditional philosophical subjects, including politics, economics, psychology, anthropology, and ontology.
His oeuvre can be understood broadly as a reflection on the concept of creativity and its implications in various fields. Perhaps most importantly he warned of the dangerous political and ethical consequences of a contemporary world that has lost sight of autonomy, i.e. of the need to set limits or laws for oneself.
Early life
Cornelius was born in Constantinople on 11 March 1922 to Kaisar and Sophia Kastoriadis. A few months after his birth, his ethnically Greek family fled the Ottoman Empire –which was at war with Greece at the time– as the Greek army's defeat looked imminent, and relocated in Athens.
From his early teens, Castoriadis showed interest in philosophy and in politics, especially Marxism. In 1937, with Greece being under the dictatorial regime of General Ioannis Metaxas, he became a member of the Young Communist League of Greece, the youth wing of the Greek Communist Party, which was banned at the time. In 1941, he joined the Communist Party; he would however soon renounce Stalinism for Trotskyism, adopting an internationalist approach.
In 1944 he published his first essays on social science and Max Weber, in the Greek magazine Archive of Sociology and Ethics. After completing his studies at the School of Law of the Athens University, he secured a scholarship by the French Institute in Greece (IFA); in late 1945 he left Greece to continue his studies in Paris, where he would remain for the rest of his life.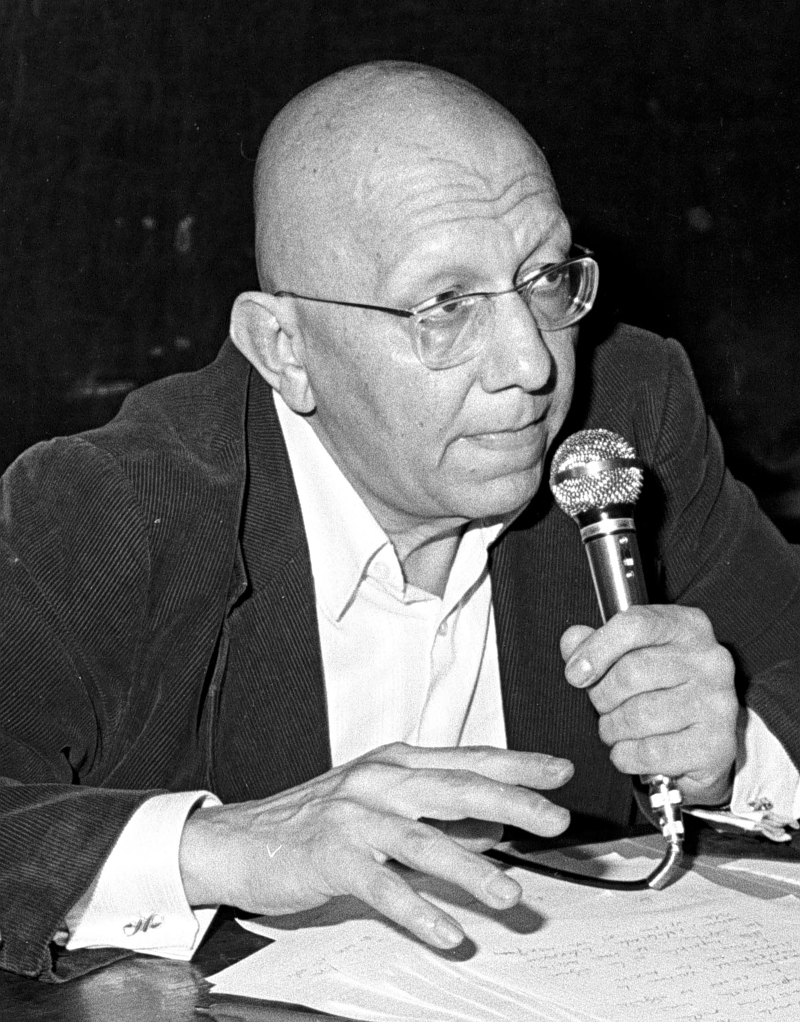 Photo ©ANA-MPA
Paris – Socialisme ou Barbarie
In Paris, Castoriadis become affiliated with the French Trotskyist Internationalist Communist Party (PCI); together with Claude Lefort, they created the "Chaulieu–Montal Tendency" in the PCI, named after their respective pseudonyms Pierre Chaulieu (Castoriadis) and Claude Montal (Lefort). Together, they published On the Regime and Against the Defence of the USSR, where they criticised both the Soviet Union and its Trotskyist supporters, suggesting that the USSR was dominated by a social layer of bureaucrats.
Ιn November 1948, Castoriadis began working as an economist at the Organisation for Economic Co-operation and Development (OECD), which not only helped him remain in France, but also provided insights into the economies of capitalist countries and into the functioning of a major bureaucratic organisation.
That same year, he broke away from PCI, along with Claude Lefort and several other members; the two founded the autonomous libertarian socialist group Socialisme ou Barbarie, named after a phrase used by socialist icon Rosa Luxemburg in 1916. Its founding statement expressed an interest in a non-dogmatic Marxist social critique.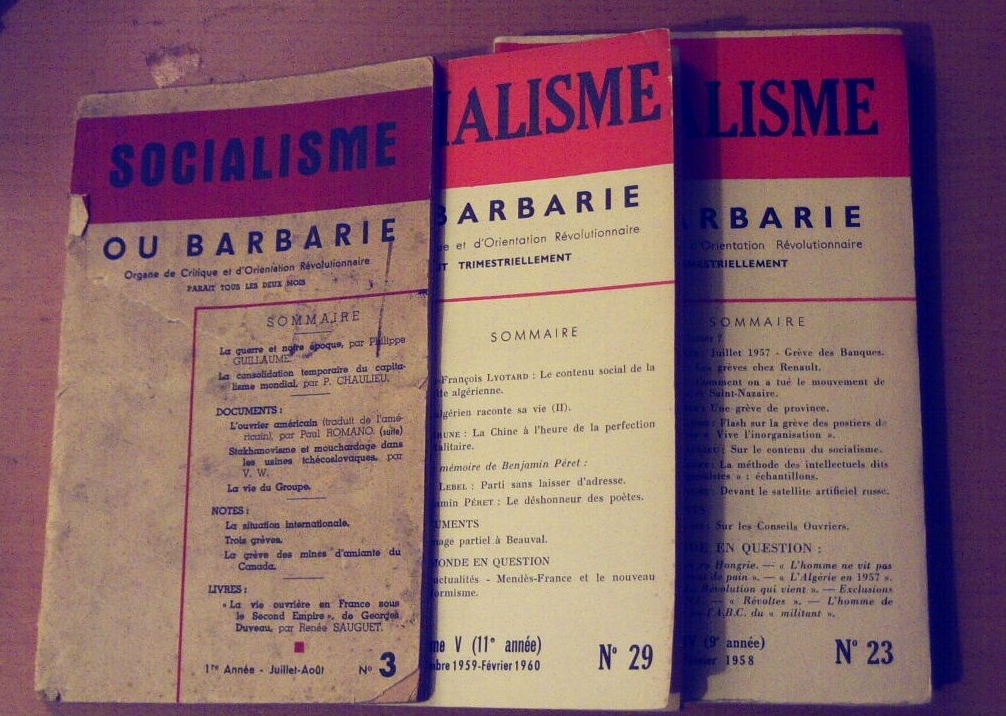 The group advocated council communism and the collective management of the means of production, and its members radically criticised the evolution of the Soviet regime and by explored the themes of social autonomy and proletarian emancipation, while also developing a critique of bureaucratic capitalism.
Socialisme ou Barbarie was very influential in the circles of left-wing thinkers in France, but also for groups outside of France, such as the UK-based libertarian socialist organisation Solidarity. Castoriadis's leadership and writings helped establish him as an important figure in the political-intellectual field in Paris.
In March 1949, the group also began publishing a journal of the same name. The journal continued its publication until 1966, featuring texts by notable philosophers and sociologists, including Jean-François Lyotard and Edgar Morin. In 1958, following a major political crisis in France, internal dissent led to the departure of several members, including Claude Lefort. New disputes would lead to the group's dissolution in 1967.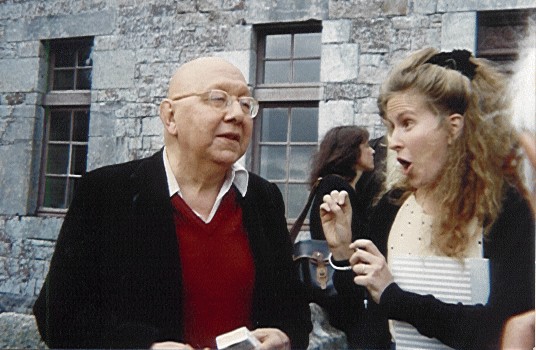 Cornelius Castoriadis with dancer-choreographer Clara Gibson Maxwell (1990, by David Ames Curtis)
Psychoanalysis and academic career
In 1964, Castoriadis became a non-practicing member of the École Freudienne de Paris (EFP), a psychoanalytic professional body formed that year by Jacques Lacan, but distanced himself from it in 1967. In 1968, he married French psychiatrist and psychoanalyst Piera Aulagnier. The two broke away from the EFP the following year to join the Organisation psychanalytique de langue française (OPLF), a psychoanalytic group claiming that its methods opened up a third way between Lacanianism and the standards of the International Psychoanalytical Association.
In 1970 he obtained the French nationality and retired from his OECD position as Director of Statistics, National Accounts, and Growth Studies. Freed for the fear of deportation, he then began to publish his works under his full name, instead of using a pseudonym as he had mostly done until then. In 1973 he became a practicing psychoanalyst.
In 1979, he was elected Director of Research at the School for Advanced Studies in the Social Sciences (École des hautes études en sciences sociales – EHESS), one of the most prestigious higher education institutes in the field of social sciences in France. In 1980, he was awarded his State doctorate from the University of Nanterre, and he was appointed Director of Studies at the EHESS.
In 1989, he was awarded an Honorary Doctorate in Social Sciences by the Panteion University in Athens and in 1993 another one in Education Sciences by the Democritus University of Thrace. He remained with EHESS until 26 December 1997, when he died from complications following heart surgery, survived by two daughters and his second wife. He is buried in the Montparnasse cemetery.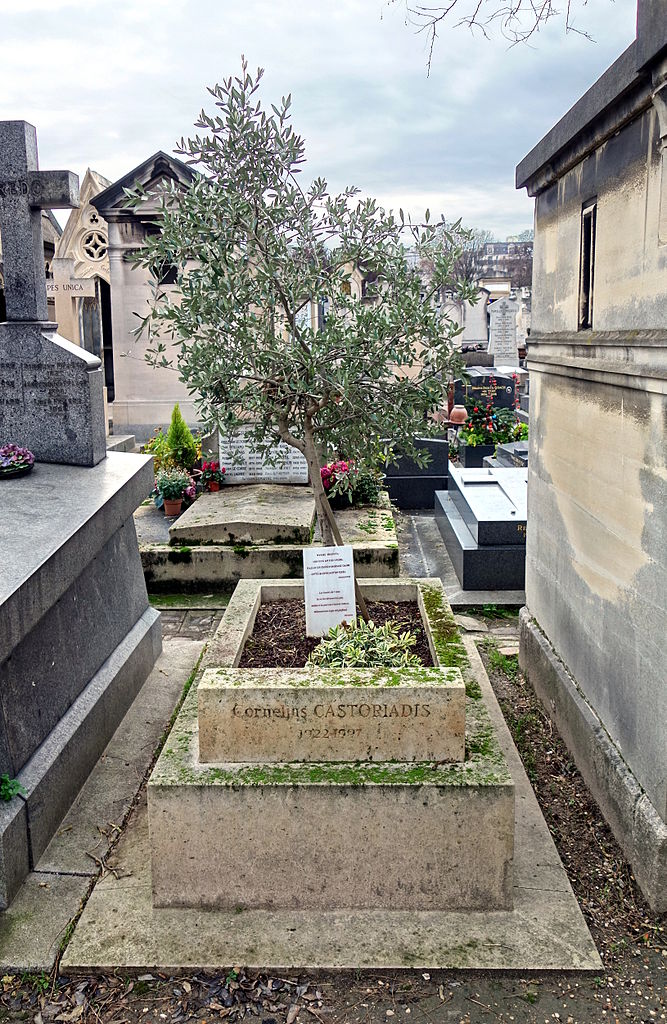 Castoriadis's grave at the Montparnasse cemetery (by Velvet via Wikimedia Commons)
Works and Ideas
The concept of autonomy has occupied a central position in Castoriadis's philosophy. In his earlier writings, within the Marxist framework, this was shaped into the theory of the workers' self-management, presented as a modification of or an alternative to Marx's theory of class struggle.
In "On the Content of Socialism" (1955) he defined the central conflict of society not in terms of the classical dichotomy between owners and workers but in terms of a conflict between "directors" (orde-givers) and "executants" (order-takers).
According to German philosopher Axel Honneth, Castoriadis "was the last great representative of the tradition of Western Marxism which tried to save the practical-political intuitions of Marx's work through a resolute abandonment of its dogmatic kernel".
Castoriadis believed that human history, and the various forms of society, is in its essence defined by imaginary creation. In 1975, he would publish his magnum opus, The Imaginary Institution of Society, described by the MIT press (which released the book in English in 1987) as "one of the most original and important works of contemporary European thought", where the philosopher offers a "brilliant and far-reaching analysis of the unique character of the social-historical world and its relations to the individual, to language, and to nature", arguing that traditional conceptions of society and history generally overlook the fact that the world is itself is the creation of the society concerned.
In terms of the essence of his intellectual journey, he differentiates himself from structuralist thought by targeting Louis Althusser, Roland Barthes but also post-structuralists such as Foucault, Deleuze and Guattari. He also moves away from Marx's historical determinism and 'holistic' thinking while addressing a fierce critique against the bureaucratic regimes of "real socialism" that have set up "state capitalism".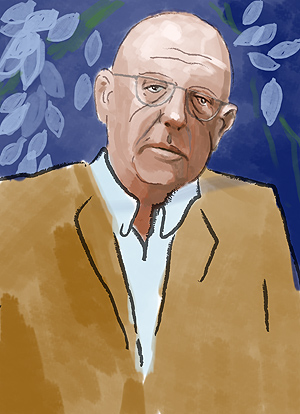 Portrait of Cornelius Castoriadis by Pablo Secca (2009, via Wikimedia Commons)
Castoriadis always drew inspiration from ancient Greek philosophy, studying, assessing and criticising the ideas of Plato and Aristotle. He was also particularly inspired by the paradigm of the Athenian direct democracy. Ιn 1983's "The Greek Polis and the Creation of Democracy" he came to the conclusion that the Greek discovery of social self-creation led to the partial realisation of autonomy precisely because they both effectively imagined their potential universality with others as an end and yet also established some particular institutions as supports for autonomy's effective realisation.
A theorist of autonomy and direct democracy, he asserted that societies are necessarily historical and result from a process of self-creation, i.e. self-institution. For him, Athenian society in the 5th century BC and Europe from the 12th century onwards are a real case study. At the antipodes of the concept of autonomy, we find the alienating individual and social 'heteronomy' that has dominated throughout history. Another key concept for Cornelius is the imaginary that differentiates man from animals and more particularly the social imaginary as a radical imaginary insofar as it is the social imaginary that creates language and institutions.
As famous French philosopher and sociologist Edgar Morin wrote in his obituary for Castoriadis, he possessed an "encyclopaedic spirit […] in the original Greek sense, which articulates disjointed forms of knowledge into a cycle", being "philosopher, sociologist, psychoanalyst, economist, political scientist" as well as "a man of broad and expansive culture" who" traversed the century on his own independent path".
Sources
"Cornelius Castoriadis: le théoricien de l'autonomie", GrèceHebdo
Cornelius Castoriadis Agora International Website
The Internet Encyclopedia of Philosophy (IEP)
"Cornelius Castoriadis, 1922-1997 Last of the Western Marxists", Radical Philosophy
À la recherche de l'autonomie : le groupe 'Socialisme ou Barbarie' et Mai 68. Premat, C. (2009), sens public.
Read also via Greek News Agenda: Beyond Socrates – Greek philosophers you might not know; Iannis Xenakis: Science as art; Georgios Papanicolaou | Paying Tribute to a medical pioneer and legend; Constantin Carathéodory, a mathematical genius
N.M. (Intro photo from ERTnews)
TAGS: GLOBAL GREEKS