German President Frank-Walter Steinmeier and his wife Elke Budenbender are carrying out a two-day visit to Greece at the invitation of President of the Hellenic Republic Prokopis Pavlopoulos, during which he met the political leadership of the country.
Steinmeier's meeting with Prokopis Pavlopoulos was followed by joint statements to the press. Athens News Agency reported that Greek President characterized Greece's demands for war reparations "legally active", adding that each side is free to support its positions before a jurisdictional forum.
Welcoming the German presidential couple as "true friends of Greece", he said that Steinmeier had actively demonstrated his support for Greece during the difficult years of the memorandum programs, making decisive contributions in the often thorny negotiations of that period.
Noting that they share the same vision with Steinmeier for the future of Europe, which must proceed towards unification, the President of the Hellenic Republic said that the EU has the obligation to play its own global role: to defend the principles and values of humanism, peace, democracy, fundamental human rights and justice, especially social justice.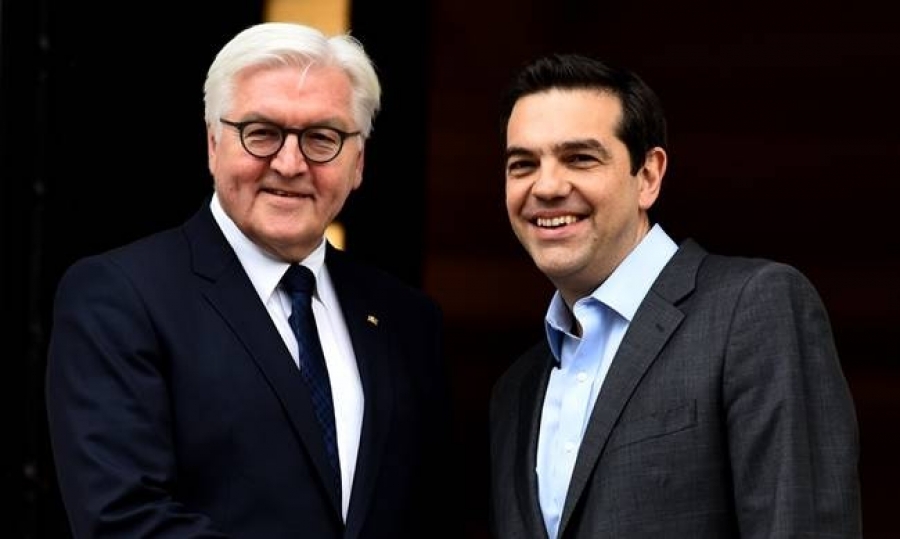 The German President had also a meeting with Greek Prime Minister Alexis Tsipras at Maximos Mansion. Tsipras noted that "The Prespes Agreement is a model of conciliation "between two peoples who desire to live peacefully, without underestimating the history and the identity of each other – (an agreement ) that contributes to the stability of the Balkans and the wider region ".
The German President characterized "the efforts of his Greek counterpart as "extremely courageous" and expressed his respect to the Greek people for its steady pro-European orientation.
Addressing the Greek Prime Minister, Steinmeiersaid that he would like to express his respect, because he took the wheel and left the Memoranda behind.
Alexis Tsipras underlined that "we can now face the future with more optimism, as we have left behind the difficult years of austerity, having successfully completed the 3rd bailout program. I am glad and proud, he added, because Greece is playing a positive role in the confrontation of the forces that threaten our common values."
Steinmeier apologized for the "horrors" committed during the Nazi occupation of Greece, noting that they should not be forgotten, adding that his country still bears the "moral and political guilt" for crimes committed.
German President Frank Walter Steinmeier also met the leader of the opposition Kyriakos Mitsotakis. The two men discussed, among others, about the course of the Greek economy, the refugee crisis, the FYROM name issue as wellas the geopolitical developments.
On Thursday Steinmeier visited a former concentration camp near Athens. where up to 25,000 people were interned during the Nazi occupation .
"Unimaginable atrocities were committed under German occupation in the Haidari camp," Steinmeier said. "We bow before the victims."
M.V
Source: graktuell.gr