Cinematic frames have many facets. Historically, cinema has been mostly used for escapist entertainment, either in line or in contrast to its artistic qualities. But can it also be used as a means of intervention between two societies, as is the case with HELLAS FILMBOX BERLIN.
Hellas Filmbox Berlin Festival second edition takes place from 18 to 21 January 2017 in the historic building of Babylon Cinema. It is a Greek film festival established in 2015 to highlight the current, highly artistic Greek film scene and present it to a German audience.
The idea of the festival was conceived by Asteris Kutulas (Founder of the German-Greek Cultural Association, a non-profit organization, aiming to promote and strengthen the German-Greek friendship) as an opening for constructive dialogue between Greece and Germany and as an affirmative artistic response to the wave of negative coverage of Greek news in Germany that was threatening to influence people's perception of the country.
"The founding of HELLAS FILMBOX BERLIN was a direct counter-reaction to the unilateral and strongly transfiguring negative image of Greece, which spread from 2010, and dominated the perception of large sections of the German public," attests the festival's director, Sandra von Ruffin who underlines the festival's role as a bridge between Greece and Germany.Last year's edition proved to be a success, rapidly becoming Berlin's sixth biggest film festival (the city is host to 65 cinematic events of the kind).

In this year's Opening Ceremony world renowned Greek film director and writer Costa Gavras will be honoured for his contribution to Greece and cinema. Gavras will be presented by famous German actor Urlich Tukur, followed by a projection of Gavras' film "Amen", with Tukur at the leading role. The Closing Film of the Festival is "Worlds Apart" by Christopher Papakaliatis, in the presence of the director.
The festival programme for 2017 consists of 56 films (fiction, documentary, short and feature), organized in the following sections:
Fiction features six recent and successful productions: "Notias" (Mythopathy) by Tasos Boulmetis, in the presence of Boulmetis, "America Square" by Yannis Sakaridis, "Suntan" by Argyris Papadimitropoulos, "Silent" by Yorgos Gkikapeppas, "Blind Sun" by Joyce Nashawati and "Impressions of a Drowned Man" by Kyros Papavassiliou.

Documentary features "The last Resort" by Thanos Anastopoulos, "Golden Dawn A Personal Affair", by Angelique Kourounis etc.
The Short Film Section consists of 19 short fiction films and 3 documentaries and is divided in four groups: Cinema: A never ending love story, Not only for Kids, Utopia / Dystopia and Show me some reality.
"New Vision" is a section in which exceptional films from art, experimental and animation genres are promoted, with "Limbo" by Katerina Kotzamani, "Symptom" by Angelos Frantzis and "Interruption" by Yorgos Zois among them.
Outview visits Filmbox. Filmbox hosts Outview film festival of queer films, thus introducing the German public to the Greek LGBTQ film production. This section consists of "Half Life" by N. Purliaras and "Smac" by V. Andreadaki.
Special Screening on the Jewish History and Culture of Greece consisting of 4 fiction and documentary films, such as "Cloudy Sunday" by Manousos Manousakis and other special tributes.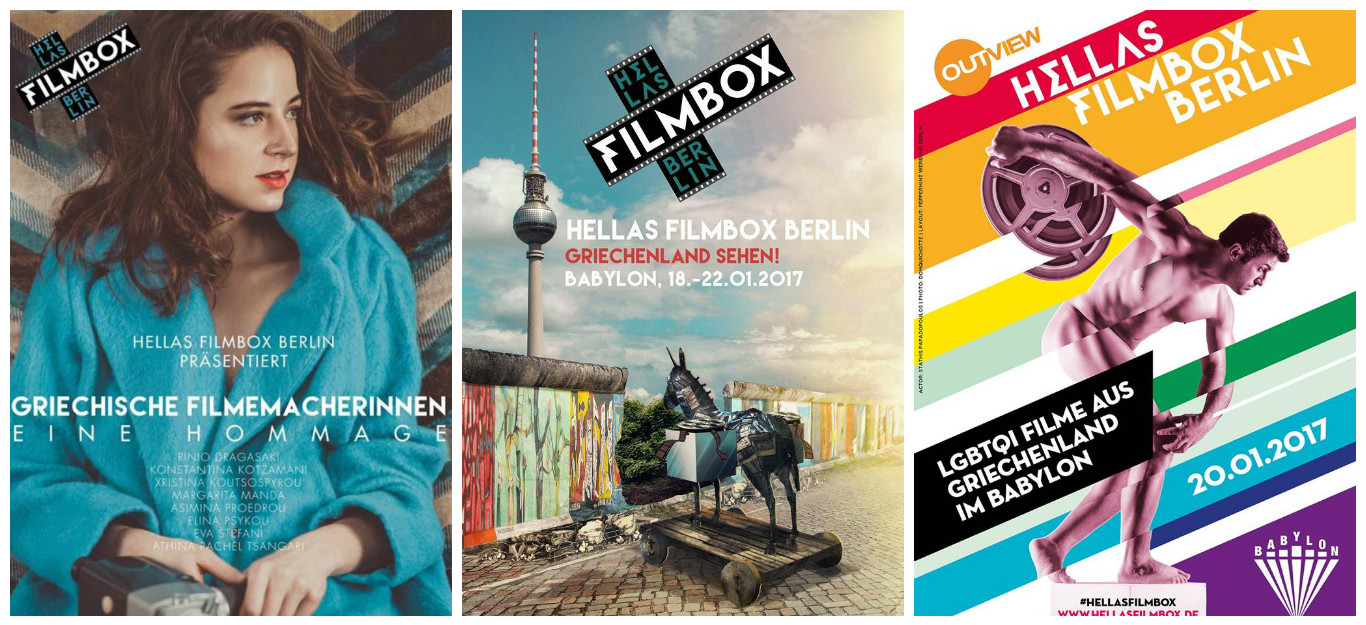 The New Wave of Greek Women Directors. A homage to women professionals in Greek Cinema consisting of seven films, with the "Eternal Return of Antonis Paraskevas" by Elina Psychou and "Bathers" by Eva Stafani among them.
Film Students' contest
Thessaloniki – Outside the Box. In the framework of the Festival, a contest among the students of the School of Film Studies of the University of Thessaloniki is taking place. Students' clips of a maximum duration of 90'', produced by video, smartphone, drone or camera are participating in the contest, the winner of which will travel to Berlin, while the winner's clip will be projected in the Opening Ceremony.
Side events
In the context of the side events of the festival, current Minister of Culture in Greece and distinguished actress and theater director Lydia Koniordou will offer a Masterclass on ancient drama for professional actors. There will also be a photographic exhibition tittled "Face and Spaces" by Nelly Tragousti, who followed Theodoros Angelopoulos during the shootings of his film "Dust of Time" in Berlin. The photographic exhibition is co-organised with the Greek Embassy Press Office in Berlin, Media Partner and Sponcor of the Festival.
Read more: Interview with Hellas Filmbox Berlin initiator Asteris Kutulas in Griechenland Aktuell (in German)
See also: Hellas Filmbox Berlin – A Greek film festival in Berlin (2016), Beware of Greeks Bearing Film, The festival's Youtube Channel