Heracles Moskoff was born in 1970 in Thessaloniki, Greece. He holds a PhD in Sociology from the London School of Economics and has been serving as National Rapporteur of Greece on Trafficking in Human Beings since 2013. Following the transposition of the European Anti-Trafficking Directive, the was established as a National Coordinating Authority within the Ministry of Foreign Affairs.
The Office of the National Rapporteur is responsible for planning, coordinating and implementing the national strategy on combating Trafficking, while representing the country in all international fora, cooperating closely with all competent authorities, International Organizations and civil society stakeholders, and compiling national reports on the basis of which Greece is evaluated internationally.
In his capacity as National Rapporteur, Dr. Moskoff's main field of interest and expertise is inter-agency cooperation, identifying potential partners in prevention, promoting new partnerships with a view to raising public awareness, educating competent authorities and tackling the 'demand side' of Trafficking in Human Beings. In his interview with Greek News Agenda*, Heracles Moskoff spoke about the launching of the National Referral Mechanism (NRM), the need to fight against the culture of impunity, the lesser-known facets of trafficking (labour exploitation, forced crime/begging), the challenges brought on by the COVID-19 pandemic, the importance of "due diligence" in supply chains, and finally, the institutional and cultural changes that need to take place in order to protect and assist victims of human trafficking.
What is Greece's national strategy for combating Human Trafficking? What do you consider to be the recent most important actions implemented by the Office of the National Rapporteur?
Combating Human Trafficking and providing help andprotection for its victims is a matter of coordinated policy and action by both the State and civil society. Our country has been systematically monitoring international and European developments in this field for the past twenty years, taking steps such as the ratification of the UN Convention against Transnational Organized Crime and its three protocols, the ratification of the Council of Europe Convention on Action against Trafficking in Human Beings and the transposition of the anti-trafficking EU Directive .
The Office of the National Rapporteur on Trafficking in Human Beings has prepared a National Action Plan to Combat Trafficking in Human Beings for the period 2019-2023. The National Action Plan is a comprehensive framework for preventing and combating crime, as well as protecting and assisting victims; its actions are structured around 5 strategic axes: 1) Prevention, awareness and reduction of vulnerability, 2) Education and training of people working in the field and development of the institutional framework, 3) Protection, assistance and social reintegration of the victims, 4) Persecuting the crimes and awarding justice, and 5) Promoting cooperation between competent national and international bodies.
Another positive development is the recent launching of the National Referral Mechanism (NRM) for the identification and referral of victims of trafficking, which is managed by the National Centre for Social Solidarity and coordinated by the Office of the National Rapporteur. The NRM is a valuable tool for coordinating all competent national services as well as a platform for collecting and processing the personal data of victims seeking protection.
On the occasion of the U.N. World Day Against Trafficking in Persons on July 30 2020, our Office co-organized a special parliamentary session of three competent Parliamentary Committees, with the participation of the President of the Hellenic Republic, the Prime Minister, the Speaker of Parliament, heads of Parties, four competent Ministers and some 100 MPs, sending a strong message regarding the commitment of the Greek state and its political leadership in the fight against trafficking.
Among other actions implemented is the cooperation with the Ministry of Education and Religious Affairs in creating a training program for primary and secondary school teachers, titled "Human Rights for Beginners", based on the principles of the Reference Framework of Competences for Democratic Culture (RFCDC) of the Council of Europe. Also, our Office has recently been particularly active in intensifying its cooperation with the Regional and Local government authorities, signing relevant memoranda that promote issues tackling trafficking in their areas of competence.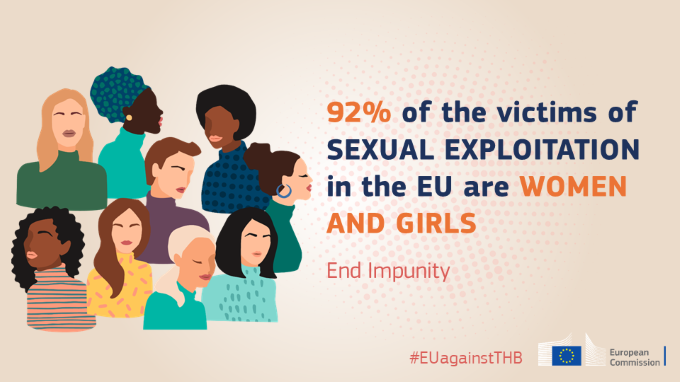 Human trafficking is often described as an "invisible crime". Why is that and what can Greece and other countries do to improve documentation and reporting of this issue?
By its very nature, Trafficking in Human Beings is an 'invisible' and rapidly changing phenomenon, difficult and dangerous to investigate. There is the fragmentation of criminal activity and the involvement of various "mediators"; the successive "buying and selling" of victims to new "owners"; the victims' unawarenessof both the existence of a protective legal framework and of their "trafficked" status; the difficulties of cooperation between victims and authorities, and finally, the general lack of awareness in society as regards this 'invisible' crime, are all factors that make it extremely difficult to identify the chain of accomplices and bring the perpetrators to justice, as well as to locate the victims and provide them with assistance and protection.
Despite the existence of a strong institutional and legal framework, trafficking unfortunately remains underreported and a 'rare crime' in crime statistics, as only a small number of victims are rescued and a small number of exploiters are tried and eventually convicted. This is due to what we call the "culture of impunity", a culture that to a large extent characterizes this crime, both worldwide as well as in Greece.
Cooperation between prosecuting authorities, protection services, society and non-governmental organizations is of vital importance in order to to fight this "culture of impunity" and rescue more victims and potential victims. Certain professional sectors can, with proper training, play a critical role and act as "rescuers" in the course of their duties, recognizing evidence of exploitation and trafficking in human beings. Such professionals may be medical staff, security forces, the judiciary, prosecutors, employees in public transport and in entry points of the country (airports, ports), the staff at the Reception and Identification Centres, social workers, juvenile custodians, etc.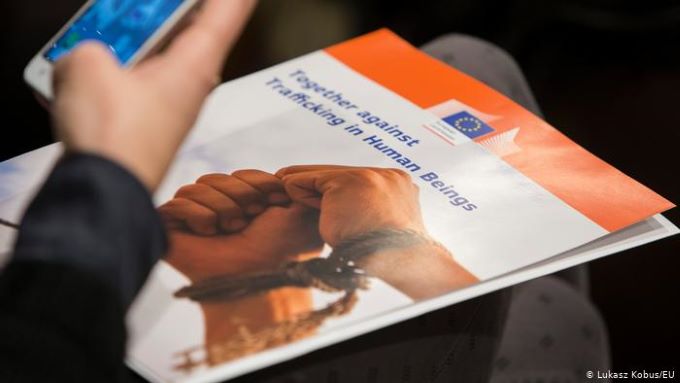 laying out its plan to tackle human trafficking over the next five years
Most of us associate human trafficking with sexual exploitation and total deprivation of liberty, but there are other dimensions to this phenomenon; can you tell us more about them?
The term trafficking, used internationally, is often confused in Greece with sexual exploitation alone. The many other forms of Trafficking in Human Beings have now been integrated into Article 323A of our country's Penal Code and cover labour exploitation, forced begging, forced crime, slavery or similar practices, servitude, forced marriages and the removal of cells, tissues or organs.
Labour exploitation in particular accounts for 25% of the victims of trafficking in the EU. The European Commission, in its second report on trafficking in human beings in 2018 stressed that progress has been made in identifying victims of trafficking for labour exploitation, however the effort must be ongoing. Moreover, in our country, an increase in cases of forced begging of minors have been recorded, according to the latest Report of the National Referral Mechanism for the year 2020: 73 child victims of forced begging in a total of 167 reports of potential victims of trafficking.
Labour exploitation and modern slavery practices are the second most common form of trafficking in persons after sexual exploitation. Statistics and studies have shown that in many cases, in the various stages of the supply chain, from production to placement of the finished product on the supermarket shelf and the provision of related services, human trafficking is involved (forced/ compulsory labour, child labour, debt bonded labour etc).
Adherence to the principles of "due diligence" in both public and private sector supply chains is necessary in order to mitigate instances of product production or service provision under conditions of exploitation and trafficking in human beings. In essence, the adoption of "due diligence" by public and private companies means that they will only work with suppliers who provide fair and decent working conditions and accept social compliance audits based on international standards of safety and labour law.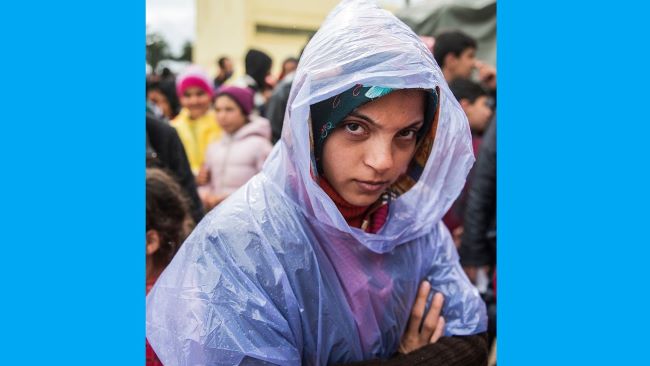 The Covid-19 pandemic is having a worrying impact on human trafficking across Europe and states should do more to prevent it,
according to the latest annual report from the Council of Europe's Group of Experts on Action against Trafficking in Human Beings (GRETA).
What are the challenges in tackling this phenomenon during the COVID-19 pandemic? How does Greece's position as a transit country for migrants and refugees affect the situation?
The COVID-19 pandemic has indeed created new dangers and challenges for victims of people trafficking and smuggling. It has also exacerbated the vulnerability of groups at high risk of being trafficked, mainly women, girls and unaccompanied minors. This is because, according to World Bank estimates, the pandemic and the ensuing global recession will force some 40 to 60 million people into extreme poverty. The pandemic has also reduced remittances by 20%, further exacerbating the vulnerabilities of high-risk groups that depend on these funds for survival. People working in the informal economy and in jobs fitting the criteria of 3D (Difficult, Dirty, Dangerous) are now even more at risk of being subjected to different forms of exploitation and trafficking.
Additionally, the pandemic has a detrimental effect on access to employment and the rights of migrant workers, especially young women. Many countries closed their borders and implemented lockdowns, leading seasonal and low-wage workers, not just to unemployment but to misery, confinement and despair. Travel restrictions can also lead many migrants or asylum seekers to look for more dangerous migration routes thus making them even more vulnerable to trafficking and exploitation, either in transit or in destination countries.
Greece, due to its geographical location as a gateway to the EU and the Schengen area, is at the same time a transit country as well as a destination country for victims of human trafficking. A particularly vulnerable group are migrant-refugee children, especially unaccompanied minors; they are exposed to many dangers and networks of criminal activity and often fall victim to various forms of exploitation. Also, people who try to leave Greece for another country face a high level of risk, as they may "disappear" along the way, ending up as victims of human trafficking, or suffering exploitation and / or abuse.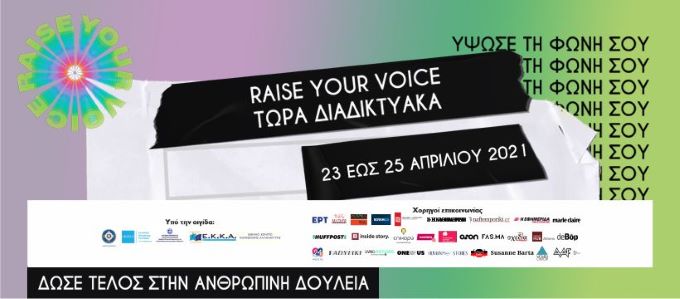 The Raise Your Voice Festival against Trafficking in Human Beings took place digitally this year, under the auspices -among others-
of the Office of the National Rapporteur and National Centre for Social Solidarity
Apart from changes in the institutional and administrative framework, what changes do you think need to be made at the cultural level to combat trafficking?
At the institutional and administrative level, in our opinion, the following actions are imperative:
enhancing the implementation of the international legal framework.
strengthening the National Referral Mechanism, the executive arm of the state for the protection of potential victims
raising awareness and informing the general public about the phenomenon, through relevant information campaigns.
effective implementation of the national strategy and the relevant National Action Plan (NAP), which now needs to be adapted to address the COVID-19 pandemic, with measures to prevent as well as to reduce the pandemic's consequences. Cooperation between public and private agencies and between central, regional and local government, can play a crucial role here. We have already agreed upon and announced action plans with the Attica Region -as mentioned above- as well as with the International Organization for Migration.
Improving victim identification by making services more accessible to victims of trafficking.
Providing greater access to legal remedies and legal assistance to victims. Proper training in order to better address the specific needs of women and girls, as to support the specific psychosocial needs of minors.
On the cultural level:
Discouraging demand for products and services that originate from the exploitation of victims of trafficking should become a primary area of ​​intervention.
Regarding sexual exploitation, the need to introduce inclusive sex education at all levels of formal education is absolutely imperative in order to change the perceptions that perpetuate gender inequality, the tolerance of "rape culture" and exploitation of the vulnerable. We also need to run relevant public awareness campaigns targeted at the wider public.
As far as labour exploitation is concerned, the consistent application of "due diligence" principles in the procurement system of private enterprises and of course the public sector is crucial in order to ensure that products and services from victims of trafficking are not used.
We must ensure that psychosocial assistance to potential victims of human trafficking becomes independent of the criminal procedure. In particular, the official identification of a potential victim should be made on the basis of assessment by professionals who are trained to identify evidence of exploitation and trafficking.
In Greece, this legislative provision has been recently implemented for the first time, when the Prosecutor of the Court of First Instance of Thessaloniki officially identified a victim of human trafficking without a case file by the police, but based on expert reports by a psychologist and a social worker. This change will contribute significantly to the prevention and timely protection of potential victims of human trafficking.
*Interview by Ioulia Livaditi
TAGS: SOCIAL POLICY