Award-winning, with rich activity, in criticism, essay, teaching, radio, but mainly in poetic speech, Kostas G. Papageorgiou was one of the main representatives of the generation of the '70s and of those who with their analytical thinking renewed modern Greek poetry. Born in 1945, he published his first collection of poems in 1966 and since then became a leading presence in Greek letters with more than 30 books of poetry, fiction and essays.
A consummate stylist, Papageorgiou wrote poems of tight lyrical discipline with line division, prose poems that amplified and extended narrative content through the extension of the line, and even longer prose stretches in the form of stories (Overexposed, 1998), a novella (Water, 2011), and a novel (Anna, Now Go to Sleep, 1995). He did so in a style all his own, a sage with a serene, innocent tone of voice, its density and emotional intensity depending on the nature and length of the genre. Death has always been decisive in his poetry. Thus 1995 he wrote, together with the poet Giannis Varveris, the Greek poetic anthology of death of the twentieth century.
In addition to his writing, he contributed to almost all major Greek literary journals (Anti, Lexi, Dentro, Enteftirio, Tram etc).He published the literary journal Grammata kai Texnes (Letters and Arts) from 1982 to 1998, and co-edited, together with the poet George Markopoulos, Ta Poetika, a bimonthly journal, a considerable portion of which was devoted to the work of younger poets. He also worked for the Greek National Radio as a consultant in literary matters, and producer for cultural broadcasting, and at the Drama School of Athens Conservatory, teaching History of Theater and Literature.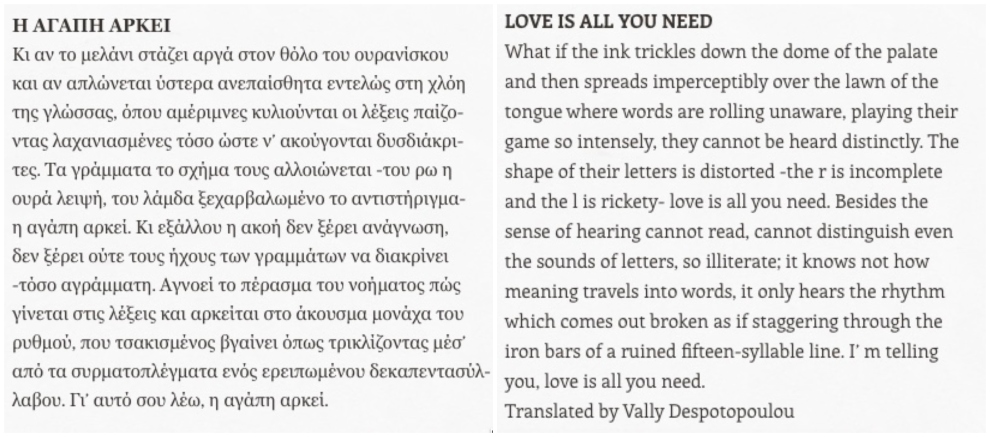 His poems were set to music and released on records by Thanos Mikroutsikos (Painting), by Nikos Tatsis (Fundraising), as well as by Haris Katsimihas. In 2001, he was awarded with the State Poetry Prize and the Poetry Prize of the magazine Diavazo for the book Stolen History, in 2009 with the Petros Charis Foundation Award of the Academy of Athens for the entirety of his work, and in 2012 with the Novel-Short Story Award of Diavazo magazine. He died on May 3, 2021.
TAGS: LITERATURE & BOOKS | READING GREECE