In an international environment, where cities focus their efforts on becoming key actors, city diplomacy is increasingly becoming more relevant. New technologies foster the creation of active city networks in order to address common challenges and achieve mutual goals. Global challenges, such as climate change and the COVID-19 pandemic can be effectively tackled at local level as well, and the debate on the role of cities in a multilateral environment is becoming central.
In this context, the 2nd Public Diplomacy Talks (2021) that took place on Wednesday, June 16th, focused on "City Diplomacy: Creating Global Networks" and was organized by the Deputy Minister of Foreign Affairs for Greeks Abroad, Konstantinos Vlasis, and the Secretary-General for Greeks Abroad and Public Diplomacy, John Chrysoulakis. The "Public Diplomacy Talks (PD Talks)" constitute an annual Forum inaugurated in 2020 by the General Secretariat for Greeks Abroad and Public Diplomacy of the Greek Ministry of Foreign Affairs, in order to provide a platform for a vibrant and fruitful exchange of views and best practices on Public Diplomacy.
Opening remarks by the organizers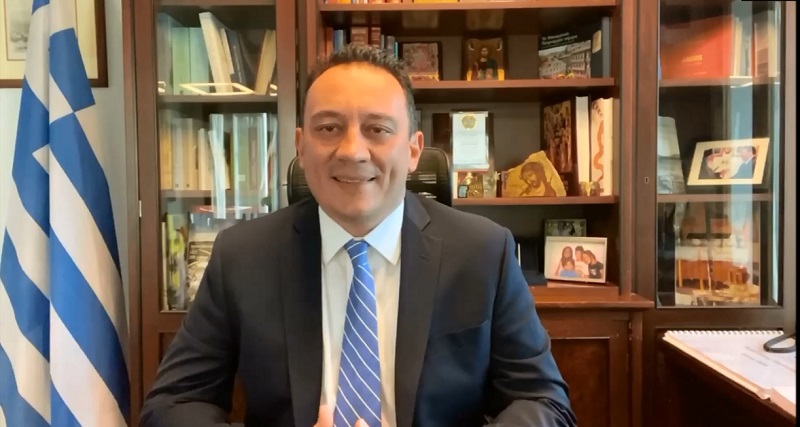 "Public Diplomacy constitutes the third pillar of Greece's foreign policy and plays a key role in our diplomatic imprint. During the last two years, the Greek Government has managed to tackle effectively a series of challenges, with Covid-19 being the most recent. Due to the pandemic, it has become evident that, in an interconnected world, collaboration and partnerships are necessary in order to overcome global challenges", said Konstantinos Vlasis, Deputy Minister of Foreign Affairs for Greeks Abroad, greeting the event and stressing its timeliness.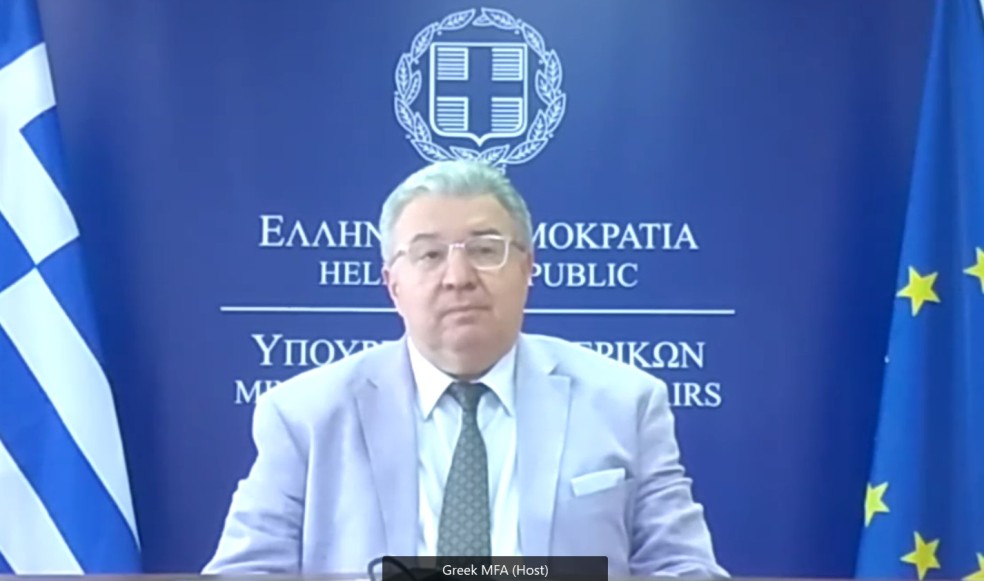 "The 19th century was the century of empires, the 20th century the century of nation-states, and the 21st century will be that of cities", John Chrysoulakis, Secretary-General for Greeks Abroad and Public Diplomacy, underlined in his greeting, quoting Wellington Webb, former Mayor of Denver.
First part
In the first part of the discussion, Dr Lorenzo Kihlgren Grandi, co-founder and chair of Urban Flag and a lecturer in City Diplomacy at Sciences Po Paris, École Polytechnique, and Columbia University, Ms Sohaela Amiri, researcher at the University of Southern California, and Dr Antonios Karvounis, Head of the Interministerial Committee for the International Partnerships of Local Government, focused on the new globalized role of the cities with examples from Greece and abroad. The discussion was moderated by Ms Nektaria Stamouli, foreign affairs reporter at Athens News Agency and regional correspondent for Politico who posed questions to the speakers regarding the function and best practices of City Diplomacy, the impact of the Covid-19 pandemic, as well as the relationship between local authorities and central government.
Dr. Lorenzo Kihlgren Grandi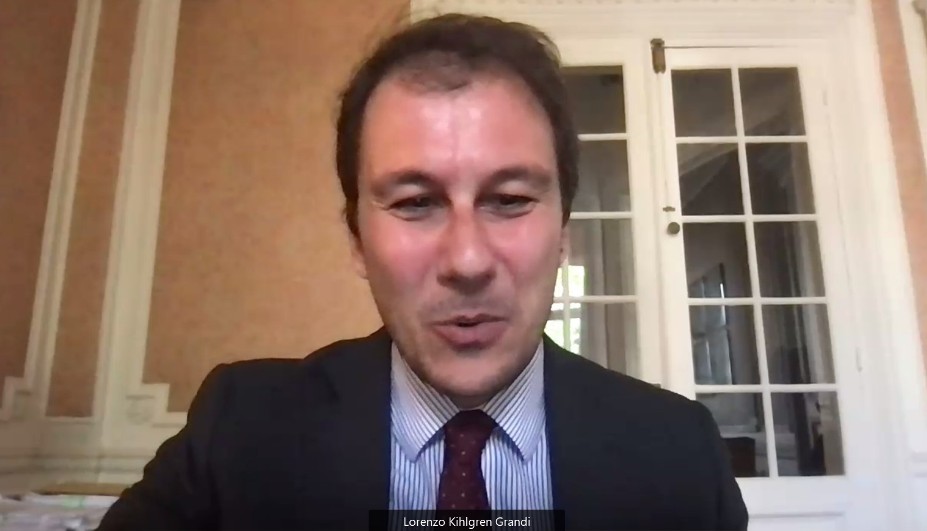 It is true that we live in the century of cities, Dr Lorenzo Kihlgren Grandi noted in his introductory remarks, because cities are demonstrating a powerful ability to act internationally and establish a series of relationships with other international actors.
Taking Paris and Rome as a study case, he went on to underline that three basic elements determine the success of city diplomacy:
When mayors identify city diplomacy as a priority
Human resources: the need for experienced personnel that combine diplomatic skills with thorough knowledge of the cities and their legal limitations
Shared knowledge of what public diplomacy does; clear communication that encourages citizens to participate
Dr Grandi commented that, historically, a system that reports the impact of city diplomacy has been lacking and many programmes were intricately connected with the mayor. City networks such as the C40 or intercultural cities have added a series of indicators that assess the progress made by the cities in the global goal that these networks have been pursuing. The same goes for international projects. Especially when these projects are financed with EU money, there is a need to assess their impact.
Referring to the pandemic, Dr Grandi noted that it was an example of an urban crisis with 90% of Covid cases registered in cities with many consequences. The coronavirus crisis suspended many city diplomacy initiatives, but at the same time, many cities reacted in a very inspiring way. They used technology to connect with each other. Cities that were first hit shared their experience with others and helped them adapt. There were also examples of concrete solidarity, e.g. the money donation the city of Frankfurt made to the city of Milan that was heavily hit by Covid.
Developmental aid, which is also a big component of city diplomacy, was offered by cities such as Paris or Barcelona in the middle of the pandemic when they decided to financially support cities in developing countries that had fewer means to respond to the crisis either in terms of communication or protective materials. In these cases, the impact of city diplomacy became very concrete, Dr Grandi noted.
The collaboration between local authorities with the central government is always a tricky issue. Opposing government policies give a Mayor national or even international visibility. A famous example was the Coalition of Mayors fighting climate change in the USA while the Trump Government was retiring from various international agreements. Huge visibility also comes with certain types of endorsement, as was the case with the French presidential endorsement of the Mayors coalition, but such incidents are extraordinary. City diplomacy is not to be intended as an opposition; it is best exercised at a multi-level approach, in coordination with different levels of government, national and regional and citizens. Strong alignment becomes increasingly more important in order to face challenges such as migration and climate change, concluded Dr Grandi.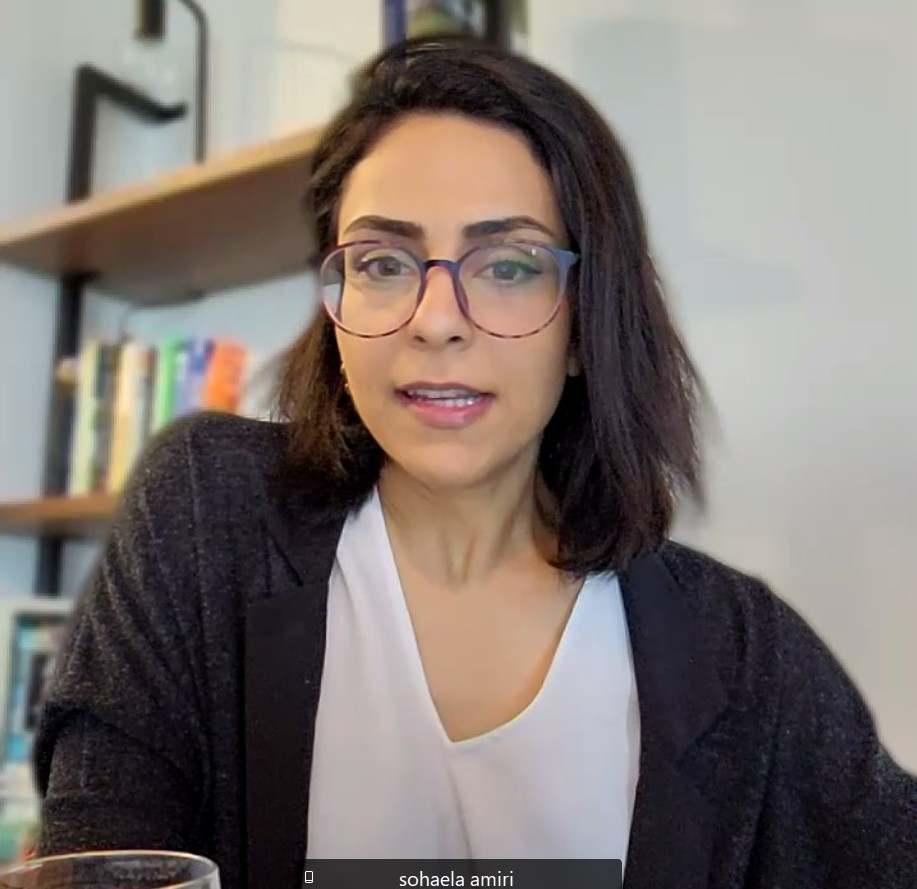 Amiri identified the five key functions of City Diplomacy in the USA:
1- Trade and Economic Development
2- Diplomatic Representation and Protocol
3- International Exchanges, Cultural Ties, and Aid
4- Civic Engagement and Education
5- Policy Collaboration, Advocacy, and Action
Amiri added that the most tangible outputs of city diplomacy are trade and any kind of materials and services that are exchanged. Another is policy change (f.e. e.g. regarding climate change, migration etc). Covid-19 and the aid offered by twinned towns was a very clear example of city diplomacy impact that actually saved lives.
Covid-19 caused many offices that worked on city diplomacy to close or reduce personnel, posing issues of sustainability for city diplomacy practice. Many city diplomacy offices in the USA house diplomatic missions or consular services. The help of the city diplomacy officers in maintaining communication with Consulates of other countries and the Diaspora during the pandemic was of crucial importance, Amiri stressed.
Dr. Antonios Karvounis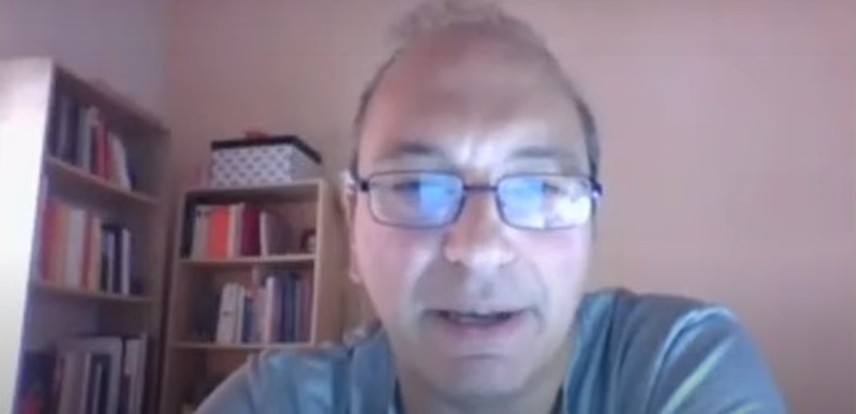 Focusing on the Greek case, Dr Karvounis referred to the General Principles of International Partnerships of Local Government as the criteria for successful partnerships.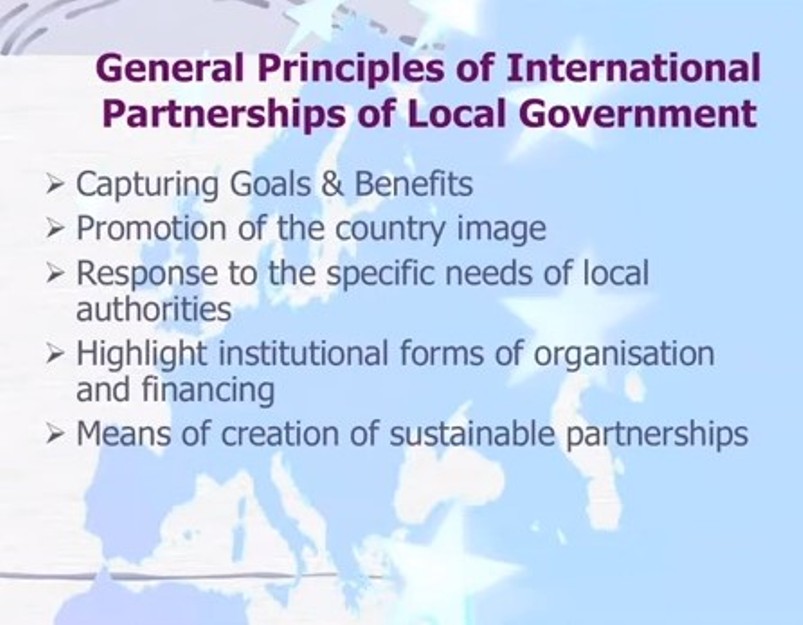 Dr Karvounis, who is Head of the Interministerial Committee for the International Partnerships of Local Government in the Ministry of the Interior, underlined that trust, coordination and communication between municipalities and central Government is always necessary for efficient city diplomacy in Greece.
He added that the most popular forms of City Diplomacy are the participation in European Programmes and of course town twinnings, which date since the end of WWII in Greece. Cyprus and Italy are the cities with most town twinnings, while the main policy domain for a town twinning is culture.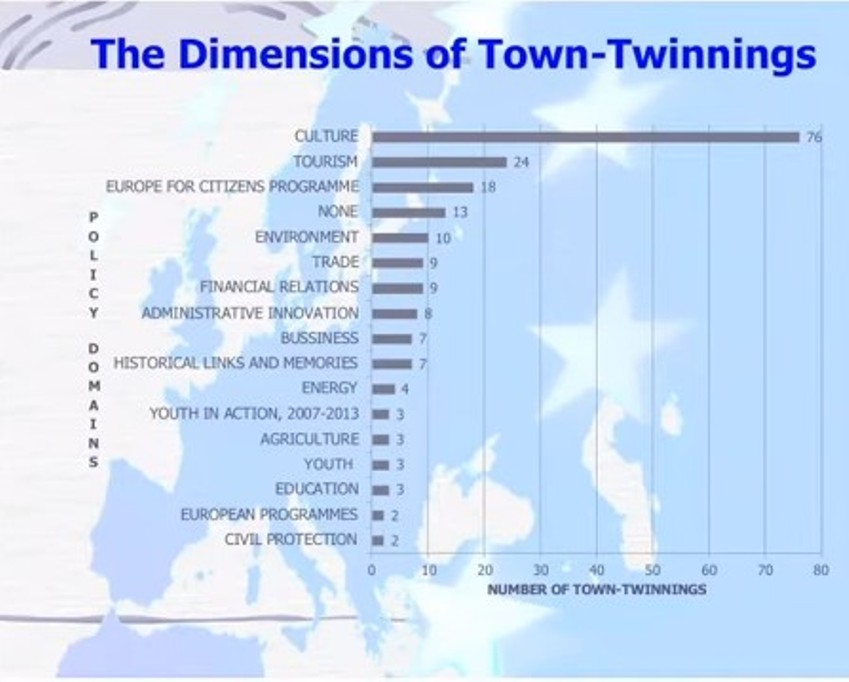 Dr Karvounis also referred to best practices, mentioning Shanghai sending 20.000 masks to its twinned Municipality of Piraeus during the pandemic. Another best practices instance was the City network "Q-Cities" set up in Amarousion in 2008, which promoted quality and innovations in local government; it consisted of 12 cities and has been very successful. He concluded that best practices should engage locals and take the local opinion into account.
Dr Karvounis continued with the impact indicators of City Diplomacy which are useful in measuring the success of a policy process: administrative organisation, cognitive modernisation (good practices exchanges and capacity building), financial viability and political lobbying (city branding).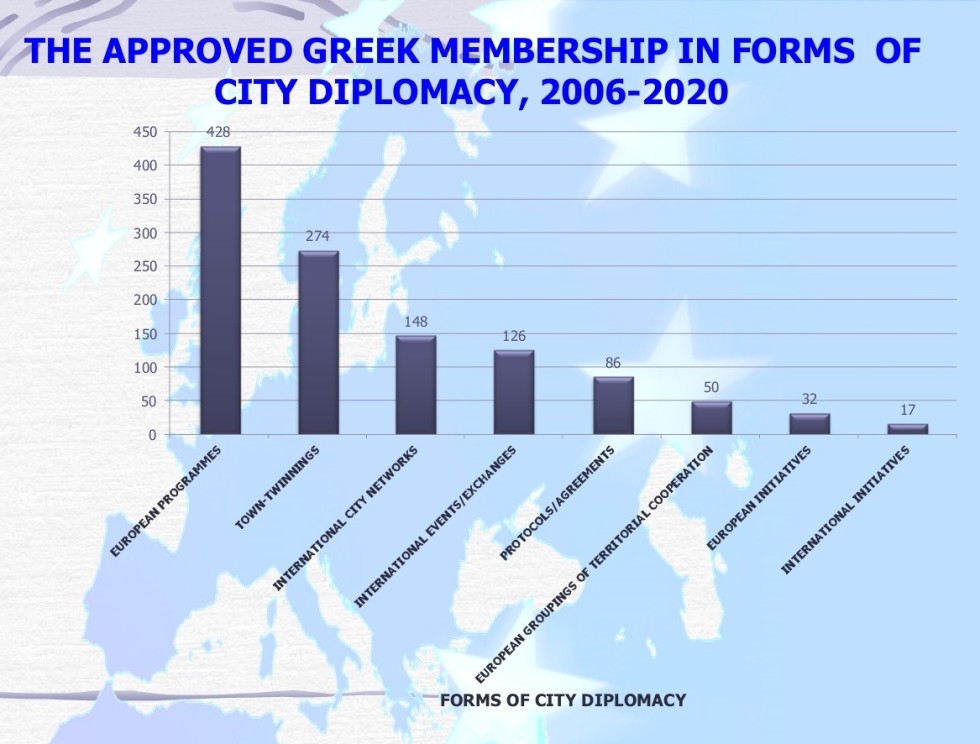 According to Dr Karvounis, the Covid-19 pandemic showed the limits of cities' capabilities to coordinate procurement among themselves. In most cases, the coronavirus crisis highlighted globally the city dependency on the State. In Greece, many cities exhibited solidarity with many sister cities abroad, the pandemic however still made the limits of city diplomacy evident, as well as the need of Municipalities to reorganise themselves, he concluded.
Second part
During a discussion between Greek and foreign Mayors about cooperation and expectations as regards City Diplomacy, the Mayor of Athens, Kostas Bakoyannis, and the Mayor of Porto, Rui Moreira, underlined at first what both cities have in common, mentioning the UNESCO Heritage Sites and the fact that both Athens and Porto came out stronger from a severe financial crisis. Both Mayors agreed that city diplomacy was affected by the pandemic, noting however that their cities did well to the surprise of many, proving that Southern Europe can handle the uncertainty in a better way showing more flexibility.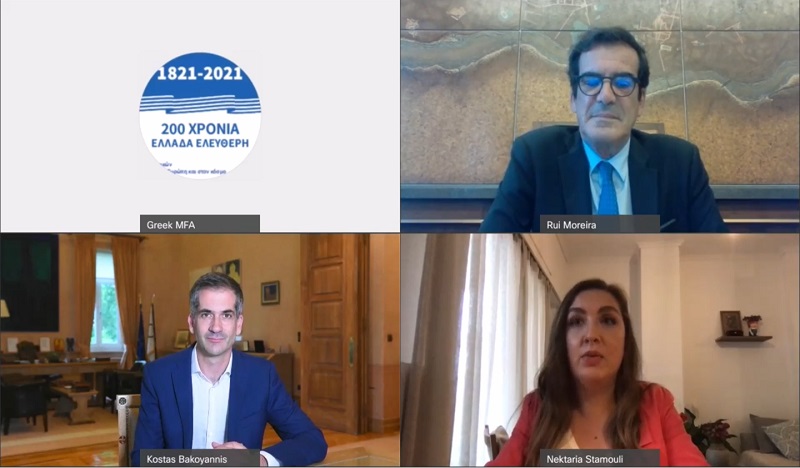 Regarding the image of their cities, Bakoyannis and Moreira agreed that both Athens and Porto showed the rest of the world that they are not only cities with gastronomy, sun and tourism, but they are also cities that can deliver professional services guaranteeing the safety, the security and the public health of citizens and visitors. As the Mayors said, "they are cities that people can live, work and invest".
When it comes to the relationship between the city and national diplomacy, Bakoyannis and Moreira underlined that they have no antagonistic relationship with their national governments and that they do not try to replace them. In this context, city diplomacy is about building links and alliances with other cities and in many cases cities share a common agenda aiming to become inclusive, healthy, fair, sustainable & resilient. What is more, local authorities are called to find solutions to real problems and, as Mayor Bakoyannis explained, cities are working bottom-up, encouraging transparency and dialogue. That is why Athens is a vibrant and dynamic city, as he said. Mayor Moreira added that Porto concentrates on civic authority like in Ancient Athens, repeating that cities are closer to the people.
Referring to immigration issues and to newcomers, Mayor Moreira said that cities are more attractive, adding that the increased demand creates pressure. What is important with city diplomacy, Mayor Moreira explained, is that it helps cities to share their concerns for integration policies and for avoiding the pressure from extreme voices, promoting social awareness and social cohesion.
When asked by the moderator Nektaria Stamouli about their future plans, Mayor Moreira explained that he will continue to work with OECD in the Organization's "Champion Mayors for Inclusive Growth Initiative", while he will encourage the creation of contacts and synergies between universities of Porto and other universities, as foreign students comprise the biggest part of Porto's foreign visitors. Mayor Bakoyannis said that he will continue to encourage educational and cultural exchanges between Porto and Athens, while he aims to work more on Athens branding, concluding that all these actions should be translated into real changes to citizen's everyday life.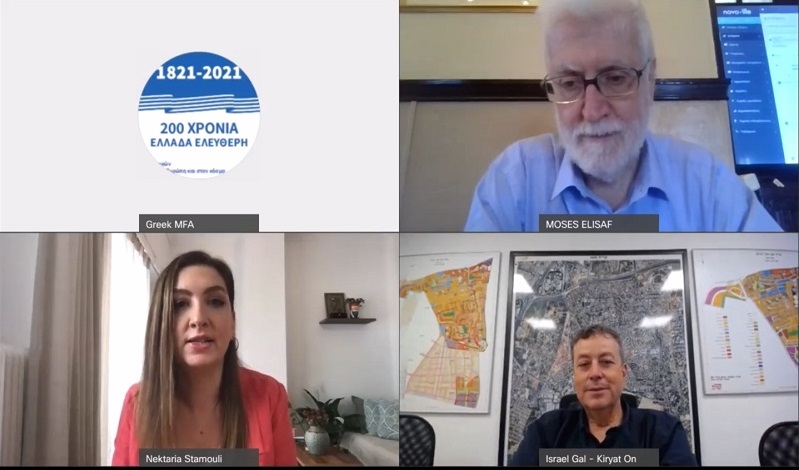 Moses Elisaf, Mayor of Ioannina, Greece, and Israel Gal, Mayor of Kiryat Ono, Israel, during their discussion referred to the common characteristics their cities share, such as the potential for growth and development, but most importantly, what connects the two cities is the Jewish community of Ioannina. As Mayor Elisaf explained, Ioannina was and still is the centre of the Romaniotes -the Greek-speaking Jewish community that's the oldest Jewish community in Europe and one of the oldest Jewish communities in existence- adding that for this reason the city is visited by many Jews from Israel. He also underlined that many Jews of Romaniote origin from Ioannina live in Israel and particularly in Kiryat Ono. Mayor Gal also revealed that cooperation between the two cities was vividly proposed by citizens of Kiryat Ono that visited Ioannina and fell in love with the city.
Mayor Elisaf also referred to the rich multicultural background of Ioannina, emphasizing the remarkable variety of the religious monuments of the city from the Byzantine churches, to Ottoman mosques and Jewish synagogues. As Elisaf said, the citizens of Ioannina and Kiryat Ono responded positively to the cooperation between their cities.
Asked by the moderator Nektaria Stamouli about the role of city diplomacy regarding anti-Semitism, Mayor Gal stressed that cooperation and networking between cities can certainly help to put an end to antagonism among peoples and combating anti-Semitism. Mayor Elisaf underlined the decisive role of city diplomacy in tackling prejudices, noting that anti-Semitism is not widely observed in Greece or Ioannina, adding that city diplomacy is a strong mode of communication between nations that is even able to overcome problems created by national policies.
Both Mayors also emphasized the importance of local authorities to the daily lives of citizens as they are in direct contact with them, stressing that local societies can play a decisive role in tackling global challenges such as climate change, pandemic consequences and migration.
Watch the full video of PDTalks 2021 event here:
F. K. – I.E.
TAGS: ATHENS | CIVIL SOCIETY | CRISIS | FOREIGN AFFAIRS | TOURISM