Greek Prime Minister Alexis Tsipras and the chairman of the state controlled China Ocean Shipping Company (Cosco) Xu Lirong, penned a deal on Friday (8.4) for the sale of a majority stake of the Piraeus Port Authority (OLP) to Cosco. The signing ceremony took place at Maximos Mansion in the presence of the Greek PM, Xu Lirong, and the head of Greece's privatization agency (HRADF), Stergios Pitsiorlas.
According to the agreement, the Chinese company will acquire 51% for €280.5m and 16% for €88m after five years, once it has fulfilled various commitments, among which an investment of more than €500m in new facilities at Piraeus and the payment of an annual fee to the Greek state under its existing concession to run the port dating from 2009. The company has already invested over €200m towards the construction of an additional pier to handle large container vessels and install new cranes. The concession deal will last until 2052.
Speaking after the completion of the signing ceremony, the Greek Prime Minister noted that the amended agreement provides a very important opportunity for a new perspective of growth in the long relations between Greece and China, underlined the timing of the signature of the agreement "at a crucial time for Greece, at the end of a very difficult era and at the start of a new more optimistic one", and highlighted the value of "investment activities- especially those that can attract other important investments". With regard to the agreement, he stressed that it sends a clear message for attracting new investments, noting also that through this partnership Greece aspires to become "a bridge between East and West" and "provide opportunities for speed and efficiency in the transport of goods from China to the Mediterranean and Central Europe". Prime Minister Tsipras also announced that he will visit Beijing in June following an official invitation by his Chinese counterpart Li Keqiang.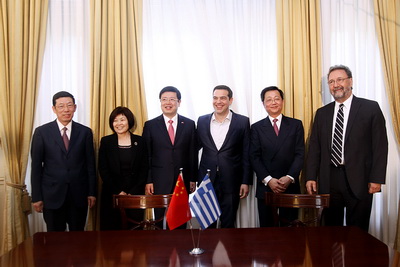 On their part, the head of Greece's privatization agency (HRADF) Stergios Pitsiorlas and Cosco's Xu Lirong noted the importance of the deal saying it is a big step in the strategic cooperation between the port and the Chinese shipping giant. Xu Lirong also said Cosco is committed to a harmonious and mutually beneficial development of the port of Piraeus, reaffirming that the company is dedicated to long-term growth in Greece.
More from Greek News Agenda: Piraeus Among World Leading Ports
Read also: IOBE launches study on the economic impact of the Piraeus Port Authority sale
TAGS: ECONOMY & DEVELOPMENT | FOREIGN AFFAIRS | GOVERNMENT & POLITICS | INTERNATIONAL RELATIONS | SHIPPING