The experimental chamber opera Polymnia, which tells the story of a woman who shows resilience through war and trauma, will be performed on January 21-22, 2023 at UCLA Little Theater.
The opera, which is sung in both Greek and English, is the debut of composer and performer Theodosia Roussos, based on letters and poems of her great-grandmother Polymnia about her experience of being expelled from her ancestral home during the Asia Minor Catastrophe. It shares a story of resilience in the face of war and trauma and self-invention as Polymnia creates a new life in the United States, far from her homeland.
Drawing from fragments of Sappho's poetry, Kassiane's hymns, as well as four generations of private family writings and oral history, the creator draws influence from her Greek Cypriot American background and weaves elements of Byzantine and Greek folk music into the score.
The event is presented at by the UCLA Stavros Niarchos Foundation Center for the Study of Hellenic Culture, under the auspices of the Consulate General of Greece in Los Angeles and is made possible thanks to the Stavros Niarchos Foundation (SNF) and the US independent federal agency National Endowment for the Arts (NEA). Polymnia is produced by Plain Wood Productions.
Theodosia Roussos, who wrote the music and libretto and also stars in the opera, is a Greek Cypriot American composer, soprano, and oboist. She recently composed what The Guardian called a "magnetic score" for the Netflix documentary Naomi Osaka alongside Devonte Hynes. Her original opera art film Polymnia, commissioned by Beth Morrison Projects, National Sawdust and All Arts TV, was described by Opera News as "haunting and beautiful."
In the words of Roussos, "Polymnia is the story of how my family survived the ethnic cleansing of the Greeks in the early 20th century, a story that will resonate with people the world over who share similar histories. It is a love letter to my ancestors, but also a way for so many people who carry intergenerational trauma to envision healing."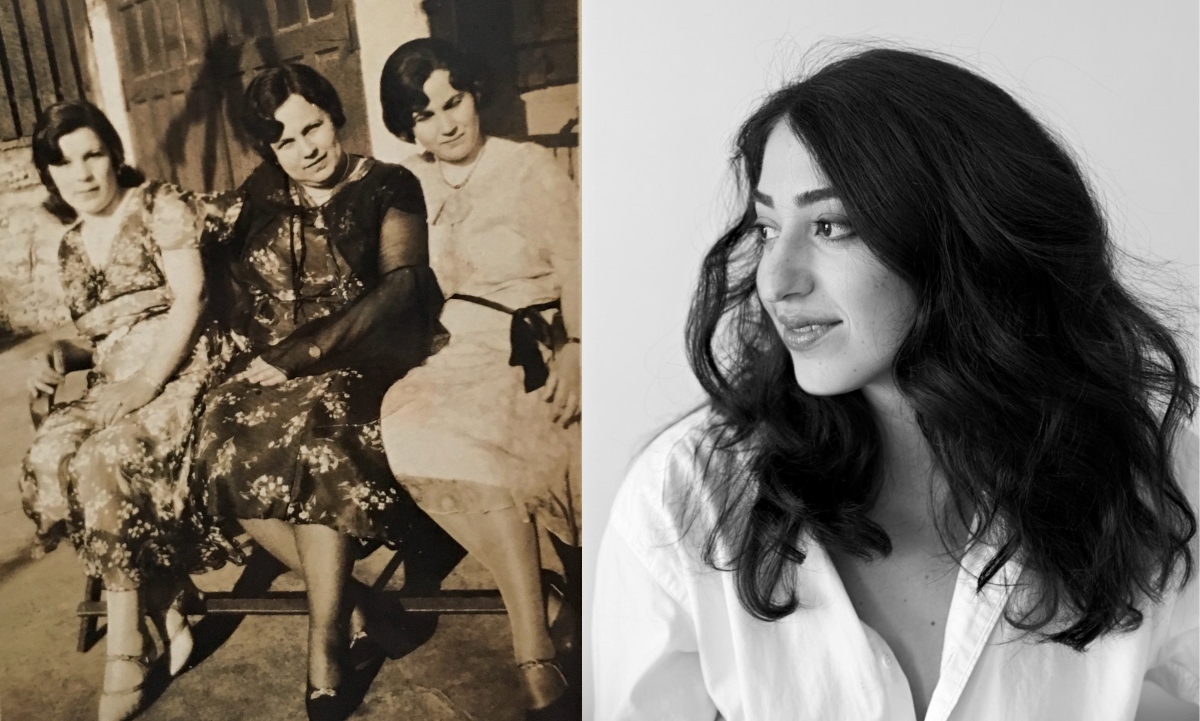 Left: Polymnia Athanasiadis Pappas (center) with her sister and a friend; Right: Theodosia Roussos
As the creator explained in a conversation about her debut opera, published on the latest issue of the UCLA SNF Center newsletter, she began writing it when her mother –also named Polymnia– passed away a few years back, when she began to look through her family documents. There she discovered photos, letters, and poems written by her great-grandmother, Polymnia Athanasiadis Pappas, born into a family of coal traders from the small town of Troulia in Asia Minor.
She also discovered a text narrating the five-year ordeal of Polymnia's family when they were sent on a five-year death march as part of the ethnic pogroms that took place in the Ottoman Empire of the early 20th century –leading to the death of six out of her ten siblings–, and describing how she was eventually uprooted forever during the Asia Minor Catastrophe of 1922. Instead of following the surviving members of her family to Northern Greece, Polymnia was sent to America in an arranged marriage.
The opera incorporates musical elements from the traditional music of the village of Troulia but also other parts of Asia Minor, embracing all the types of music that the creator grew up with as well as "the soundworld that [her] family would have been in".
UCLA SNF Hellenic Center Director Sharon Gerstel noted: "Polymnia tells a story that is universal, moving from ancient days to our own time. Using her unique voice, Theodosia Roussos brings to light a tragic episode in human history, yet leaves us with tremendous hope. This is the story of an exceptional woman told in the ethereal voice of her loving great-granddaughter. We are honored to host this impactful work, which showcases the talent of a Los Angeles-based composer and performer with strong roots in Greece and Cyprus."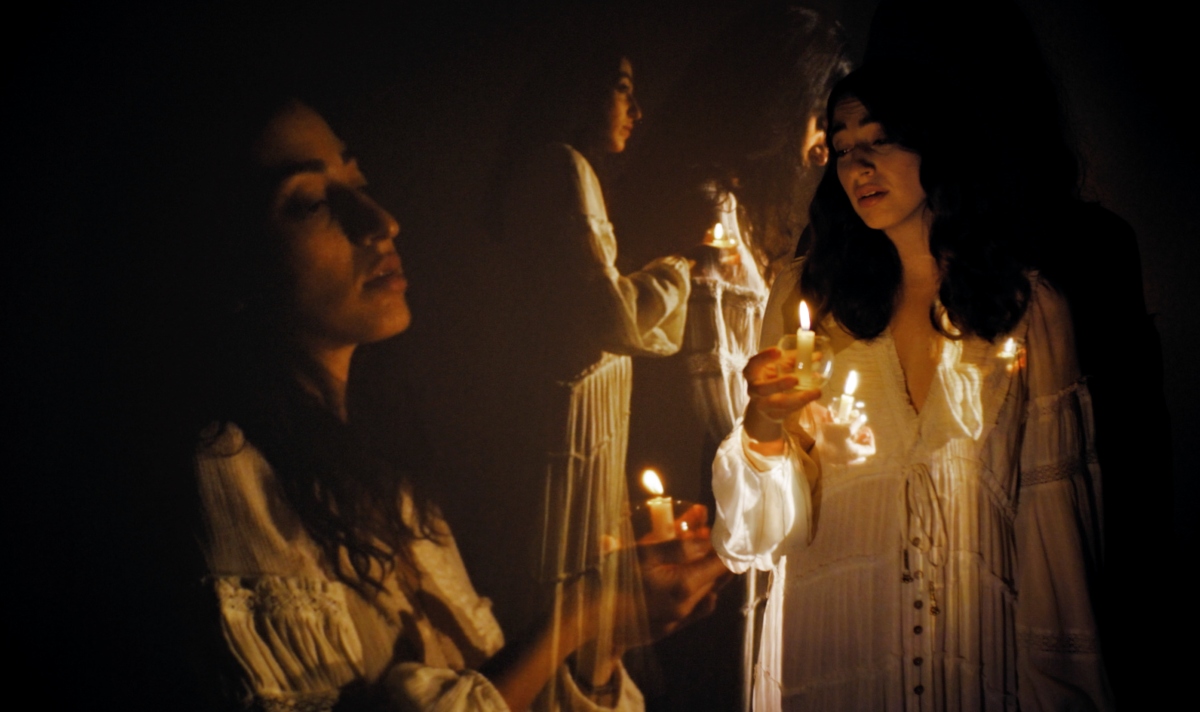 The UCLA SNF Hellenic Center received a Grants for the Arts award by the National Endowment for the Arts (NEA) to support the production of Polymnia; the Chair of NEA, Dr. Maria Rosario Jackson, stated that projects such as this one "strengthen arts and cultural ecosystems, provide equitable opportunities for arts participation and practice, and contribute to the health of our communities and our economy."
Speaking to GNA, Peter Kazaras, Distinguished Professor of Music, noted about the awarding of the grant: "We are honored to be one of a handful of institutions to receive support from the NEA for an operatic production. As the Director of Opera UCLA and as someone who has known and appreciated Theodosia Roussos since she was a Music undergraduate here, this recognition is profoundly gratifying. It is even more moving because Theodosia is telling a story that resonates as well with me, the grandson of Greeks who lived in Asia Minor. I am thrilled that we will be sharing Polymnia with audiences this month in Los Angeles."
Polymnia is directed by Diana Wyenn. The cast includes Theodosia Roussos, Natalie Buickians, Michele Patzakis, Anthony Moreno, Joanna Lynn-Jacobs, and Jon Lee Keenan. Michiel Delanghe conducts the orchestra. The production features scenic design by Tanya Orellana, lighting design by Pablo Santiago, video design by Yee Eun Nam, and costume design by Wendell C. Carmichael. Tickets can be purchased at https://ucla.evenue.net/cgi-bin/ncommerce3
Read also via Greek News Agenda: Thessaloniki 1922: Monuments and Refugees; BOOK OF THE MONTH: "Land of Aeolia" by Ilias Venezis
N.M.