Vassilis C. Karamitsanis has recently been appointed Chair of the Board of Directors of the Greek National Opera. Karamitsanis already has rich experience in cultural management: he was the founder of Platforma Co. and Platforma Video (2004-2009), the first independent digital film festival in Athens. In 2008 he co-founded Animasyros International Animation Festival + Agora, of which he has been President for 11 years now. Since 2015, he is also President to ASIFA HELLAS – Hellenic Animation Association, the Greek chapter of the International Animated Film Association. In 2017 he was elected member of Board of Directors of CIFEJ (International Centre of Films for Children & Young People).
Born in Athens in 1976, Karamitsanis attained a degree in Law from the Aristotle University of Thessaloniki. He completed post-graduate studies at the Universities of Rotterdam, Hamburg and Aix-Marseille III. A licensed attorney-at-Law by the Athens Bar Association since 2002, he has served as Counsel to the Greek Minister for Development during 2012-2014 and as a special advisor to the Greek Minister for Health during 2003-2004. He was recently made a Knight of the Order of Arts and Letters by the French Government.
Greek News Agenda interviewed* Vassilis Karamitsanis on the new, modern identity of the Greek National Opera, its digital transformation and its connection with young audiences.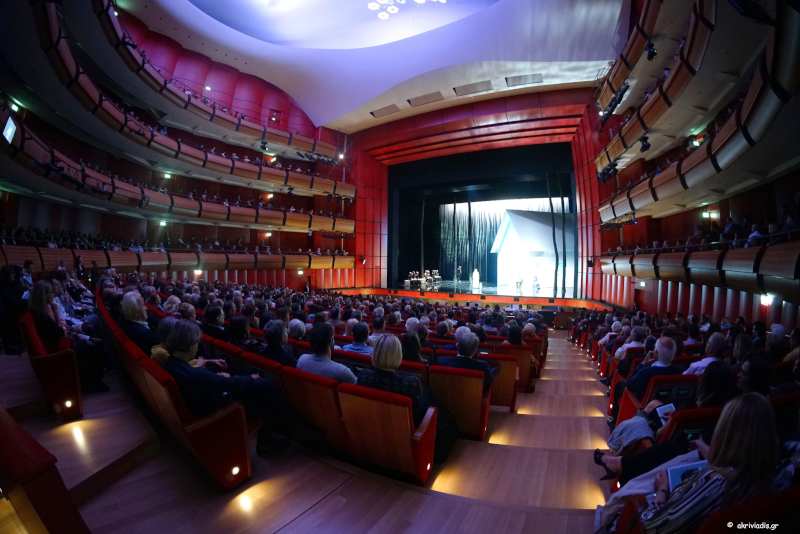 Premiere of Jenůfa at GNO's Stavros Niarchos Hall, 2018 (Photo by Haris Akriviadis)
What are your views on the widespread stereotype that the Greek National Opera is somewhat of a relic, out of tune with today's audience? Why would young people be interested in one of its productions?
Let's make something clear: for 80 years now, the Greek National Opera (GNO) inimitably stands for what is defined, in Greek, as "lyrical theatre" – this includes not only opera, operetta and ballet, but virtually all forms of musical theatre, as well as other artistic performances. Especially in recent years, the GNO has demonstrated its artistic openness, engaging an ever-expanding audience. In addition to the production of older, classic works, new original works by Greek and foreign creators are, for the first time commissioned and presented on a regular basis. Besides, GNO's educational and social initiatives have been attracting their own, and usually very young, audience. In other words, the GNO today engages a very large audience of children as well as young and older adults, as evidenced by attendance demographics. Undeniably, a major factor in this transformation of the opera audience was the GNO's relocation to the splendid Stavros Niarchos Foundation Cultural Centre, in Kallithea, Attica. For us it was an excellent opportunity to bring opera closer to an audience which hadn't had access to it. Our goal for the future is to further expand this effort.
What does the process of GNO's digital transformation entail? What are the advantages but also the obstacles to this endeavour?
Digital transformation is now a reality in every aspect of society, and the arts could obviously be no exception. We know that the future of the performing arts pivots primarily on digital media and we consistently focus our efforts in the use of these channels for the promotion of the musical performing arts, which is the GNO's stated mission. Our many digital educational workshops for general and specialized audiences, the full digitization of the GNO's historical archive which is almost complete, the sale of most of our tickets through the use of digital technologies, but also the gradual implementation of information technologies in the organization's management and artistic direction are all tangible evidence that GNO has decisively entered the digital path that Greek society is following. Our goal for the future is for this institution to be exemplary in the use of digital tools that other major European theatres also employ.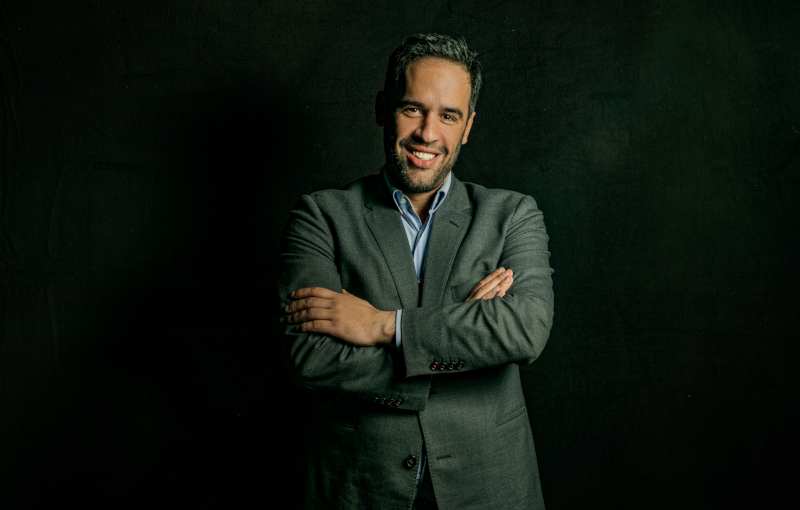 Vassilis C. Karamitsanis (Photo by Andreas Simopoulos)
Are there initiatives towards greater visibility and how does it improve the GNO's operation?
I think it is now common knowledge, and I say this as someone who was only a member of the GNO audience until recently, that the institution has been implementing such a strategy over the past ten years at least. Our effective communication via Press media, a strong and appealing social media presence, and numerous initiatives in recent years that go beyond the strict boundaries of a theatre hall, all these have made a difference.
This is further reflected in the public's participation to our activities, whether these take place in situ, in schools and other educational institutions or directed at social groups facing exclusion. This is very important to us, because on the one hand we adhere to our mission and our social responsibility as a public entity supervised bythe Ministry of Culture and Sports, and on the other hand we generate revenue through ticket sales, through increased exposure that attracts sponsorships and donations, turning the GNO, the only theatre of its kind in Greece, into an international point of artistic reference.
What are your steps towards international collaborations, and how do these contribute to the reshapingof the GNO's identity?
We are lucky to have someone like Giorgos Koumendakis, a person with a clearly international outlook, in charge of the organization's artistic direction. Thus, in the last two years alone, the GNO has managed to have the greatest number of international collaborations in its entire history, including London, Berlin and Baden-Baden, just to mention a few. The program for the 2019/20 season will also soon be announced, featuring prominent international collaborations. Obviously, the institution's internationalization further contributes to the transformation of our identity, given that the enhancement of the GNO's image in society at large has already been achieved to a great extent; it also helps promote Greek performing arts to the world, especially in view of the Greek Independence bicentenary celebrations two years from now. Thus the €20 million grant by the Stavros Niarchos Foundation to the GNO over a four-year span is very important in this direction for attracting international collaborations and promotion.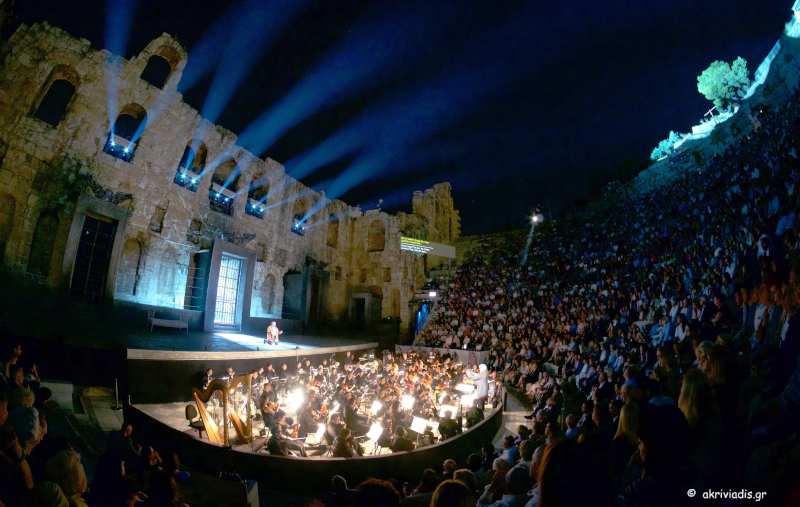 Premiere of Nabucco, GNO's production for the Athens Festival 2018, at Odeon of Herodes Atticus (Photo by Haris Akriviadis)
How has your longtime experience as President of Animasyros, as well as ASIFA HELLAS, prepared you to be the Chair of the Board of a historical organization such as the Greek National Opera?
For over 10 years I have committed myself to the establishment of animation as an equally respected form of cinematic art, as well as the worldwide promotion of Greek talent in digital creation. My experience as Presidentof the Animasyros Festival, as well as ASIFA HELLAS – Hellenic Animation Association is beneficial for any position in cultural management, small or large, such as being the Chair of the GNO. However, I must note that the difference in scale is so big that often, despite my experience in cultural management, I am caught by surprise with the challenges entailed, both at national and international level. One thing I can say is that, in the field of animation, the GNO has been an international trailblazer, with its production of Lena Platonos' children's opera The Emperor's Nightingale on the GNO Alternative Stage. A unique work of Greek musical theatre was performed using exclusively digital scenery and lighting, and proved a critical and financial success.
*Interview by Nefeli Mosaidi and Costas Mavroidis. Translation by Nefeli Mosaidi.
Read Greek News Agenda's interview with conductor Markellos Chryssicos, recently appointed member of the Board of Directors of the Greek National Opera; also read interviews with composer Minas Borboudakis and writer Vangelis Hatziyannidis, who wrote the music and libretto respectively, for the first Greek-speaking opera to be commissioned by the Greek National Opera's Alternative Stage.
Read Vassilis Karamitsanis' interview with Filming Greece on Asifa Hellas' participation at the Annecy International Animation Film Festival