Every March (25/3), Greeks celebrate their national holiday commemorating the onset of the War of Independence. However, according to historical evidence, the Greek Revolution had begun earlier, but the choice of this day was not accidental as it is associated with an important religious celebration, the Annunciation. The Annunciation is a theme which Konstantinos Parthenis (1878-1967),one of the "three fathers" of Modern Greek art (the other two being Maleas and Bouzianis), was passionate about and treated in a composition that is nonpareil in European and Byzantine imagery.
Parthenis' silent oratorio: Annunciation
A masterpiece of early 20th century European art and one of the greatest images ever painted by a Greek artist, "Annunciation" is among Parthenis' most famous compositions (painted in 1910-11), a mesmerizing work of dazzling virtuosity and timeless elegance. With its masterful design, deeply poetic atmosphere, abstractive stylisation of dematerialised form and audacious sense of newness, Annunciation lies at the very core of Parthenis's achievement, reflecting the vision of a great European artist laden with age-old memories who was entranced by the optimism and boldness of the nascent twentieth century. It also introduces a significant iconographic innovation: rather than a lily, Archangel Gabriel is holding a lyre—a direct reference to classical antiquity demonstrating Parthenis' view of the unbroken continuity of Greek civilization. As noted by Zacharias Papantoniou, the great scholar and Director of the Athens National Gallery from 1918 to 1940:
"Parthenis' Annunciation is a creation of inner harmony that subordinates and leads the picture's compositional elements (…) The lily is not held by the angel. It is in the poor maiden's vase… It was already part of her life, it had blossomed in her soul. What artistic brilliance, what a creation of a translucent, delicate and eternal symbol! Every human soul that has known pain and humility can identify with this symbol. To the humility and purity of many human souls the painter offers this eternal Christian image. Only a great artist can offer such gifts to humankind. Annunciation is Parthenis' silent oratorio".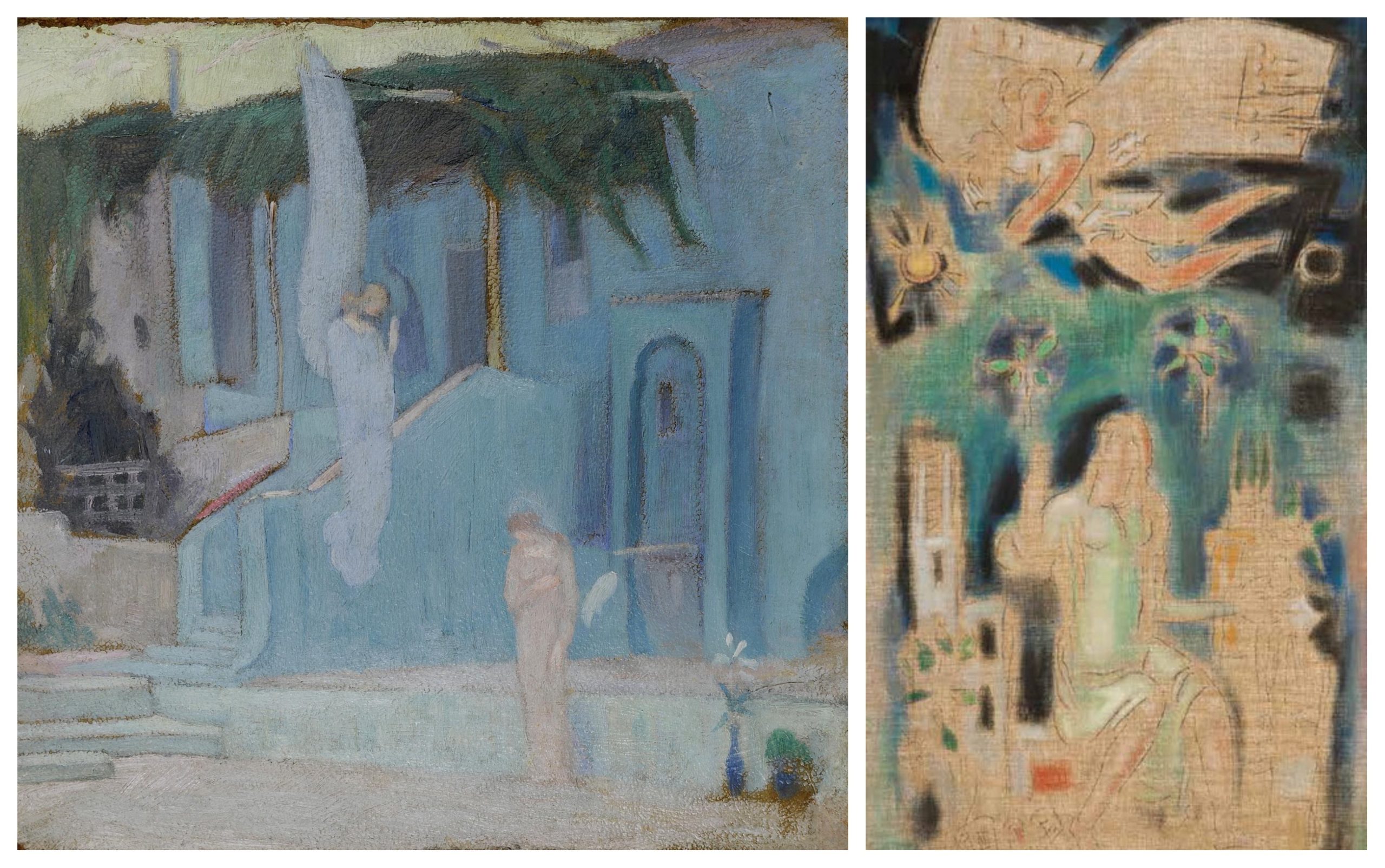 PHOTOS: (© National Gallery Athens)
(Left): Annunciation, oil on pasteboard, 1907-1911 – (Right): Poetry, oil on canvas, 1950s
It is worth noting that -drawing from the poetic and inspiring atmosphere of the symbolist era- angels represent a recurrent theme in Parthenis's work throughout his career. For instance, another famous work of his that belongs to his last creative period, the 1950s, bears two titles: "Poetry" and "Annunciation", even though Poetry is more pertinent than Annunciation in this case, according to Professor Nikos Zias; the centre of the composition is dominated by a seated young woman—the personification of Poetry as a symbol of universal order, harmony and peace—set against a shimmering blue-green background and flanked by roughly sketched buildings and structures that recall Parthenis's renowned Annunciation.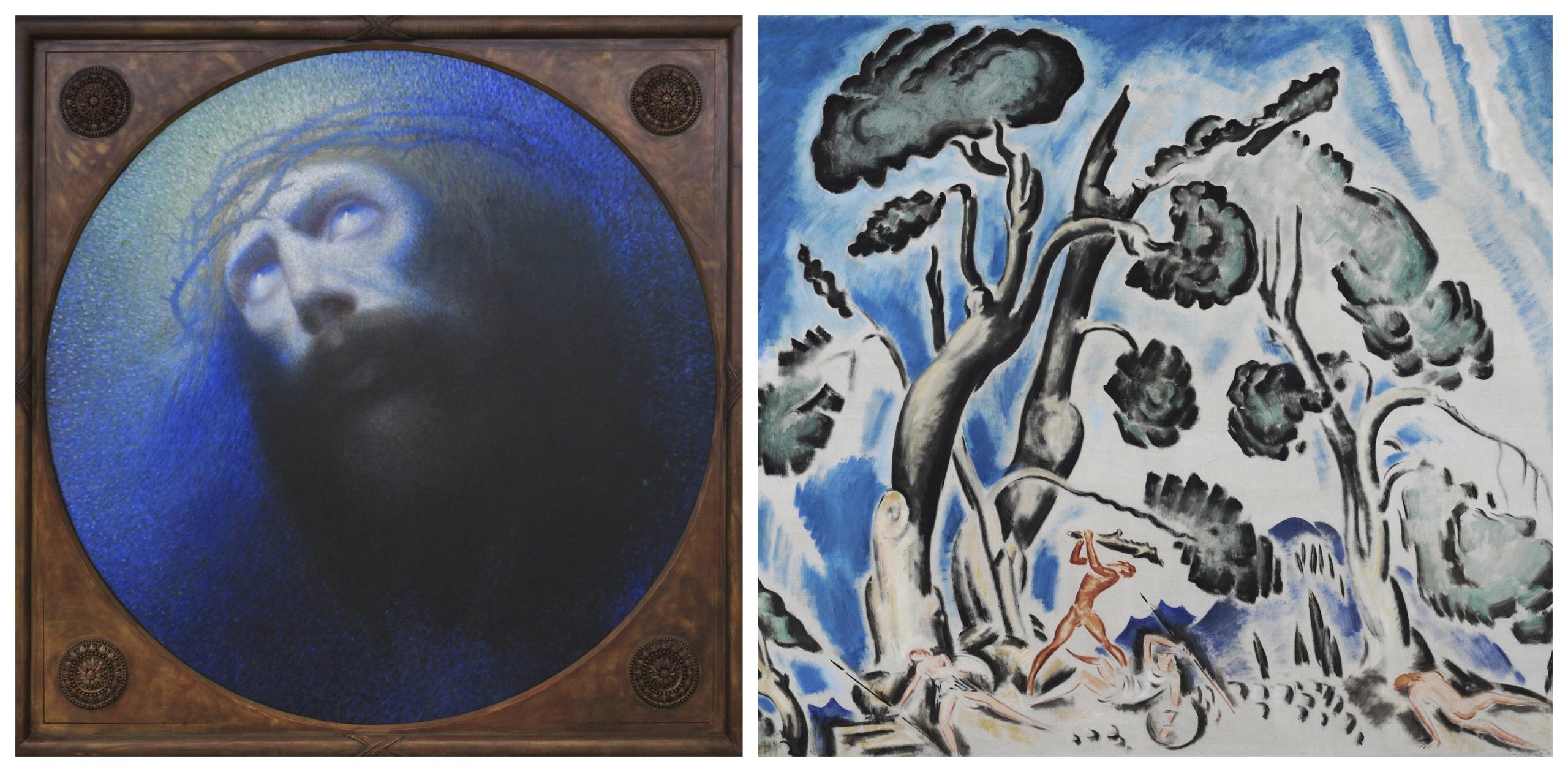 PHOTOS: (© National Gallery Athens)
(Left): Christ, oil on canvas, 1907-1911 (Right): The Battle of Hercules with the Amazons, oil on canvas, 1921-1927
Background – Distinctions – Artistic quest
Even though there is contradictory information related to his early years and studies, Konstantinos Parthenis is said to have been born to an Italian mother and a Greek father in Alexandria, and to have studied art under Karl Wilhelm Diefenbachat the Royal Academy of Fine Arts and music at the Conservatoryof Vienna (1897-1903). He was first installed in Athens in 1903, when he took part in the Athens International Exhibition, winning the Silver Medal. During his initial 5-year stay in Greece, he travelled throughout the country, painting and producing icons for churches such as the one of St Nicolas in Poros. In 1907, he went to Cairo, Paris and Corfu and finally returned permanently to Athens in 1917. In 1920, he presented at Zappeion Hall a large exhibition for which he was awarded the National Prize in Letters and Arts and thus established himself as an artist, though raising a storm of reaction in conservative academic circles. In 1934, Parthenis took part in the Venice Biennial and in 1937, his work "The Battle of Hercules with the Amazons" won the Gold Medal at the Paris International exhibition.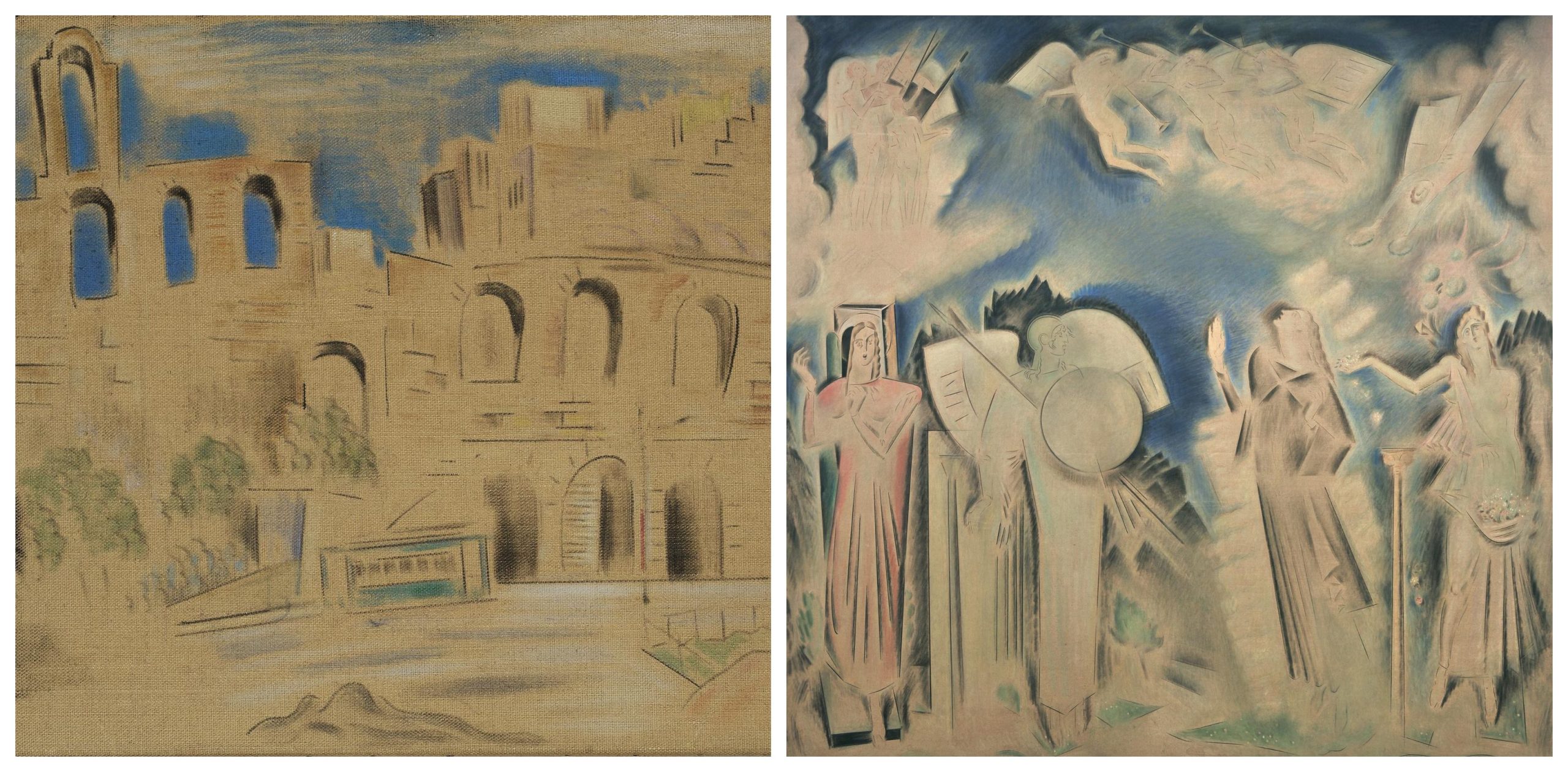 PHOTOS: (© National Gallery Athens)
(Left): Odeon of Herodes Atticus, oil on canvas, 1930-1938 (Right): The Apotheosis of Athanassios Diakos, oil on canvas, before 1930
In 1929, by order of a Presidential decree by Alexandros Papanastasiou, who was also his close friend, Parthenis was appointed Professor at the School of Fine Arts in Athens, following an unsuccessful attempt for election to the position in 1923. His appointment by decree generated a degree of hostility from his colleagues but he was very popular with his students. In 1947 he resigned from his position and withdrew into himself;this had been preceded by his participation in the Panhellenion exhibition where Parthenis exhibited the "Apotheosis of Athanasios Diakos" which received special praise and was recommended for the First Prize and Golden Medal which however he failed to win. In 1954, he was awarded the Order of the Commander of King George I and in 1965 the Order of the Gold Commander of the Phoenix, while in 1966 his students organized an exhibition of his works from public and private collections, but he himself did not make an appearance.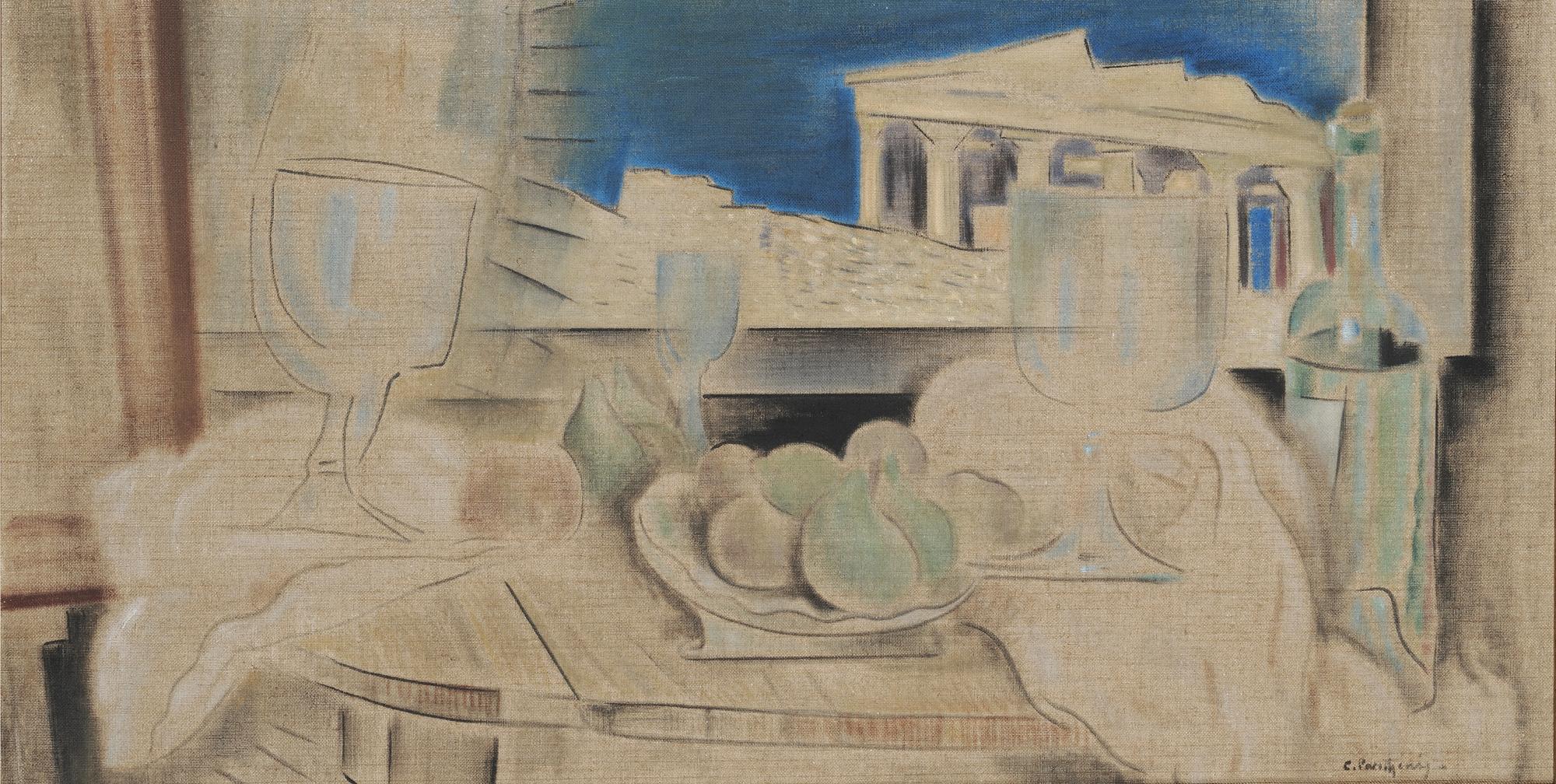 PHOTOS: (© National Gallery Athens)
Still Life with Acropolis in the Background, oil on canvas, before 1931
Parthenis is the one painter who successfully combined freedom licensed by modern art with Greek spirituality and clarity, valorising precepts from ancient, Byzantine and, of course, modern art, thus leading the way for the revitalization of Greek art. In his work, which includes religious subjects, landscapes, mythological and allegorical motifs, portraits and still life, he accomplished what he considered as fundamental trait of an artist: the personal and unique signature of the artwork; in fact, any art lover easily recognizes his work which has a profound spirituality that allows it to resist time, beyond the rapidly ever-changing artistic styles of the present.
E.S.
TAGS: ARTS | FESTIVALS | GLOBAL GREEKS | HERITAGE