One of the exhibitions worth visiting this Summer is "Yannis Gaitis', the Crowd and Loneliness" which will be running through October 2021 at the Municipal Art Gallery of Larissa- G.I. Katsigras Museum. The show, which is co-curated by architect-museologist Loretta Gaiti and art historian Yannis Bolis, is a tribute to the Greek revolutionary artist, Yannis Gaitis (1923-1984), whose work became worldwide famous for capturing mass society's anonymity, uniformity, and sterility.
The exhibition records Gaitis' course from the mid-1940s to the early 1980s, from his first paintings -in which one can trace influences from Surrealism and Pablo Picasso in particular – to his quest for abstraction; from his narrative microcosms to his anonymous, blank-faced, and uniform men, with their striped and plaid costumes; the little people with whom he identifies and asks us to identify. These figures represent man's alienation in modern society, which became the most dominant and distinctive feature in Gaitis' work.
"His little men, the culmination and mature expression of his artistic quest is among the most recognizable and emblematic images of a creator with a non-negotiable socio-political attitude and unfettered critical spirit; a bold and subversive artist, a revolutionary," said the organizers of the exhibition.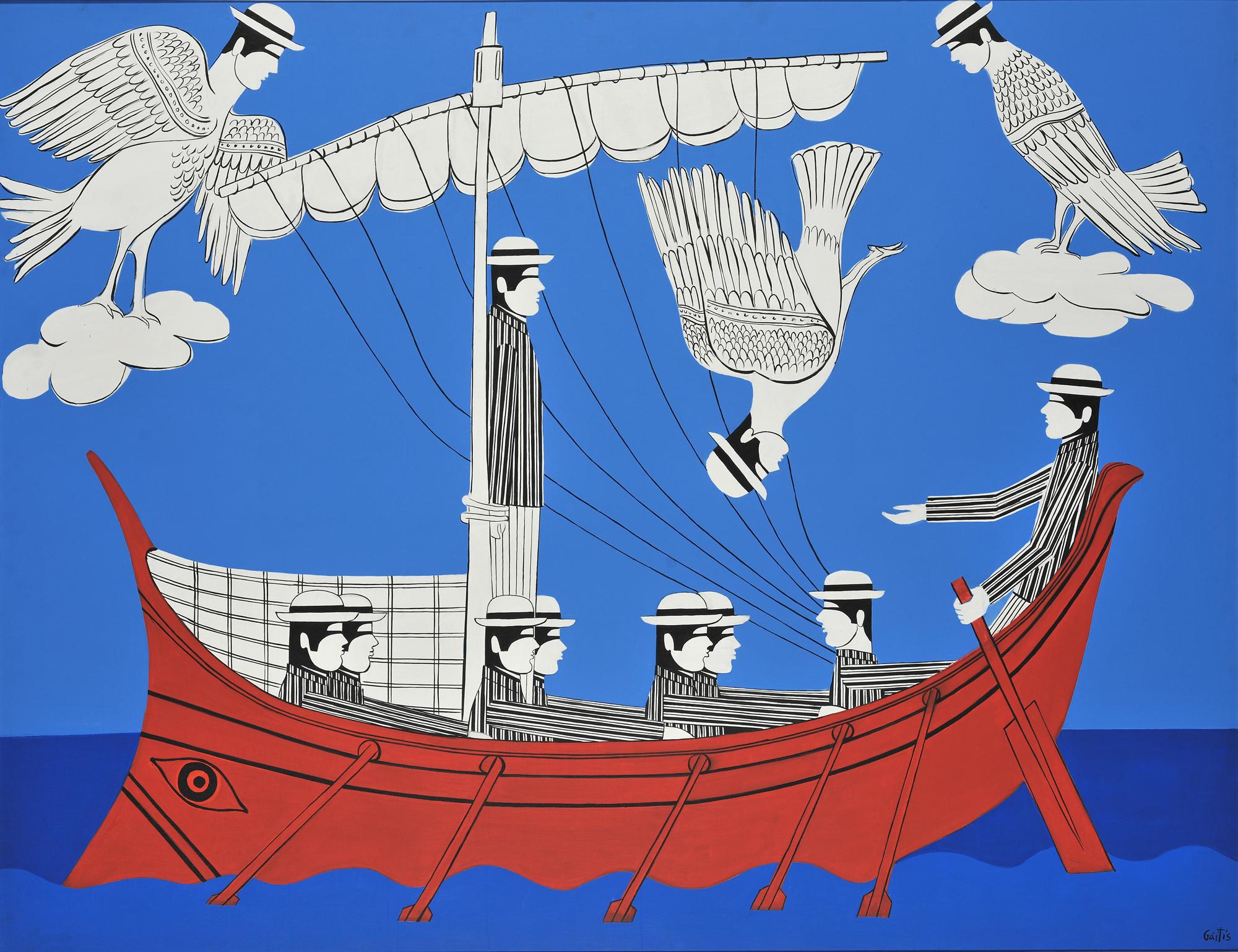 Yannis Gaitis was born in Athens in 1923 and studied at the Athens School of Fine Arts under Konstantinos Parthenis. Being oriented towards the European avant-garde movement from the start, Gaitis was to become one of post-war Greece's earliest modernist painters. In 1944, he held his first solo exhibition in his studio in Athens which, since then, became a meeting point for renowned personalities from the field of Arts and Literature, including Miltos Sachtouris, Yannis Tsarouchis, Minos Argyrakis, and Odysseas Elytis.
A couple of years later, his second show at the Parnassos Literary Society caused a stir, because of the audacious form of his works, which already contained surrealist, cubist, and abstract elements; he was also a founding member – together with Alekos Kontopoulos and other artists who had turned to abstract art- of "The Extremists" group which was opposed to academic art.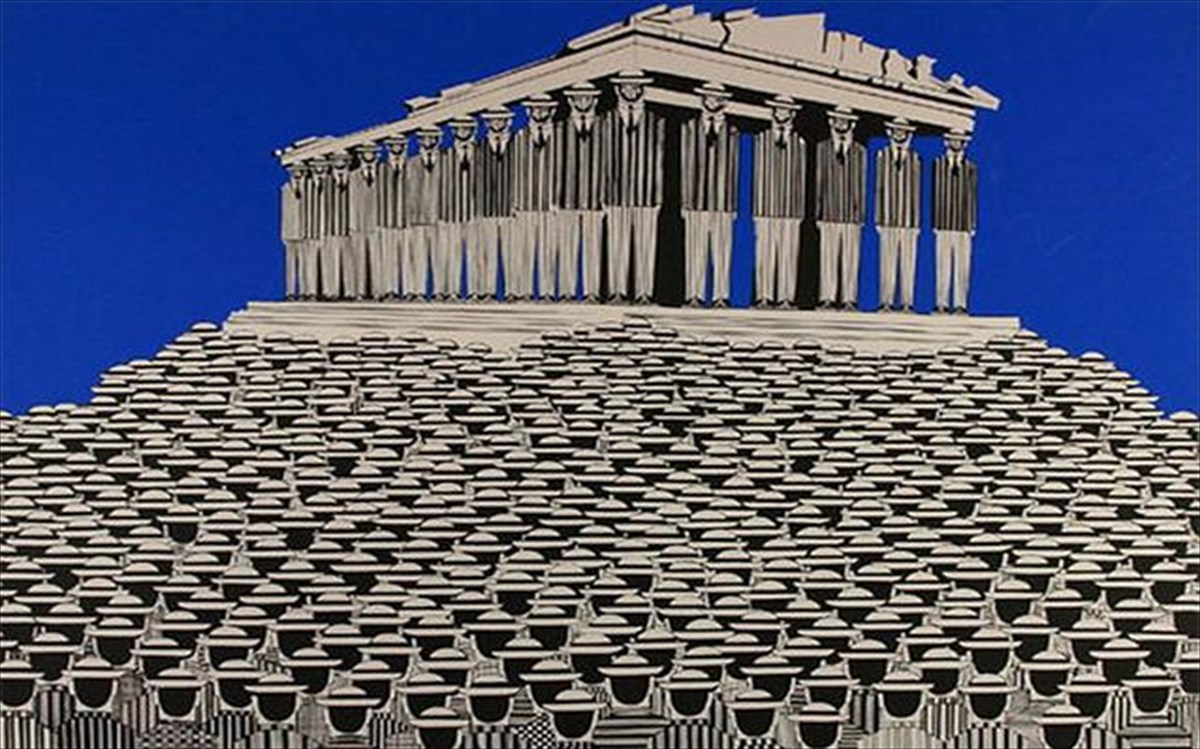 In 1954, he went to Paris where he completed his studies at the School of Fine Arts and the Grande Chaumière Academy, focusing on producing works in the style of gestural, amorphous art, and experimenting through the reproduction of abstract artworks. Shortly after, his first solo exhibition was organized by the Diderot gallery in Paris, while he also presented his work in the Micro-Salon d'Avril group exhibition (Iris Clert Gallery), along with artists such as César, Max Ernst, Jean Fautrier, and Pablo Picasso.
In 1967, his creations became clearly politicized and stood openly against the Colonels' dictatorship in Greece, such as the work "Tiens!, The Assassination of Freedom and Military Men" where a group of soldiers shoots a dove. A milestone year for his career was 1968 as it was then that he introduced his personal trademark, the "little man", a figure without a face, sometimes solitary and sometimes repetitive, usually depicted in a side view.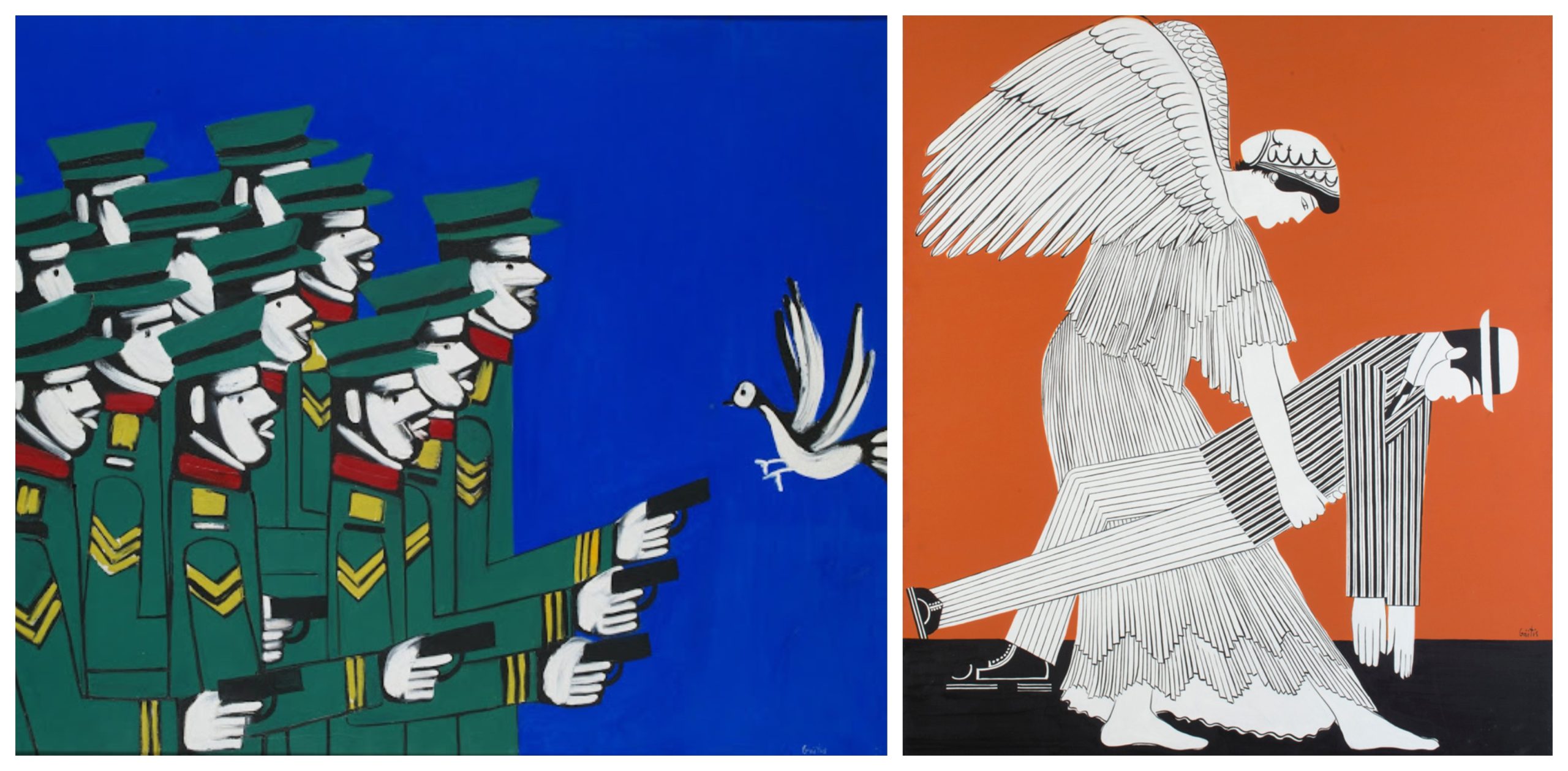 Gaitis maintained a studio in Paris over the last 26 years of his life. His work was also introduced in the USA in 1964 at the Carnegie International Exhibition in Pittsburgh. From that point onwards, his blank-faced, look-alike figures drew attention through exhibitions taking place in art events and venues all over the world, including the Tel Aviv Museum in Israel, the Salon de Mai in Paris, the Sao Paulo Biennials, the Muzej Savremene Umetnosti in Belgrade, and the Museum of Contemporary Art in Skopie.
Last but not least, of particular note was his major retrospective exhibition at the National Gallery of Athens – the opening of which took place a week before Gaitis' death (1984)- and a large retrospective show at the Benaki Museum in Athens (2006). Gaitis gained enormous popularity, thanks to his peculiar artistic idiom, his outstanding productivity, and his persistence to bring his art into contact with the broadest possible social strata in every way imaginable; he would certainly be glad, for instance, for placing his "little men" in the Athens metro "Larissa" station – thus, successfully incorporating art in citizens' every-day life.
More info: visit the Municipal Art Gallery of Larissa- G.I. Katsigras Museum website
Read also on GNA: Arts in Greece | Konstantinos Parthenis: The "Poet' of Modern Greek Art; Arts in Greece | Exploring the Athens Metro, Greece's Underground "Museum"
E.S.
TAGS: ARTS | FESTIVALS | GLOBAL GREEKS